Epic journeys
Experiences and Cookery Classes
Tour Overview
DAY 1
arrival day
Marrakech orientation day.
On arrival into Marrakech Menara Airport*, you will be collected by your private transport and driver and taken to your riad accommodation in the city's Old Medina.
Depending on the time of your arrival, you may wish to spend some leisure time in the city's Old Medina; there are so many interesting things happening there. The Old Medina, the central core of the city, and now a World Heritage Site, is a great place to simply go with the flow and to let your eyes and ears lead you through to many wonderful sights and sounds. *NOTE: If you are arriving into Casablanca Airport, then you can be similarly collected from there and brought to Marrakesh to commence your tour (at a supplement).

EVENING
Evening meal in your riad.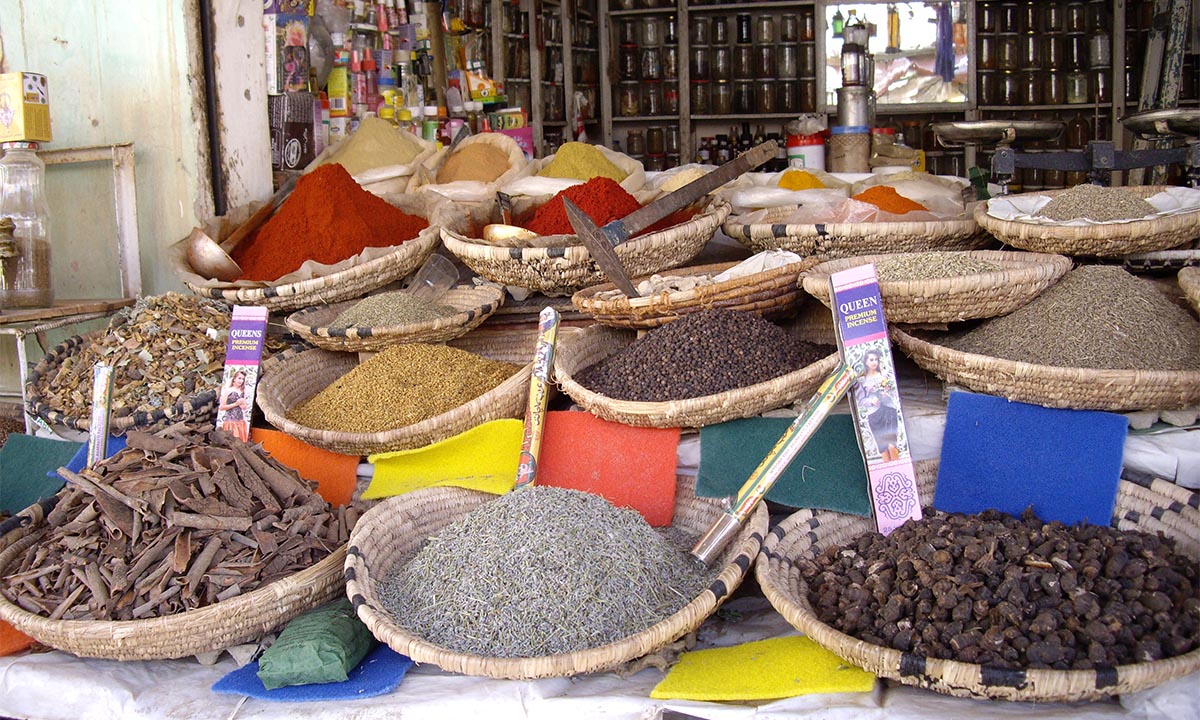 DAY 2
TAGINE COOKERY CLASS; MAJORELLE GARDENS; AN OLD MEDINA RIAD'S ROOF TERRACE FOR AFTERNOON TEA
MORNING
Morning Cookery Class to prepare tagines. This morning you take part in a Tagine Cookery Class. This experience is enjoyed outside of the Old Medina, in the suburbs of Marrakech, Set in a lush, tranquil garden, the calming ambience is conducive to gentle relaxation and enables full cookery concentration.
Based at your own workstation, you will be provided with all ingredients for the making of your tagine. Classes are small and so instruction is very accessible and easy to follow. Of course, mint tea is all part of the experience, enjoyed whilst your tagine is slowly cooking over your own charcoal fire in the open air. Lunch is partly your tagine plus many tasty and traditional additions provided by the Cookery School.

AFTERNOON.
After lunch, private transport takes you to the Majorelle Gardens, a magical oasis of tranquility just beyond the edge of the Old Medina. At one time owned by Yves St. Laurent, this verdant garden is entrancing. Tall trees, bushy shrubs, impressive succulents and water lilies create a garden that offers a chance to take a leisurely stroll and/or to sit awhile. The sounds of the rustling leaves, chattering birds and little streams add to the "cocoon of pleasure" that is the Majorelle Gardens. Afternoon tea is then taken in a specially selected riad in the Old Medina, on a shaded roof terrace. This offers not only refreshing tea but also the opportunity to taste some delicious, sweet patisserie, delicacies for which Morocco is famous. EVENING Your evening meal will be taken in a very smart Moroccan restaurant (a different one each evening).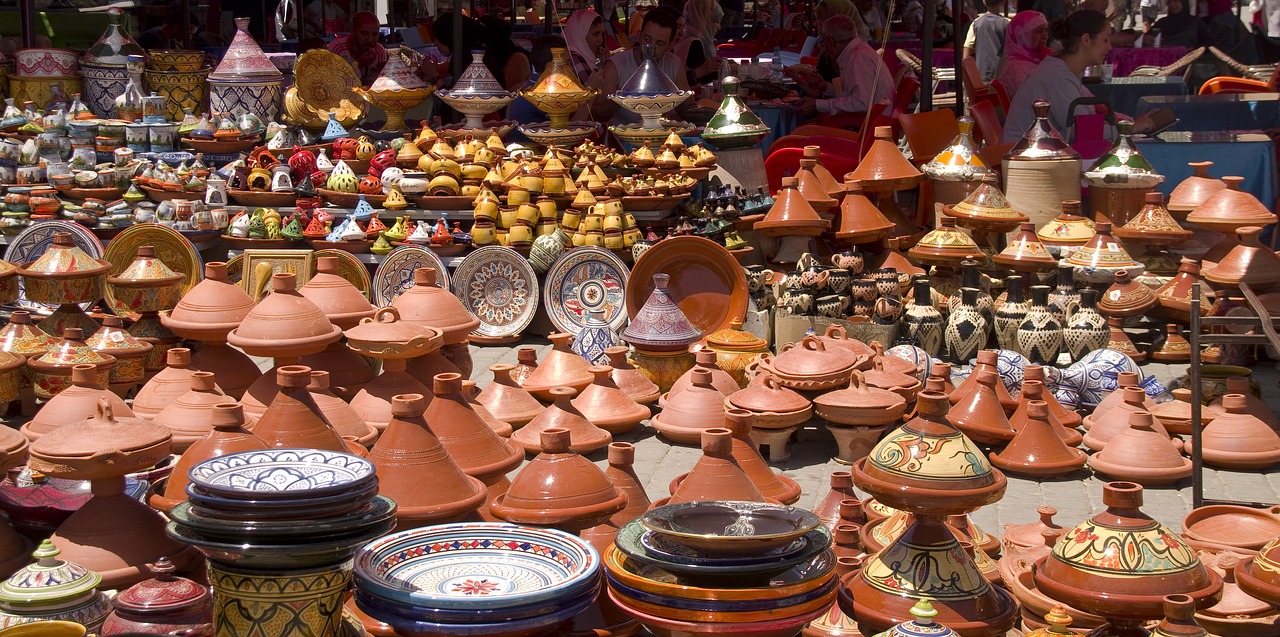 DAY 3
HIGH ATLAS DAY; BERBER HOME VISIT; LIGHT WALKING; VISIT TO A POTTER; TRADITIONAL MARKET
ALL DAY.
Having had some time in the city of Marrakech, today your private transport and driver takes you into the High Atlas, deep into the countryside of Morocco. The High Atlas are home to the very friendly and most hospitable Berber people.
After just over one hour's drive from Marrakech, you first cross the Marrakech Plain before, suddenly, the looming mass of the High Atlas fill the windscreen. On a clear day the highest peak, Toubkal (4,167m), may be seen, perhaps snow-capped.
On arrival into a bustling Berber market town, a traditional second breakfast will be enjoyed in a Berber home in the countryside. This meal is simple but very nutritious, consisting of home-made bread, olives, olive oil, butter and honey along with mint tea. All items are locally sourced, organic and sustainable and so very tasty.
A gentle walk is then taken in the Berber countryside to appreciate how the Berbers carefully farm their land. The season's crops and trees will be identified by your Countryside Guide, bringing you close to the source of all the foods you have been eating – no processing, packaging, transporting and marketing here, it all comes directly from the land. It may be that you also visit a potter's workshop where you can see how tagine pottery pots are made – perhaps you will have an attempt to make your own!
Lunch is taken in a Berber home in a Berber village, in early afternoon. You will be interested to see how a normal household goes about food preparation; feel free to observe, to ask questions and to lend a hand.
After a delicious lunch, a further short stroll can be taken in the market town, seeing the market stalls, the fruits, vegetables, nuts, meats, spices and herbs, etc., all the ingredients needed for Moroccan cooking. Your Courier/Guide will be able to name and explain all that you see.
Private transport and driver will return you to your riad in Marrakech in late afternoon. EVENING Your evening meal will be taken in a very smart Moroccan restaurant (a different one each evening).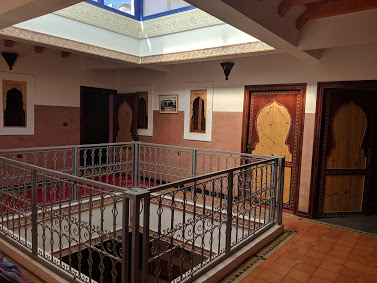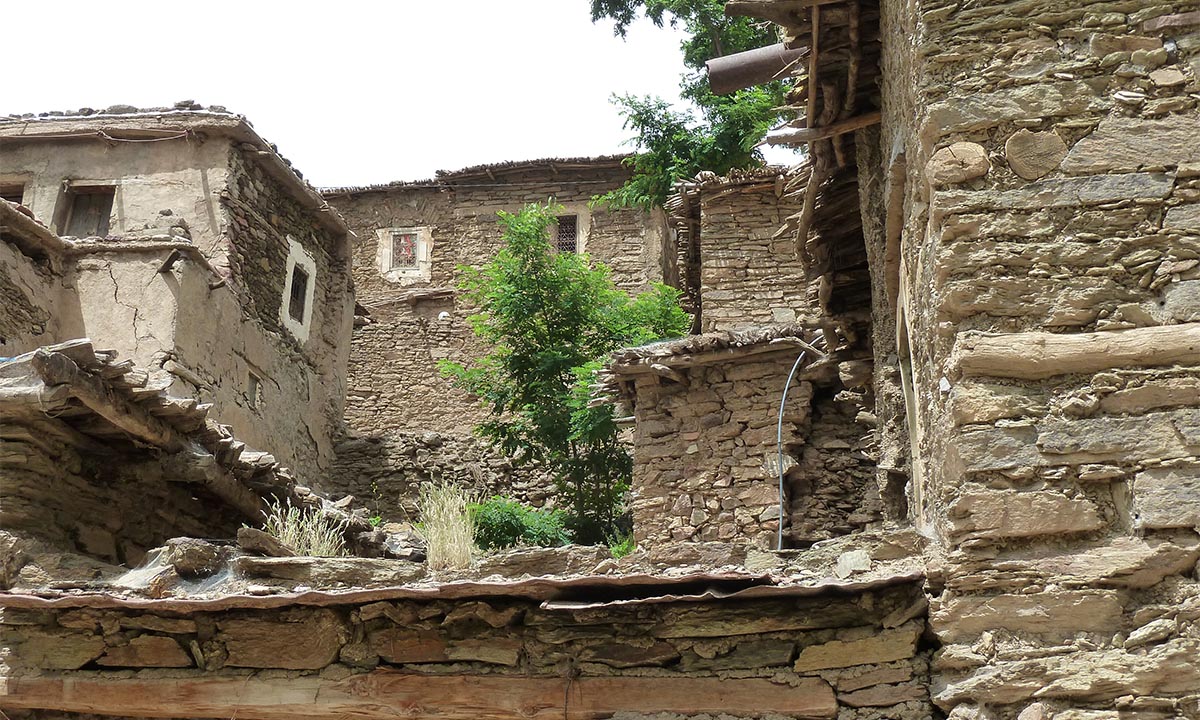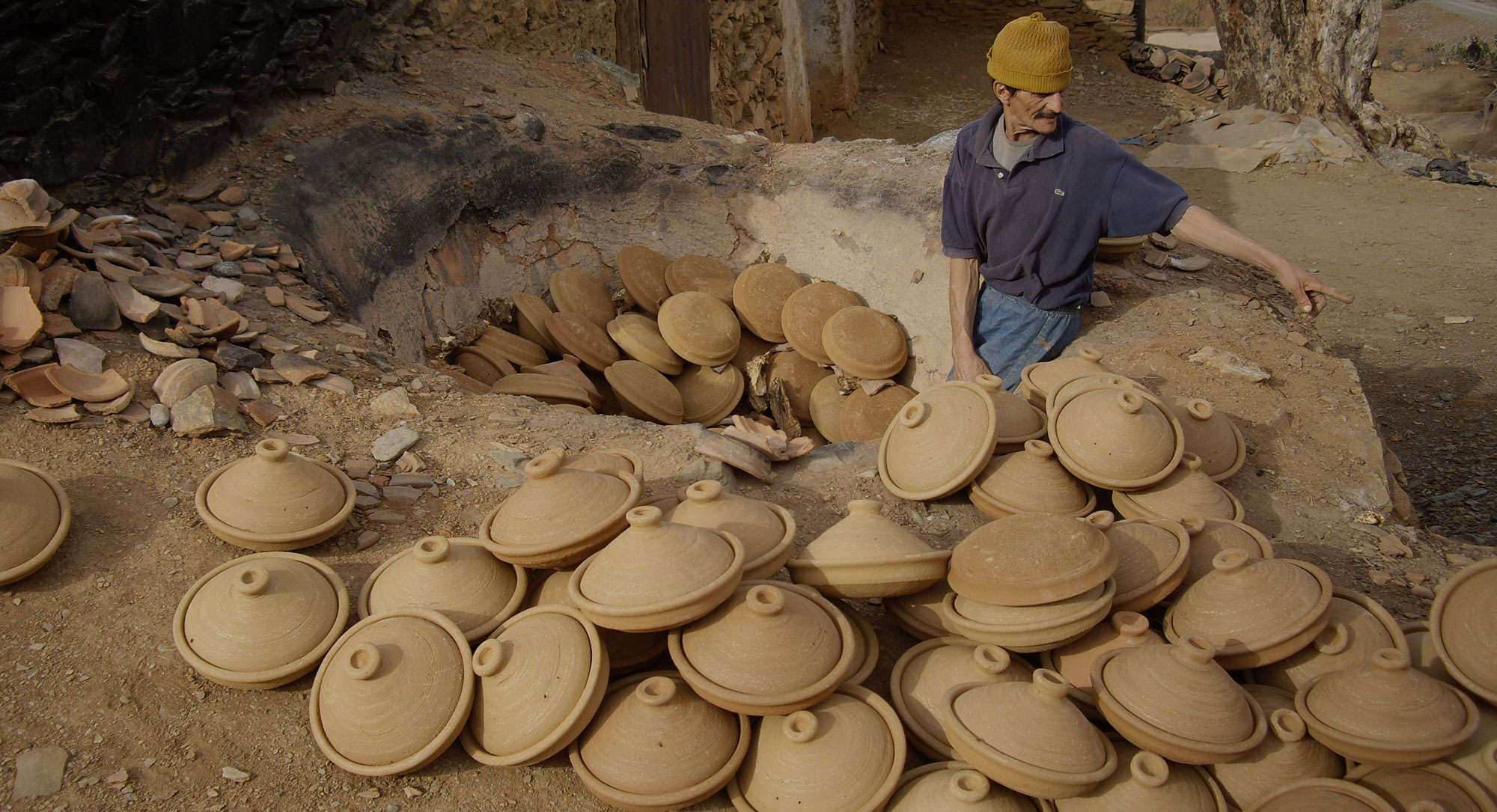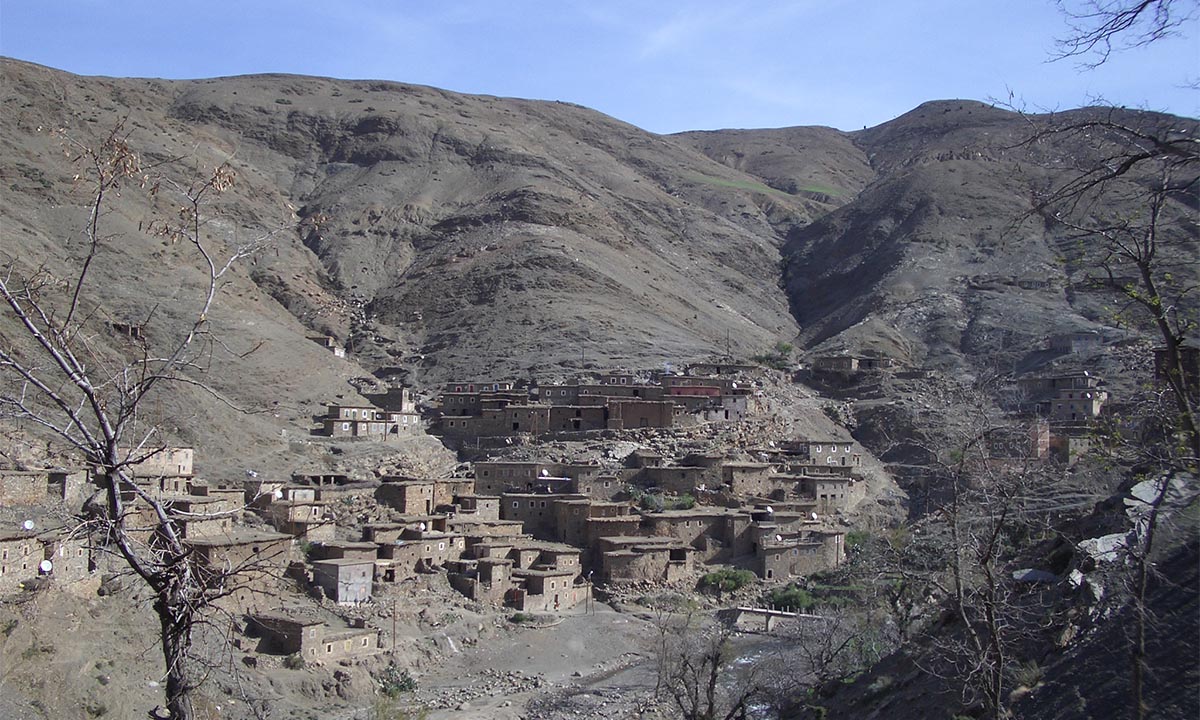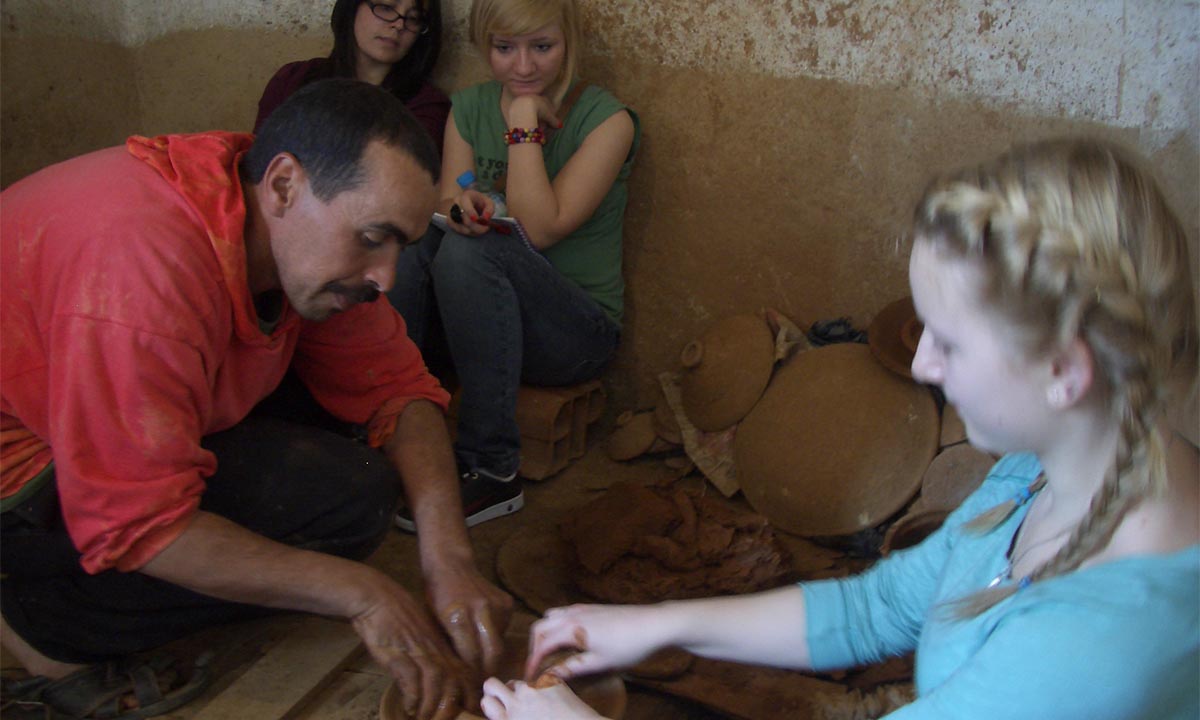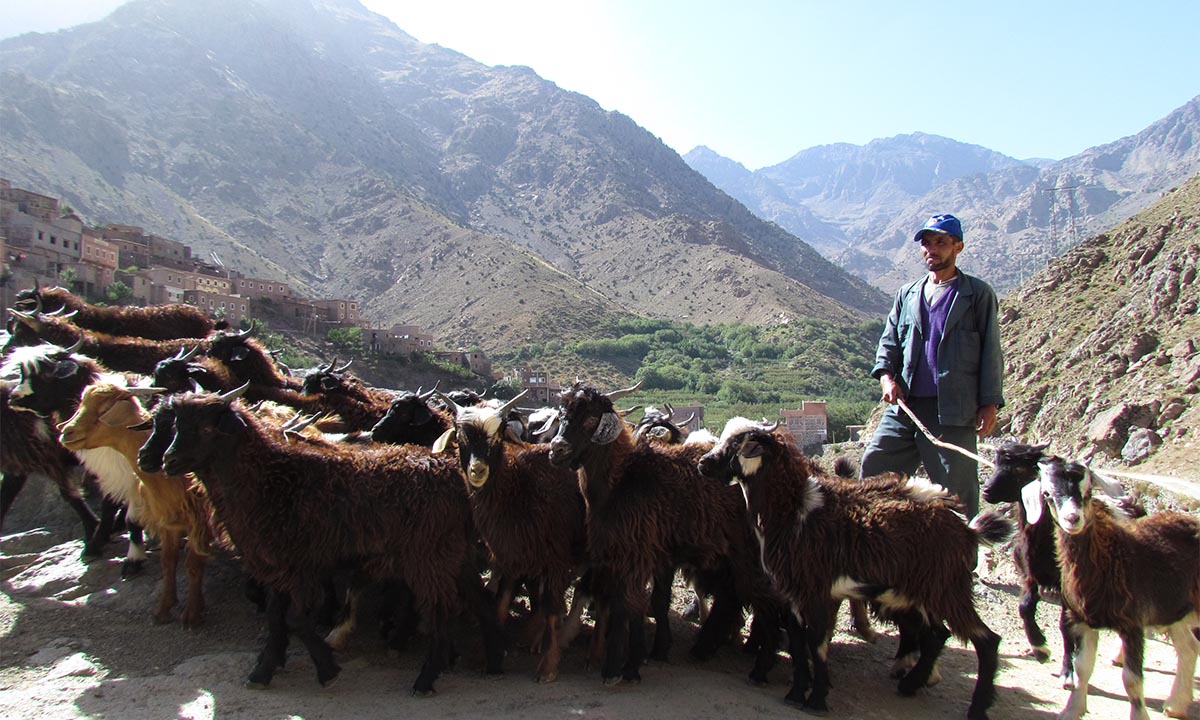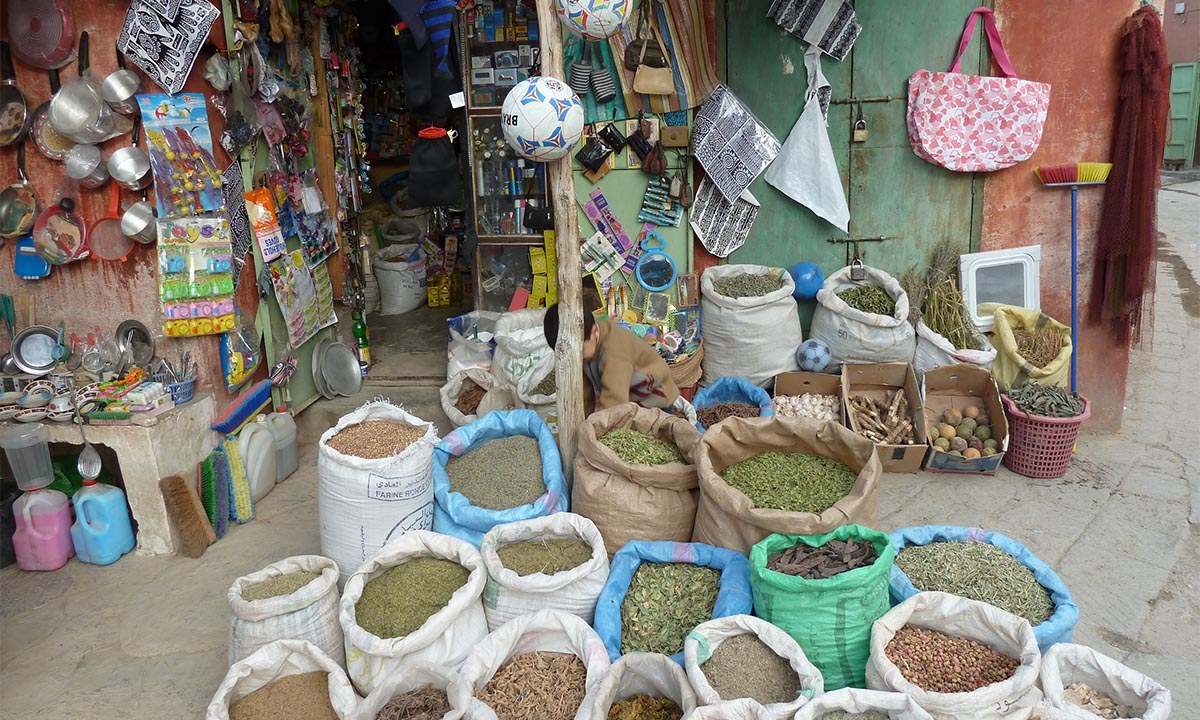 DAY 4
MARRAKECH HOME VISIT; MARRAKECH'S FOOD SOUKS; PATISSERIE BAKING CLASS
MORNING.
Today you first have a Marrakech home visit to make bread and then to take it to the local communal bread oven. Baking bread every day is the custom and you will gain "hands-on" experience of this. However, often not having an oven in the home (most cooking is done using bottled gas burners), once you have kneaded your bread, it must then be taken to the local communal bread oven (nearby), on a tray, covered with a cloth, to be baked. After a short while your freshly baked bread will be collected and you will enjoy it with a second breakfast back in the Marrakech home.
A guided walking tour is then taken in the Old Medina to spend some time in a lively, bustling Old Medina market where many riad owners and local householders shop every day for their day's meal ingredients. Here you will see a range of colourful, fresh produce with all items being named and explained to you as to what they are used for in Moroccan cuisine. As well as seeing the vegetables and fruits, a visit is also made to the specialist olive stands to identify and taste the many and various olive types available.
AFTERNOON
In early afternoon you return (by private transport and driver) to the same Cookery school visited on Day 2. Here you will first enjoy lunch, fully prepared for you by the staff of the School.
After a full lunch, however, you will stay at the Cookery School to take part in an afternoon Baking Class to make Moroccan patisserie. This will, of course, be followed by an afternoon tea of delicious mint tea along with your patisserie.
EVENING
Your evening meal will be taken in a very smart Moroccan restaurant (a different one each evening).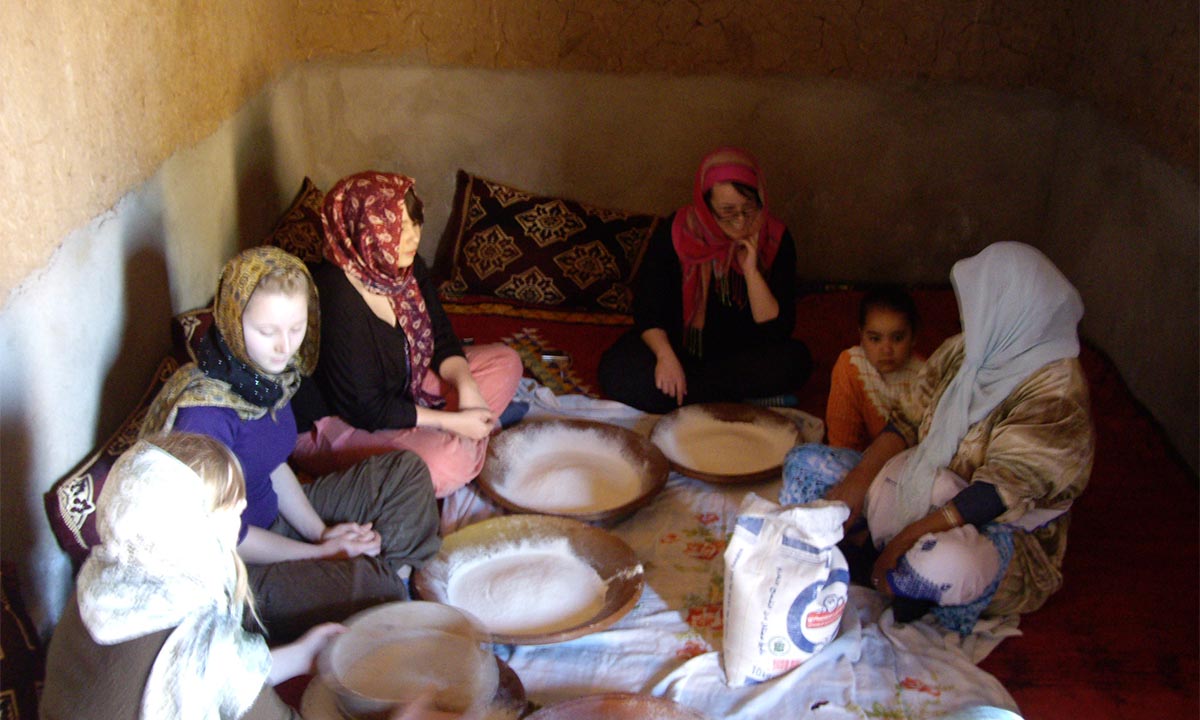 DAY 5
THE MARRAKESH PLAIN & COUSCOUS MAKING; AN APOTHECARY VISIT
MORNING/EARLY to LATE AFTERNOON
With your private transport and driver you will leave Marrakech and first drive eastwards along the Fes road. After about 40 minutes or so you will turn on to the Marrakech Plain and head to near to a traditional Arabic village. Here a second breakfast will first be offered to you. A favourite second breakfast food is messamen; its preparation will be demonstrated and, of course, an opportunity to "have a go" will be given. Messamen are delicious, eaten with butter, honey, cheese.
Located by this Arab village is a Co-operative, run and operated by ladies. Here they process the various type of grains that are turned into couscous e.g. millet, rice, quinoa.
After donning shoe coverings, a white coat and a hairnet hat, you will be guided through the small factory to see how the couscous is prepared. Of course, you too can try your hand (quite literally!) at transforming the ground grains into couscous – patience is required, it is hard, slow work.
Naturally you will be eating couscous for a delicious lunch, prepared for you and served to you by the delightful ladies of the Co-operative. On departure, you may well be serenaded by the ladies who will have been very happy that you have shown interest in their earnest endeavor.
In mid-afternoon you will return to Marrakech by being driven across the Marrakech Plain, amongst the glorious Jbilet Hills.
As well as fresh ingredients being a vital part of the preparation of tasty Moroccan food, spices and herbs are essential ingredients too. A visit is taken to a traditional Old Medina Apothecary before being returned to your riad. This will allow you to fully appreciate the nature and the important part that spices and herbs play in making Moroccan cuisine.
EVENING
Your evening meal will be taken in a very smart Moroccan restaurant (a different one each evening).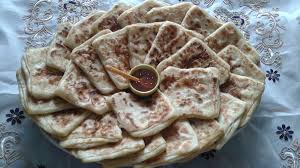 DAY 6
departure day
Depending on your flight's departure time, you may have some additional, informal relaxation time in Marrakesh.
You will be then collected from your accommodation and be taken by private transport and driver to Marrakesh Menara Airport*.
NOTE: It is strongly advised that you arrive at check-in 3 hours before the scheduled time of your flight's departure.
*NOTE: Should you be departing from Casablanca Airport, private transfer and driver will be arranged (at a supplement).
INCLUDES AND EXCLUDES
this Moroccan Food and Cookery tour itinerary takes 6 days:
WHAT ATS INCLUDES
Airport transfers to/from your Marrakech accommodation on arrival and departure days;
All further Moroccan ground transportation to cover the itinerary as described;
5 x nights Marrakech bed and breakfast accommodation in a 4* Medina riad (if you wish 3*/5* accommodation this can be arranged);
All visits, experiences and cookery classes (including ingredients) as outlined in the tour itinerary;
An Anzal Tours Courier to accompany you throughout your tour, in city and countryside;
A Marrakech City Guide for a half day;
A visit to the Majorelle Gardens;
Lunches x 4 (Days 2, 3, 4 and 5)
Second breakfasts x 3 (Days 3, 4 and 5)
Evening meals x 5 (Days 1, 2, 3, 4, 5)
Afternoon tea x 1 (Day 2);
An Anzal Tours Contact Person's 'phone number 24/7

WHAT ATS DOES NOT INCLUDE:
Flights/Ferries
Personal Insurance
Personal spending
All other items not mentioned in the INCLUDES list
PRICES FOR A 6 DAY TOUR (6days/5nights)
(all taxes incl)
Total for 2 persons is: 38040 MAD
Total for 4 persons is: 58560 MAD
Total for 6 persons is: 78240 MAD
For any other group size, please contact us.
NOTE:
30% deposit to book; balance to be paid 60 days before tour's commencement; ATS Bank Details will be given.

NOTE: Last minute bookings can always be discussed, however. if you wish to learn more about this programme, please make contact.