Tour Overview
itinerary
itinerary outline
day 1: Arrival day into Marrakech*
day 2: Marrakech > Ouarzazate
day 3: Ouarzazate > Zagora and the Sahara
day 4: Zagora > > Tamangroute > Ouarzazate
day 5: Ouarzazate > Marrakech
day 6: Departure day from Marrakech*
*flights not included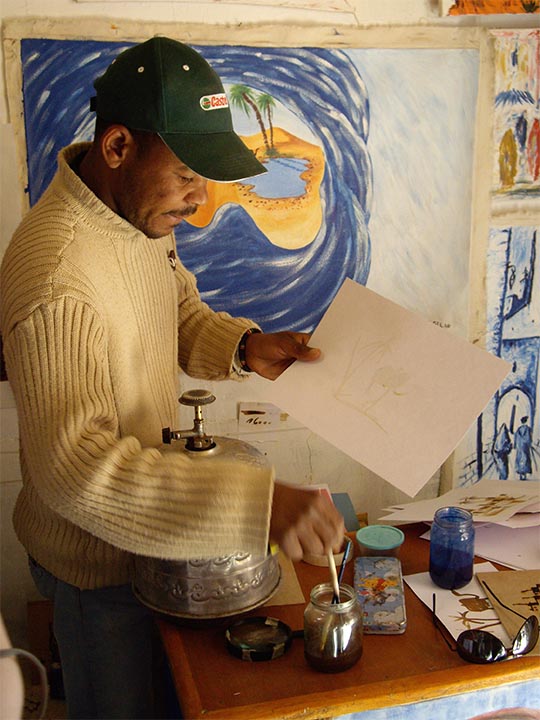 DAY 1
arrival day
Arrive in to Marrakech Menara Airport; coach transfer to your hotel in the city. Depending upon flight time arrival, this may be the day when some time can be spent taking a walking tour in to the old town Medina to explore Jemaa el Fna, the Souks, visit an Apothecary, see Koutoubia Mosque and enjoy a sunset view from a cafe terrace.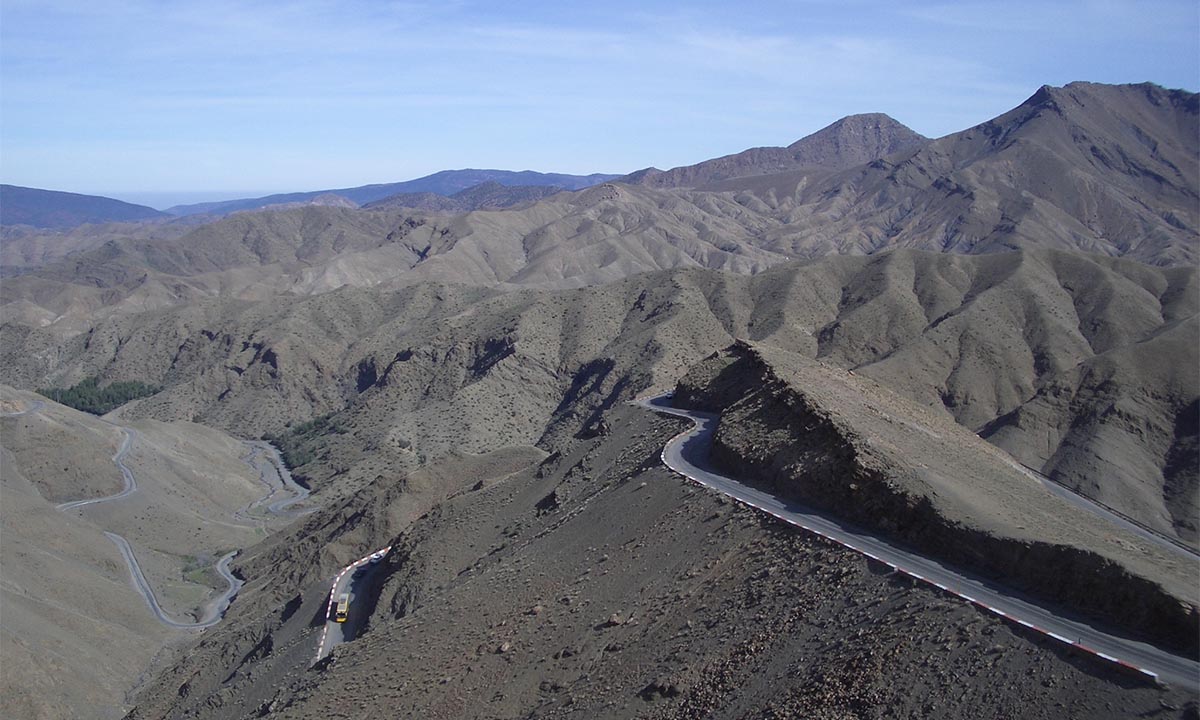 DAY 2
to ouarzazate
Travel south across the Marrakech Plain; changing urban landuses on the city's edge (new hotel & spa complexes and golf courses). See the impact of drought on the landscape with newly irrigated farmland resulting from water management. enter the foothills of the High Atlas mountains to understand fold mountain formation, sedimentary landscapes and their geology. Appreciate the impact of fluviual and weathering processes on landscape as well as flash floods (their causes and impacts). Engage with human activity in upland environments and understand the challenges of land communication. travel over the Tizi-n-Tichka pass. view Berber life and its farming systems, arable and pastoral. pass through market towns. Connect with aspects of a developing country and realise what indicators of development and indications of development actually mean/look like in real situations.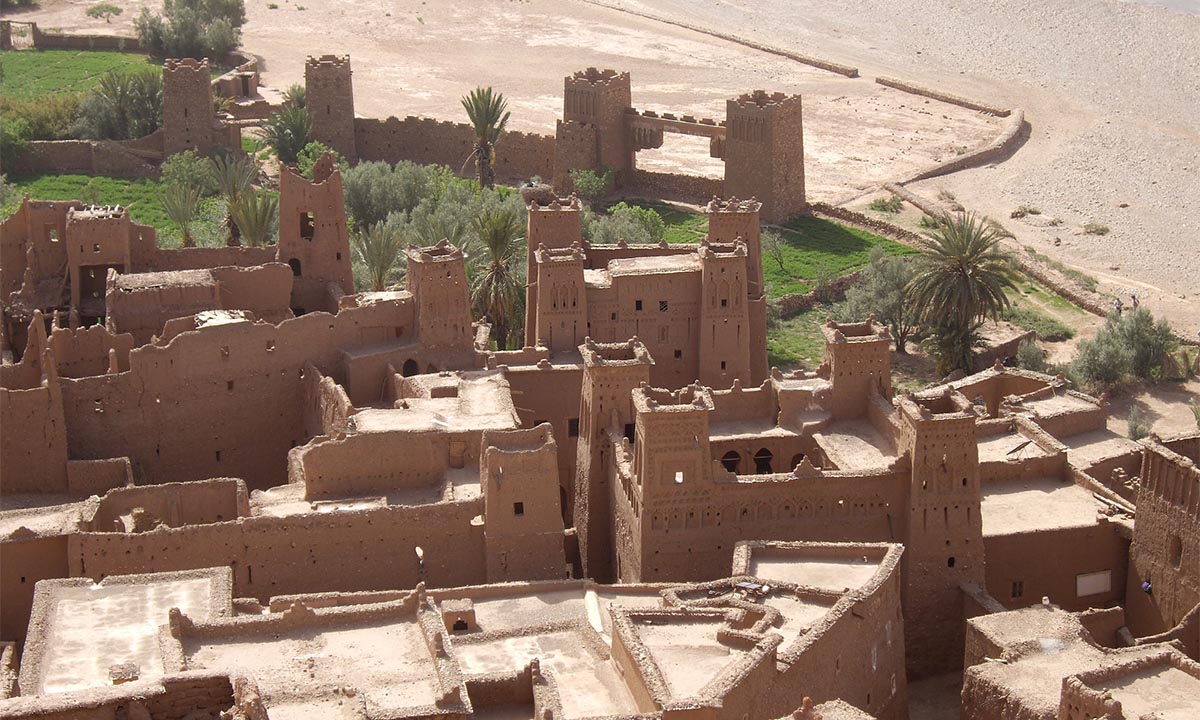 DAY 3
ouarzazate to zagora & sahara
As well as the topics seen on day 1, climb up and over the Tizi-n-Tiniffift pass. Observe lower course river features and aspects of river basin management to aid water sustainability. View and understand agricultural landuses and how they are related to landscape (including date palmeraies and intensive agriculture where water is available). See many examples of ancient kasbahs. Consider aspects of tourism, the pros and the cons. If taking the overnight option in a Bedouin encampment near to Zagora, take a camel ride to reach it. Enjoy a traditional evening after viewing the sunset, around a campfire with engaging drumming and view the myriad of stars overhead.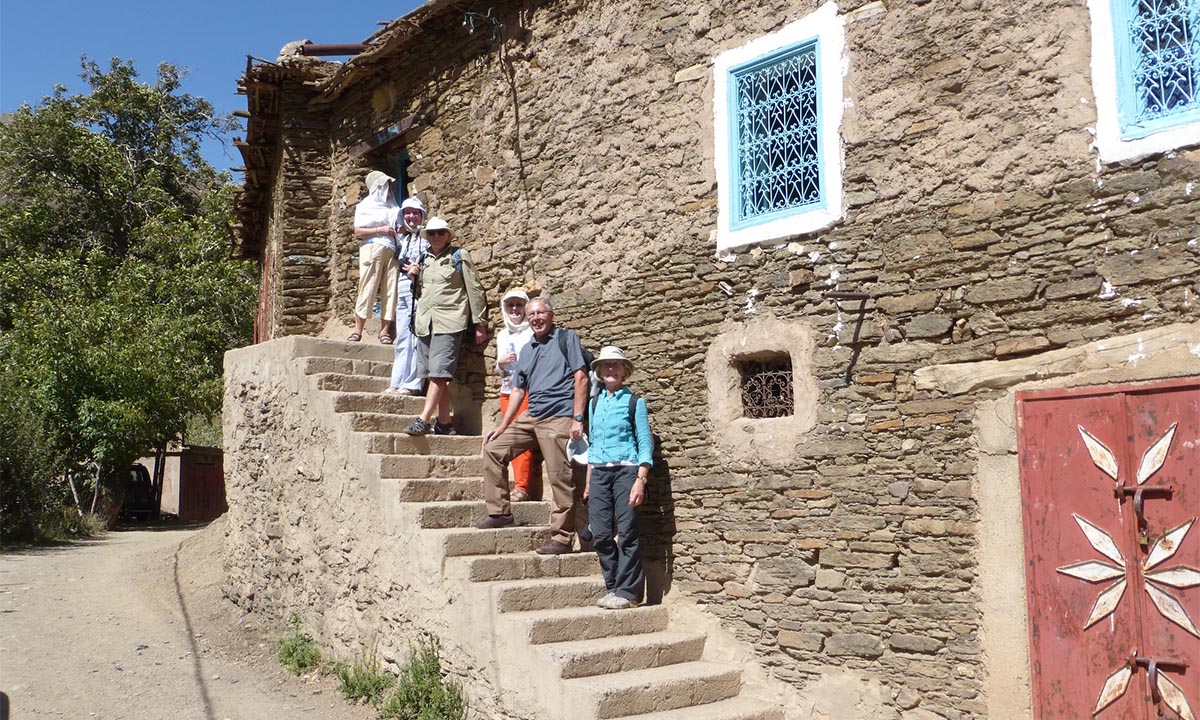 DAY 4
zagora to ouarzazate
As well as the topics seen on days 1 and 2, enter true Saharan hot desert landscapes, see the nature and scale of their landforms and processes (buttes, mesas, plateaux). Encounter sand dune encroachment over roads and buildings and understand the management techniques to control the shifting sand. Feel an arid climate and imagine (or indeed realise) the challenges it presents to human activity. Visit Tamangroute traditional Saharan township and take a tour through its "underground" alleyways and homes. See the settlements traditional pottery industry with its characteristic green glaze. Be immersed in aspects of Islamic culture. ravel by wadis, dry river channels that can come very much alive during times of flash flood..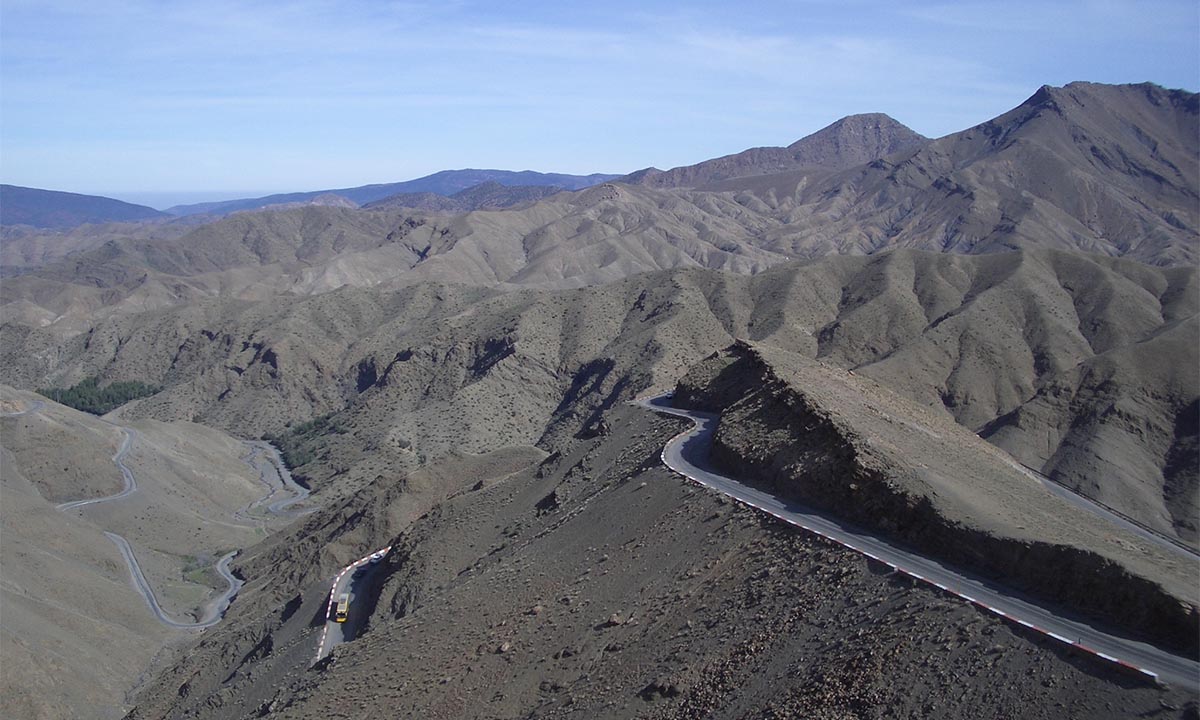 DAY 5
ouarzazate to marrackech
As well as the topics seen on days 1, 2 and 3, aspects of the film industry (option: Film Studio Visit) on the outskirts of Ouarzazate. Take time at the World Heritage Site of Ait Benhaddou Kasbah, a traditional fortified town that is remarkable conserved today (and where many big screen films have been party shot e.g. Gladiator). Understand the nature and development of incised river systems. Consider development issues and options after 4 days of travelling e.g. what does the future hold, for the landscape, for people. are there signs of development to be seen? what are these signs? Are they fully beneficial or might there be negative aspects to them? Finally, turn to the hustle and bustle of Marrakech and understand so much better now the idea of urban pulls and rural pushes, having "seen them in action" (although, there are urban pushes and rural pulls too to consider and discuss).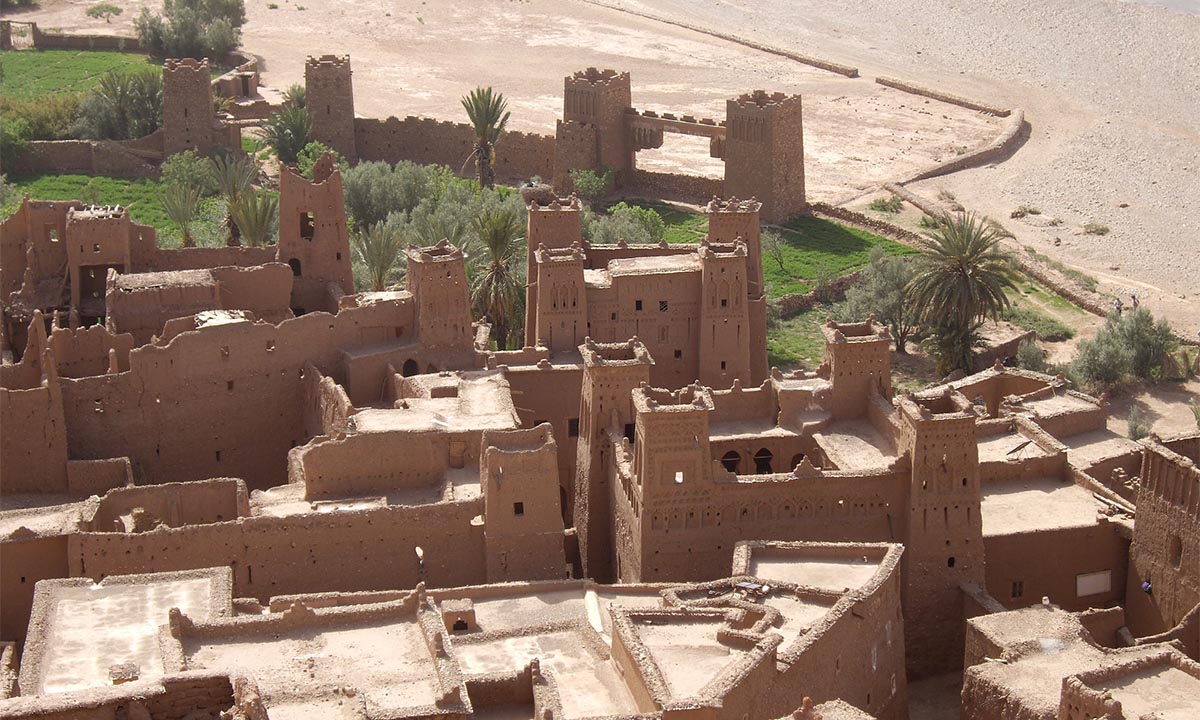 DAY 6
departure day
Coach transfer back to Marrakech Menara Airport for your return flight. If there is time, take a walking trip into the city's Medina area to explore the Souks (see information on arrival day above).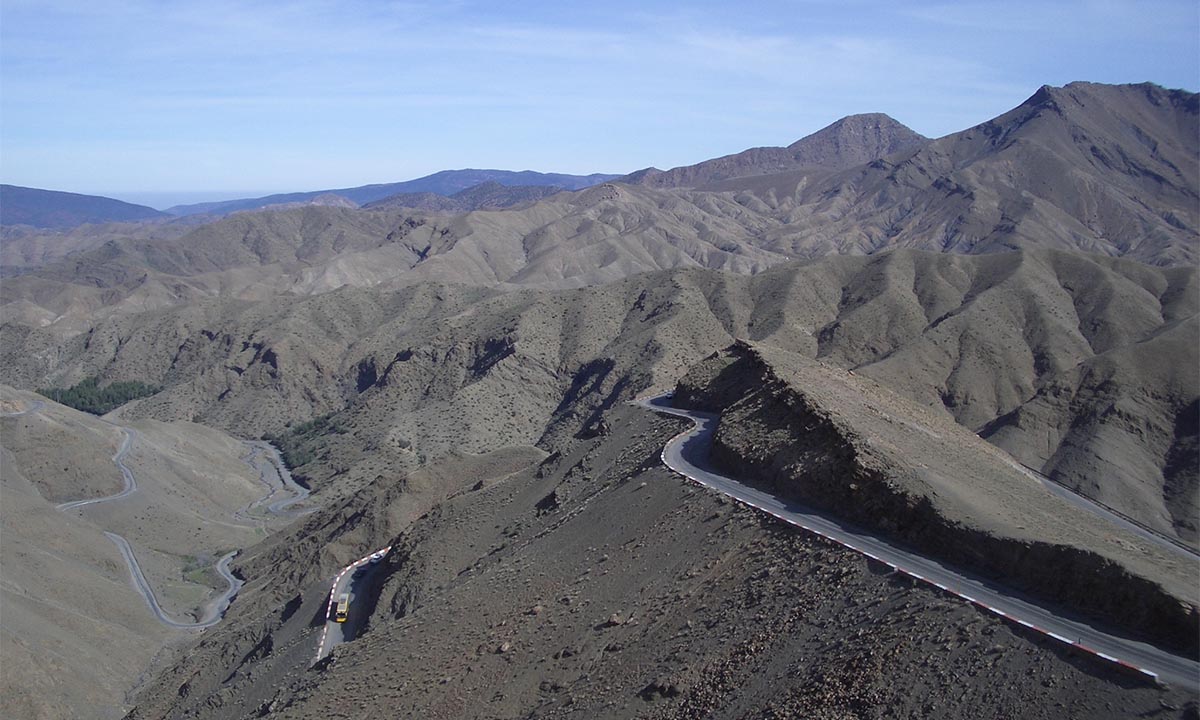 geography syllabus relevance
geography syllabus relevance
Developing World City
Urban Contrasts
Fold Mountains
Hazardous Environments/Flash Floods
River Systems
Water Resource Management/Sustainability
Traditional vs New Farming Systems
Climate Change
Development Indicators
Options for Development
Development Issues
Arid Environments
Cultural Contrasts
World Heritage Sites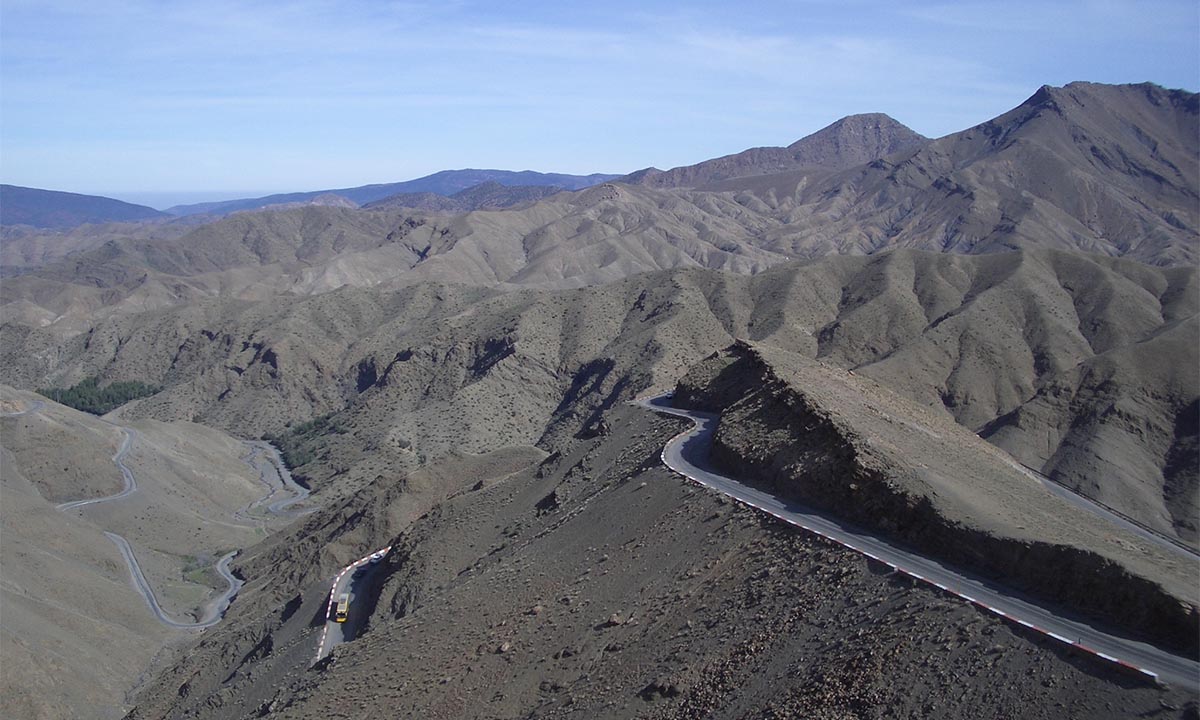 included
what is included
High quality coaching to cover the itinerary above, including airport transfers
An ATS Moroccan Courier, throughout (English speaking)
2 nights half board accommodation in Marrakech hotel, twin rooms
2 nights half board accommodation in Ouarzazate hotel, twin rooms
1 nights accommodation in Bedouin Encampment (with Camel Ride to reach it)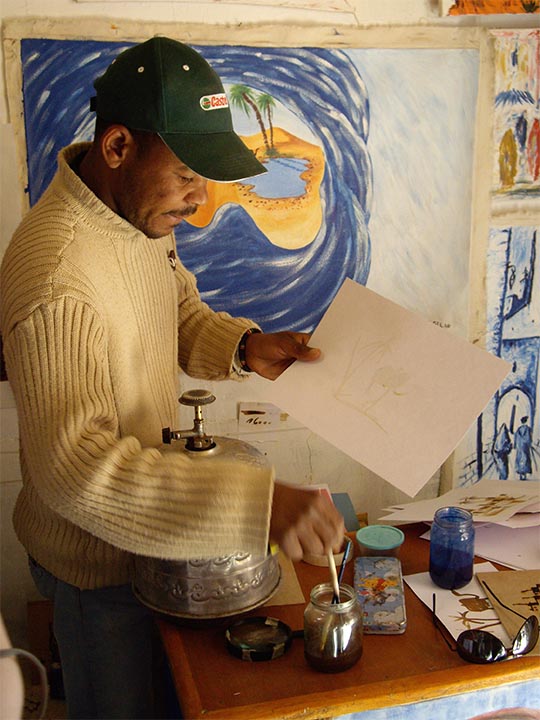 not included
what is not included
Flights
Lunches (bu can be added)
Bottled water (but can be added)
Any mealtime drinks
A Geography Guide
Personal insurance
Tips (but can be added)
All other items not listed as included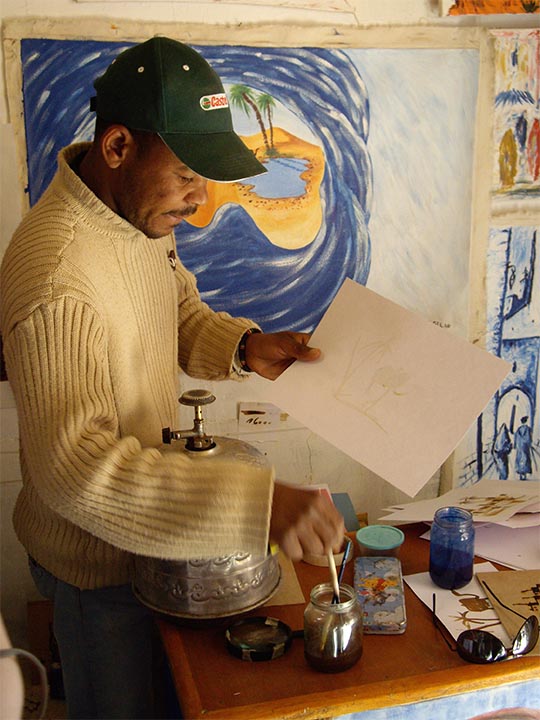 PRICE
(all taxes incl)
For 30 paying pupils with 3 free teacher places, 4275 Moroccan Dirhams per pupil