Epic journeys
High Atlas, River Valleys & Sahara
Cultural Immersion in Berber & Bedouin Lifestyles
Desert Hotel/Desert Camp Option
Tour Overview
INTRODUCTION
INTRODUCTION
This tour takes in the very best of Morocco, a tour that is ideal for groups that either

(a) wish it to be a specifically geography focussed tour

(b) wish it to have a more broadly educational, cross curricular tour

This tour's itinerary includes Marrakech, the High Atlas, the Valley of a Thousand Kasbahs, the Toda Gorge and the glorious Erg Chebbi sand sea in the Sahara (by Merzouga). As a result, many aspects of both physical and human geography are encountered.

For physical geography, the High Atlas allows topics such as mountain building, earth forces, river processes and their forms to be viewed (and on a very grand scale). On entering the Sahara, arid landscape processes and their forms are then encountered. Both the positives and negatives of living in these very different environments, mountain and hot desert, can be discussed and evaluated.

For human geography, in Marrakech, aspects of city life in a developing country are seen, contrasting the Old Medina with the new Guilez area. Moving into the High Atlas, the contrasting rural lifestyle of the Berber people is encountered. In the Sahara, it is the Bedouin people whose lives are seen. As well as seeing and experiencing these aspects of human geography, many development topics and issues can be discussed in the light of "seeing the reality".

For cultural understanding, Morocco has much fascination to appreciate too. Aspects of religion and deeply rooted rural traditions are fascinating to learn about.

NOTE: Although this tour is best covered in 7 days, it can be completed in 6 days, depending on flight times, (a 6 day tour version needs a morning arrival flight on Day 1 and an evening departure flight on Day 6).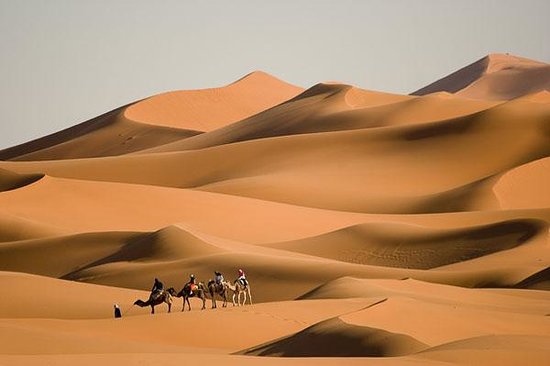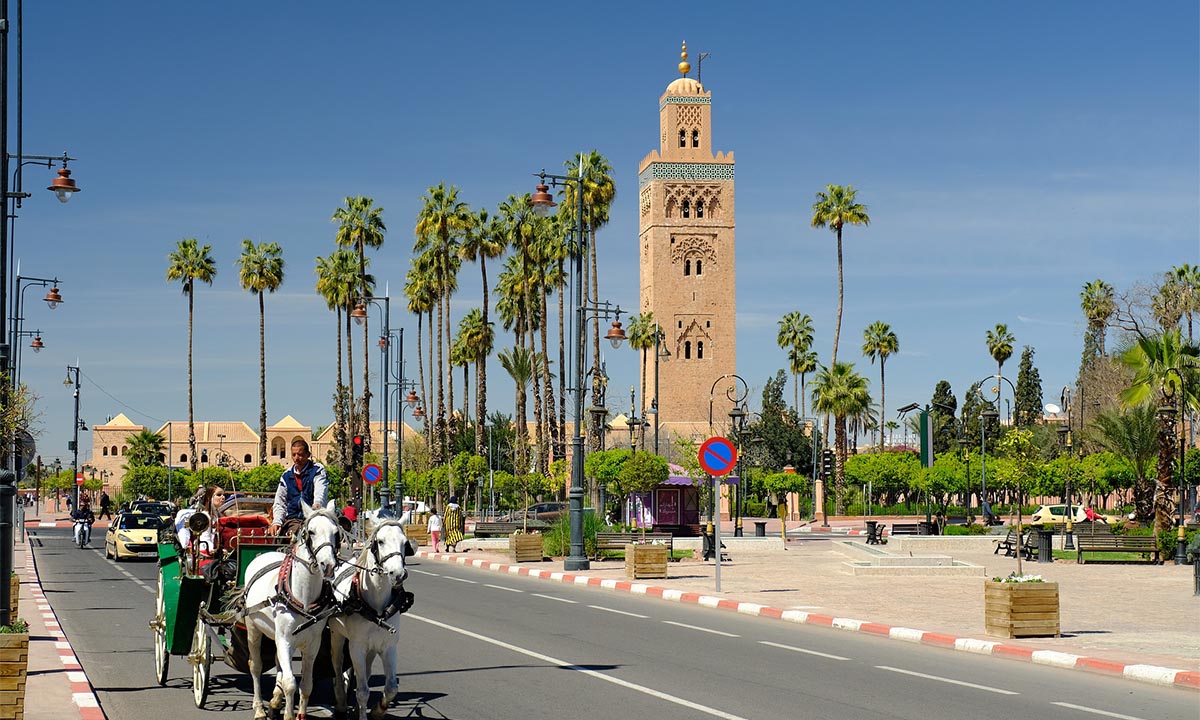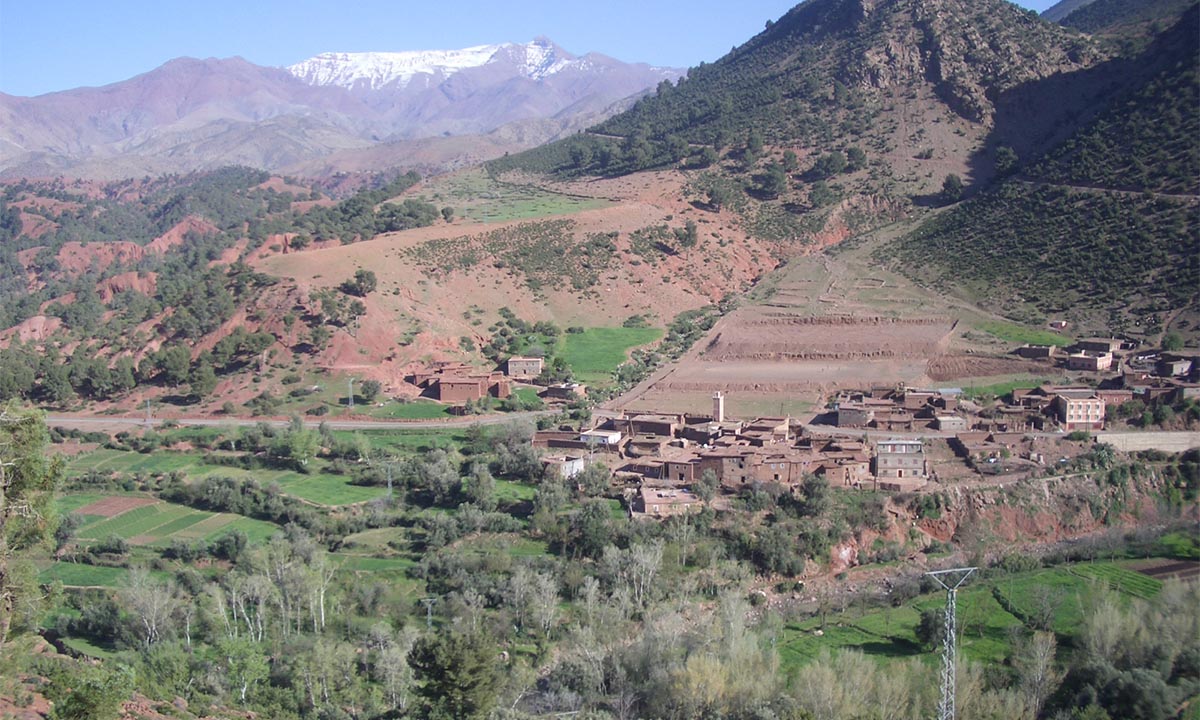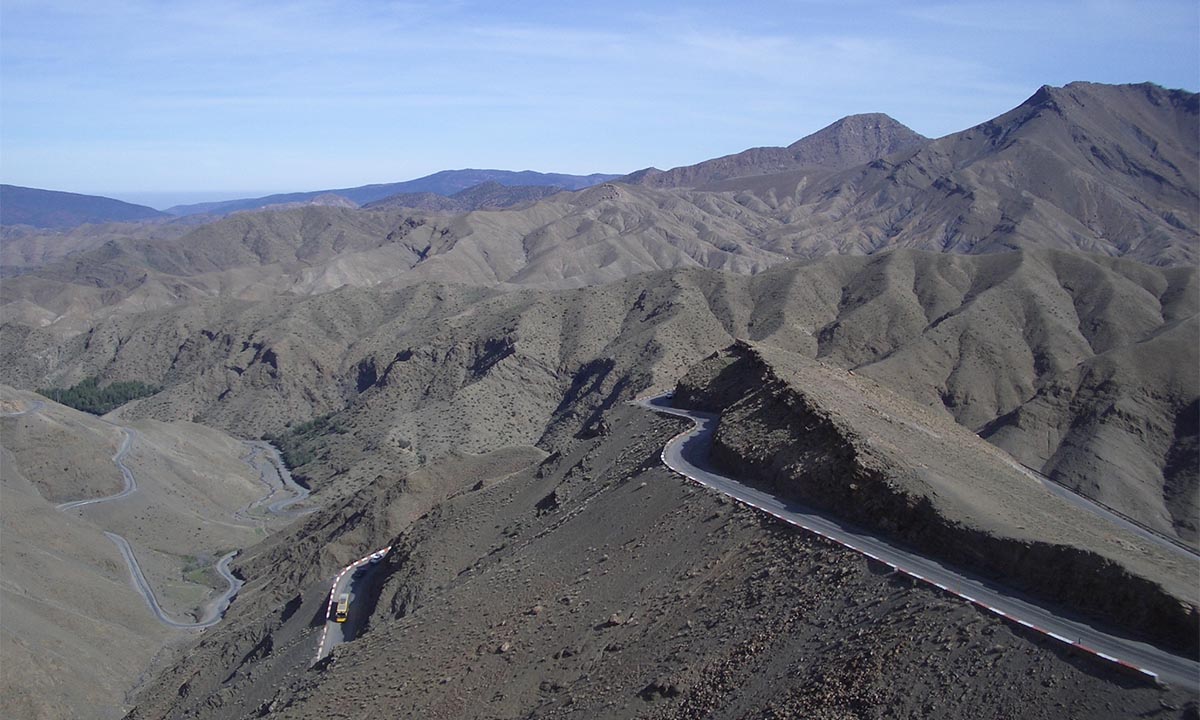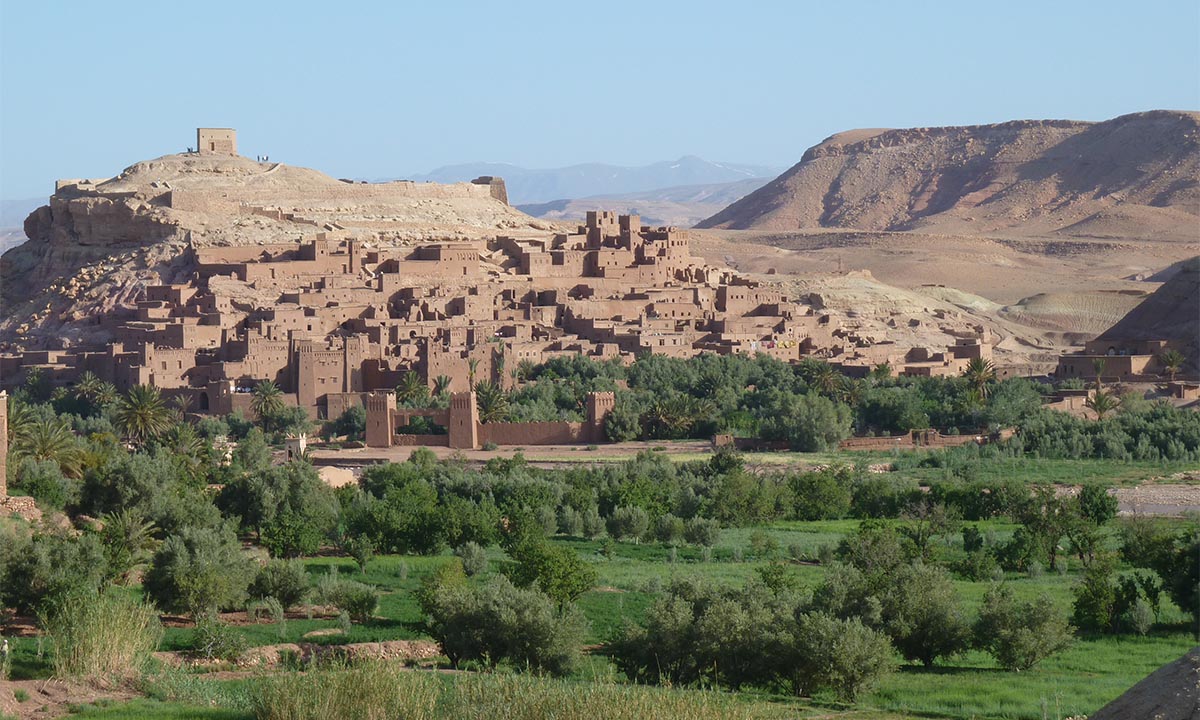 DAY 1
ITINERARY: ARRIVAL DAY INTO MARRAKECH: AIRPORT TRANSFER TO HOTEL: MEDINA VISIT
EDUCATIONAL TOPICS: Contrasting Cultures; Developing World City; World Heritage Site

Arrival day into Marrakech Menara Airport transfer to hotel; depending on flight times, walk to the Old Medina.

Time in Marrakech at the start of your tour instantly opens everyones' senses to another world. This city bustles and fascinates in equal measure as your time in the Old Medina will readily illustrate.

Take in Koutoubia Mosque, Jemaa el Fna, the Souks and an Apothecary visit.

The Majorelle Gardens (once owned by Yves St Lauren) is about 30 minutes walking from the Medina and offers a most tranquil, lush oasis after time in the Medina.

Overnight in Marrakech.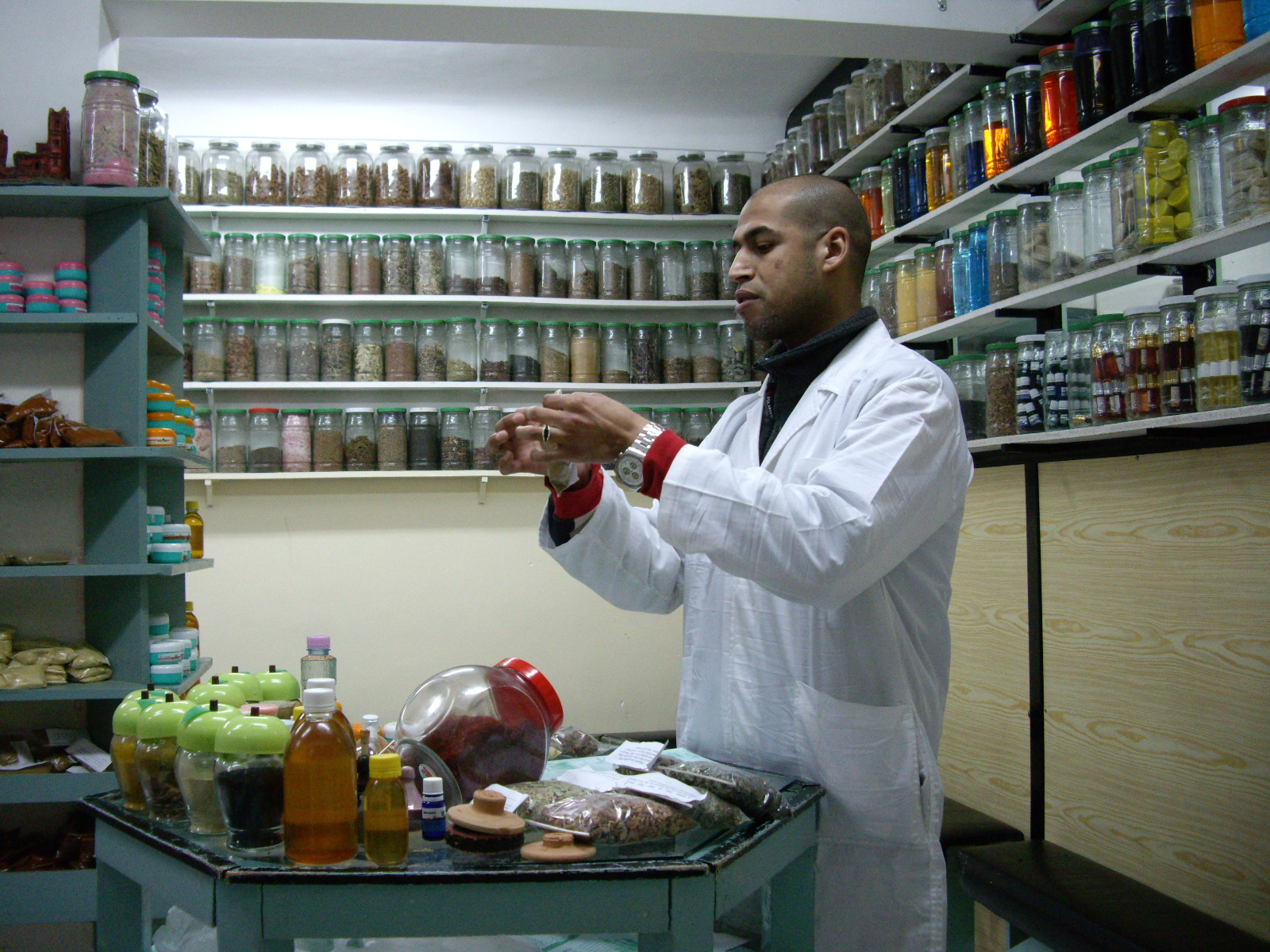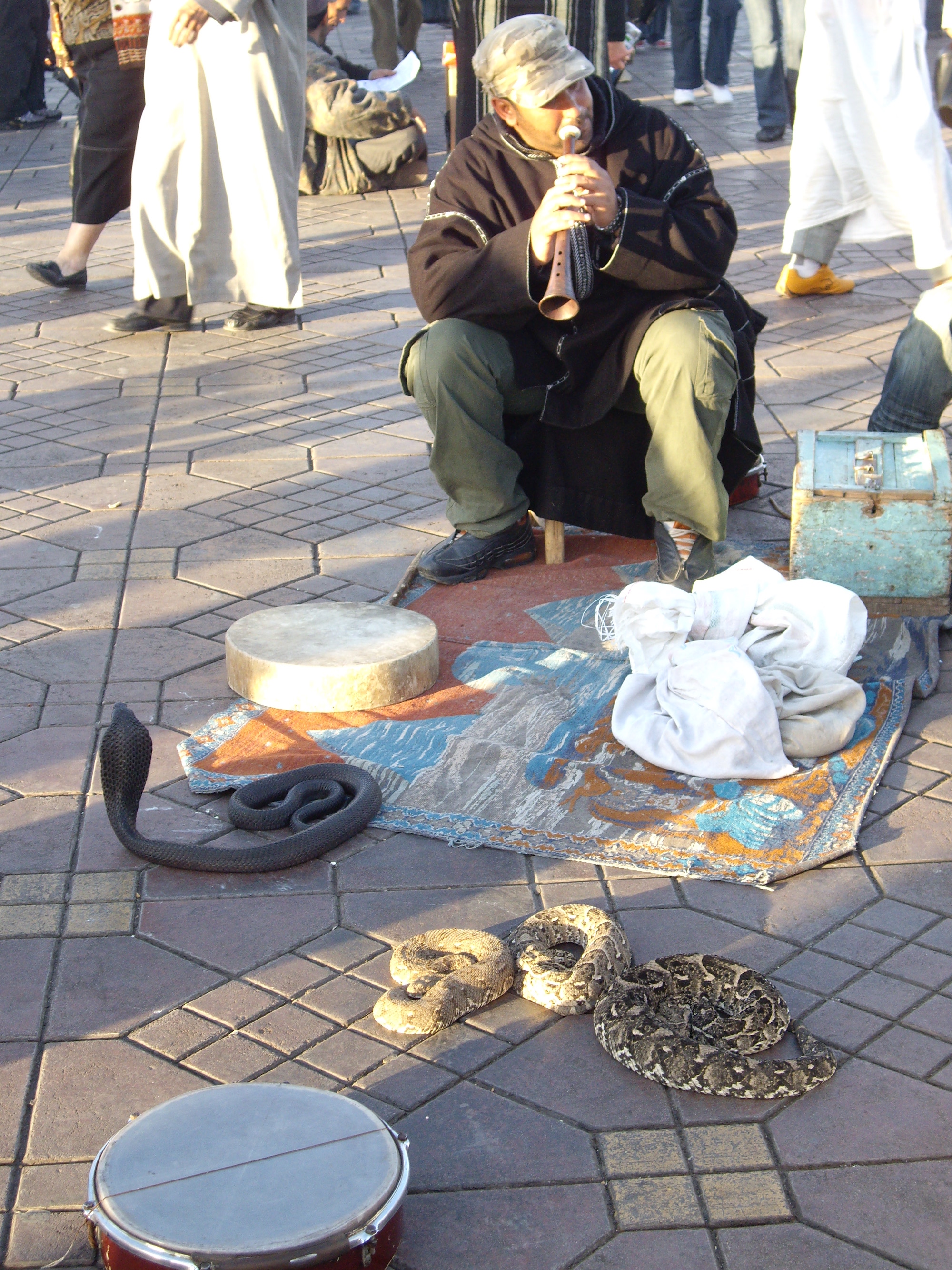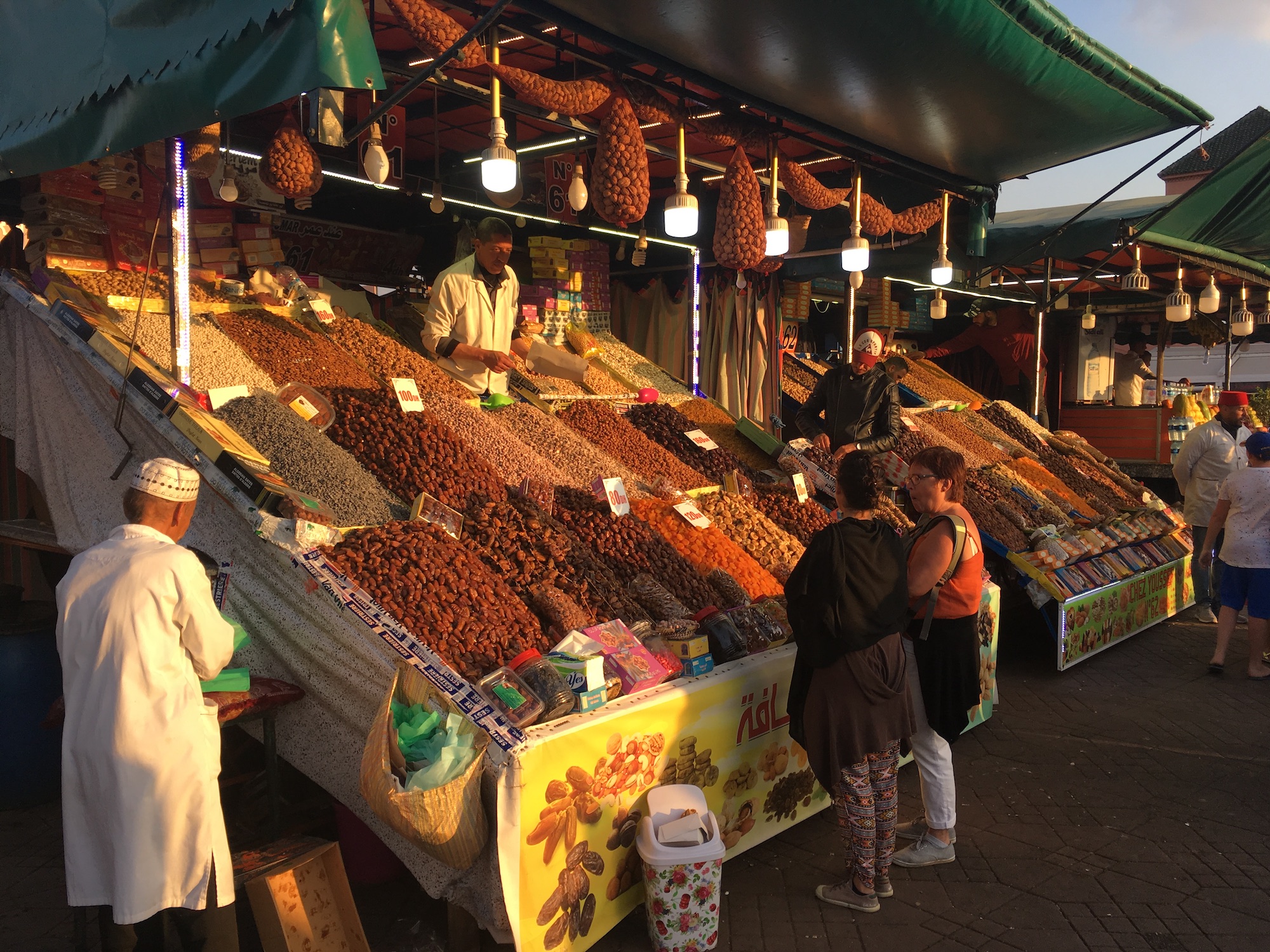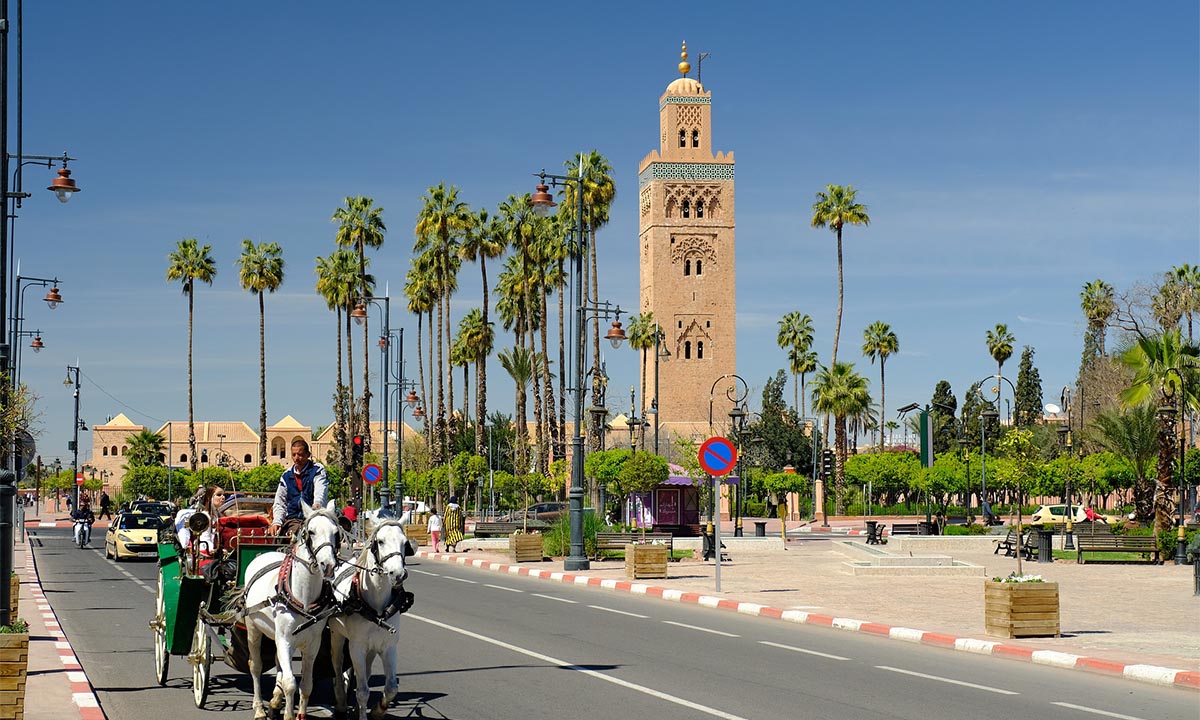 DAY 2
ITINERARY: MARRAKECH > MARRAKECH PLAIN > HIGH ATLAS > TIZI-N-TICHKA PASS > OUARZAZATE
EDUCATIONAL TOPICS: Fold Mountains; River Systems; Small Scale Water Management; Flash Flooding; Berber Communities and Activities; Development Issues; Hazardous Environments

This journey takes your group across the Marrakech Plain and then up and over the High Atlas. The highest peak in this impressive mountain range can often be seen, Mount Toubkal (4,167m). The Berbers (the Mountain People) live here; to see their villages and to observe their everyday farmland and village activities is fascinating. Water is a precious resource and its traditional management to lead it to the terraced fields is fascinating. The Berbers' traditional mud brick homes are seen plus the rapid, recent change to concrete construction.

Taddert is en route, an ideal stop for refreshment, perhaps some mint tea, and lunch. An Argan Oil Co-operative can be visited here (an example of rural development to help ladies gain income).

The N9 road continues to snake upwards to the Tizi-n-Tichka Pass (2,260m), the watershed of the High Atlas. From near to here great panoramic views can be seen, over the mountain range and the road recently travelled.

Descending the south facing slopes of the High Atlas there is much to still fascinate in the local Berber activities seen. A stop is made overlooking Zaouite Inkkal village; the many positive geographical factors influencing the site selection for this village can be discussed, and also its negative factors.

Ouarzazate, the "Peaceful City" is the overnight stop.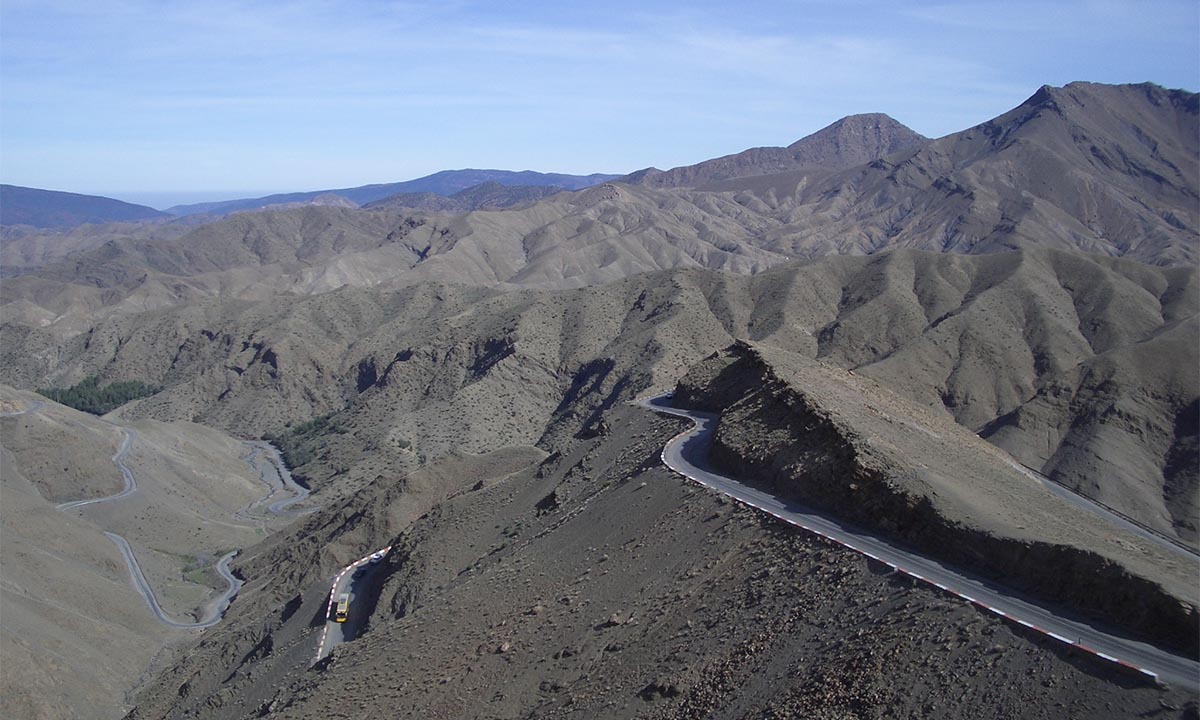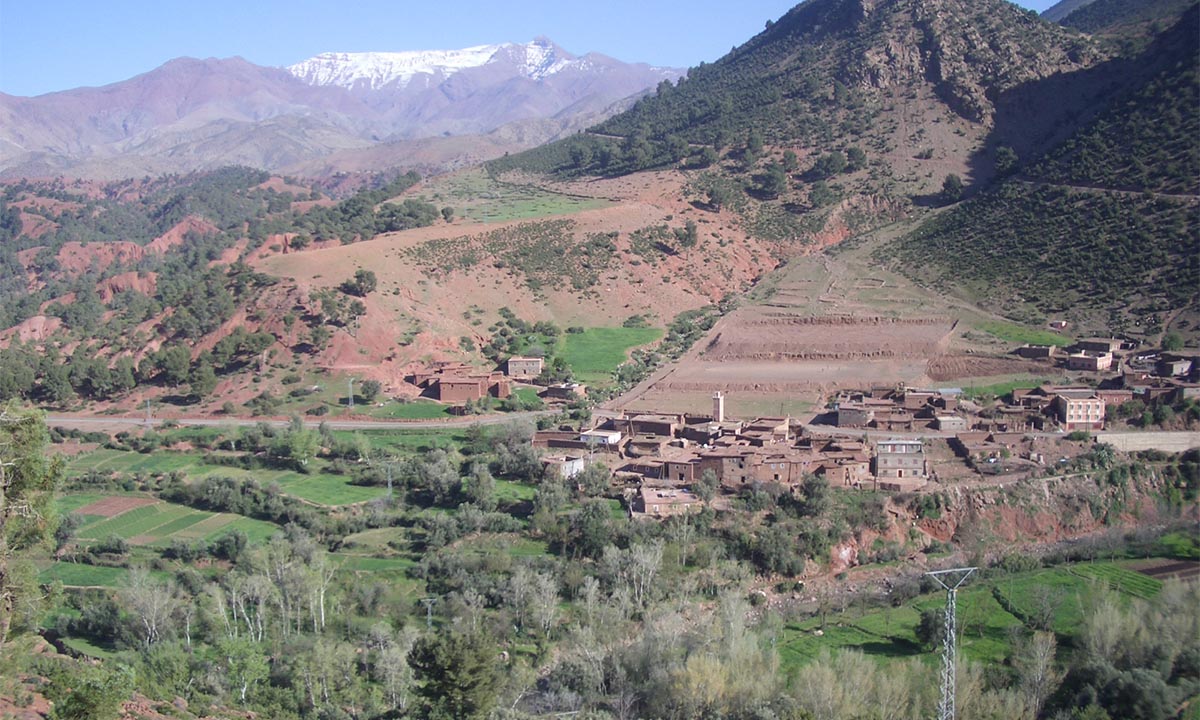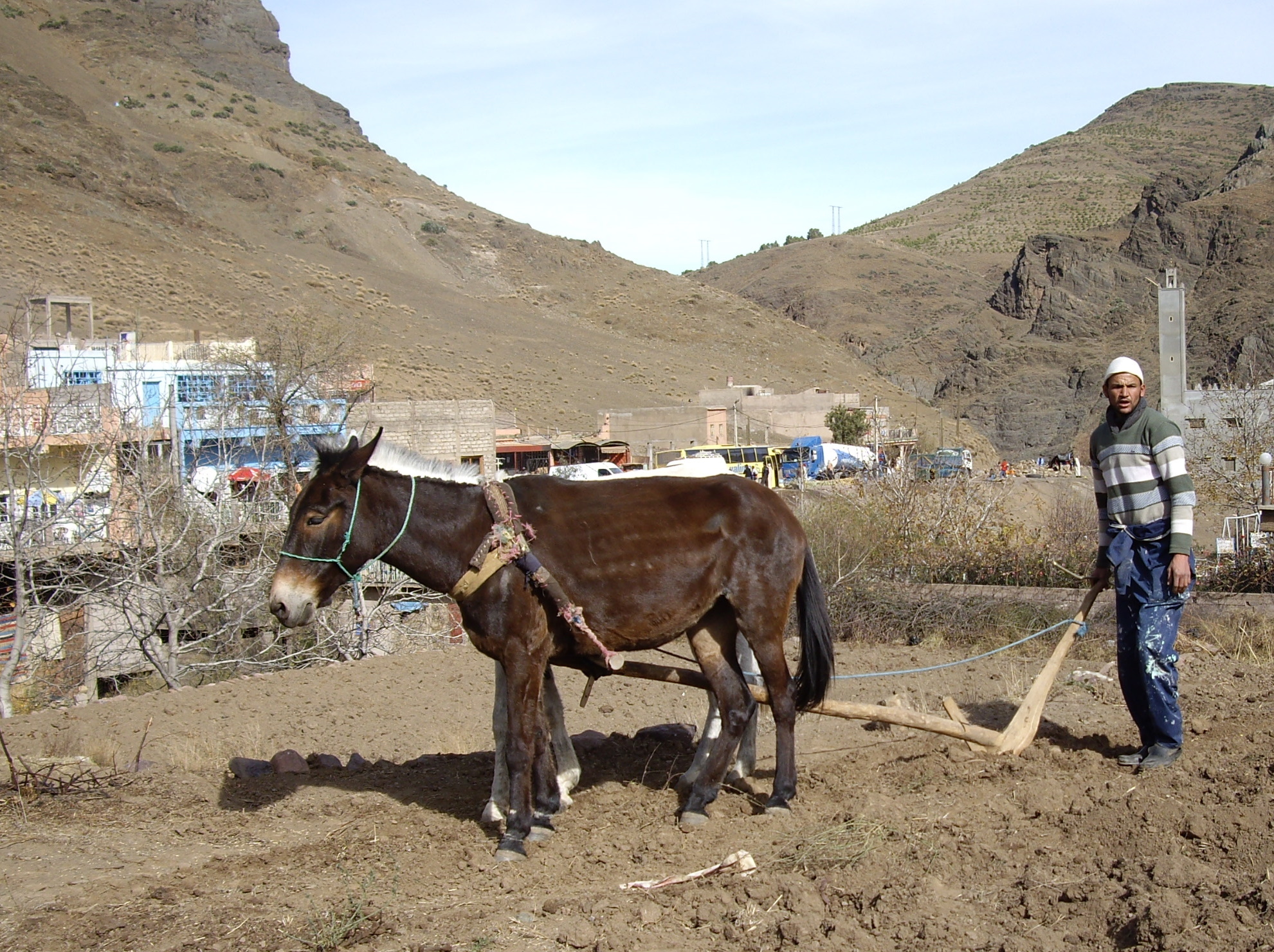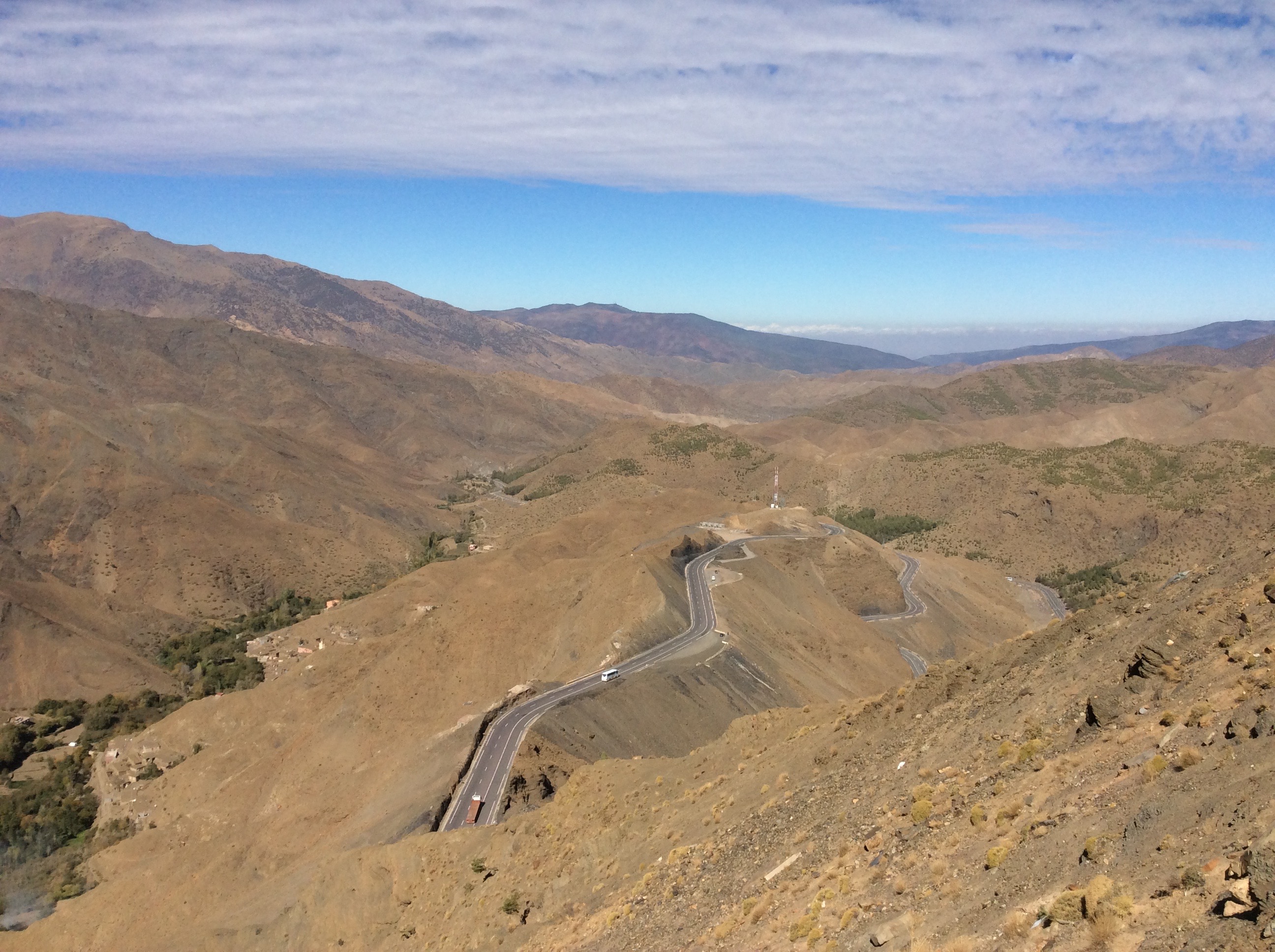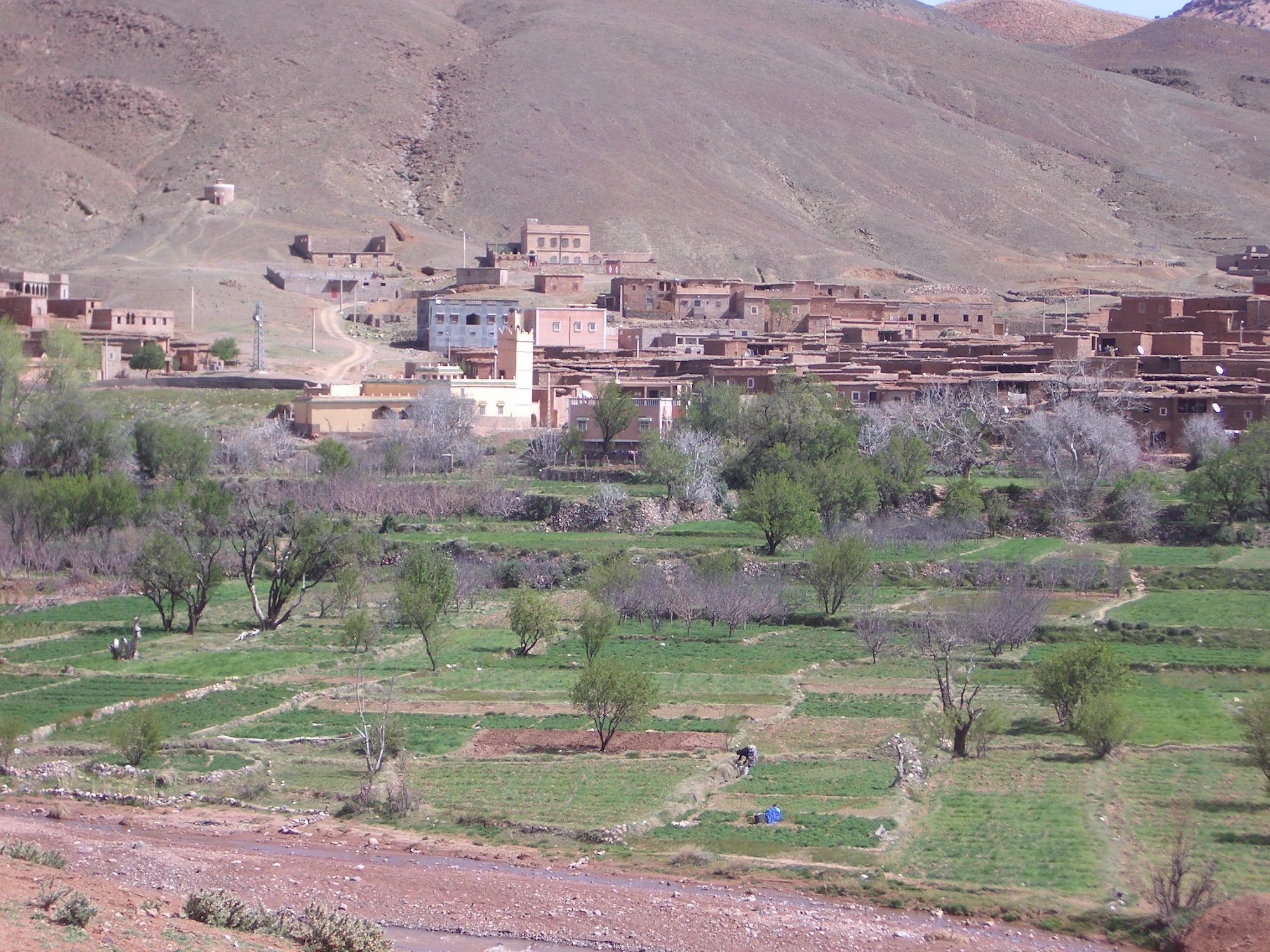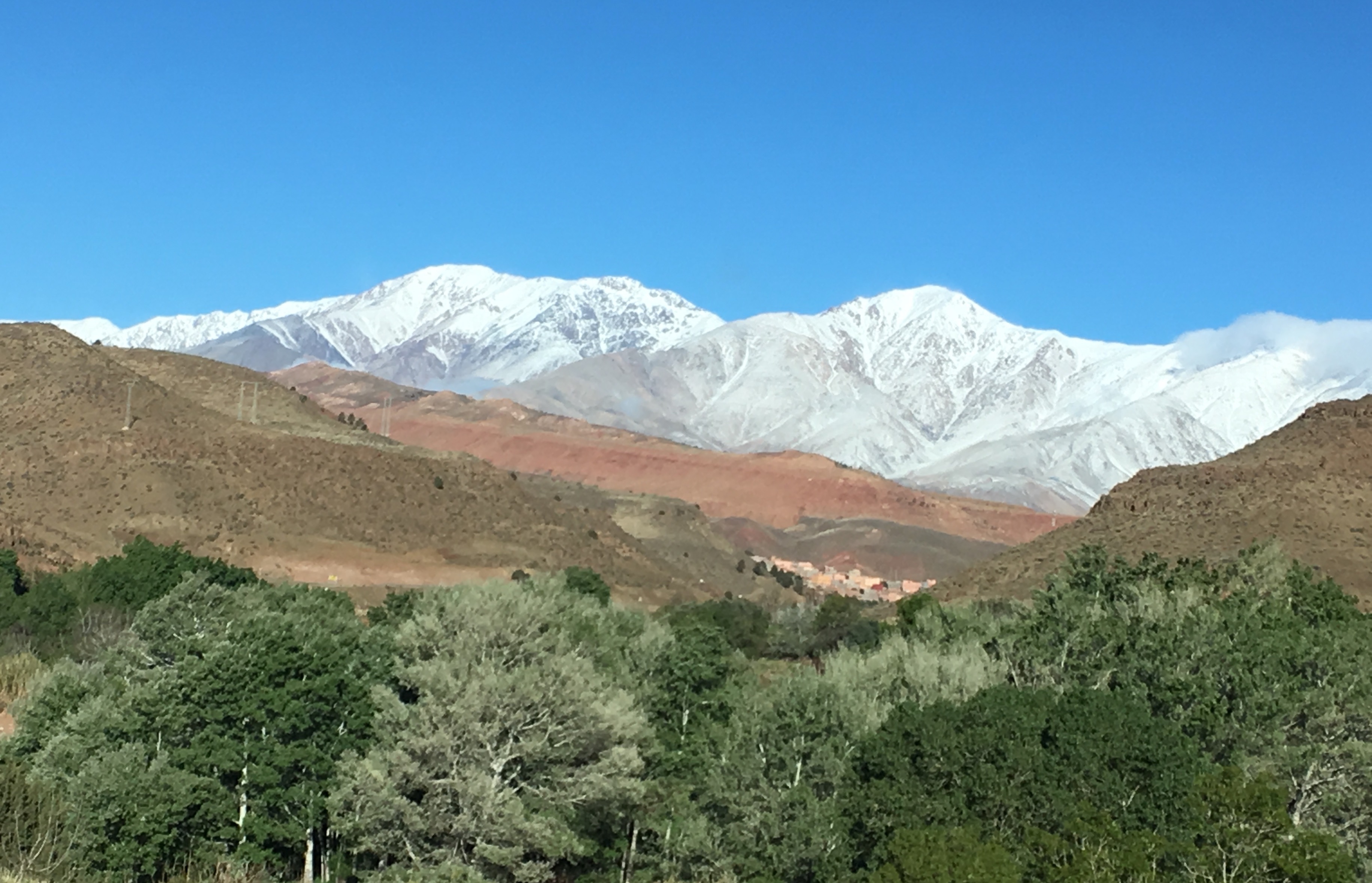 DAY 3
ITINERARY: VALLEY OF A THOUSAND KASBAHS > DADES VALLEY > TODRA GORGE
EDUCATIONAL TOPICS: Large Scale Water Management; Renewable Energy (Solar Project); Nomadic Pastoralism; Irrigated Agriculture; Development Issues; Urban Growth; River features (wadis and gorges)

Departing Ouarzazate, heading eastwards, a stop is made at the very important reservoir of El Mansour. It provides water for domestic use, for farming and to generate hydro-electricity. In the very near vicinity is a major solar power plant development (a visit is possible, if wished, but only by prior arrangement; there may be an additional fee).

Your group's journey then travels along the Valley of a Thousand Kasbahs, a kasbah being a fortified "fort" where chiefs and landowners once lived. Many kasbahs are now in disrepair (having been made of pise mud). Between the small towns of this area you can see various farming activities, many still using traditional methods. Nomads to are often encountered, herding their sheep, goats and camels – look out for their tented encampments as you travel.

At El Kelaa Mcgouna, the intensely cultivated plots of farmland are bordered by rose bushes. The rose petals are used in the cosmetic industry. In May a Rose Festival takes place, celebrating the year's production.

Boumalne Dades is a major town, bridging the Dades River; a terrific overlook is stopped at to take in the exotic landscape and activities.

After Tinerhir, the journey continues towards the Todra Gorge. The desert landscape reveals impressive buttes, mesas and plateaux. The Todra Gorge is 300m high and was made by the Todra river, cutting down through red stained limestones. A walk through the gorge is a most enjoyable (and easy) experience. Imagining the mighty flash floods that can sometimes pass through it is very thought provoking; the power of moving water.

Tinerhir is the overnight stop.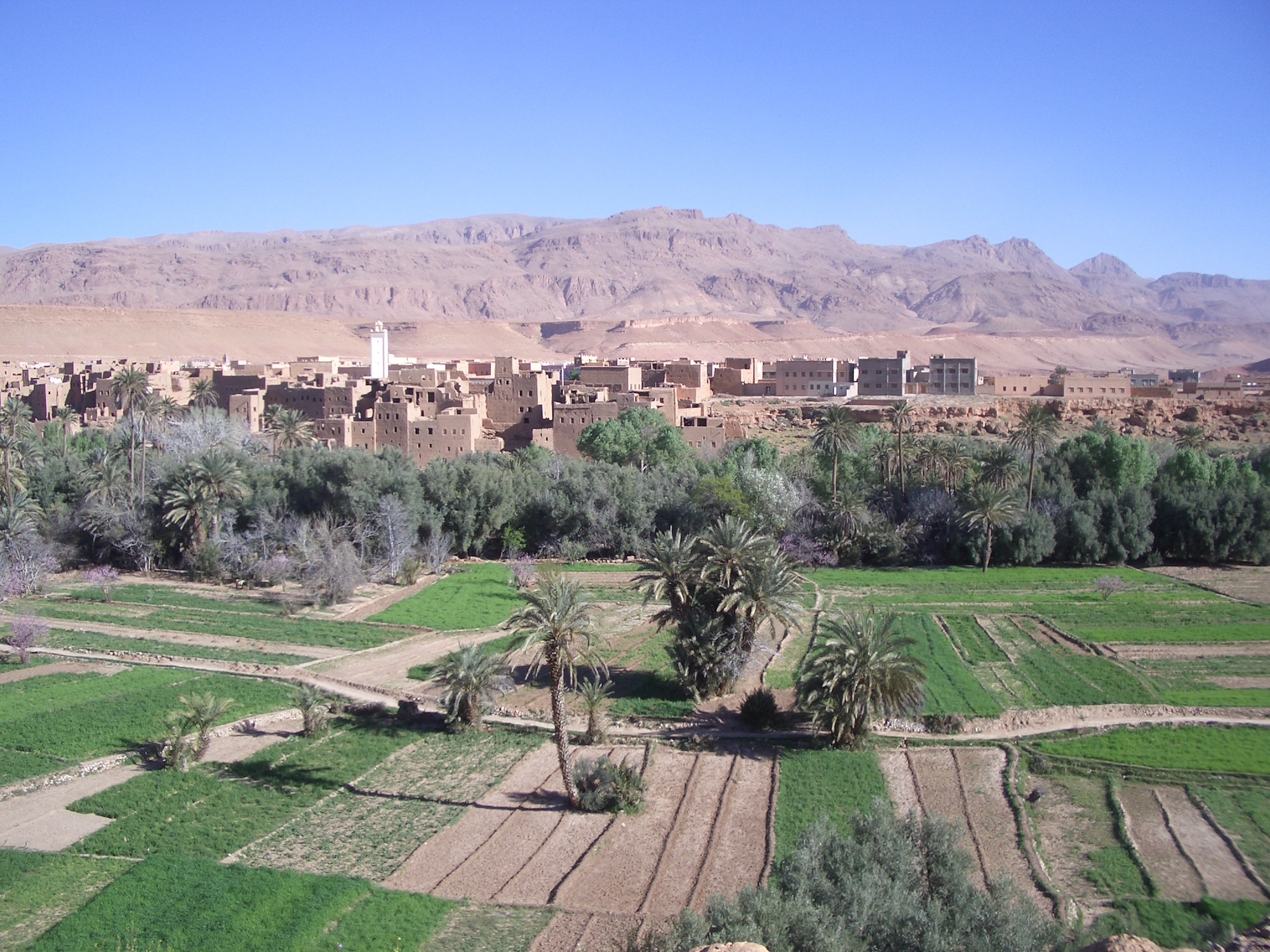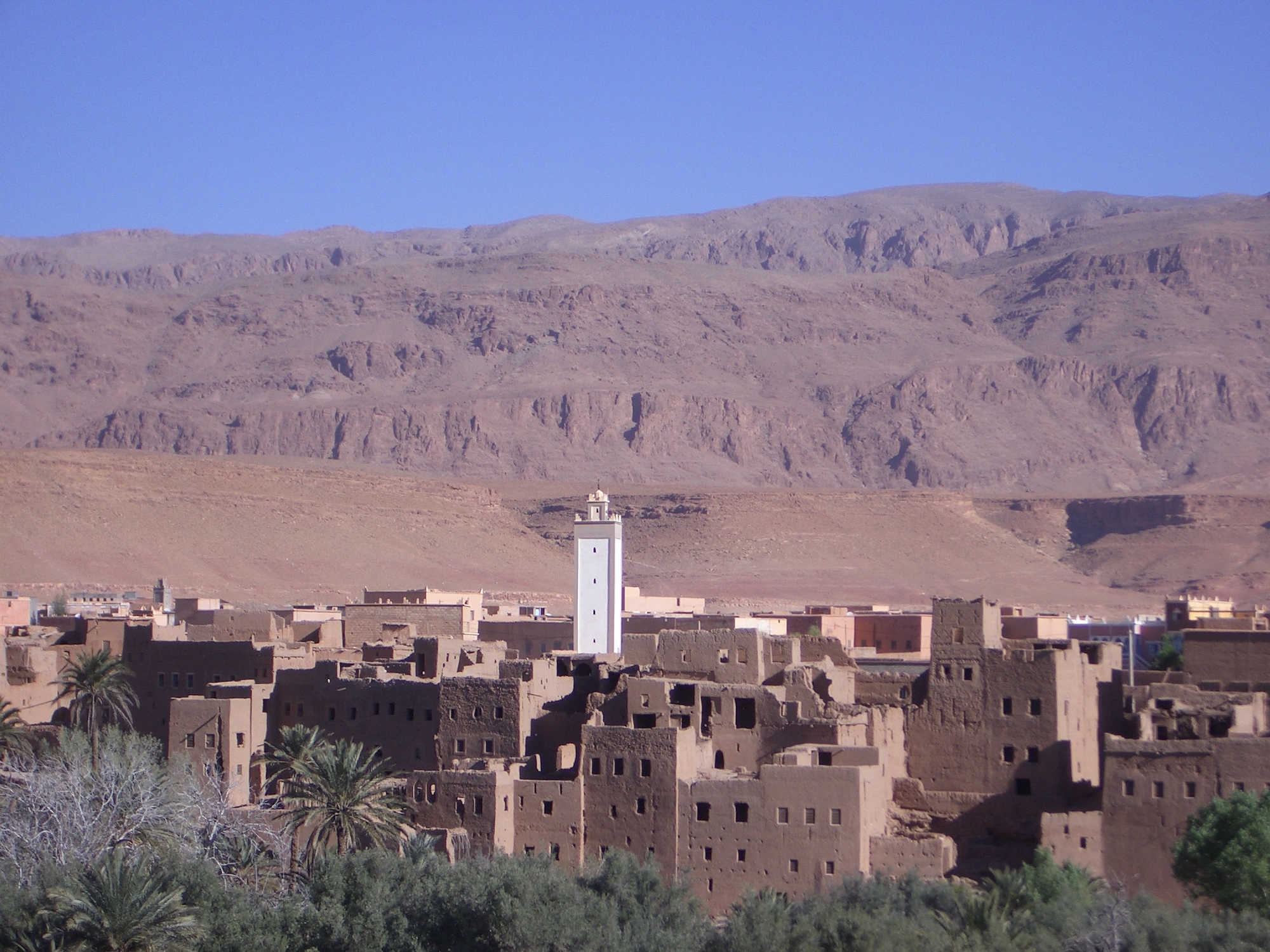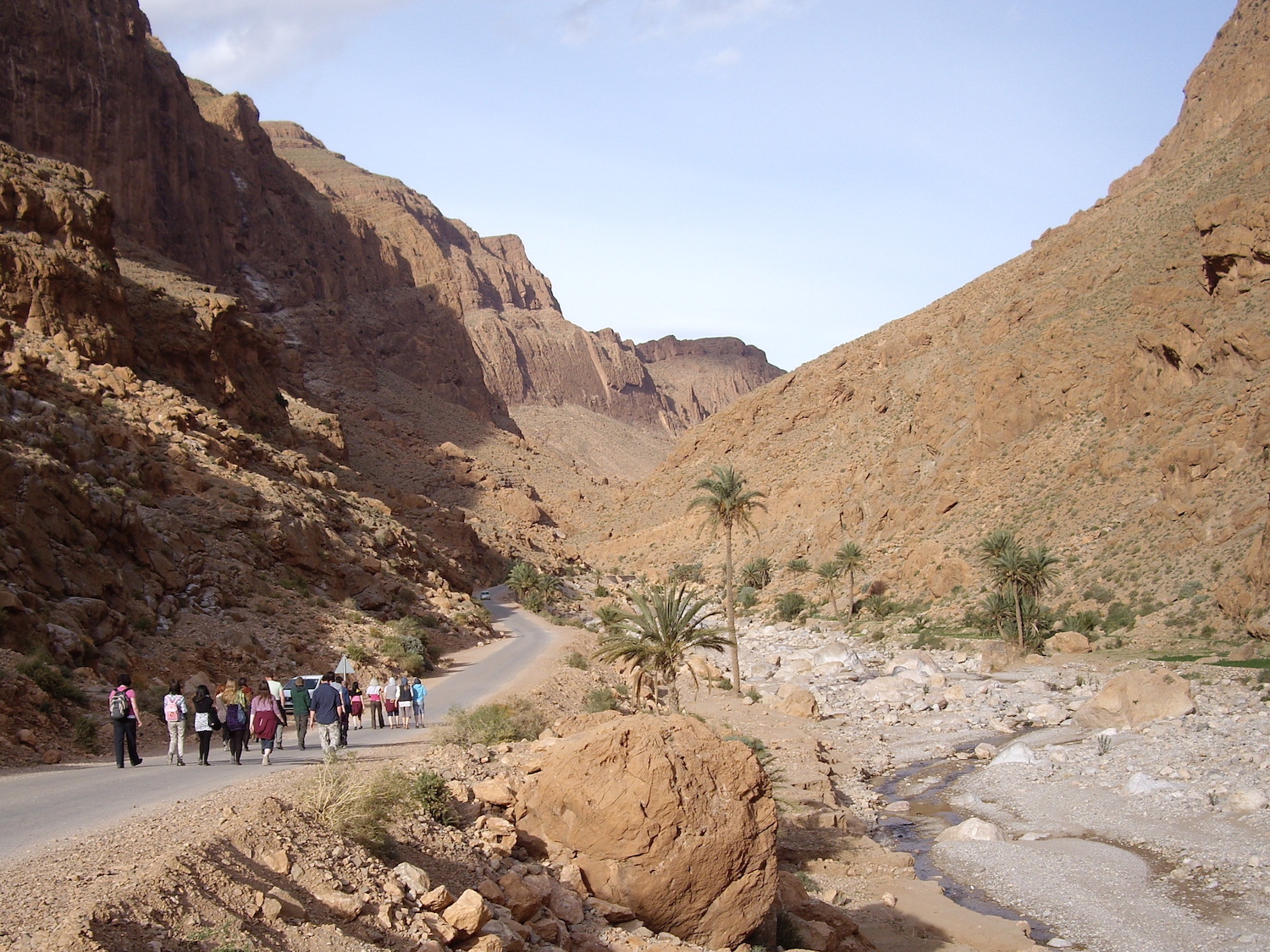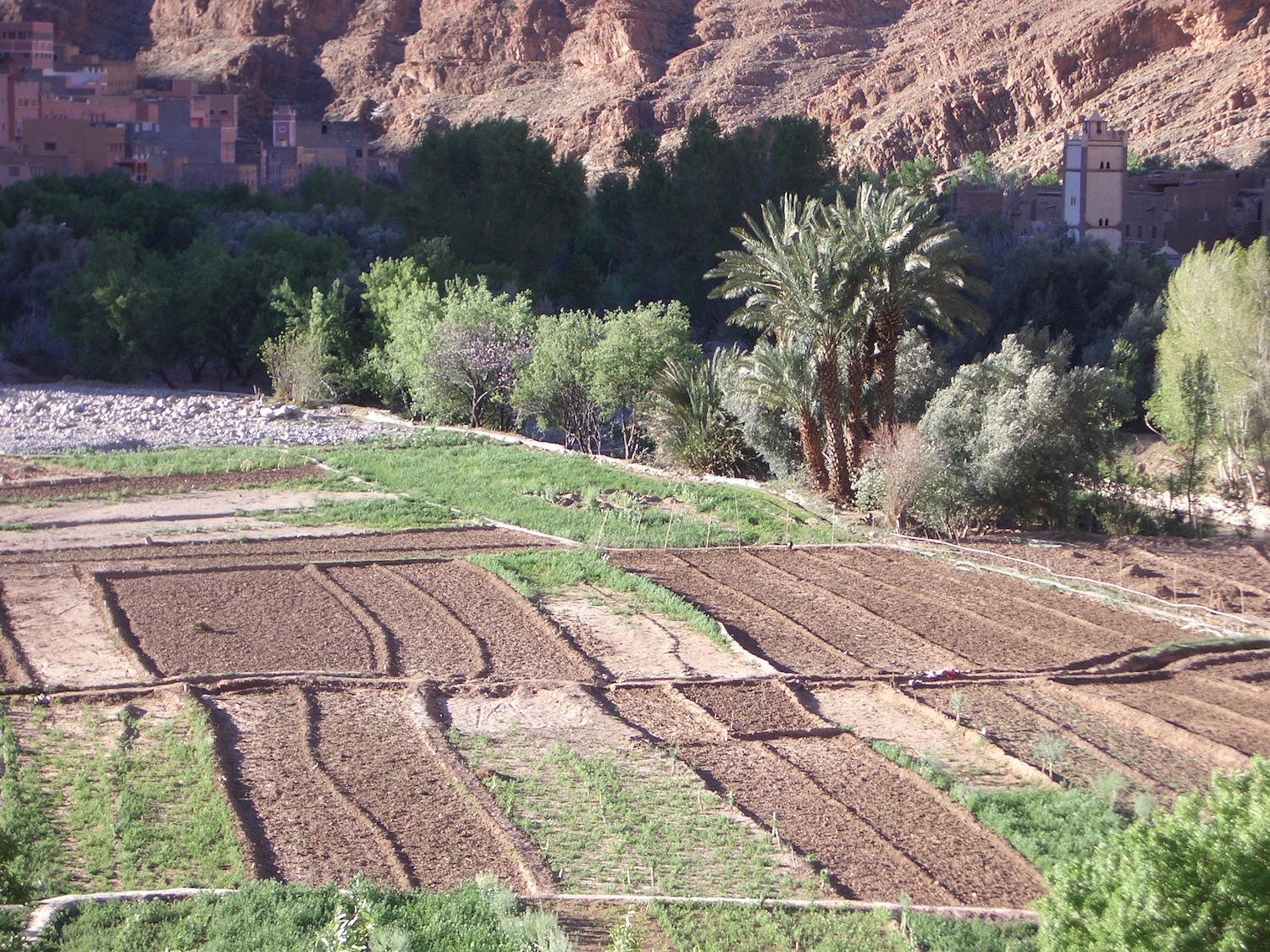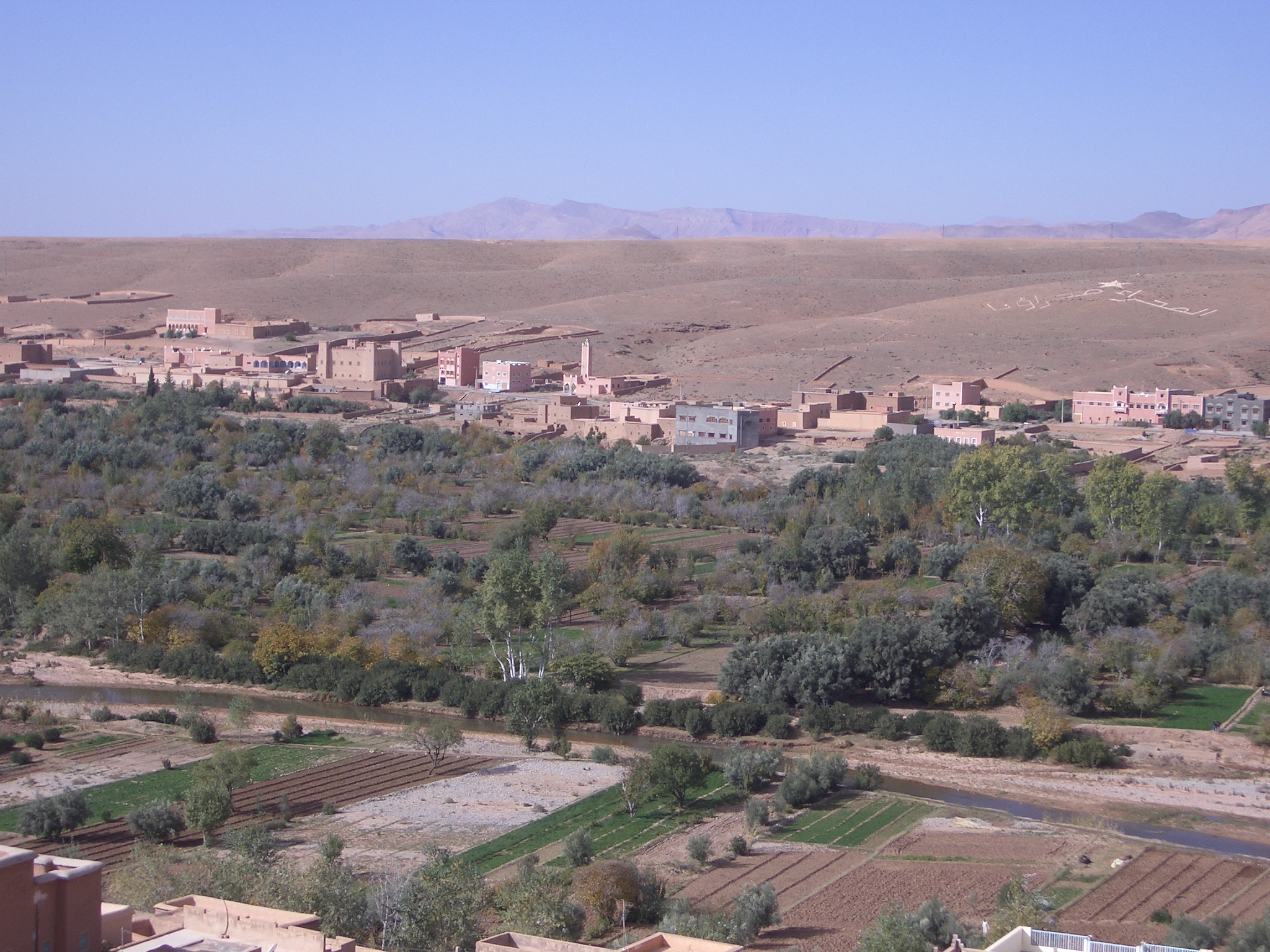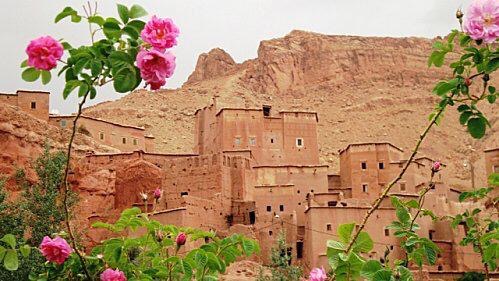 DAY 4
ITINERARY: ERFOUD > RISSANI > MERZOUGA > SAHARA > ERG CHEBBI SAND SEA > SUNSET CAMEL RIDE
EDUCATIONAL TOPICS: Arid Landscapes and Landforms; Semi Desert and Desert Transition; Sand Dunes and their Management; Artesian Water; Different Cultures; Star Gazing

The ever-increasing aridity and parched landscapes are entered on travelling towards the Sahara. Passing through many small towns (e.g. Tinejad, Melaah) often a market day can be encountered; lively, bustling and colourful.

Erfoud is where your group's travels turn southwards. In Erfoud, "fossil capital" of this area, there is the opportunity to visit a craft workshop where the fossil rich rocks are carefully and skilfully changed into objects, some practical (e.g. tables) and some decorative (e.g. plates and bowls).

On then to Rissani and then to Merzouga. By now the massive sand sea of Erg Chebbi will be looming on the forward horizon. Here the sand dunes rise to over 200m, covering a 35 square kilometre area.

Having settled in to your accommodation, there is the chance to take a camel ride into the sand dunes, to climb to a high vantage point and to watch the sun slowly set; a magical moment.

NOTE: An option in Merzouga/Erg Chebbi is to combine your camel trek with an overnight in the desert in the Erg Chebbi in a Bedouin Camp (rather than in an hotel).

No matter where you are staying, hotel or camp, there is sure to be some traditional music after you evening meal. Pounding drum rythms and singing complete the Saharan atmosphere. Prepare to join in (and to perhaps even offer some entertainment from your pupils/students).

As well as the opportunity to view a magnificent sunset (and indeed, later, a stunning array of stars), if there are any early risers in your group (including teachers) then a Saharan sunrise can be just as thrilling as a Saharan sunset.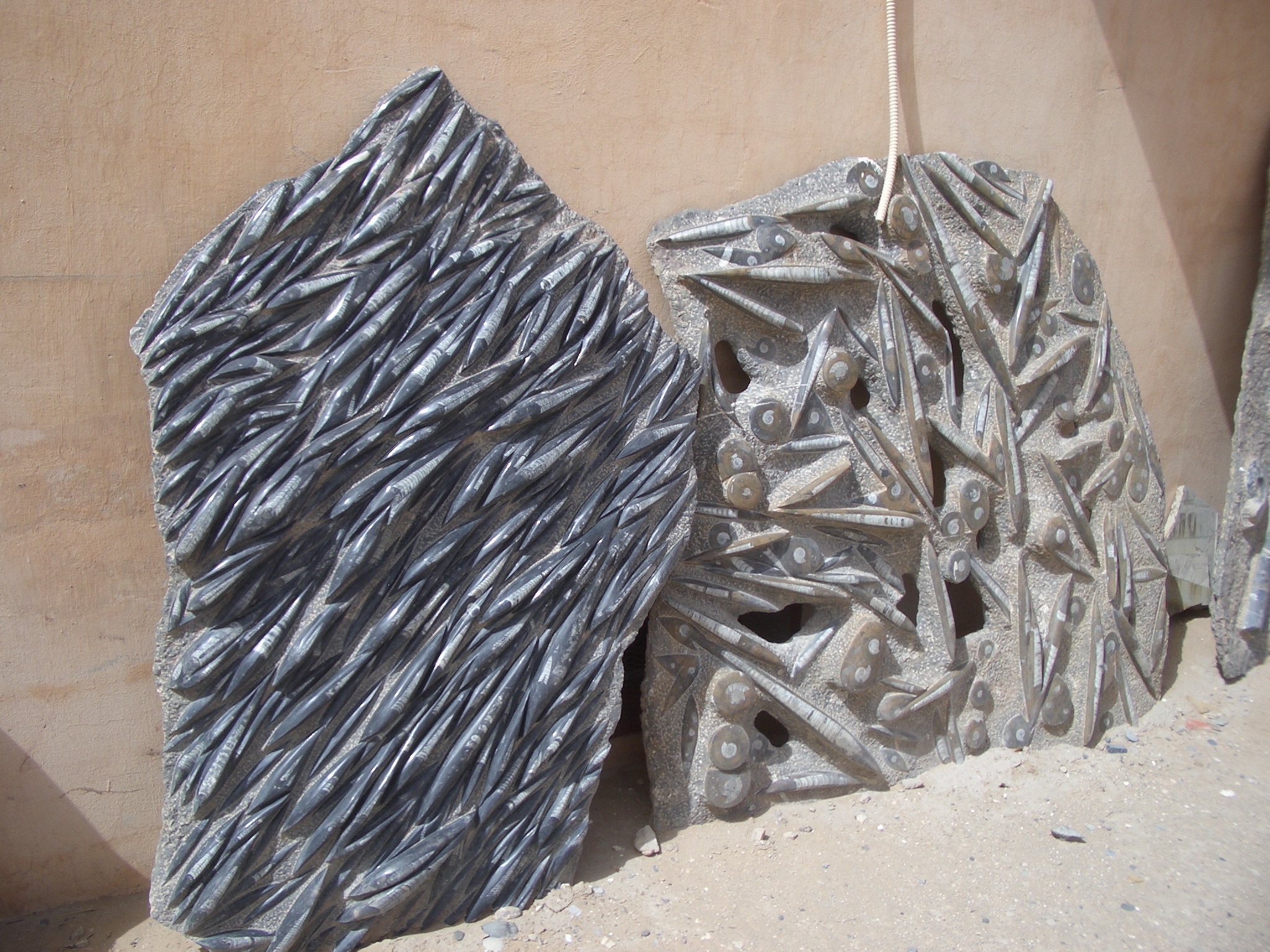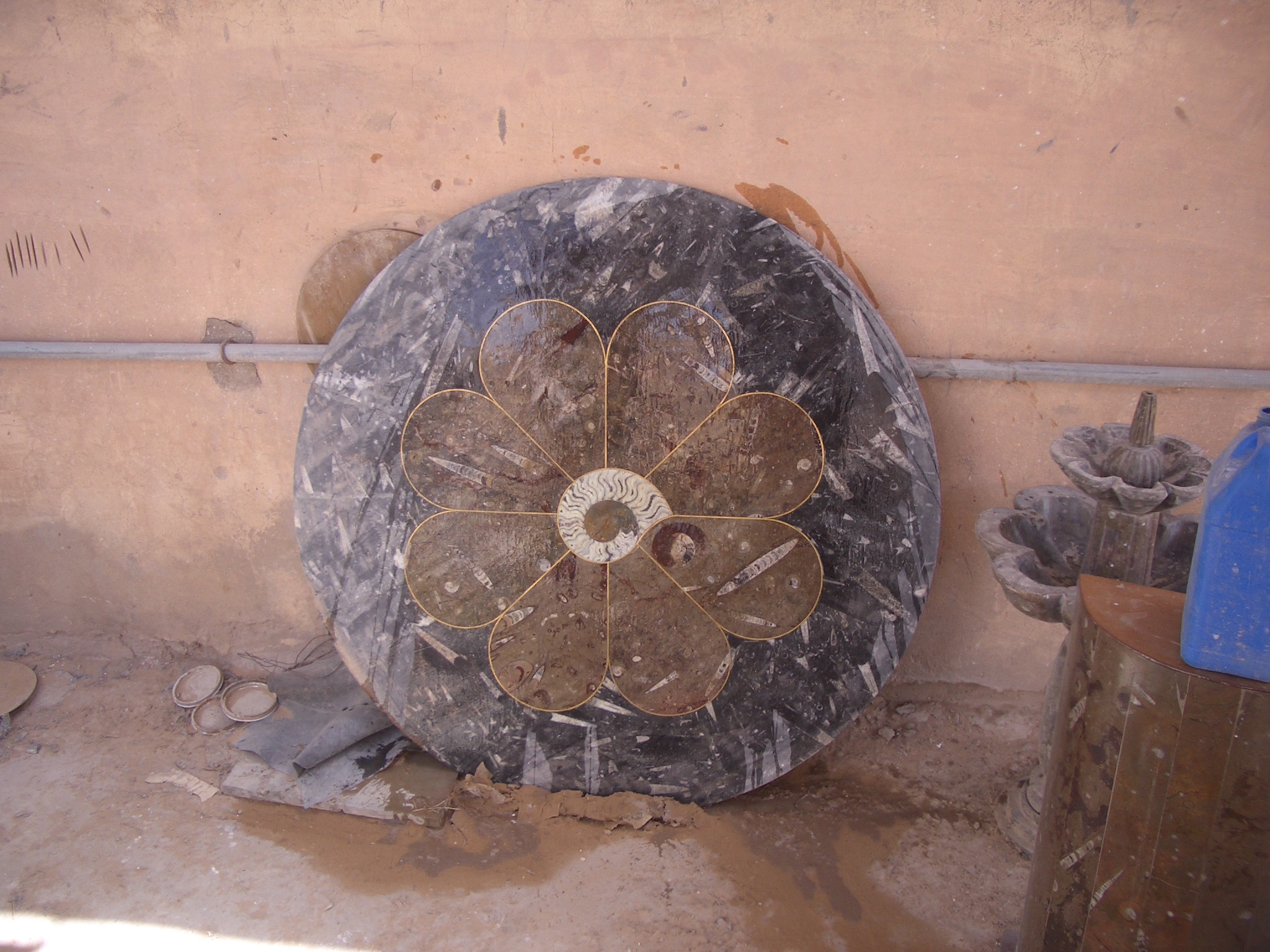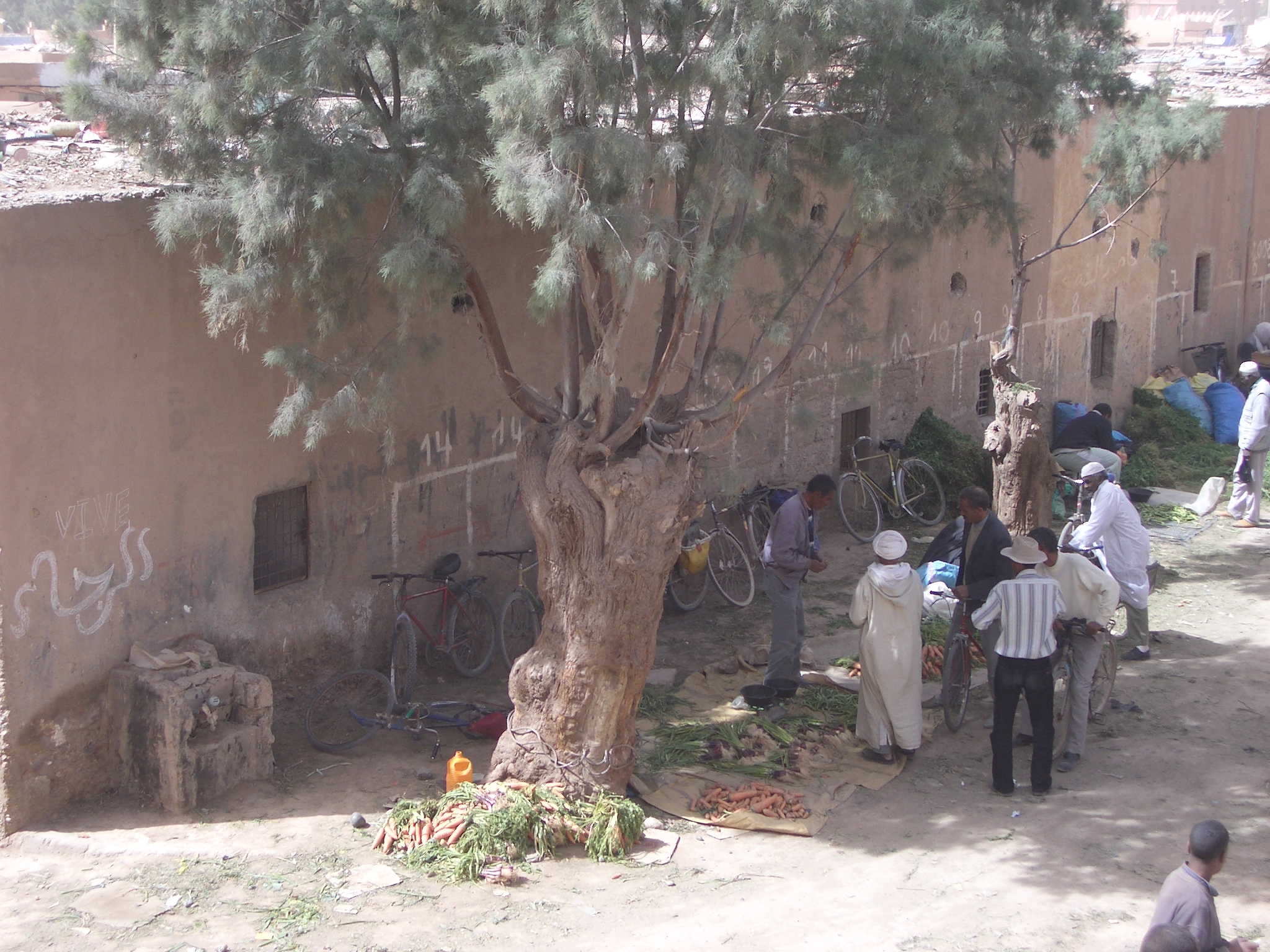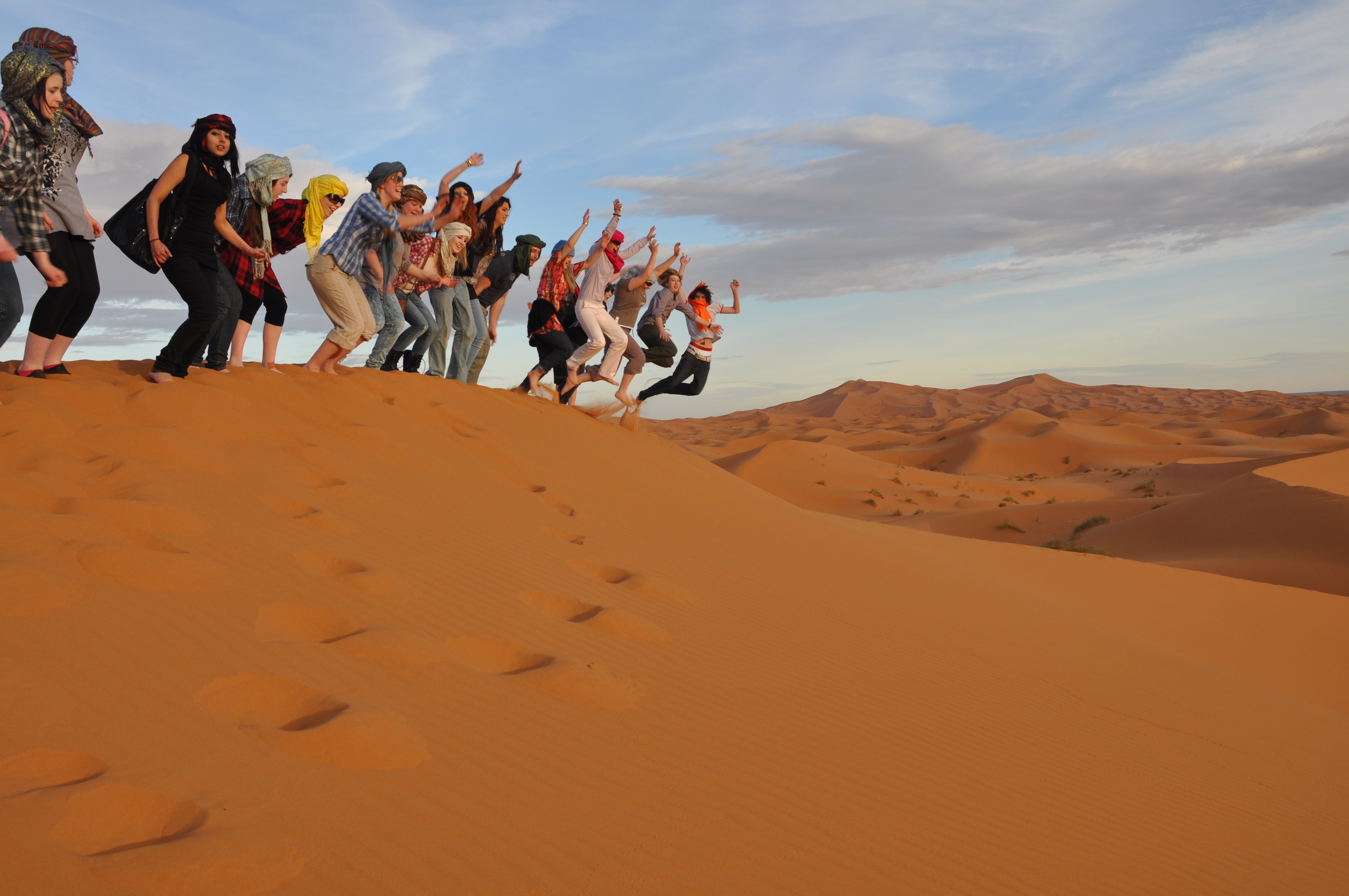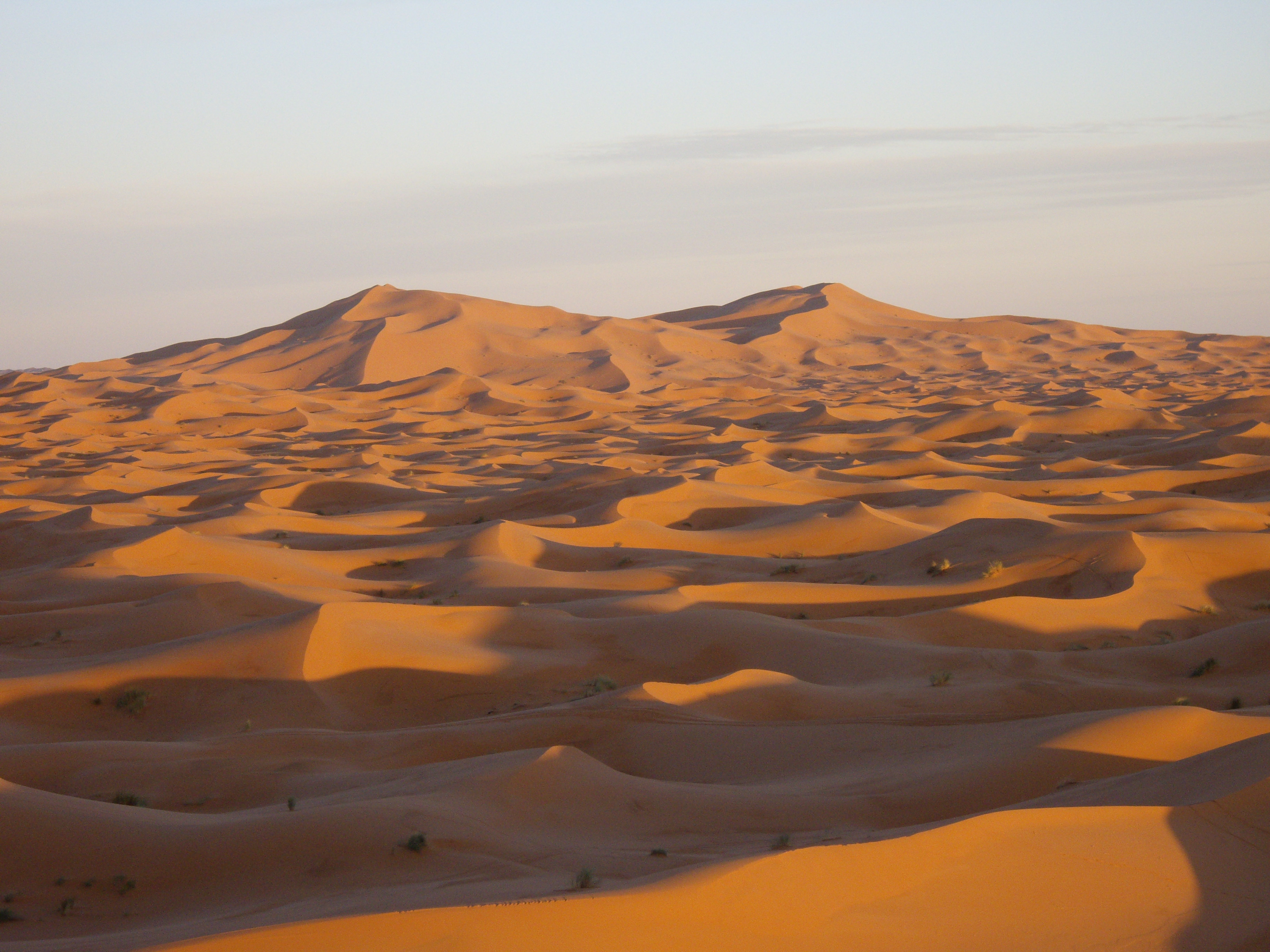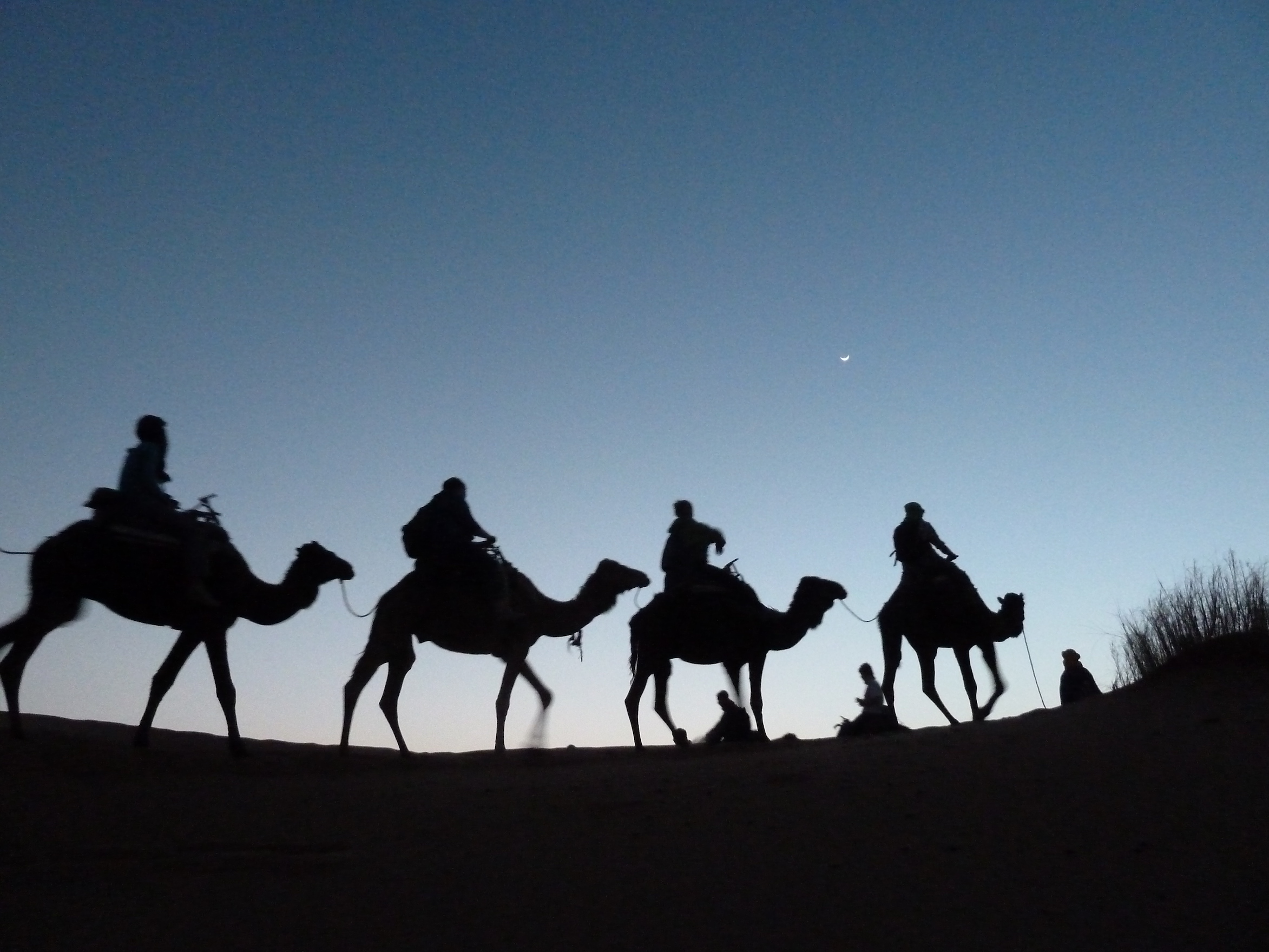 DAY 5
ITINERARY: ALNIF > JBEL SARHRO > TAZZARINE > NEKOB > ANTI ATLAS > TIZI-N-TINIFIFFT > OUARZAZATE
EDUCATIONAL TOPICS: Relic Limestone Pavement (Climate Change); Acacia Forests; Arid Landscapes and Landforms; Date Palmeraies; Development Issues; Bee keeping Project

This journey is truly spectacular, traveling through a remote, empty land that borders the Sahara. Views are vast and extensive, with desert plains and high mountains and plateaux all around. This journey gives a real feeling of wilderness; it is awesome in its grandeur.

The journey is wonderful. Stops can be made to "feel" this wilderness, to appreciate the wide skies and the lack of any human impact (other than the road!).

Acacia forests are seen too, "umbrella shaped" trees, specially adapted to the harsh environments. Protected gazelle reserves too are passed (although sightings not expected).

After Alnif, a lunch stop (and a place with fossil interest), it is on to the Draa Valley, a valley rich with date palmeries on the valley floor; very tasty too (many stall holders are seen, in the season, selling delicious dates).

Turning north in the direction of Ouarzazate, it is then up and over the Anti Atlas and the Tizi-n- Tififft Pass (1,660m); spectacular, of course. The river here has deeply incised the valley in the past and during flash floods of today, developing a polished rock channel floor; fascinating. It is a mini Grand Canyon!

Arrive in to Ouarzazate for overnight.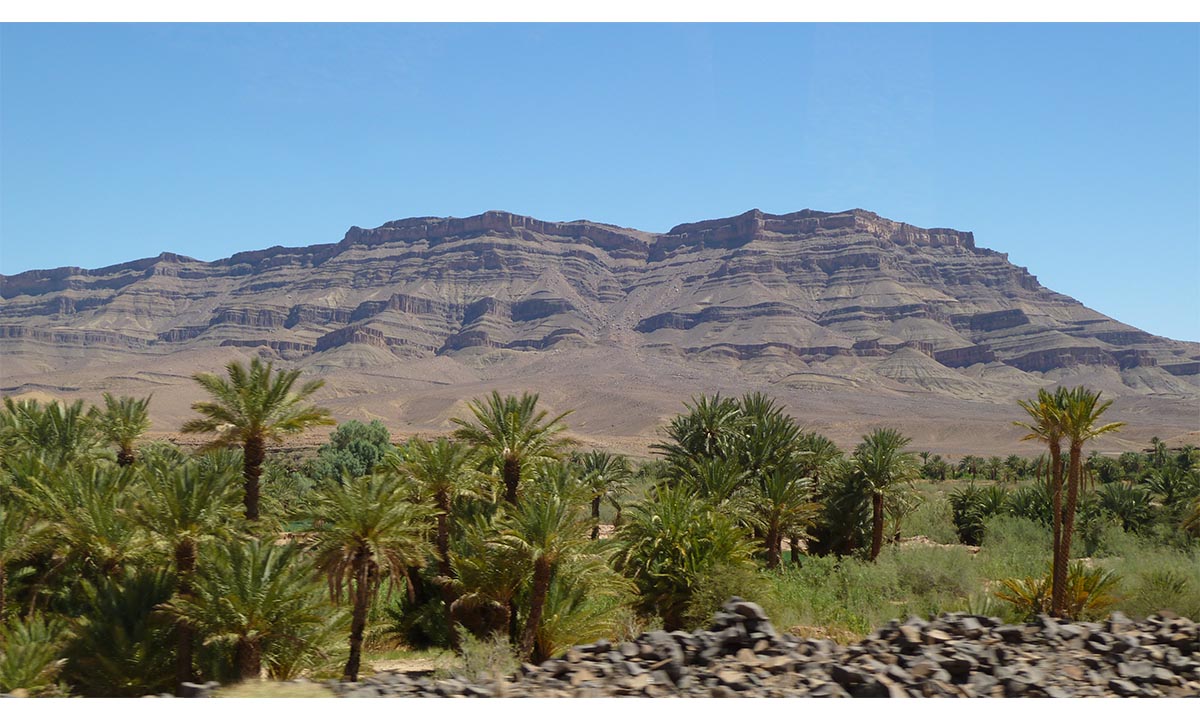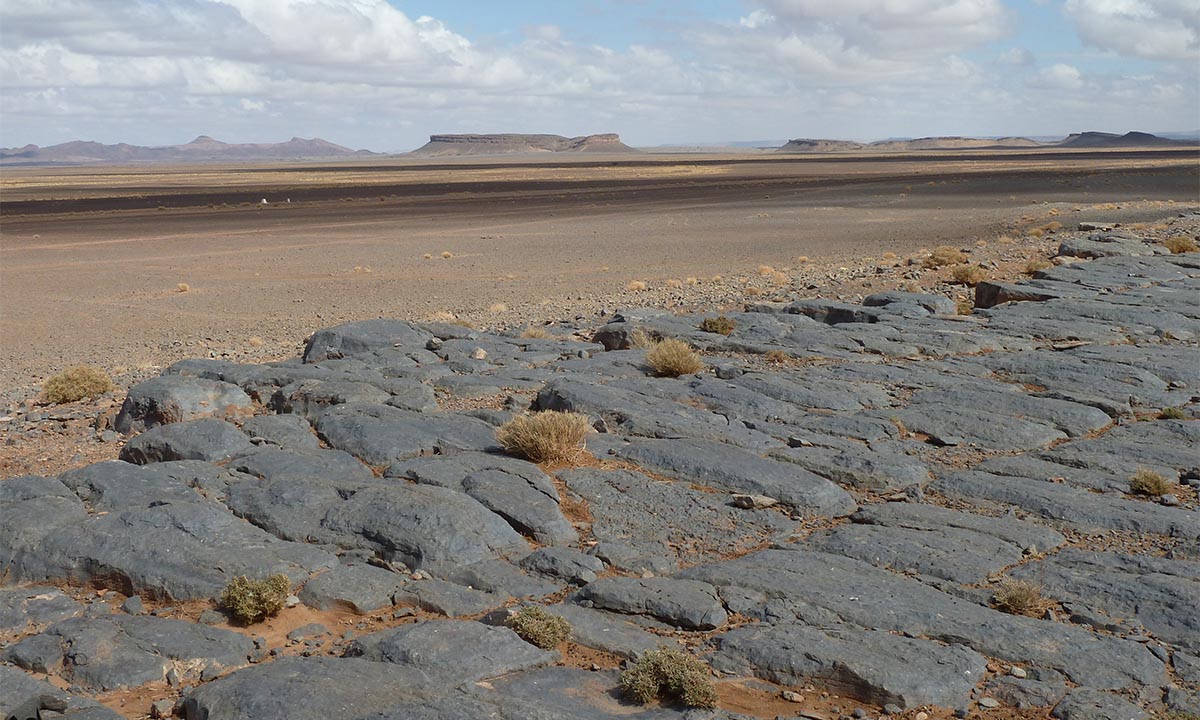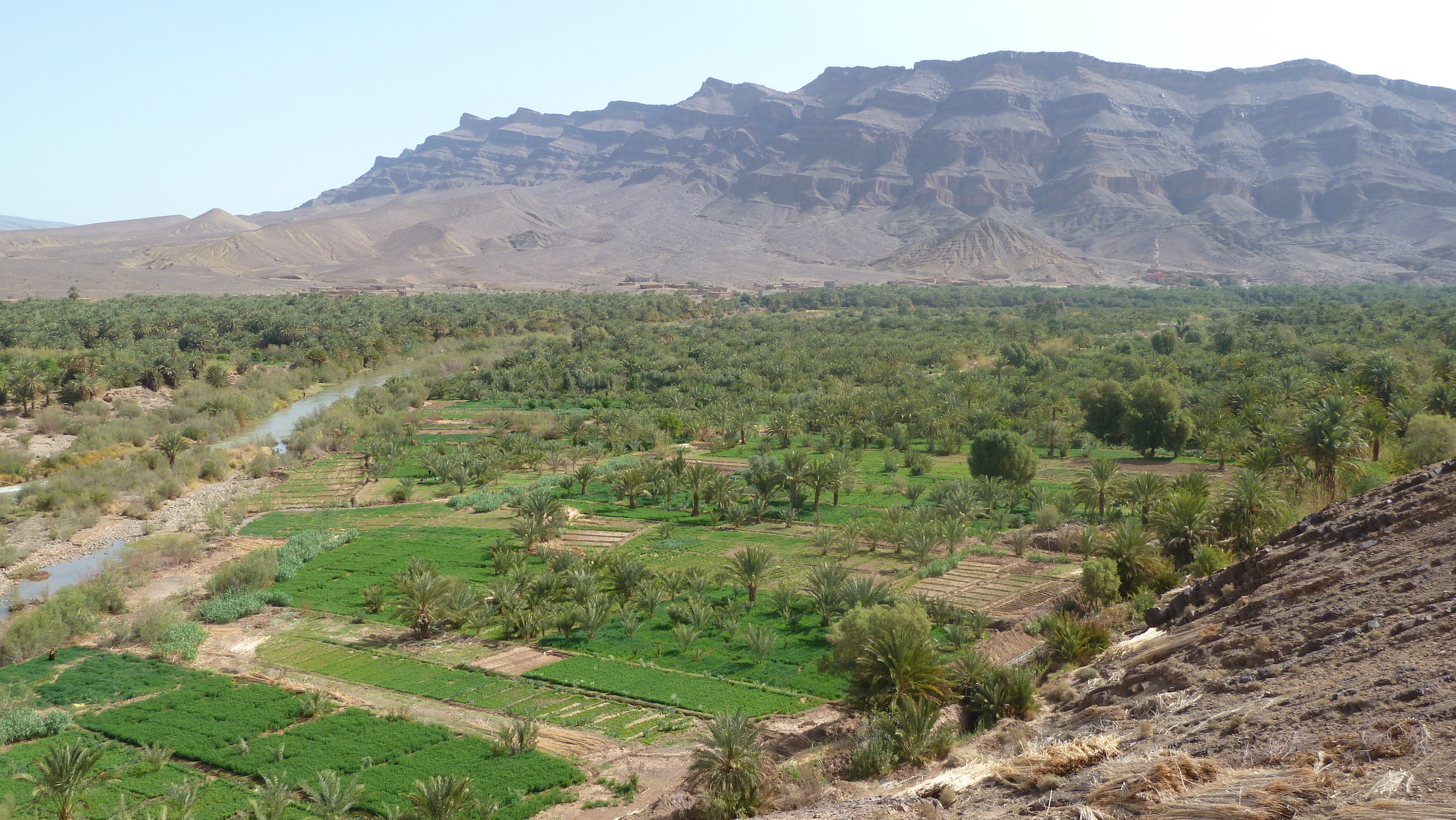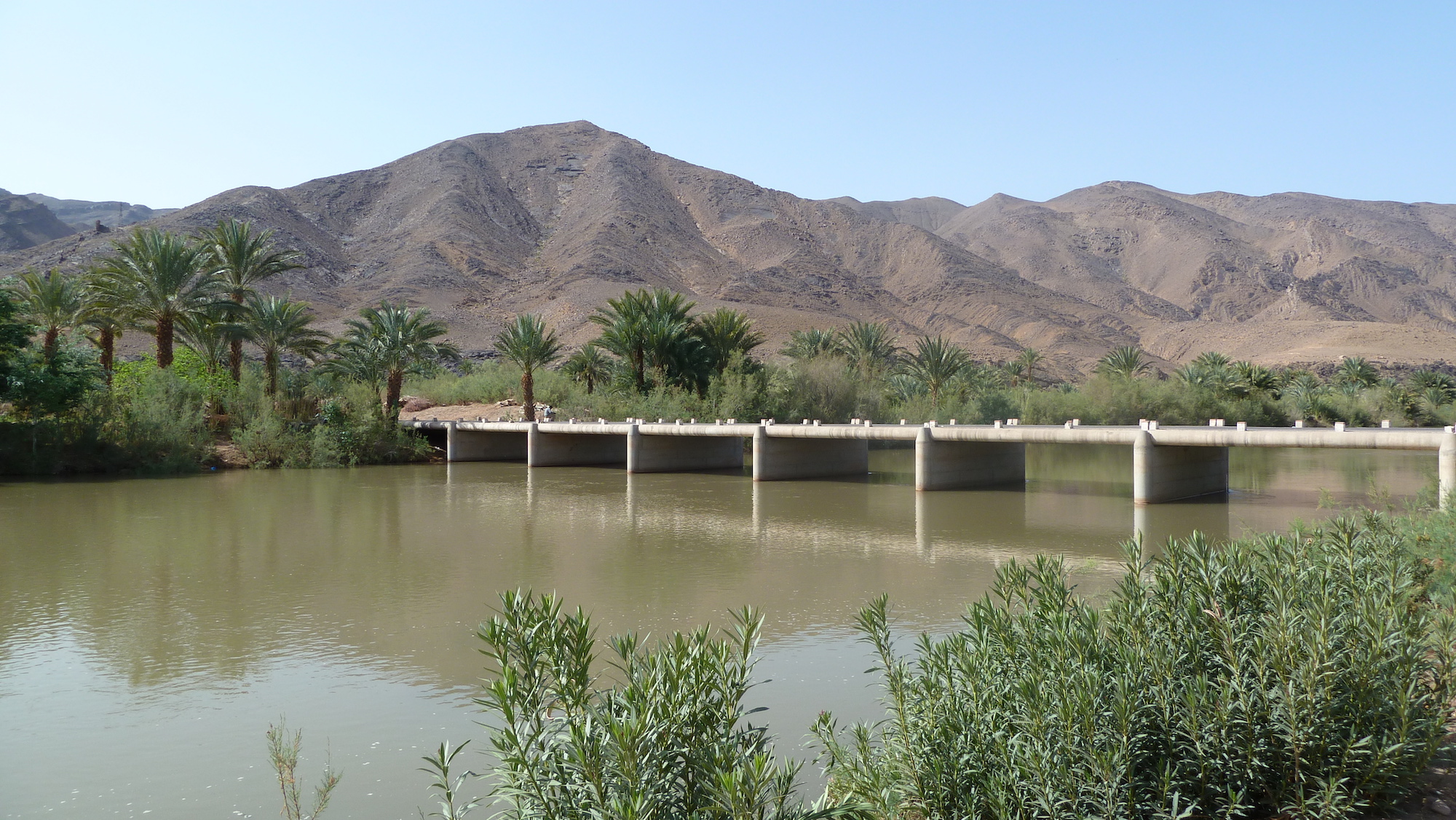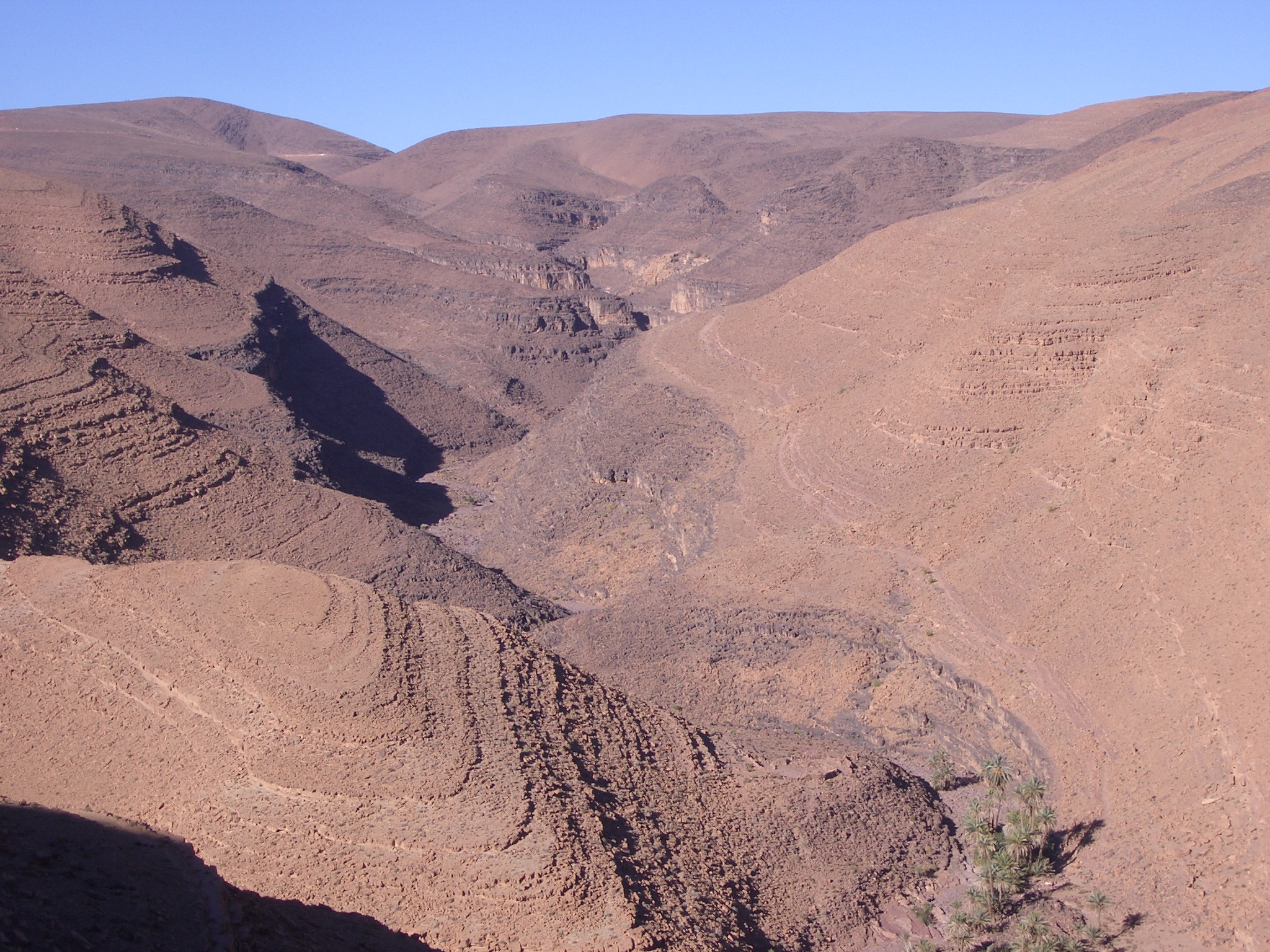 DAY 6
ITINERARY: OUARZAZATE > AÏT BENHADDOU KASBAH > HIGH ATLAS > MARRAKECH
EDUCATIONAL TOPICS: Aït Benhaddou (World Heritage Site); Incised Meanders; Rural Development Issues; Rural Push and Urban Pull Factors; Communication Issues; Living in Hazardous/Challenging Environments

In Ouarzazate there is the option (not yet included) to take a stop at a Film Studio e.g. Atlas Studios or CLA Studios (on the western outskirts of the city). But then your journey begins to take you over the High Atlas.

Before the highest part of your High Atlas journey, about 45 minutes from Ouazazate, is Aït Benhaddou is a grand fortified settlement, now a World heritage Site and well worth a stop and a stroll.

Aït Benhaddou is the most famous Kasbah in Morocco. It is a UNESCO World Heritage Site. The kasbah is believed to date from the 11th century. Its strategic location gave it a commanding position on the trans-Saharan trade route between Marrakech, Ouarzazate, and the Sahara.

A wander amongst the fortified villages, through narrow alleyways and up stairways, is pleasant. Also, a climb to the old Granary at the top of the highest point in Aït Benhaddou gives expansive views of the surrounding area; you can easily imagine the yesteryear camel trains that would have once focused here.

Many big movies have been partly filmed in Ait Benhaddou. These include Gladiator, Lawrence of Arabia, Jesus of Nazareth and The Jewel of the Nile. Gates that featured in Game of Thrones can also be seen. A visit can be made (for a donation) to the "Gladiator House" where there are some artifacts and memorabilia from the film.

Descending the north facing slopes of the High Atlas there is much to still fascinate in the local activities seen. River valleys that have been deeply cut into the landscape can be seen. Many rock sellers are at the roadsides, all trying to boost their family's income.

After all the tranquillity and tradition of the mountains, soon you are back in the midst of the exhilarating hustle, bustle and clamour of vibrant Marrakech.

Overnight in Marrakech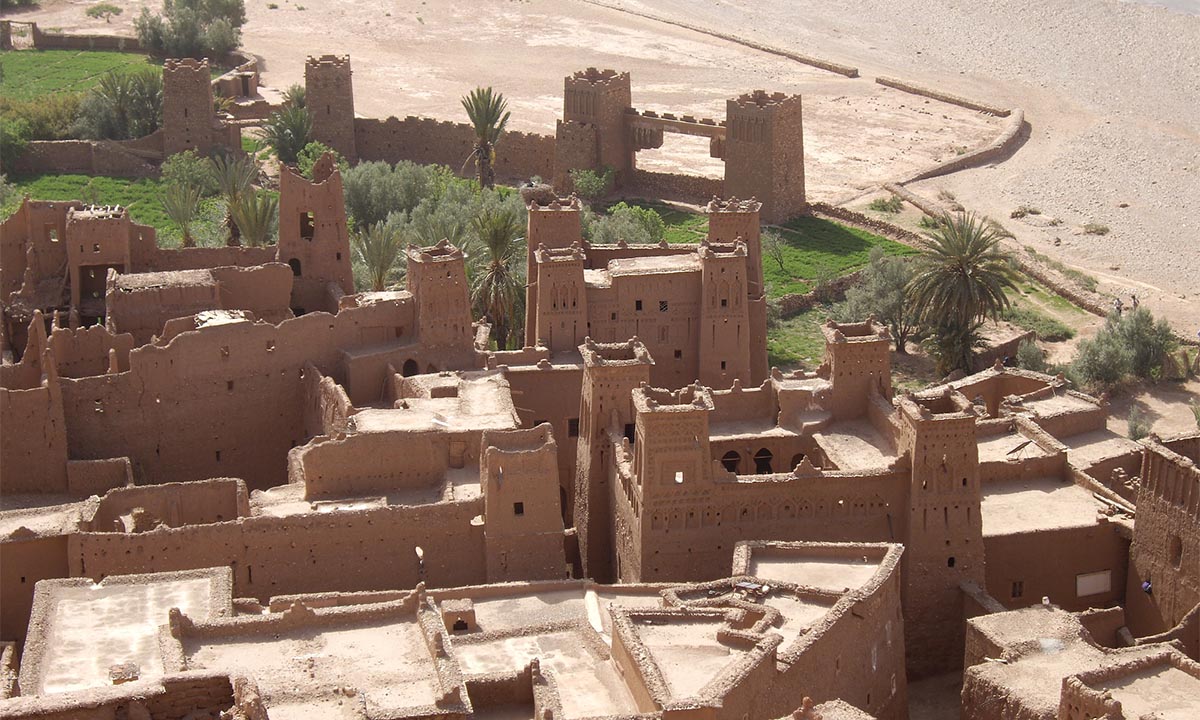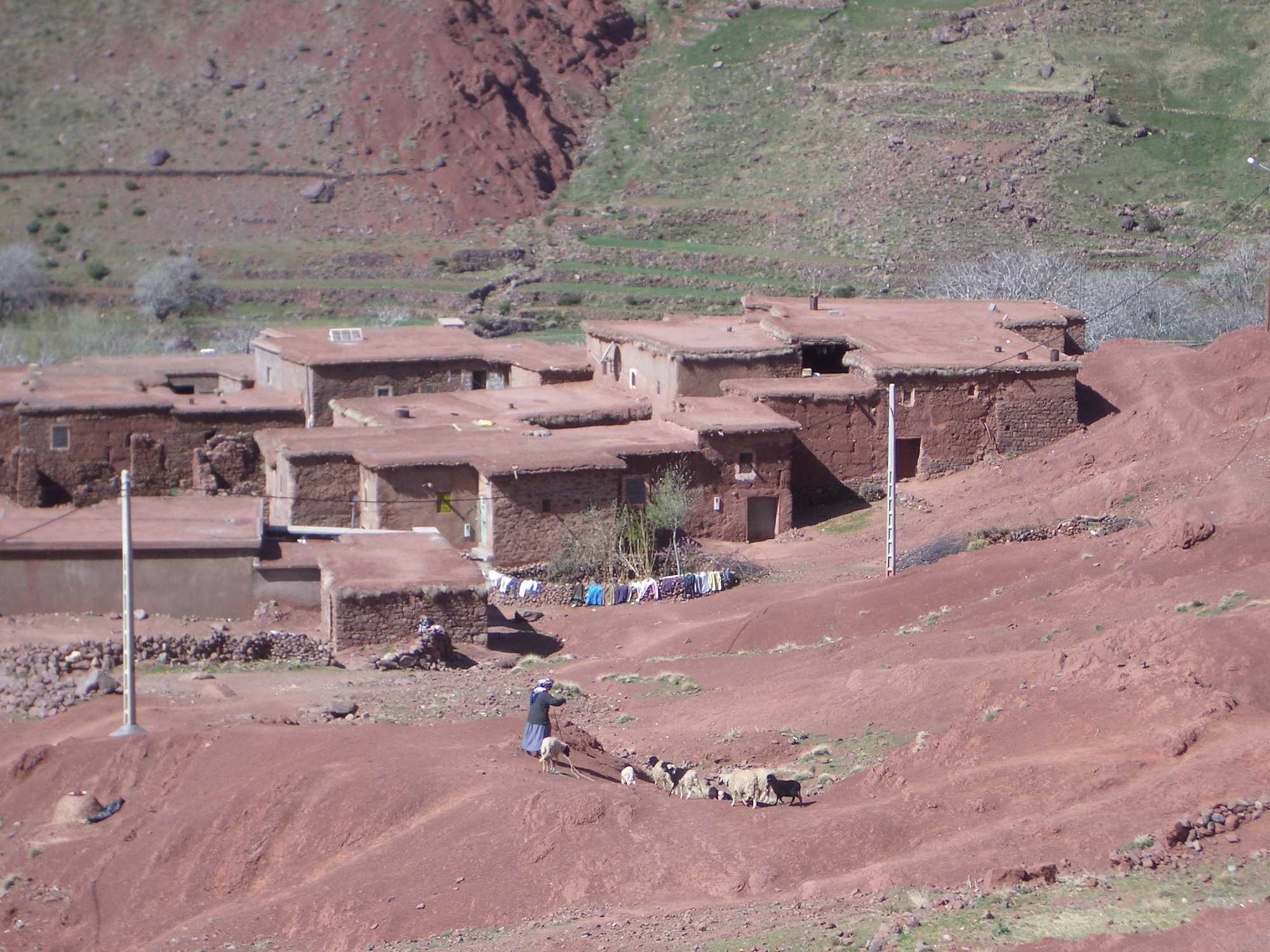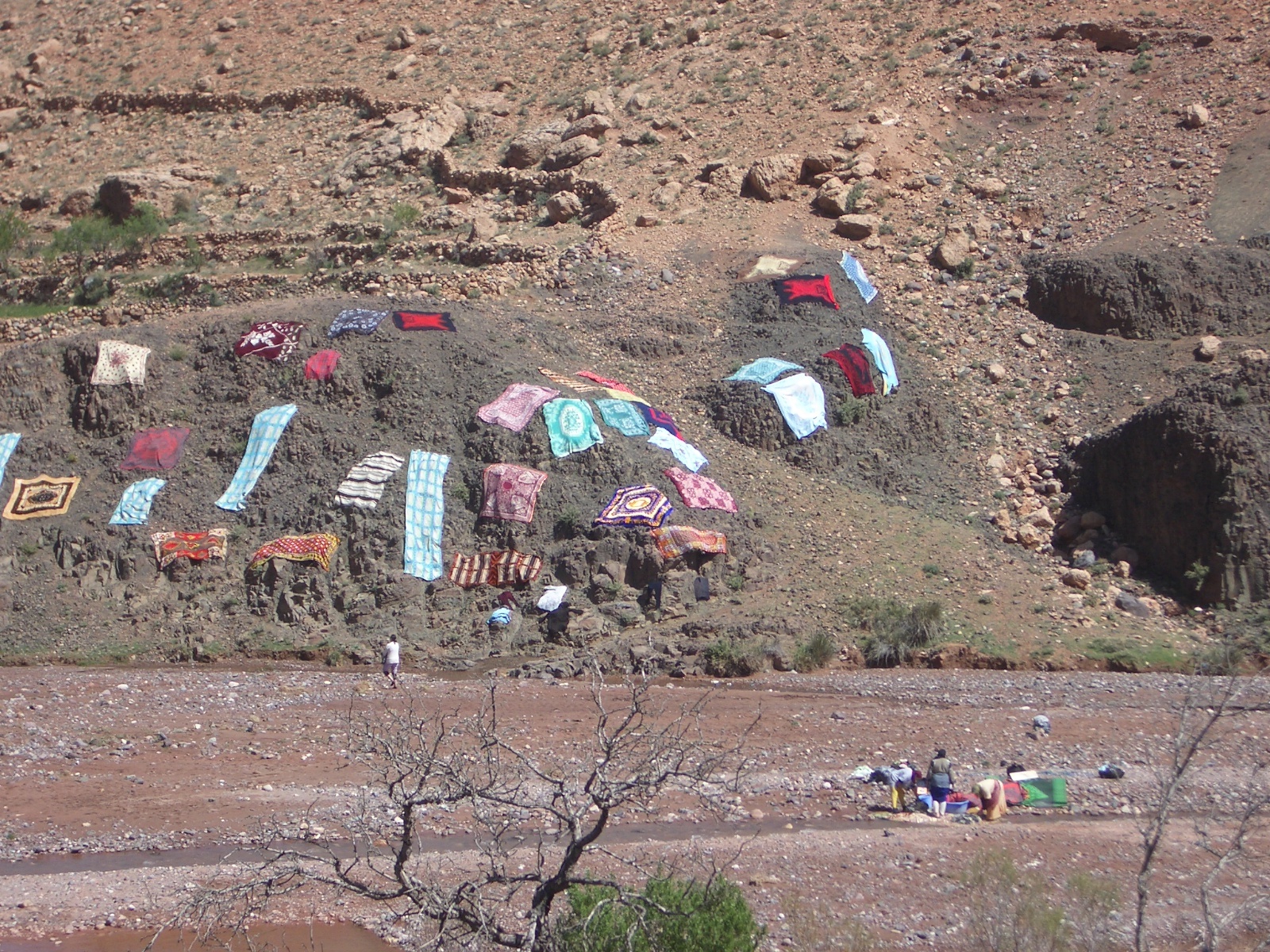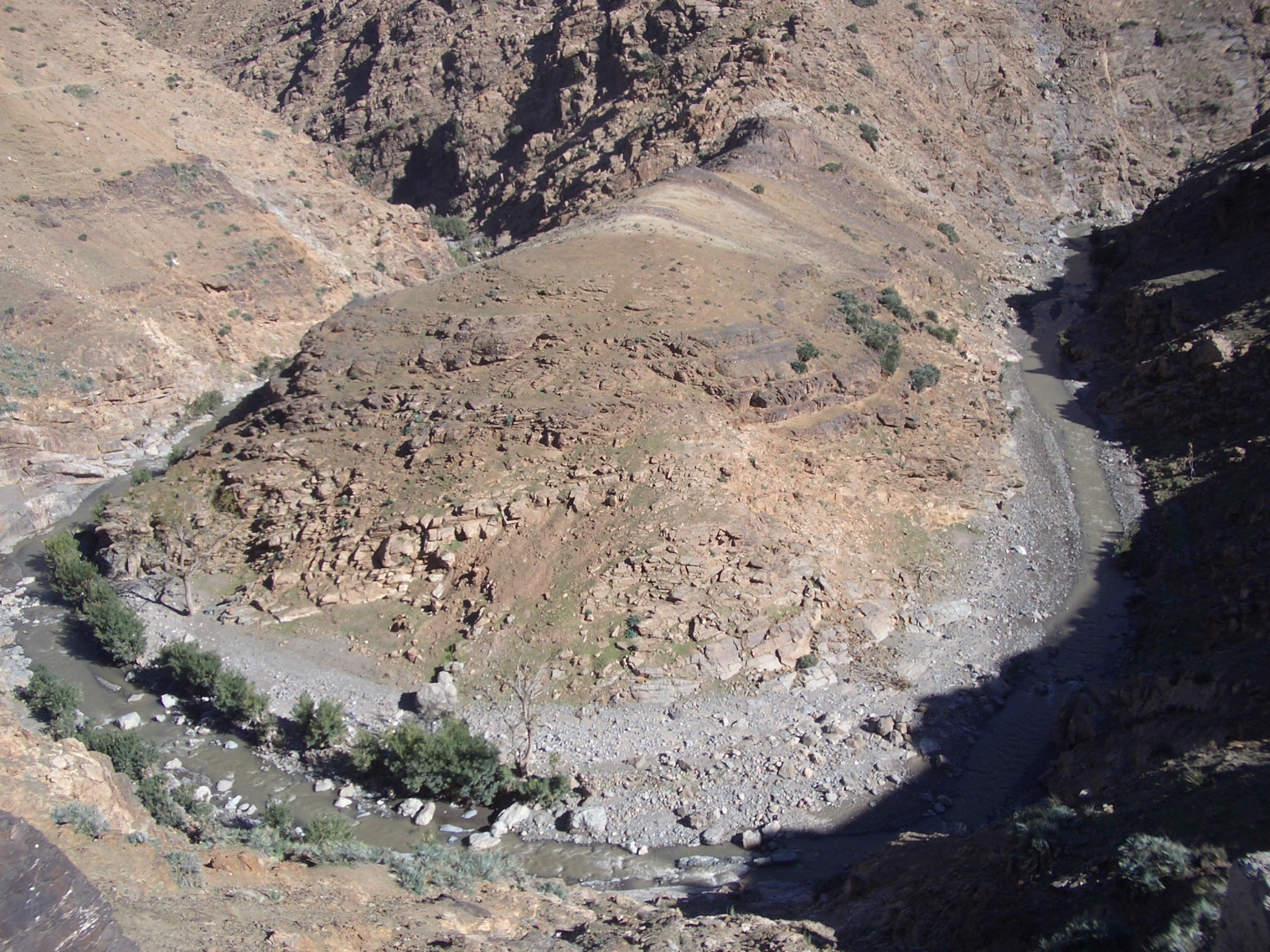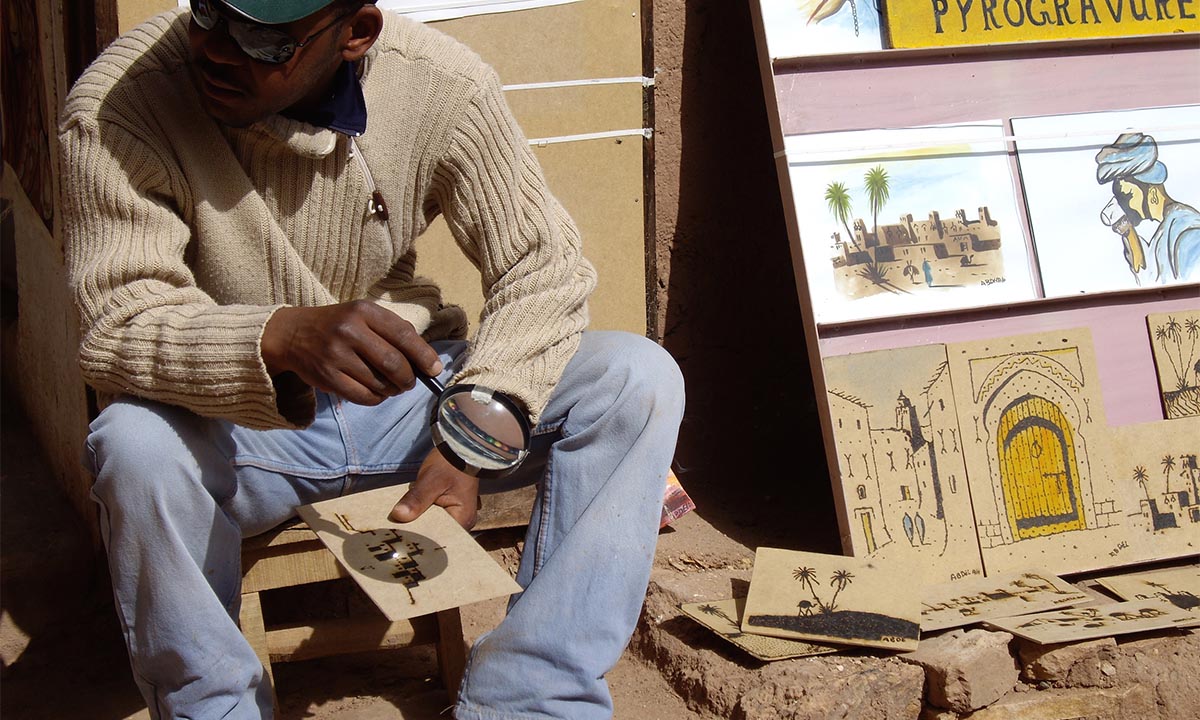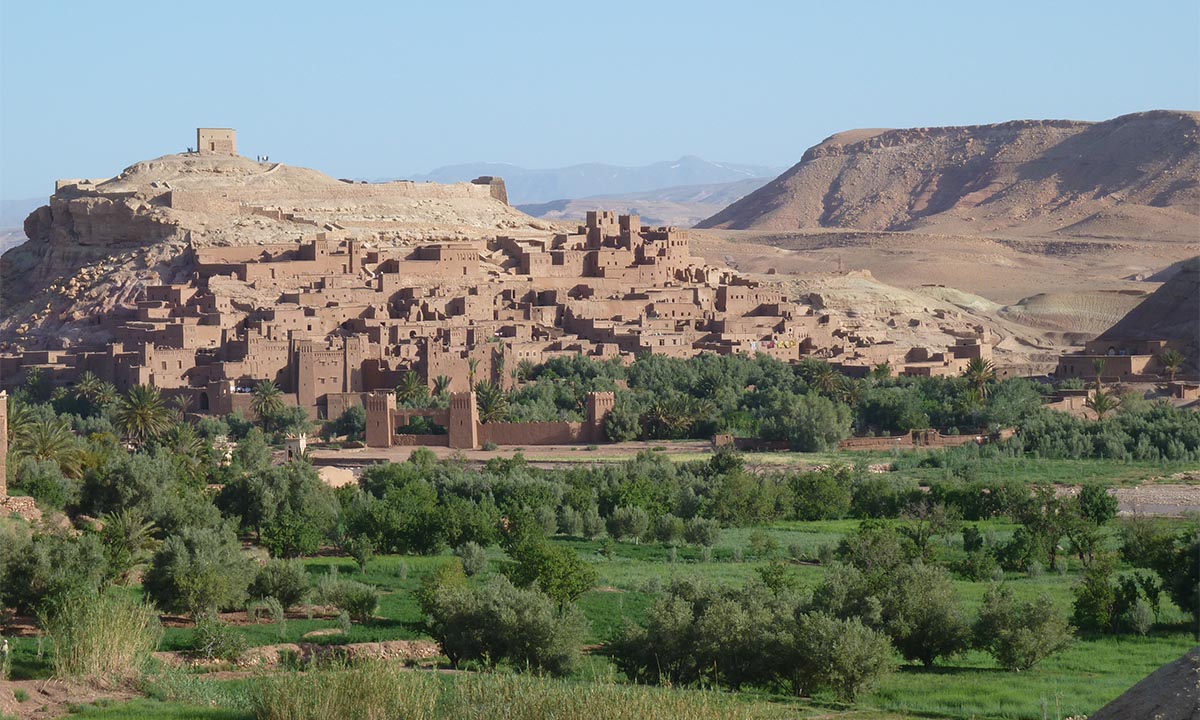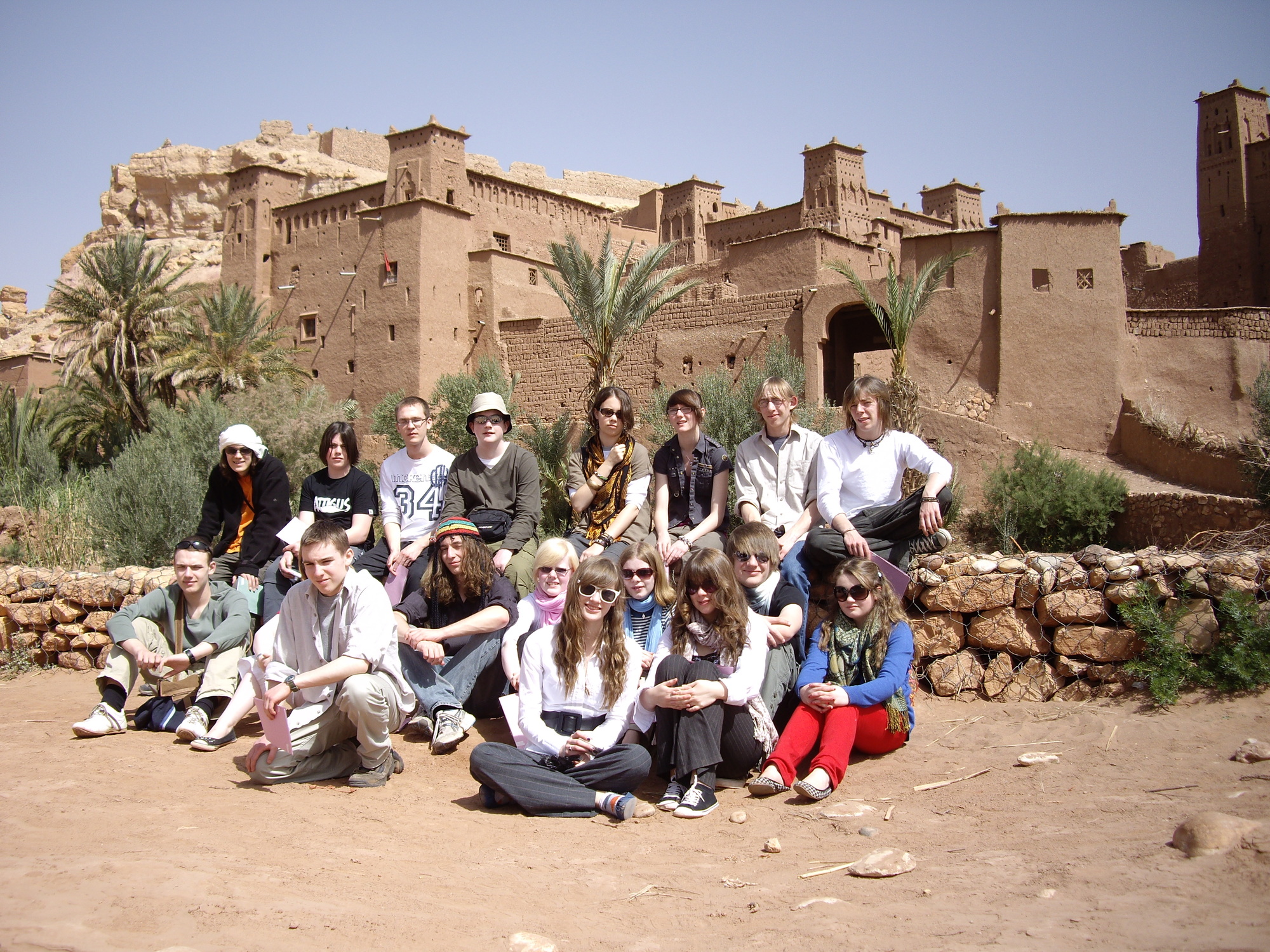 DAY 7
ITINERARY: Departure Day
Depending on your flight times, there may be the opportunity for more time to walk in to Marrakech Medina (or, at extra cost, spend 5-6 hours in Douar Oulad Elguern, a hugely impacting practical, "hands-on" day in a traditional village on the Marrakech Plain - - see our Day Option page - before flight home).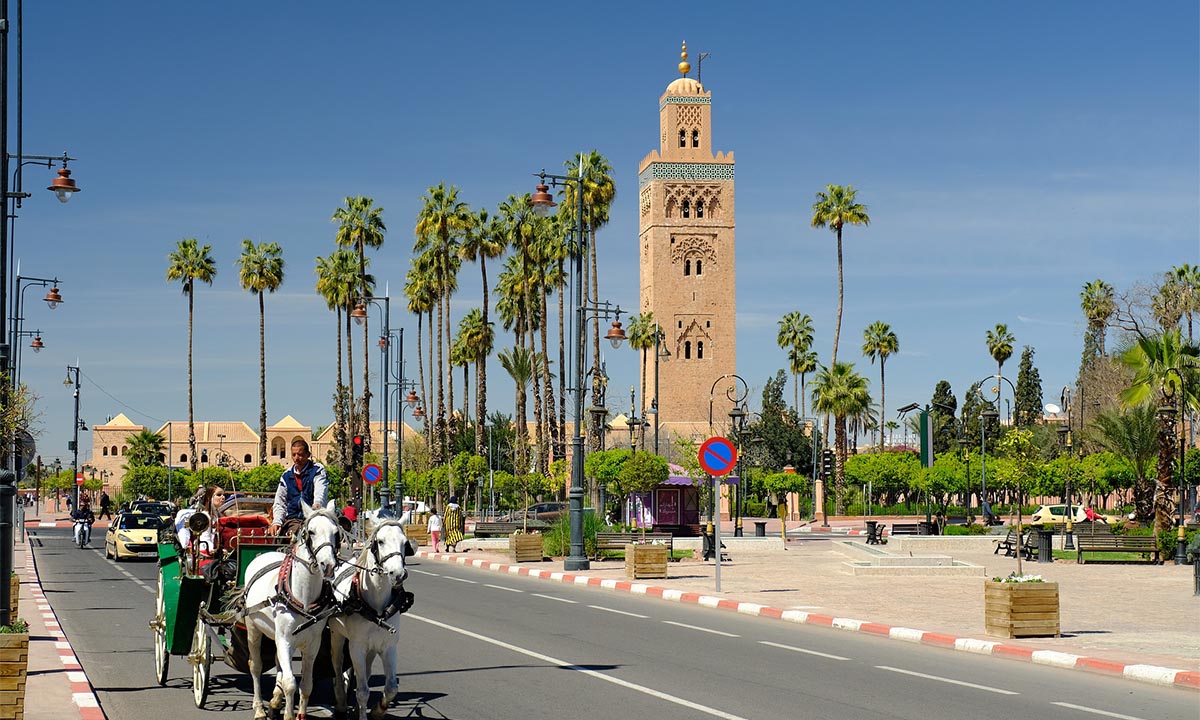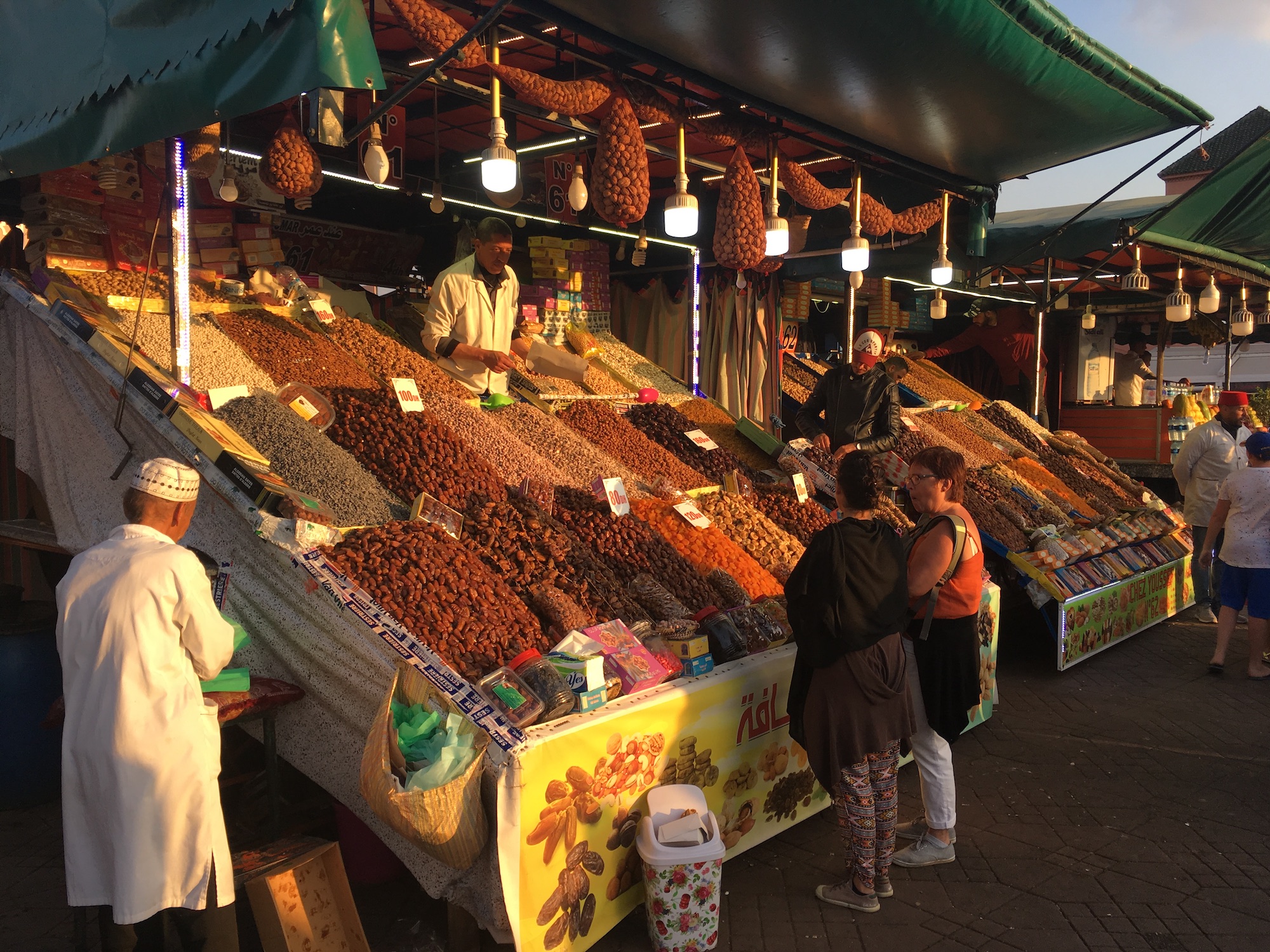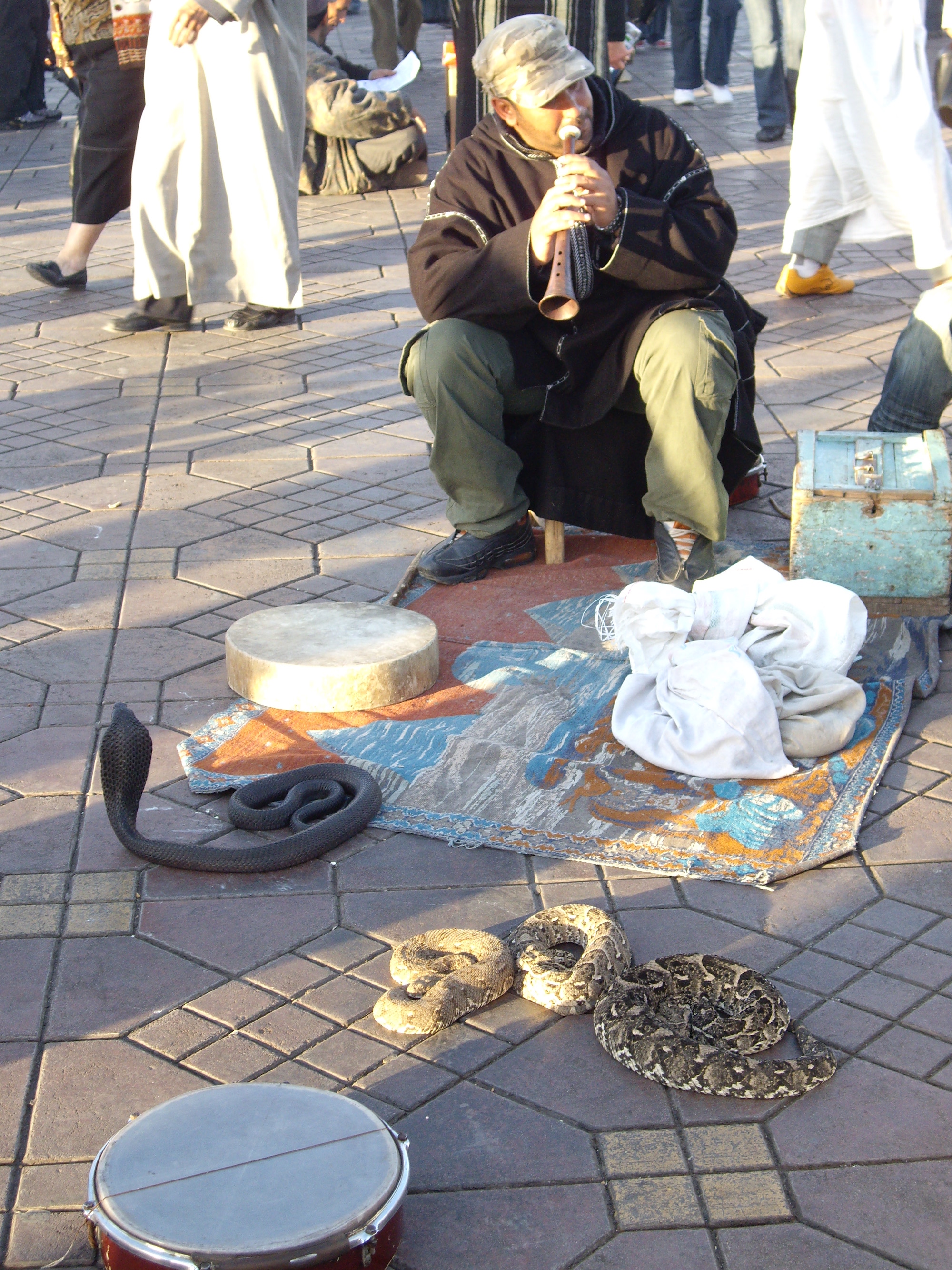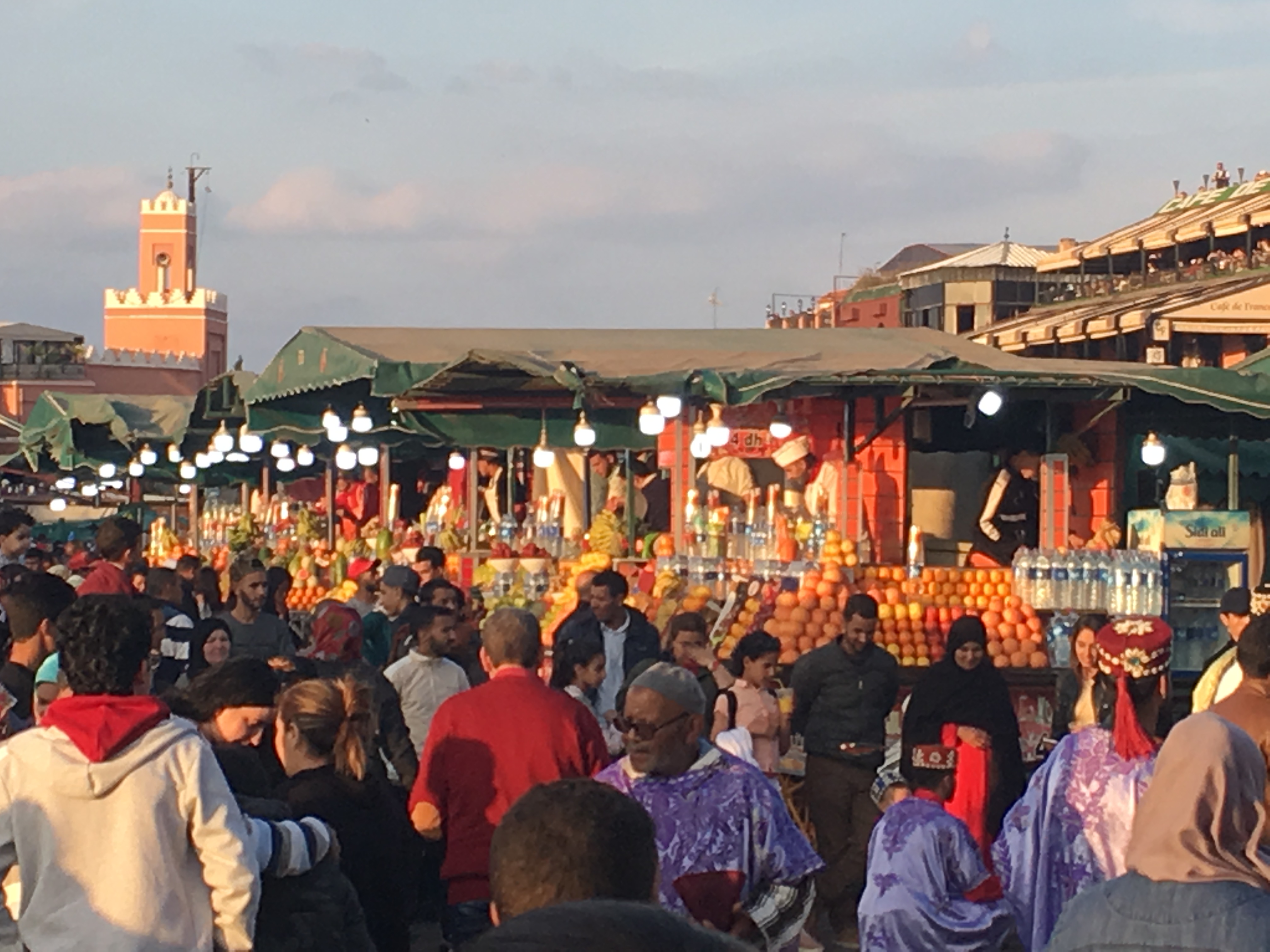 WHAT ATS OFFERS:
All Moroccan ground transport (including airport transfers) to cover the described itinerary
EITHER 6 x nights hotel accommodation on a half board basis; twin/triple rooming for pupils; twin rooming for teachers (with single teacher rooming an option at a supplementary cost) OR 5 x nights hotel accommodation on a half board basis; twin/triple rooming for pupils; twin rooming for teachers (with single teacher rooming an option at a supplementary cost) PLUS 1 x night in a Bedouin Camp on a half board basis
An ATS Moroccan Courier, English speaking, throughout, to help with all practical and logistical matters
Camel ride in Merzouga (1 camel per participant) with camel leaders
NOTE: this tour can be extended by adding in one or more of the single Geography Tour Day Options to construct your ideal tour - see our Day Options page
WHAT ATS DOES NOT INCLUDE:
Flights/Ferries
Personal Insurance
Personal spending
Lunches (but they can be added at a supplement)
Drinks/Bottled Water (but they can be added at a supplement)
All other items not mentioned in the WHAT ATS OFFERS list
PRICE FROM:
Total for 20 Pupils plus 2 Teachers: 129640 MAD (12964 Euros).
Total for 30 Pupils plus 3 Teachers: 194880 MAD (19488 Euros).
Total for 40 Pupils plus 4 Teachers: 243120 MAD (24312 Euros).
Please contact us for a price for your particular group