Epic journeys
Experience Berber Life and Activities
Savour Berber Hospitality
Tour Overview
INTRODUCTION
more about bouteghrar & megoun valley tour
At the foot of the central High Atlas mountains, on their south facing slopes, ATS organises magnificent trekking to allow discovery of one of the most beautiful regions in Morocco, the M'goun Valley and the M'goun Gorges.

​All around are magnificent fields of roses (in April/May), fortified villages and spectacular landscapes and where the generous hospitality Berbers is still to be found; the area is close to being a wonderful wilderness area.

To reach the hike's starting point, a full day transfer from Marrakech to Bouteghrar is needed (privately, by taxi, by minibus or by coach, depending on your group's size).

After being collected from your Marrakech accommodation (that ATS organises for you ), you will travel toward the M'goun Valley via the spectacular national road N9, over the High Atlas via the Tizi-n-Tichka Pass (at 2,260m), on to Ouarzazate, on along The Valley of a Thousand Kasbahs to El Kalaa M'gouna and finally arriving at Bouteghrar village.

ATS hiking options in this glorious area can be from 2 to 7 days, amongst some of the most remote and very beautiful wilderness valleys of the High Atlas. All hikes begin from the beautiful rose valley and, by trekking passed small Berber villages with traditional houses, routes can either take your group on gentle/moderate routes into wonderful "worlds" or, by taking more demanding routes, you can reach the high plateaux where nomads graze their herds of goats and sheep amongst the fabulous and most dramatic gorges; your choice!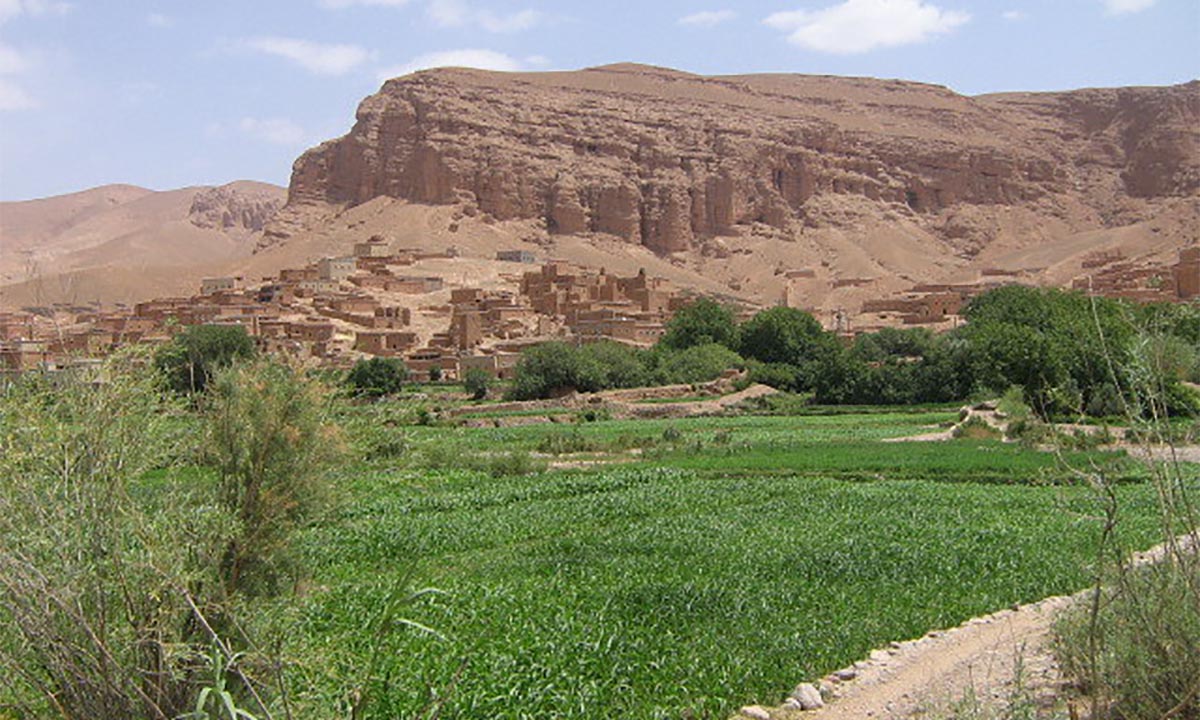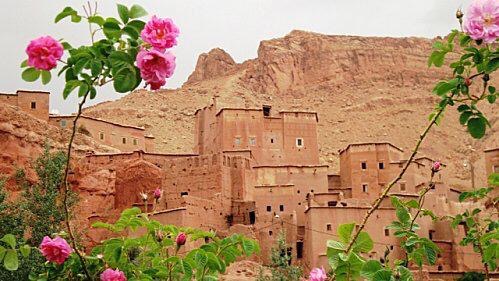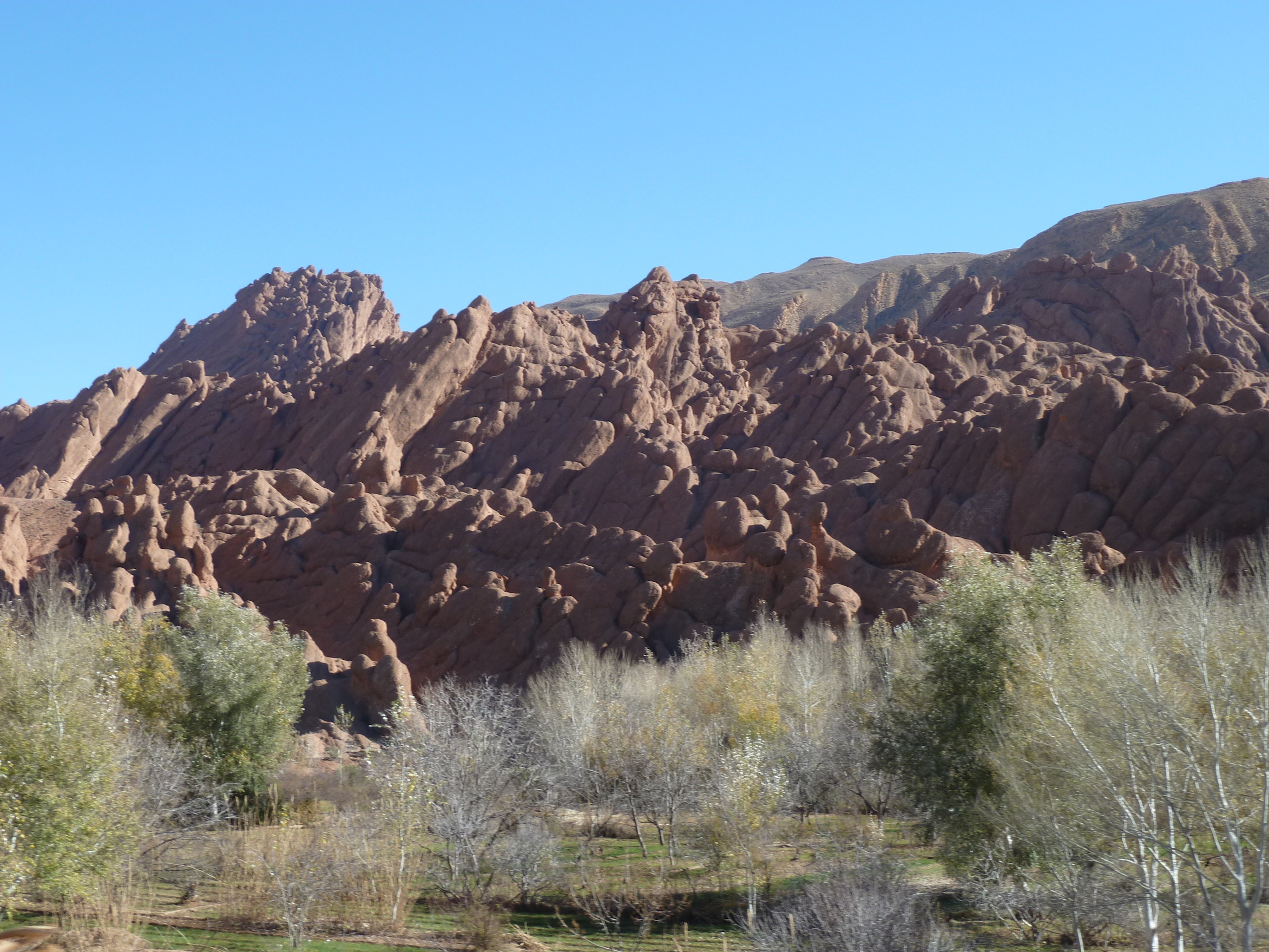 DAY 1
marrakech to boutaghrar
Transfer by private taxi from Marrakech to Boutaghrar, your driver will meet you after breakfast, with departure toward M'goun Valley via the national road N9, the izi-n-Tichka Pass, Ouarzazate and El Kalaa M'gouna.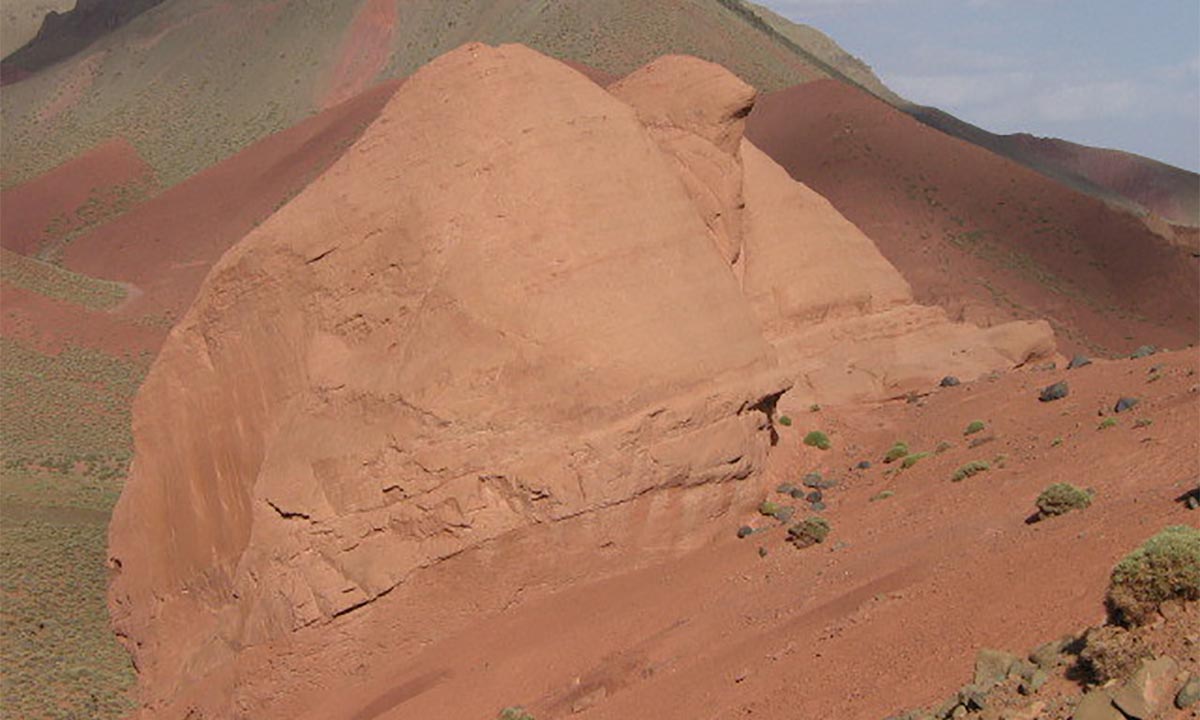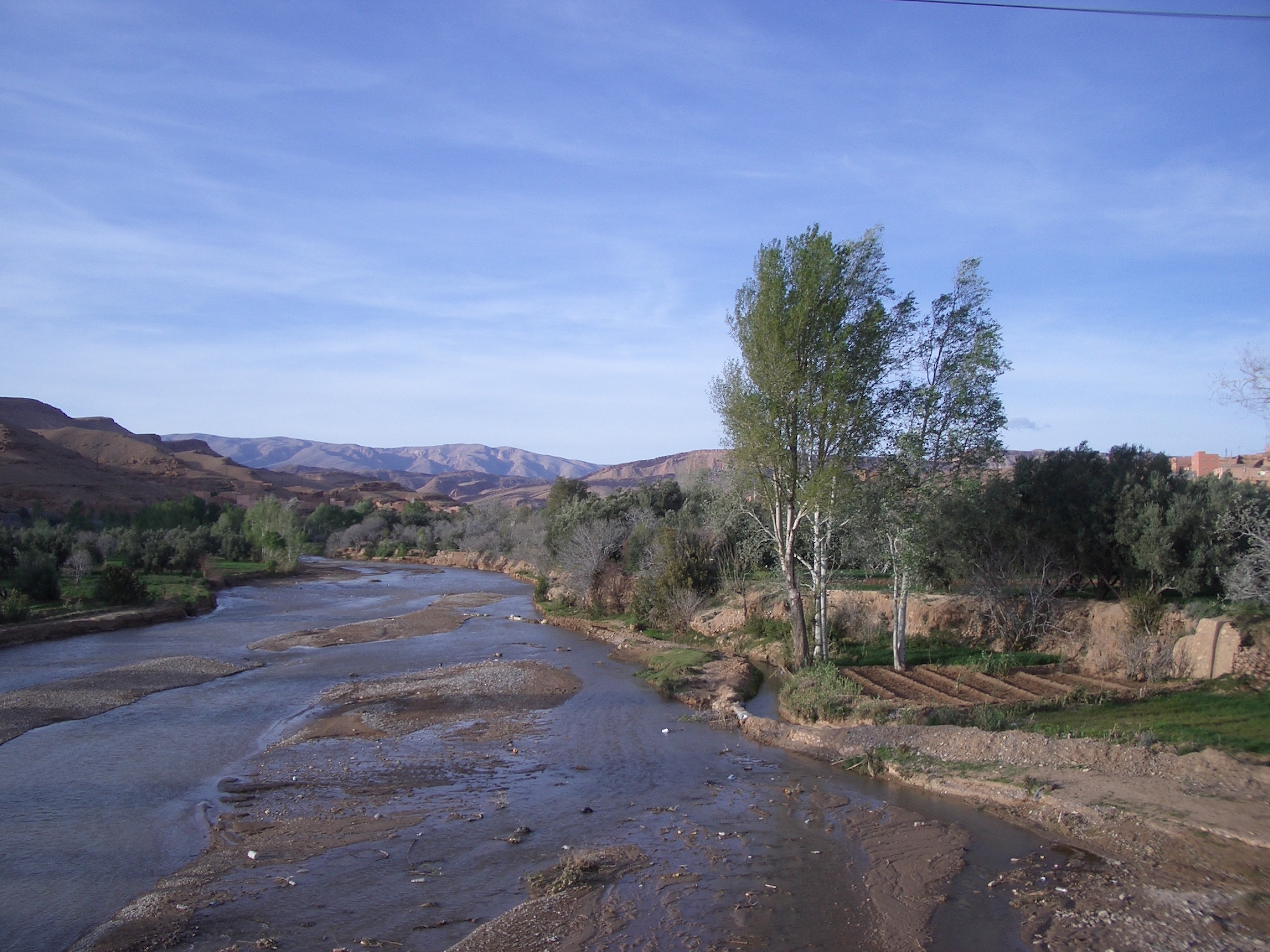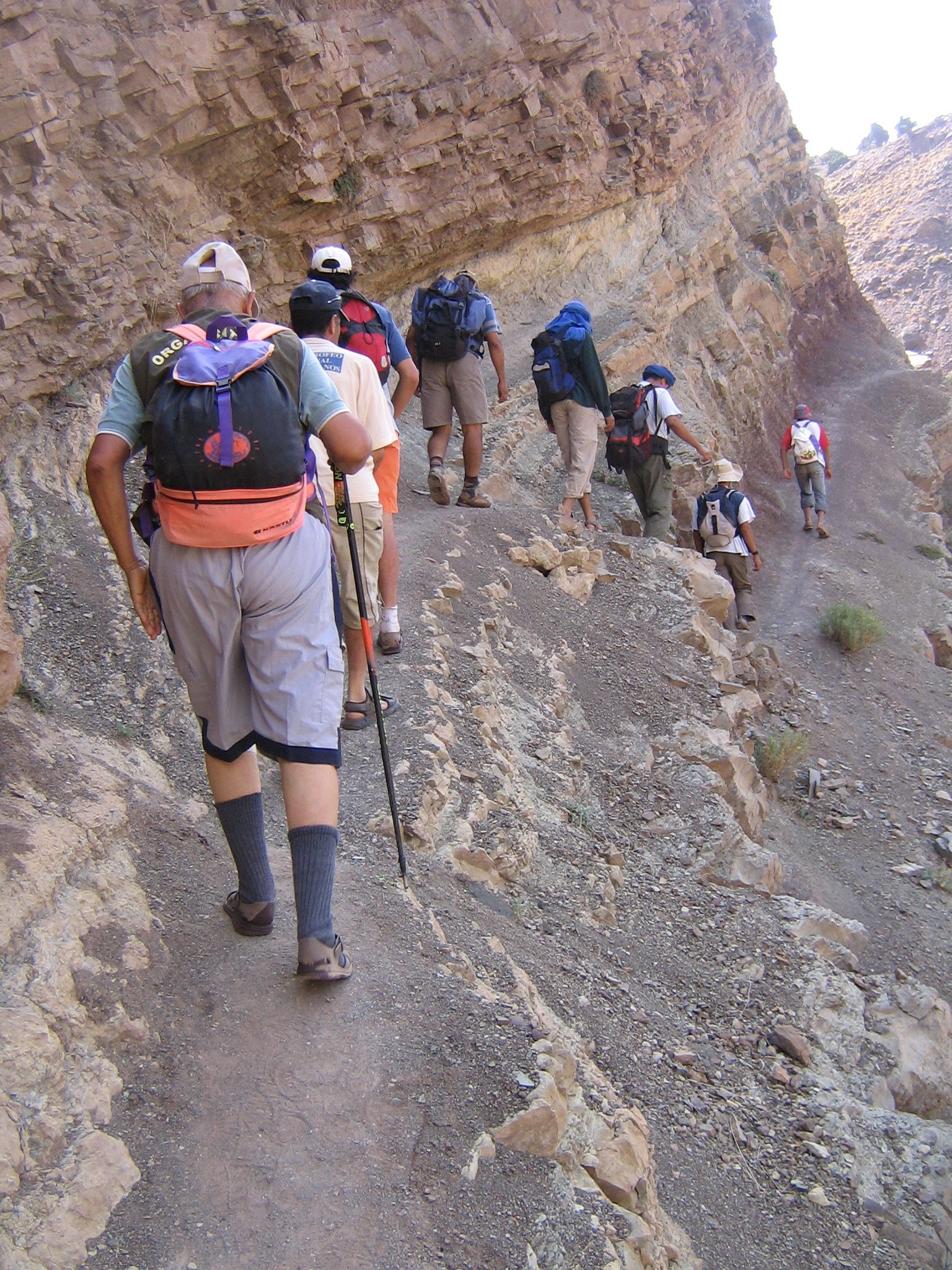 DAY 2
boutaghrar - valley of a thousand kasbahs > amjgag (5-6 hours walk)
After breakfast, depart your hotel/gite in Boutaghrar and travel through he Valley of a Thousand Kasbahs, passing by Douar El Houtte, Agouti, Agouti Throat and Gorge Agoutti. After lunch, depart towards Douar Almdoune, through the gardens and many old kasbahs, to arrive in Amjgag village at around 18.00. Overnight with a Berber family in their home or in a bivouac (as you wish).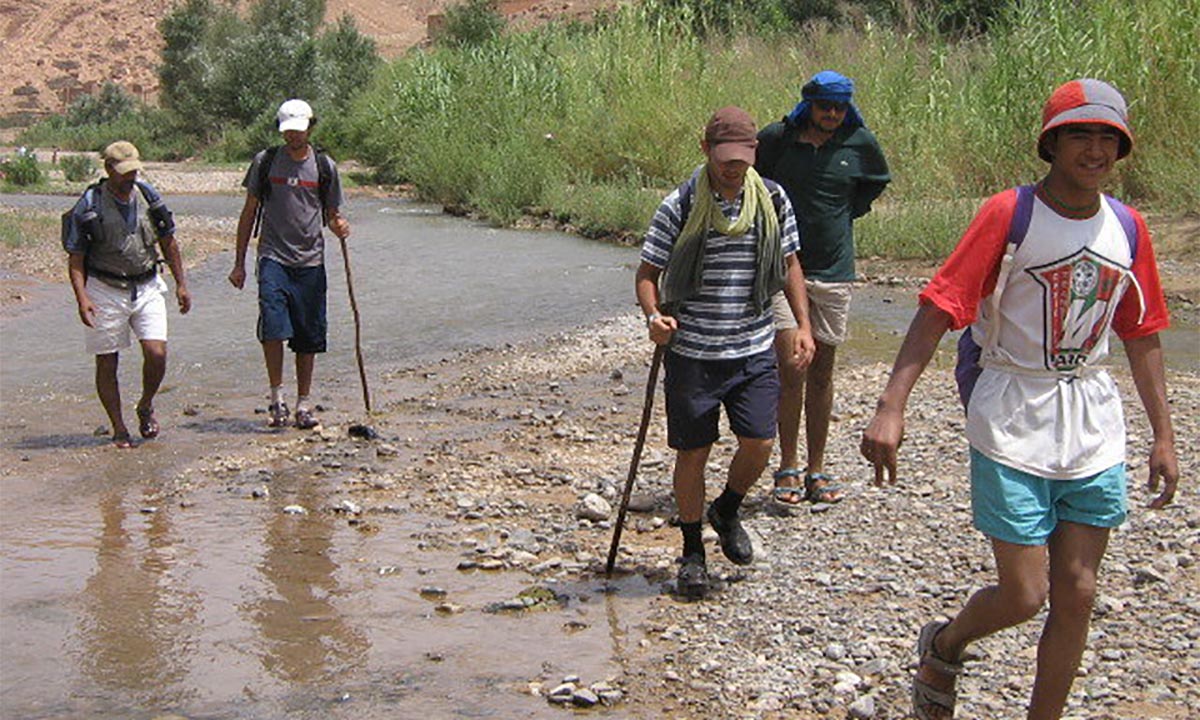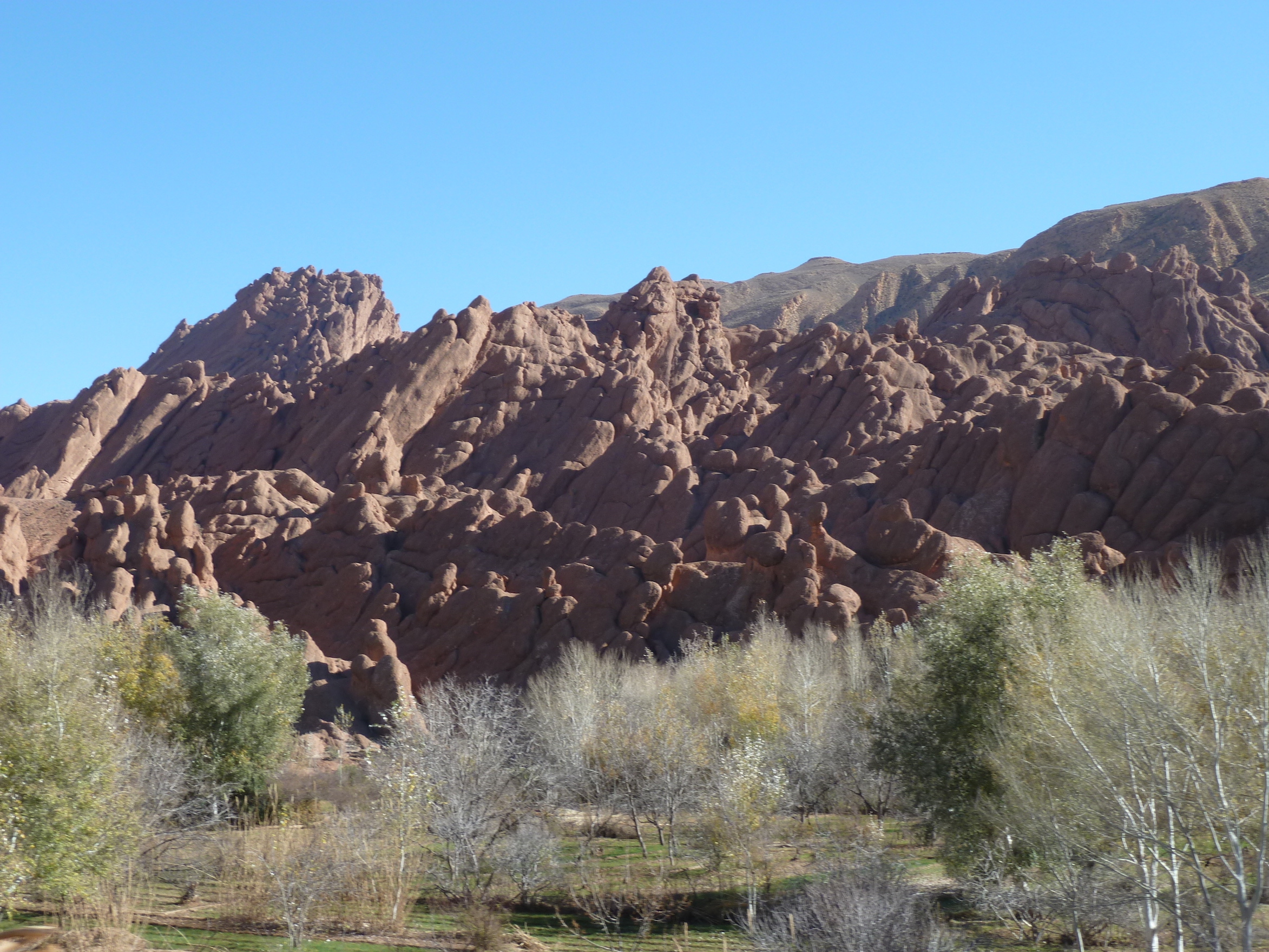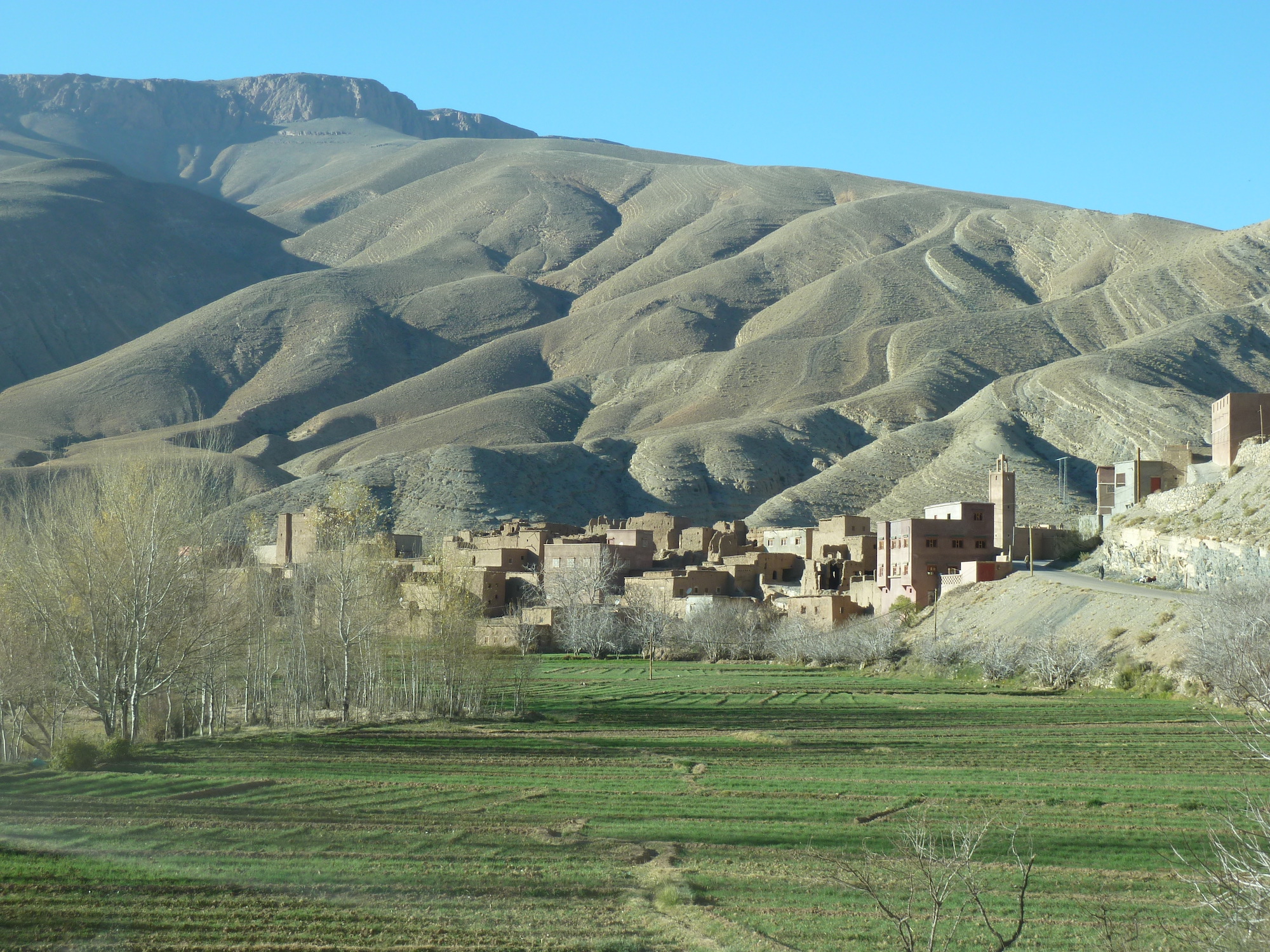 DAY 3
amjgag-valley amskar > tichki (5-6 hours walk)
After breakfast, depart Amjgag and walk through Gorge Ameskar, arriving in the Ameskar Valley (an area of traditional small villages and an ancient kasbah). Take lunch near the Tichki Cascade. Depart Tichki, walking through gardens and next to the river, arriving in the village of Tichki at around 18.00. Overnight in a cottage or bivouac (as you prefer).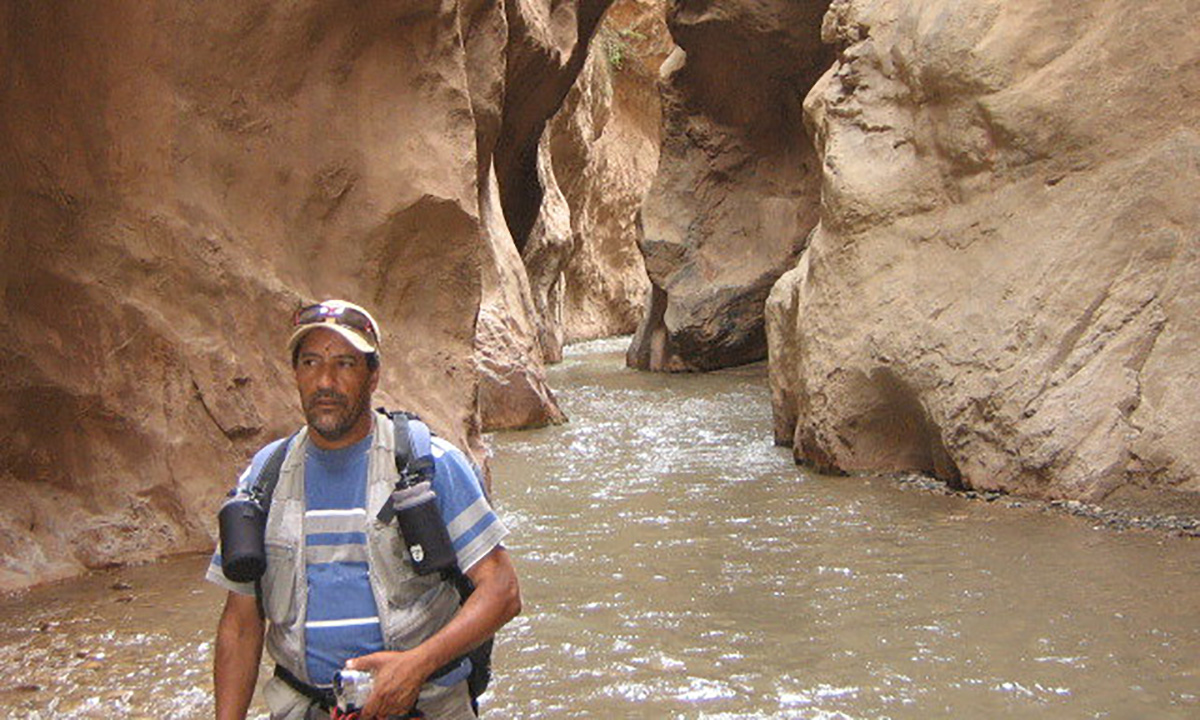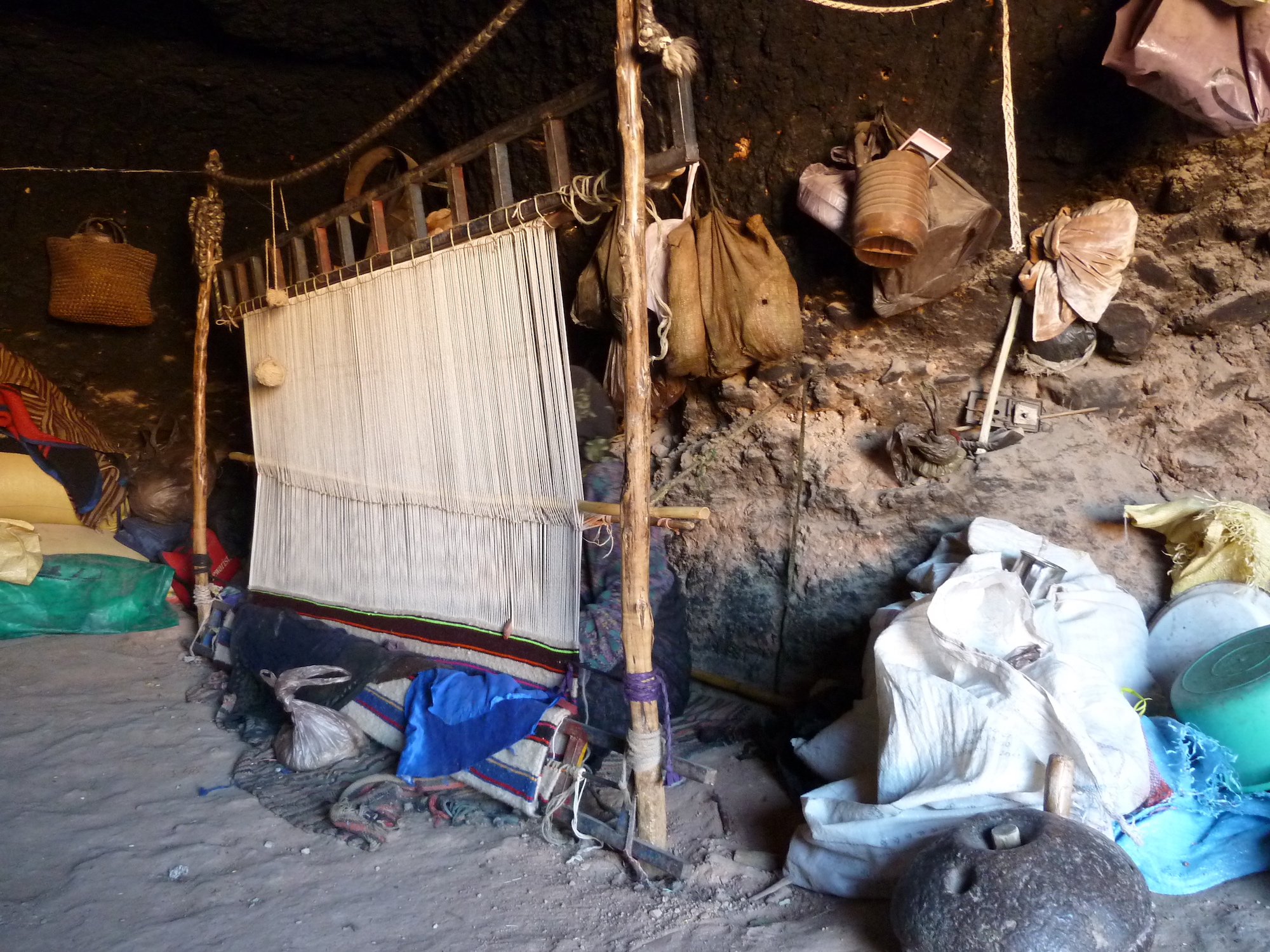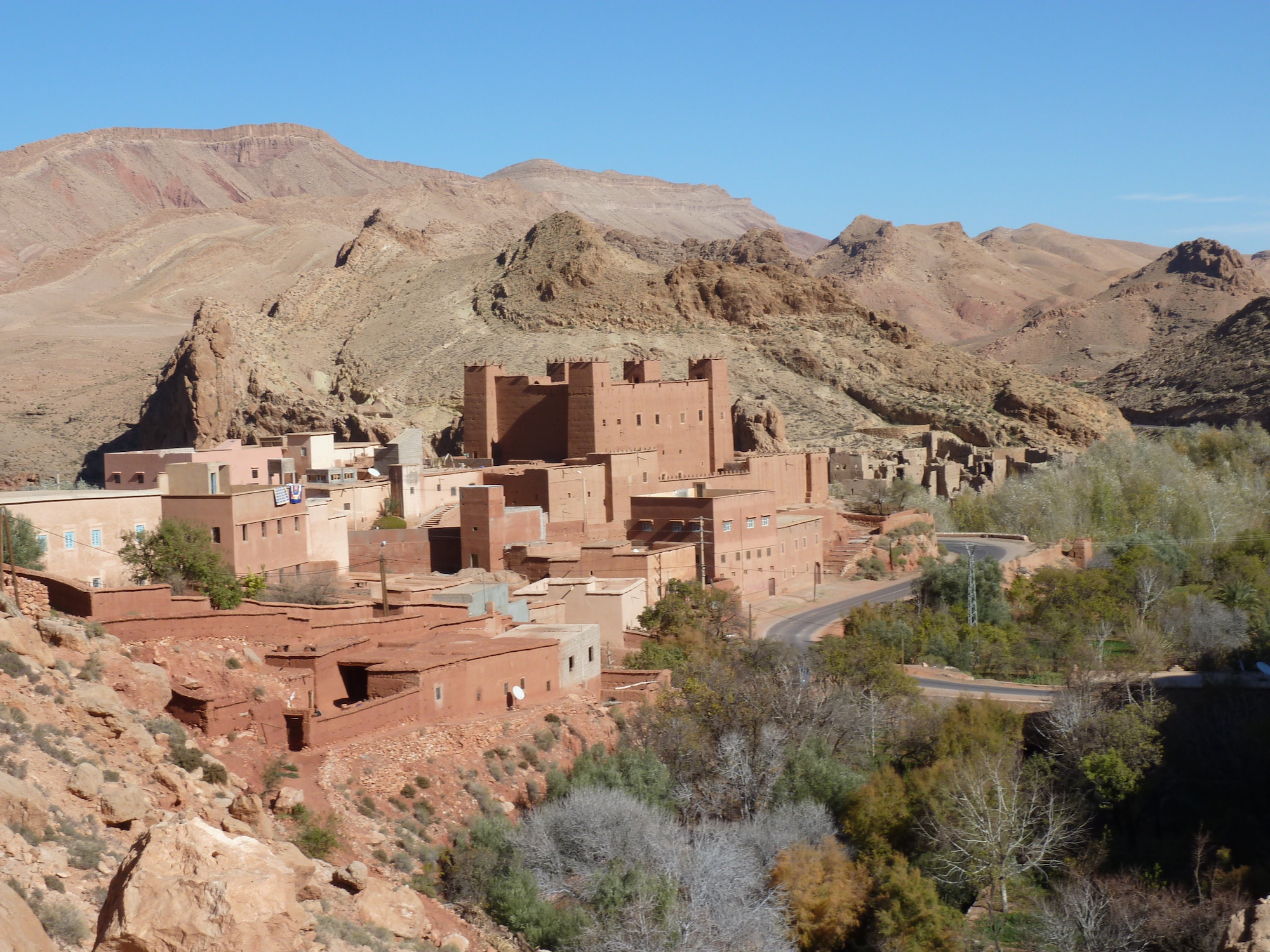 DAY 4
tichki - glue is ahmed > source mgoun (5-6 hours walk)
After breakfast, depart Tichki reaching ait ahmed at an altitude of 2990 m. Take lunch here, on top of Ait Ahmed with magnificent panoramic views towards the second largest mountain in Morocco, Amsssoud (4,068 m). Descend to Ahmed, the source of the M'goun river, arriving at around 18. 00. Overnight in a bivouac.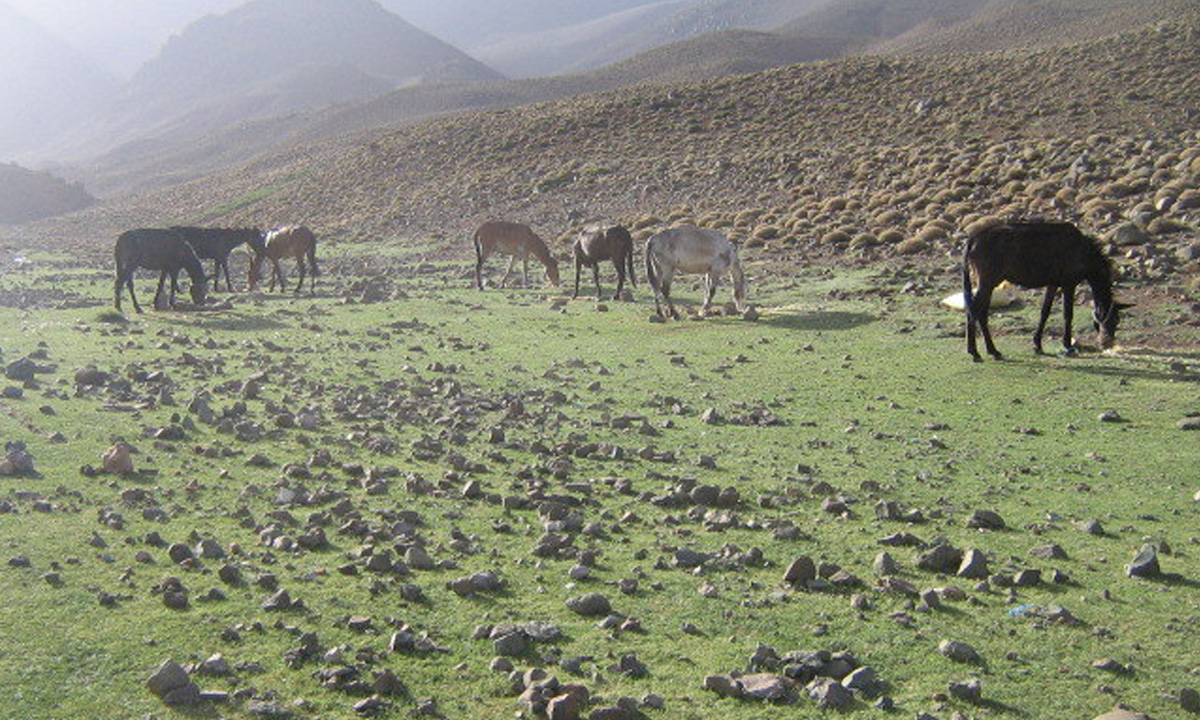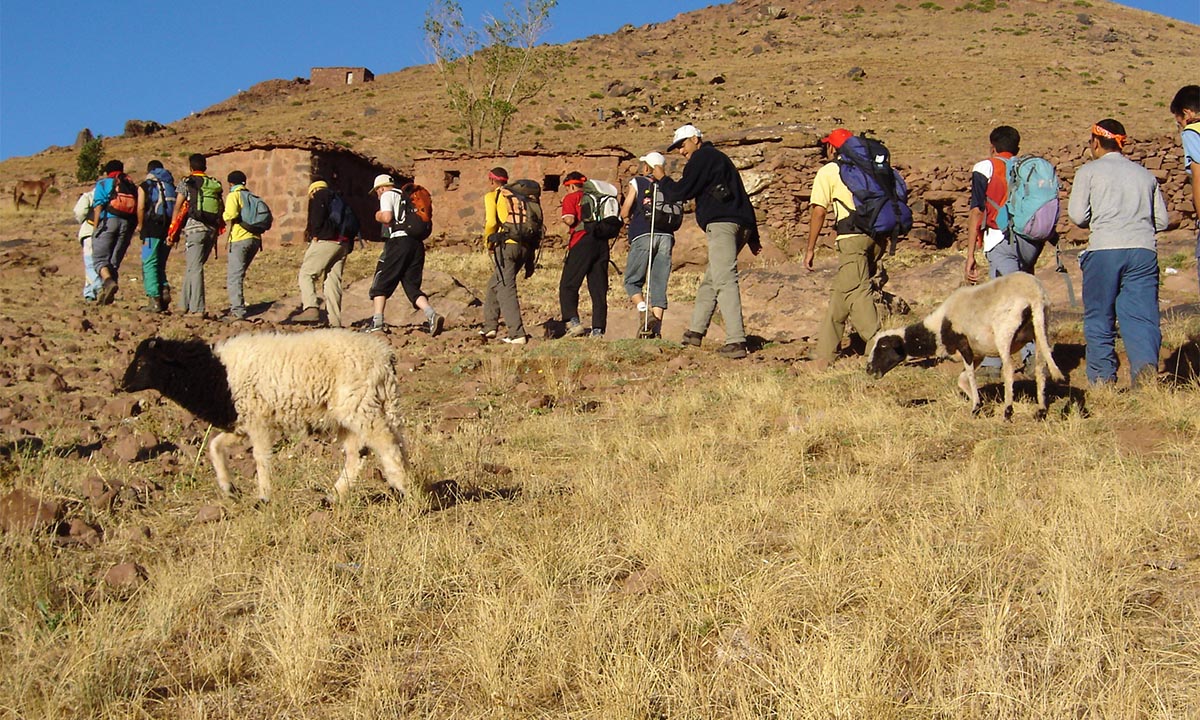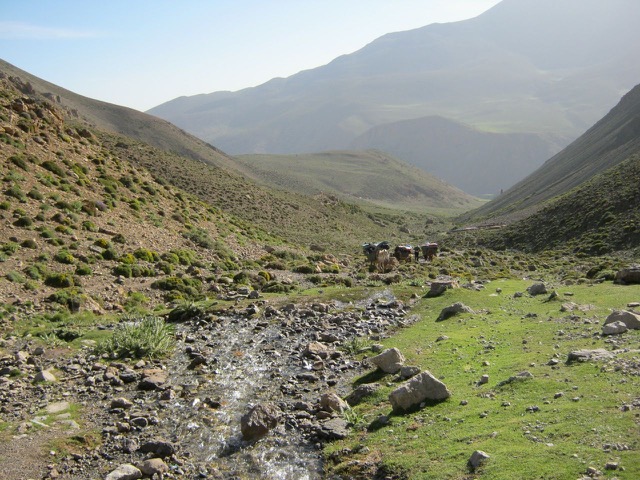 DAY 5
Source of the M'goun > Mourbitine Immi Nyirkte (5-6 hours walk)
After breakfast, depart the source M'goun, walking through small villages (Talat Righn-Ifkirne). Take lunch at 12.00 at Taghraft. During the afternoon depart for the village of Ighrm Izdern and arriving at Immy Nyirkte for overnight in a gite or in a bivouac (as your prefer).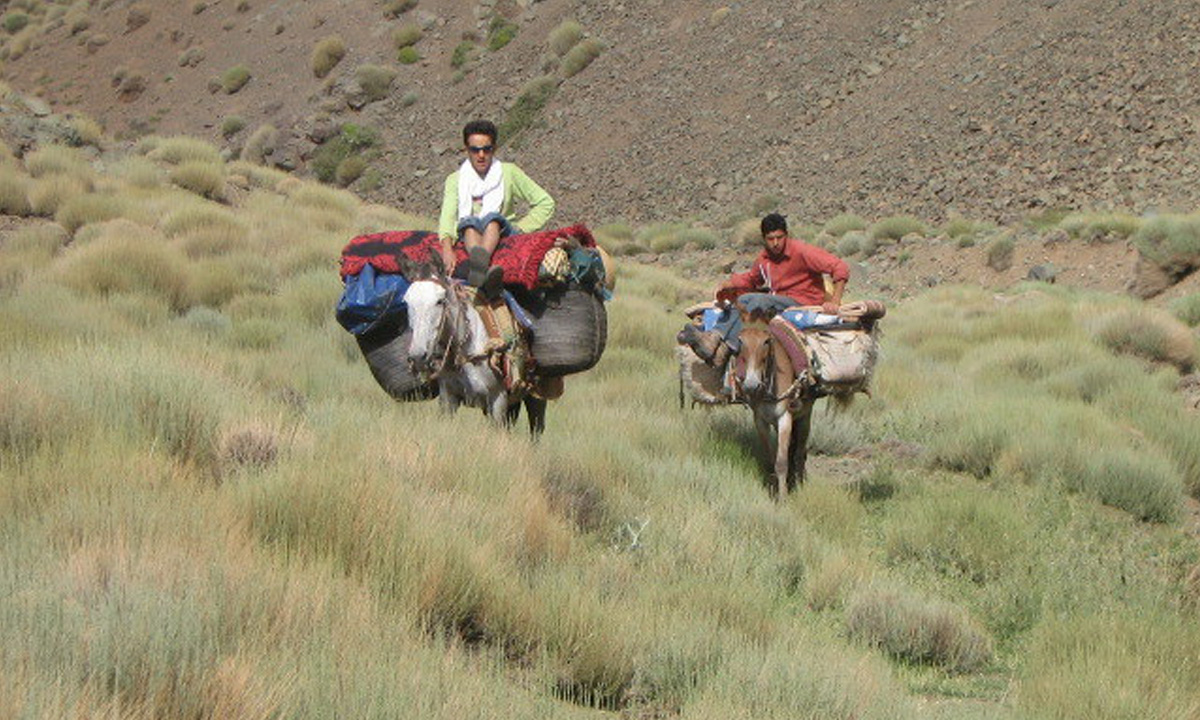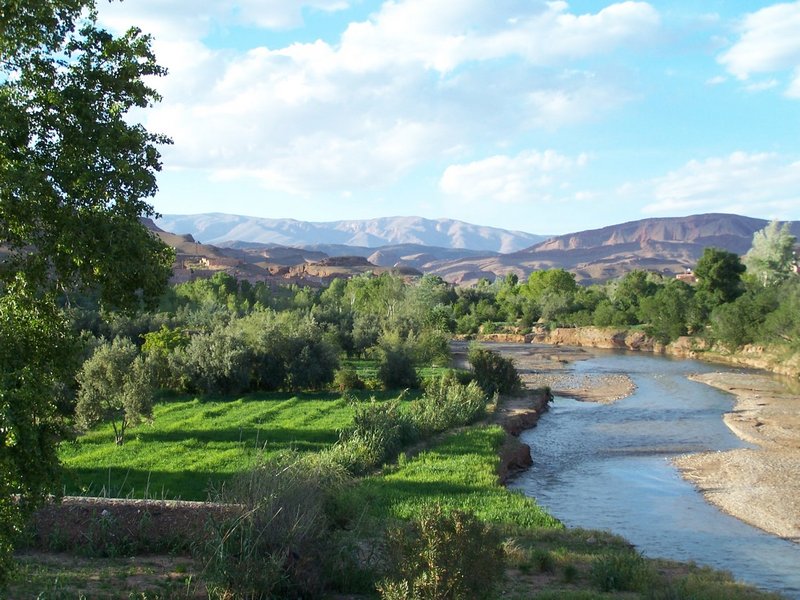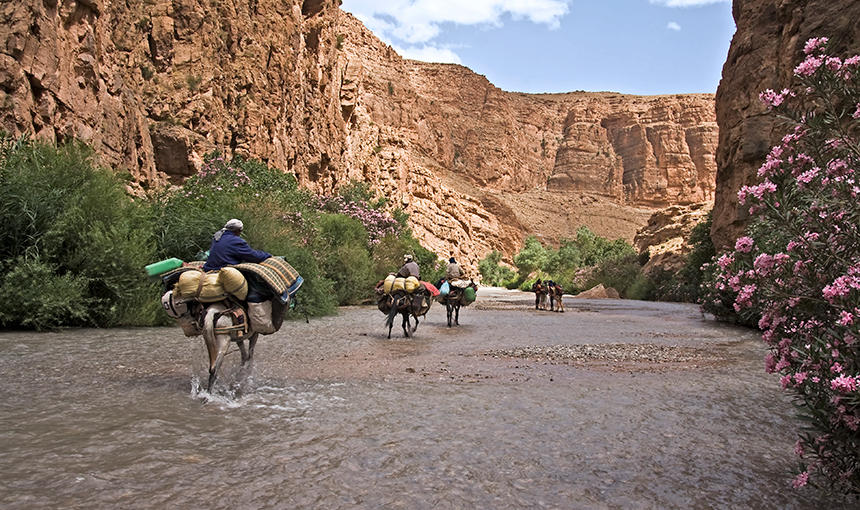 DAY 6
Mmi-Myirkte Gorge > M'goun-Agerzga (5-6 hours walk)
After breakfast, depart Immi Nyirkte and walk through Taghzoute and Gorges M'goun , often with feet in the water, until arriving in Agerzg. Lunch is taken at 12.00 at the end of the Gorge M'goun. Afternoon departure to the village Tighanimin for overnight in a gite or in a bivouac (as your prefer).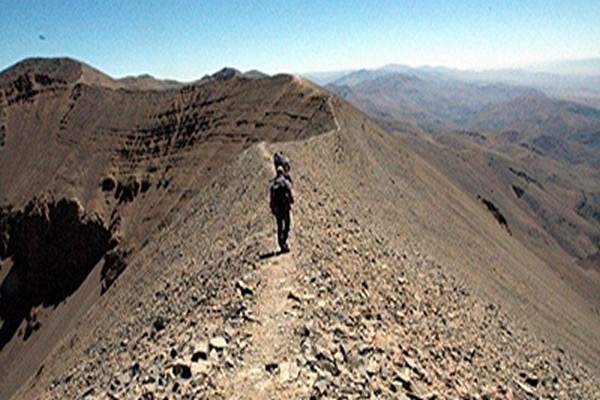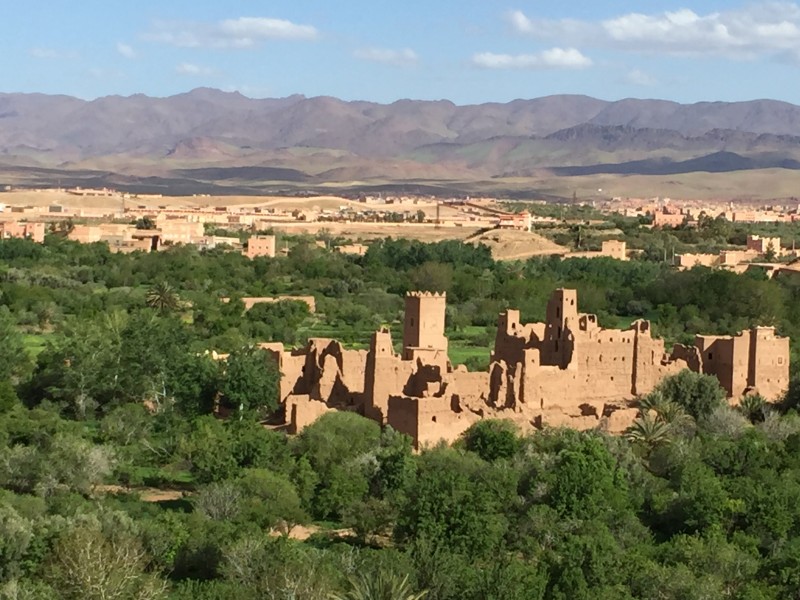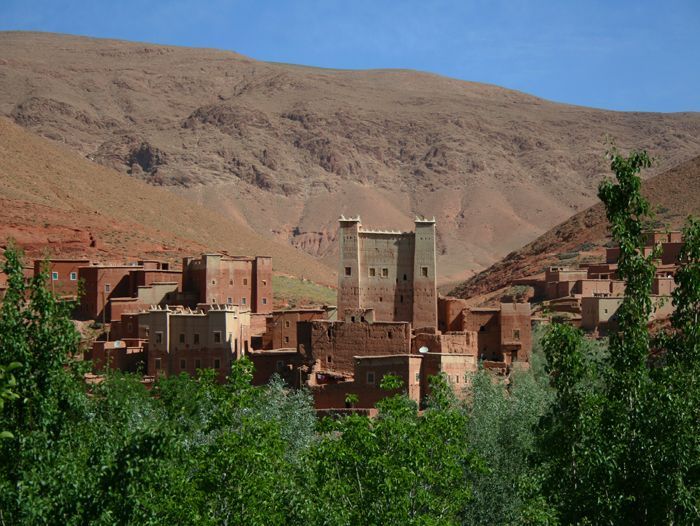 DAY 7
agerzga > boutaghrar (5-6 hours walk)
After breakfast, depart downwards toward Agerzga (feet in the water again!) to the villages of Issoumar Ighrem Akdim, Ait Mrou Tizguine. Take a lunch picnic at Tamglouna after going down the river to the plateau M'goun Boutarghrar that offers a beautiful view of the three valleys (those of a Thousand Kasbahs, M'goun and roses. Overnight in hotel Boutaghrar wih a final dinner at the hotel.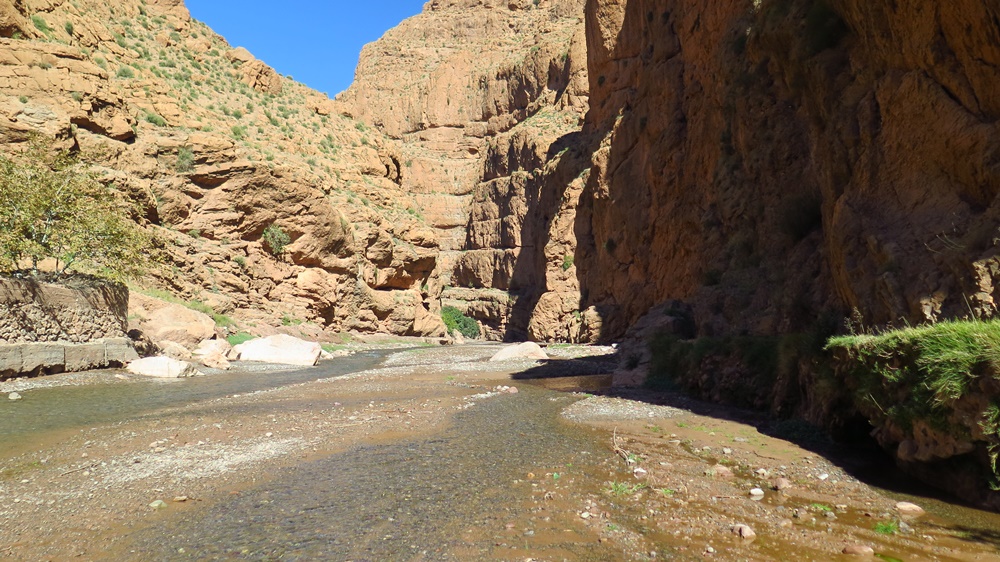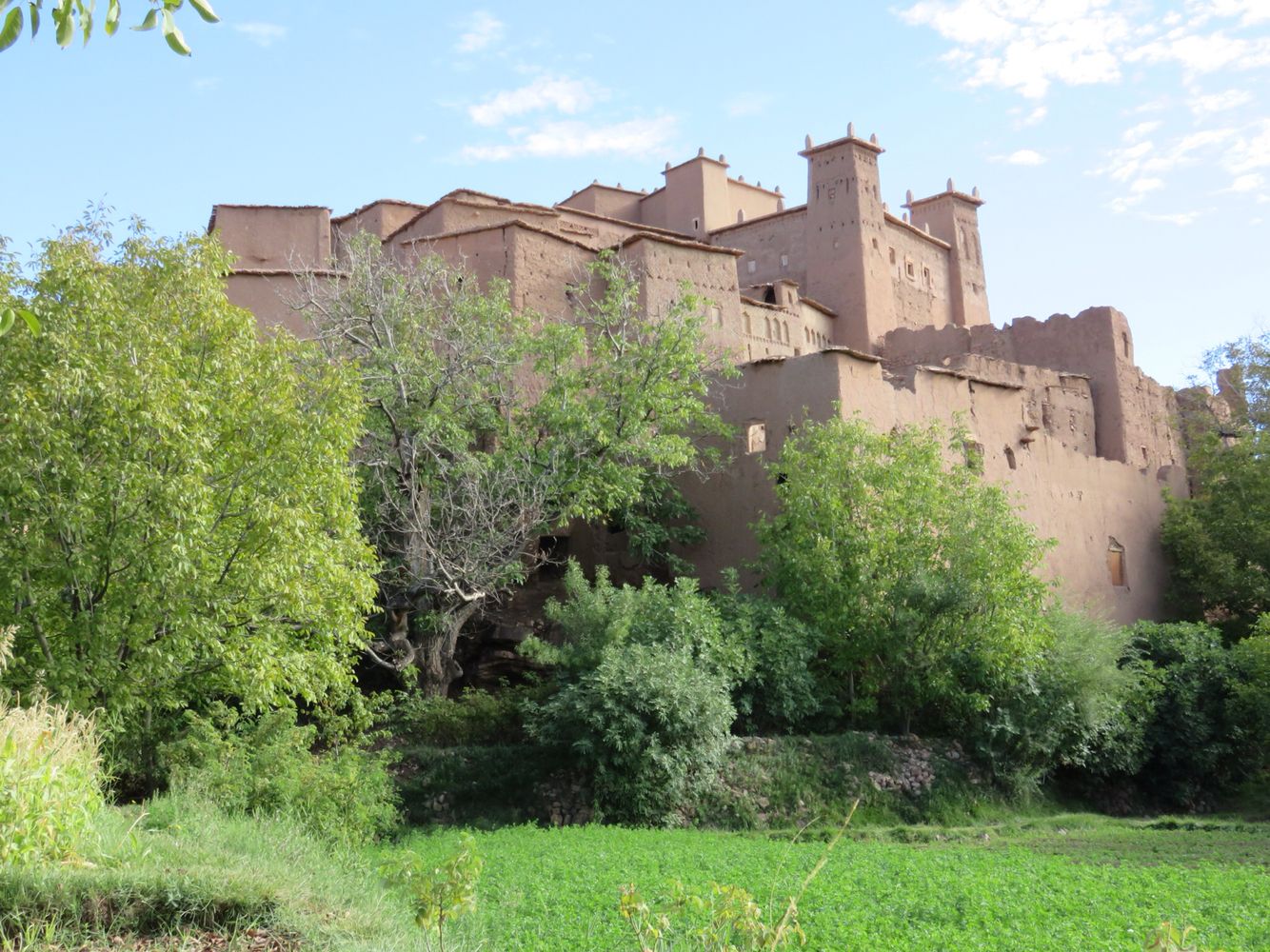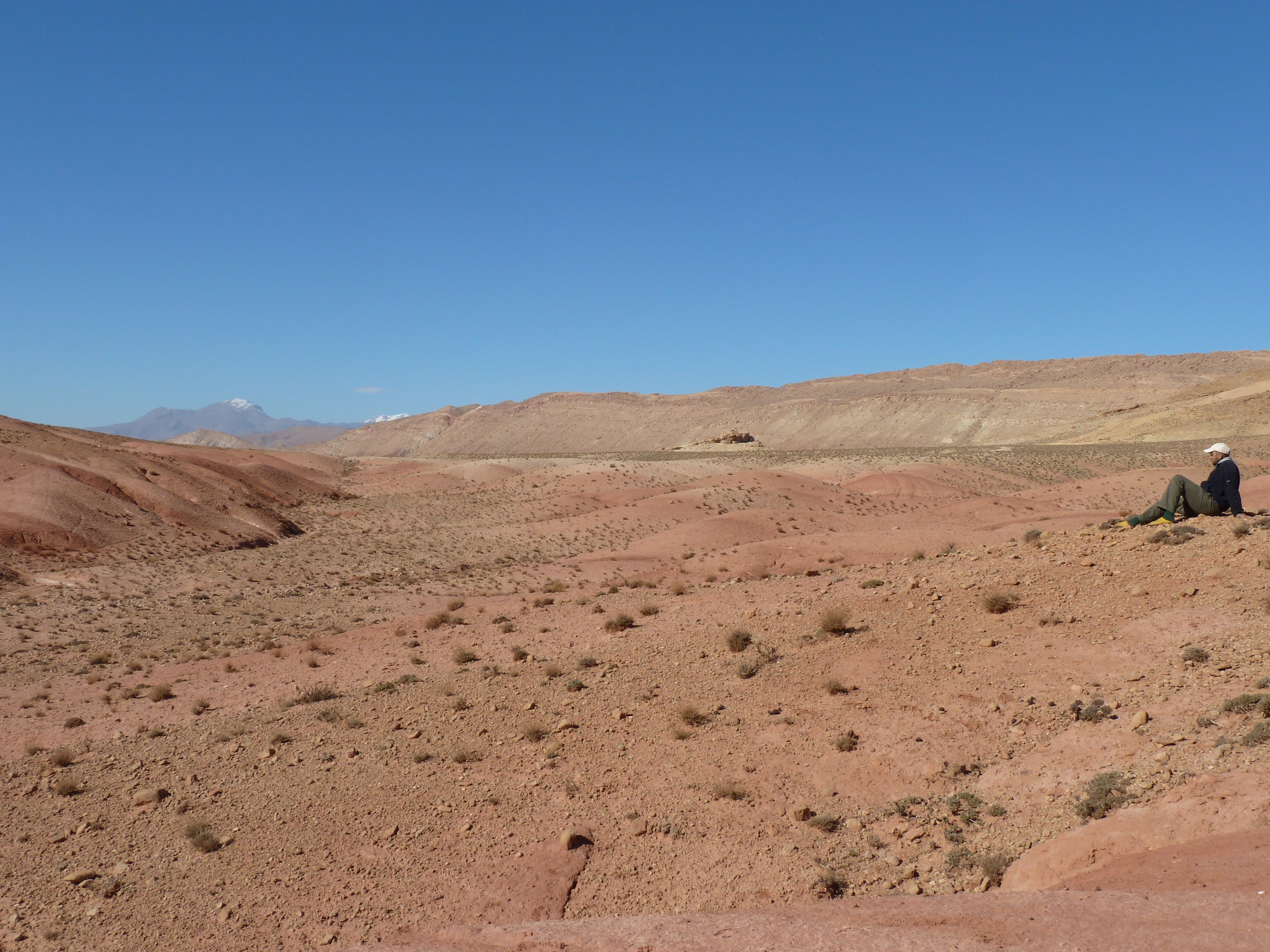 DAY 8
Marrakech
After breakfast, transfer to Marrakech. The journey takes you a long the Valley of a Thousand Kasbahs towards Ouarzazate. Before ascending the High Atlas towards the Tizi-n-Tichka Pass (2260m), there is the option to visit Ait Benhaddou, a World Heritage Site, a well preserved Kasbah and fortified village. The journey continues over the watershed of the High Atlas before descending towards the Marrakech Plain and Marrakech where your tour ends.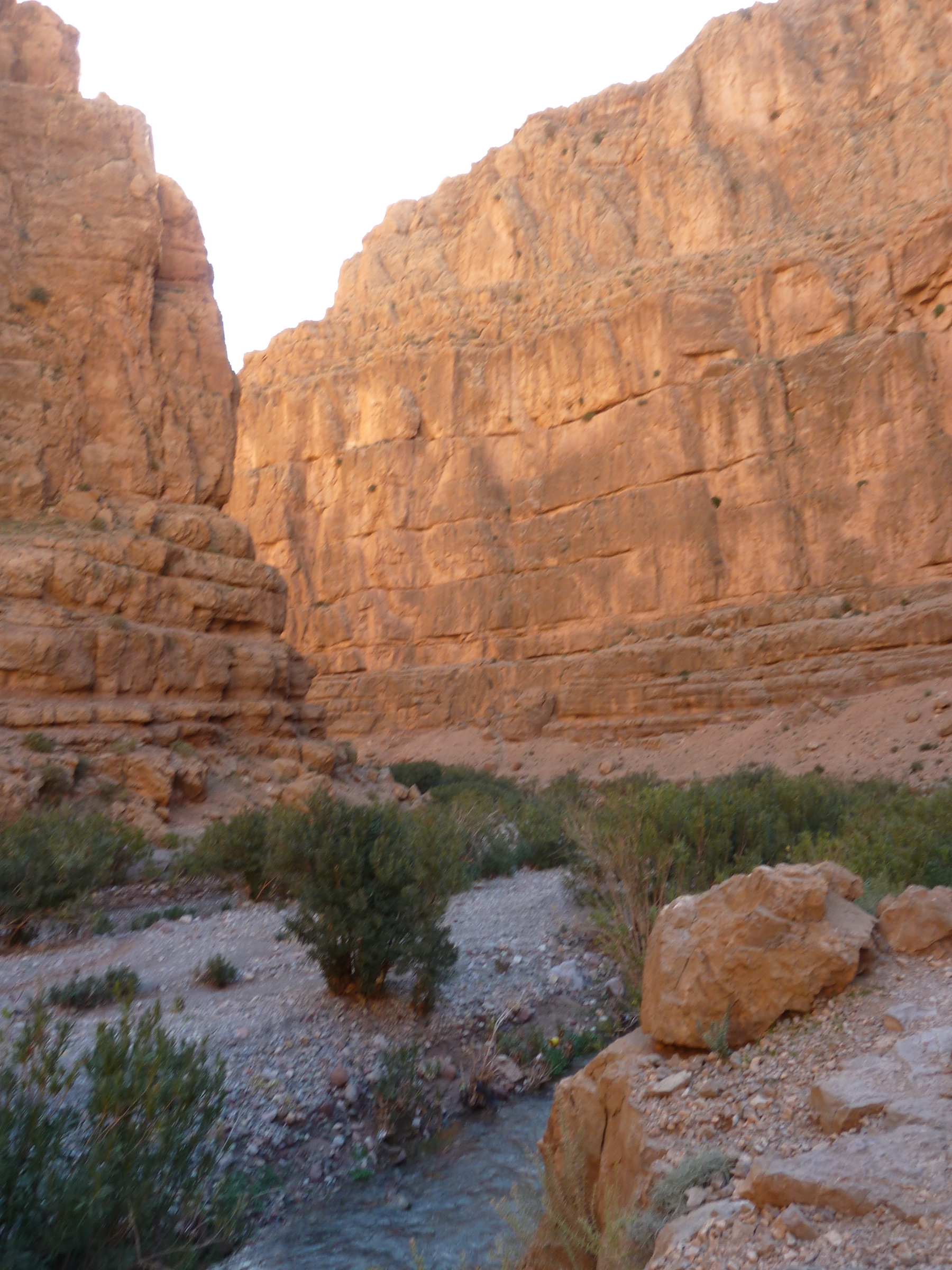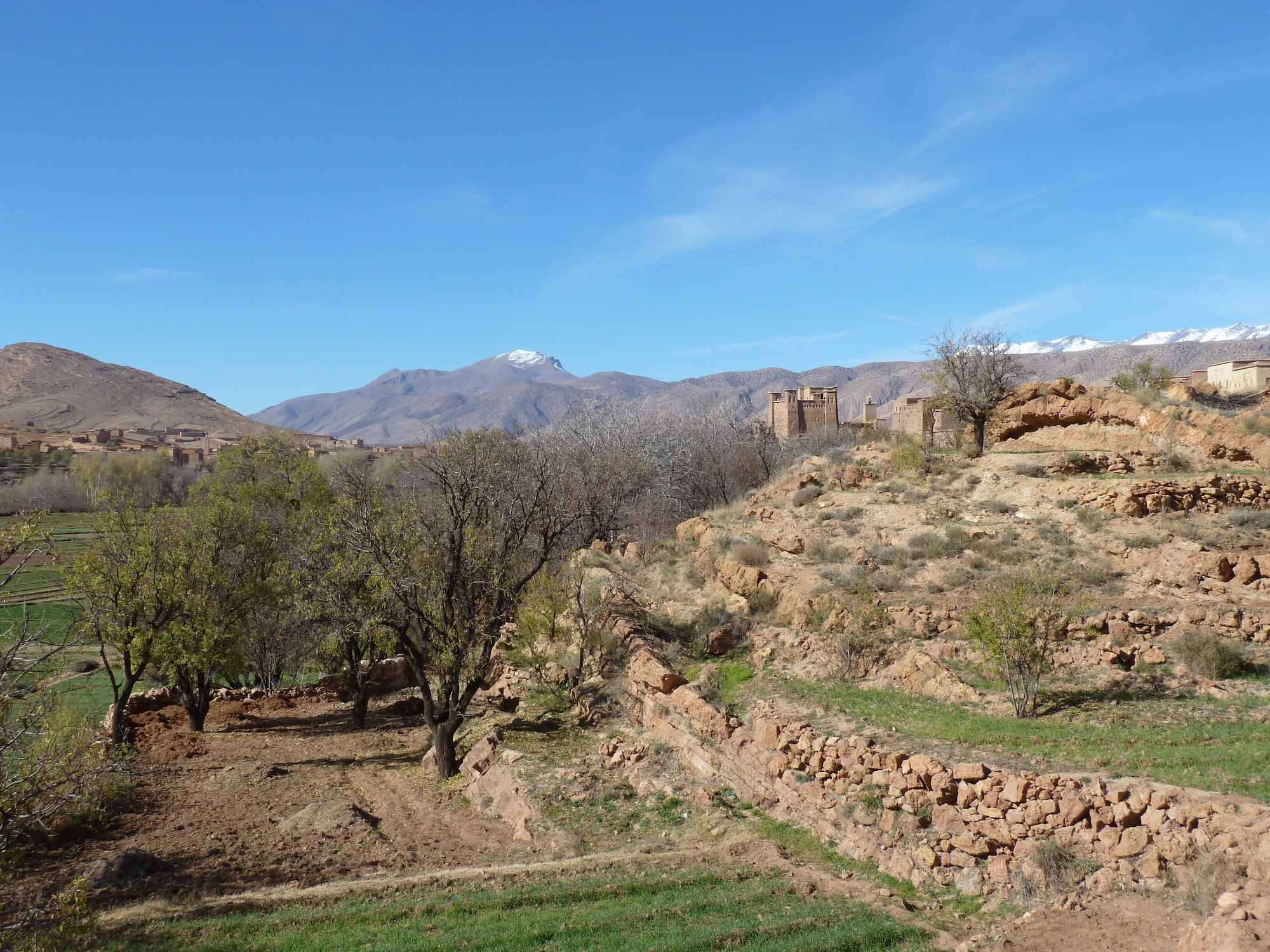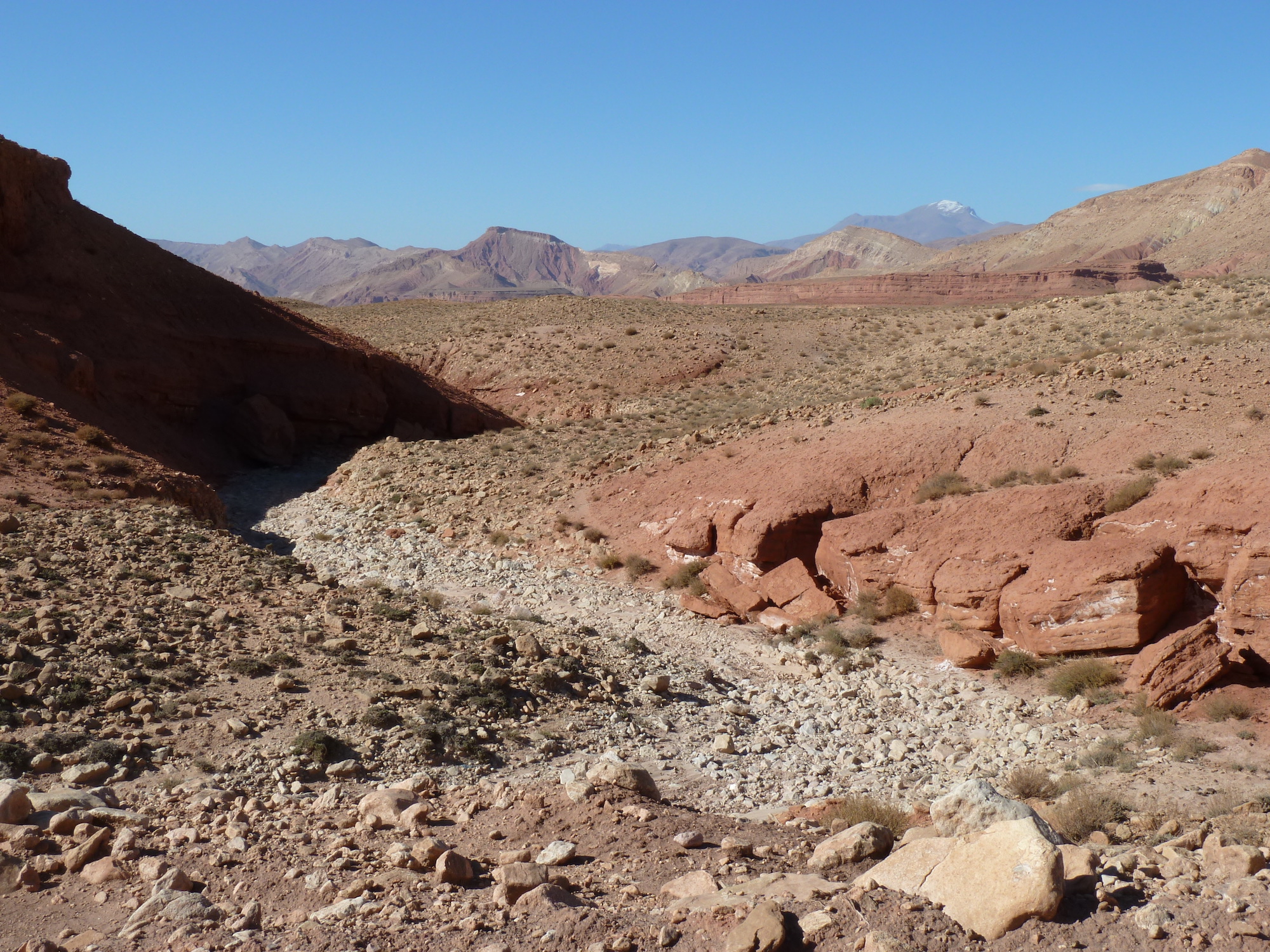 WHAT ATS OFFERS
WHAT ATS OFFERS :
Return transport from your accommodation in Marrakech to Boutaghrar at the start and end of the hike
A local Moroccan Guide. English speaking, throughout
An interesting itinerary in the rural hinterland and wilderness of the Boutaghrar and M'goun Valley
Often the opportunity to enter a Berber home (and perhaps to enjoy a traditional second breakfast, a unique highlight)
A mule is included to carry belongings
Overnight accommodation for 7 nights in a gite/auberge/Berber home
​Food and water, beginning with lunch on day 1 and ending with breakfast on day 8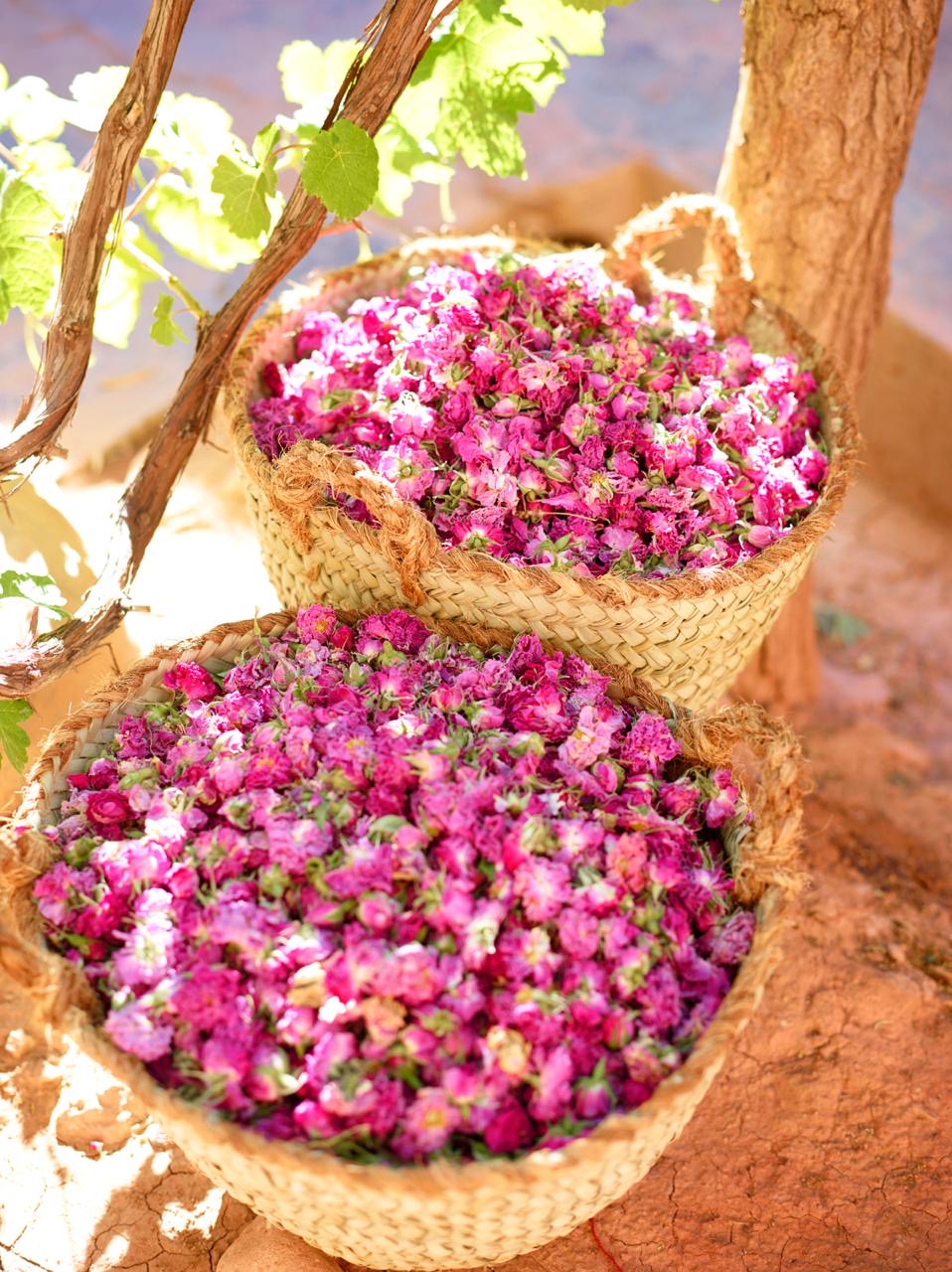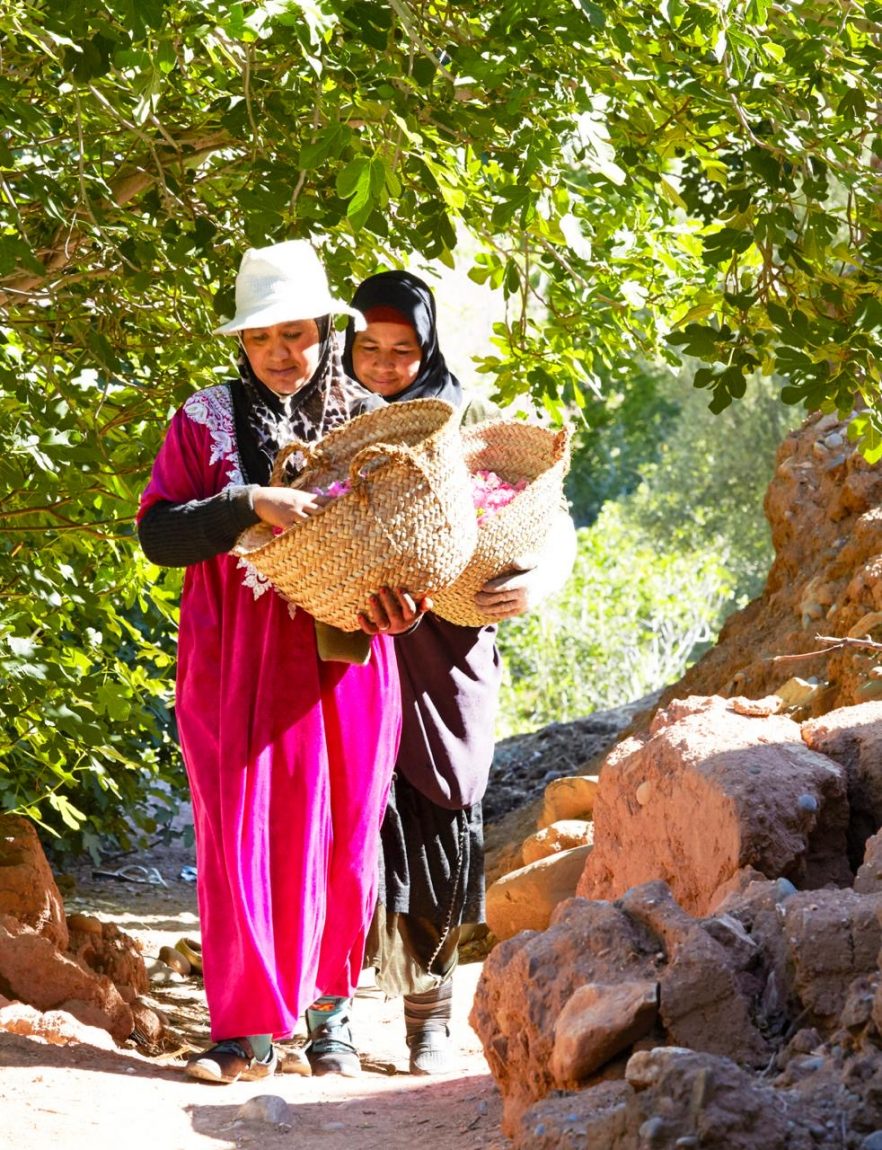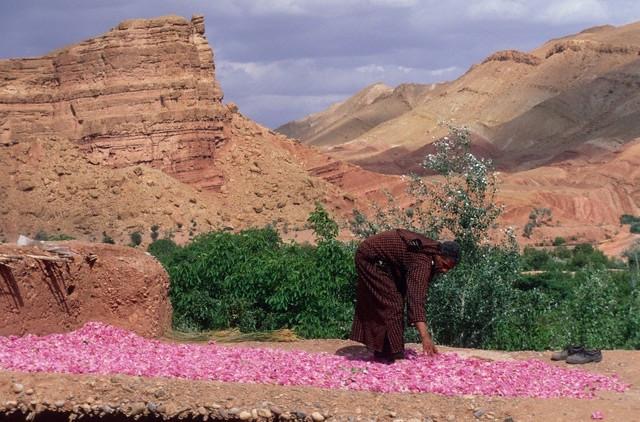 PRICE
for a ​8 day tour (8 days/7 nights)
Total for 2 persons: 13680 MAD (1368 EURO)
Total for 4 persons: 23760 MAD (2376 EURO)
Total for 6 persons: 33840 MAD (3384 EURO)
Total for 8 persons: 43920 MAD (4392 EURO)
For other group sizes please contact us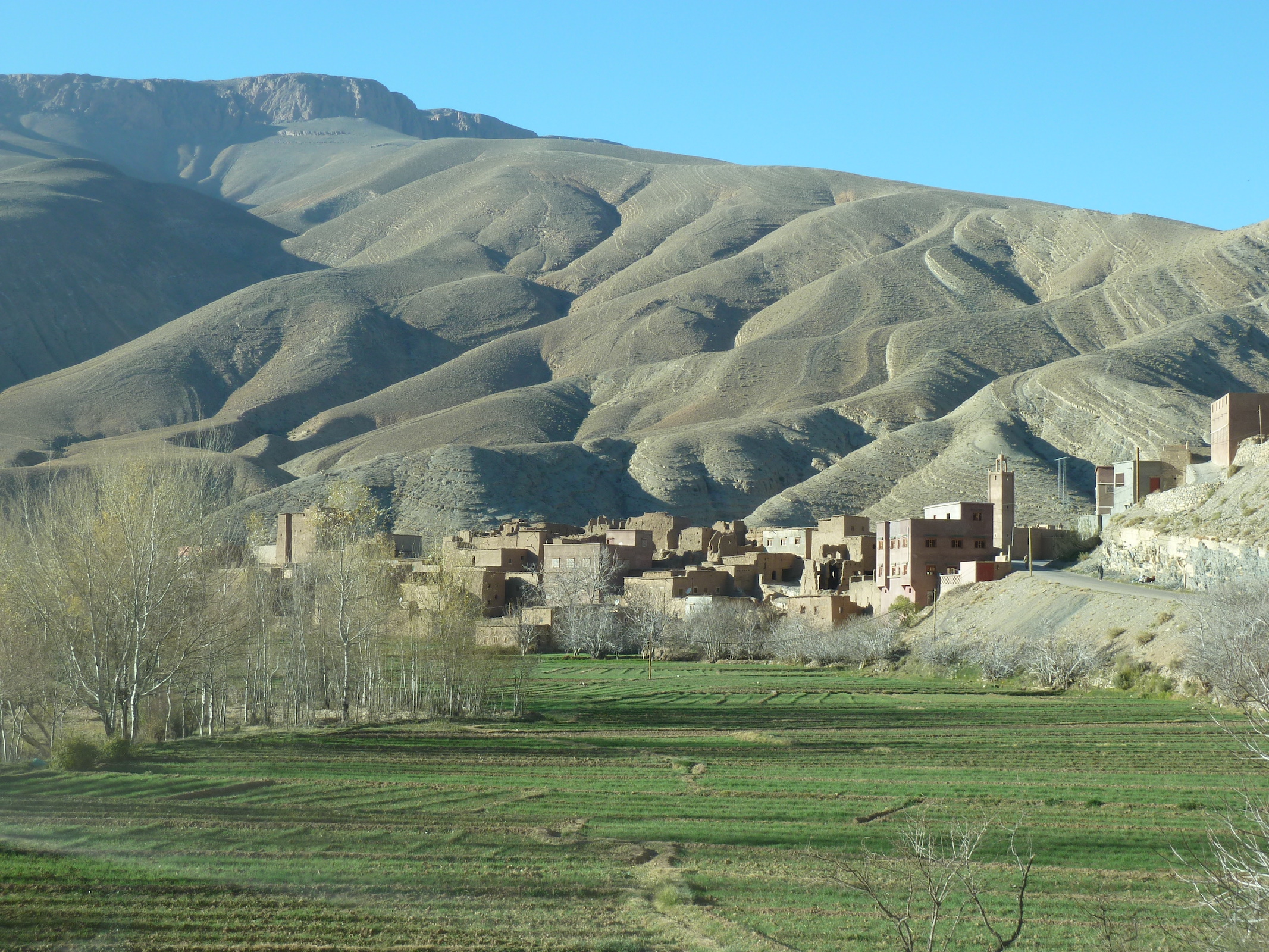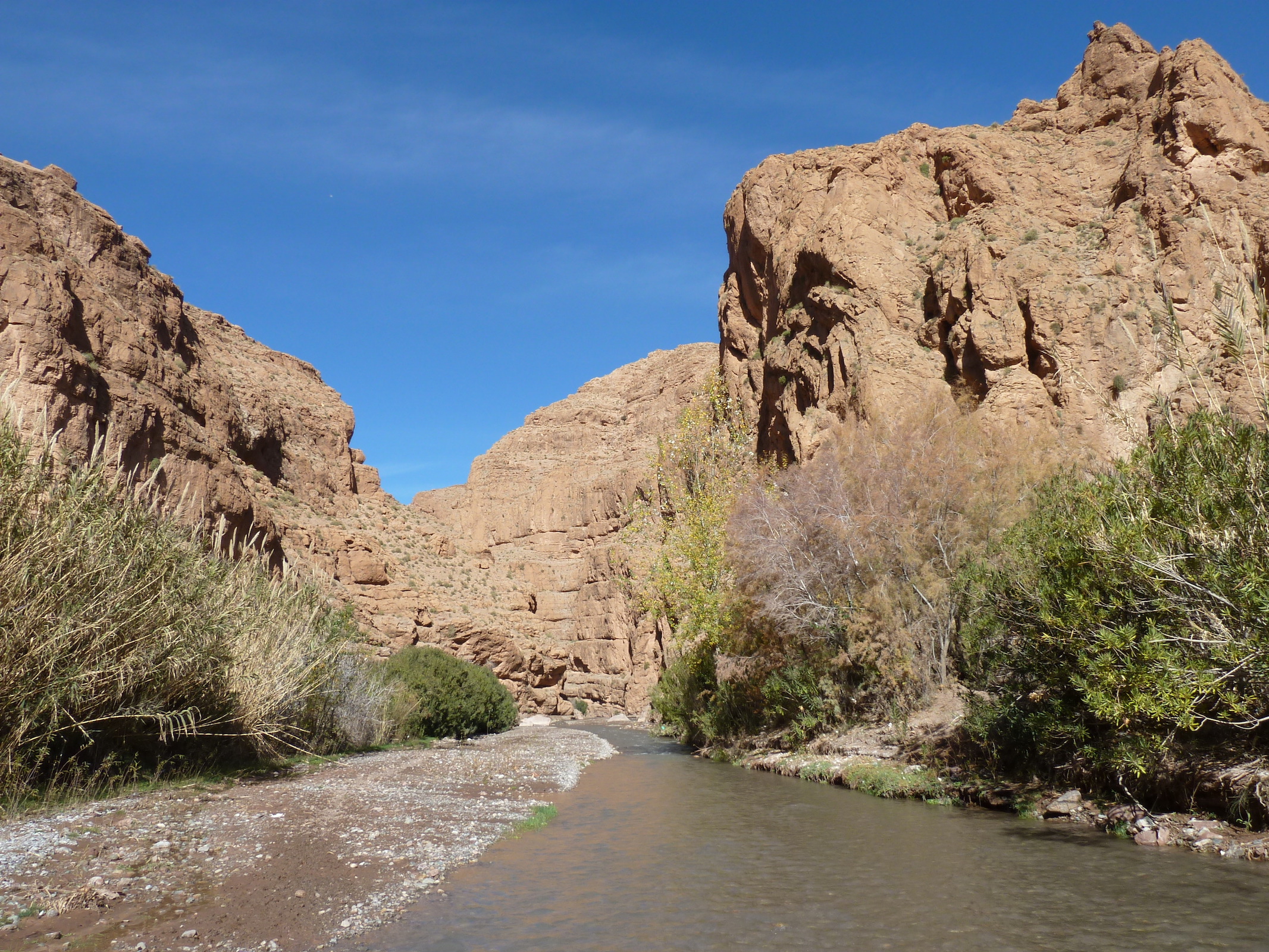 NOTES
NOTE
Included in the price is return transport from and back to Marrakech on day 1 and day 8, a Guide (English speaking), all accommodation whilst away from Marrakech (but not in Marrakech), all food from lunch on day 1 to breakfast on day 8.

30% deposit to book; balance to be paid ​30 days before tour's commencement; ATS Bank Details will be given.

Last minute bookings can always be discussed ​(with payment at commencement of day's activity).

​If you wish to learn more about this programme, please contact us.