Epic journeys
Traditional Berber & Bedouin Lifestyles
Tour Overview
Highlights:
Marrakech, its colour and clamour;
The Dramatic Landscapes of the High Atlas;
Travel the Valley of a Thousand Kasbahs;
Cross the Dades Valley and the Valley of the Roses;
Stroll through the Towering Todra Gorge;
Enter the Sahara at Merzouga & take Camel Ride in the Erg Chebbi Sand Sea;
Saharan Sunset/Sunrise Experiences;
Overnight in a Bedouin Camp;
Ouarzazate, the Peaceful City;
Explore Aït Benhaddou Kasbah;
World Heritage Site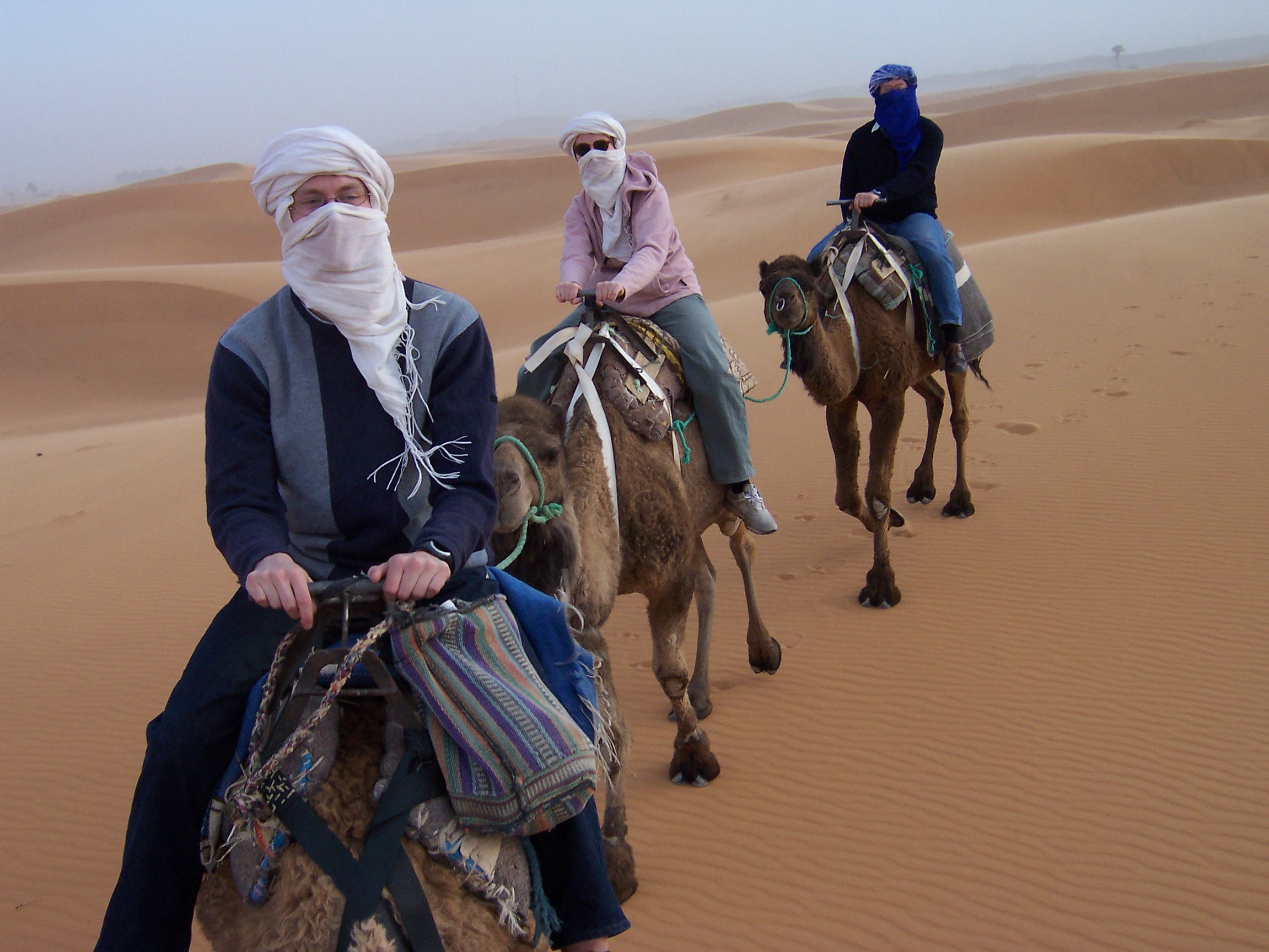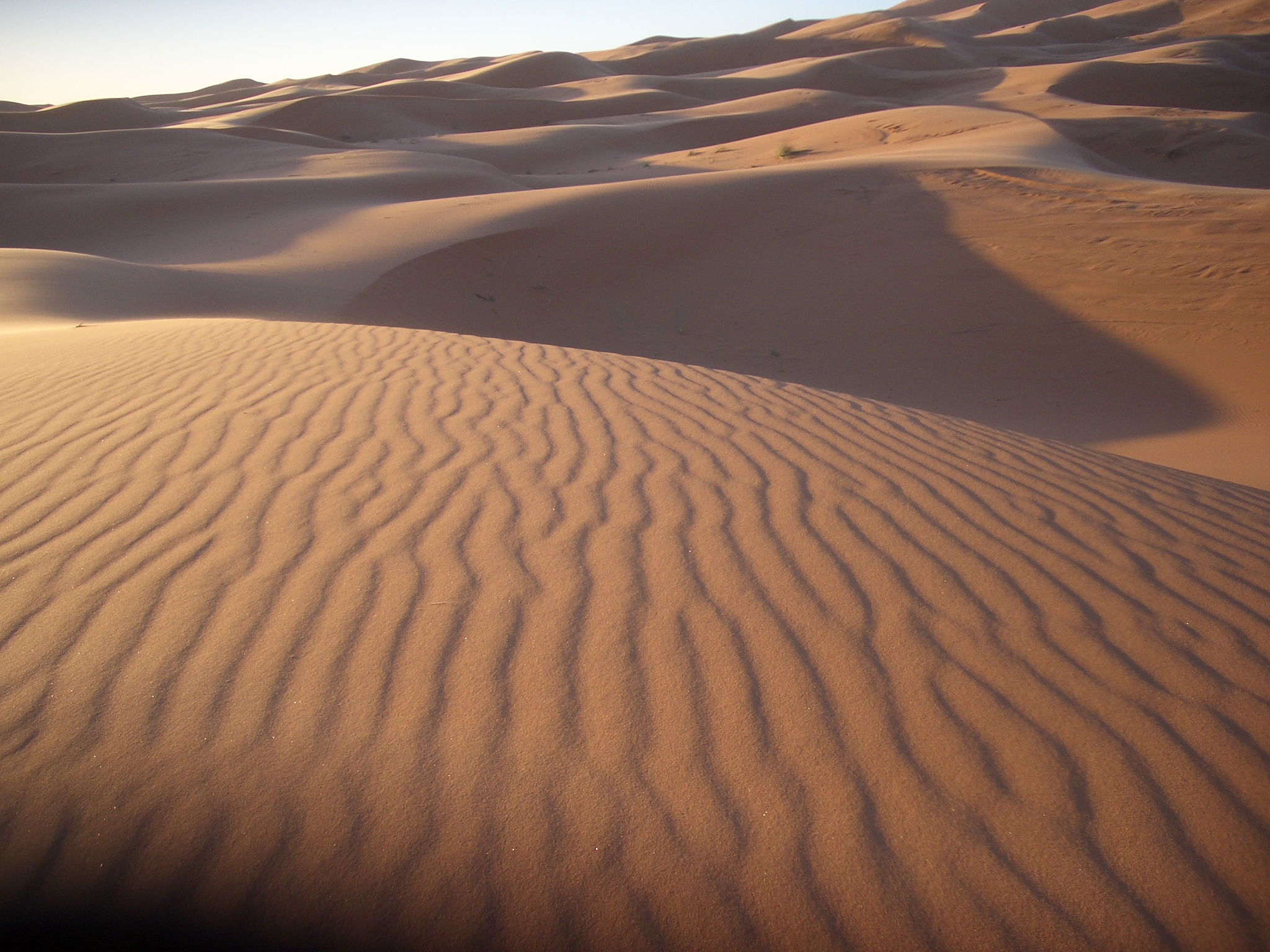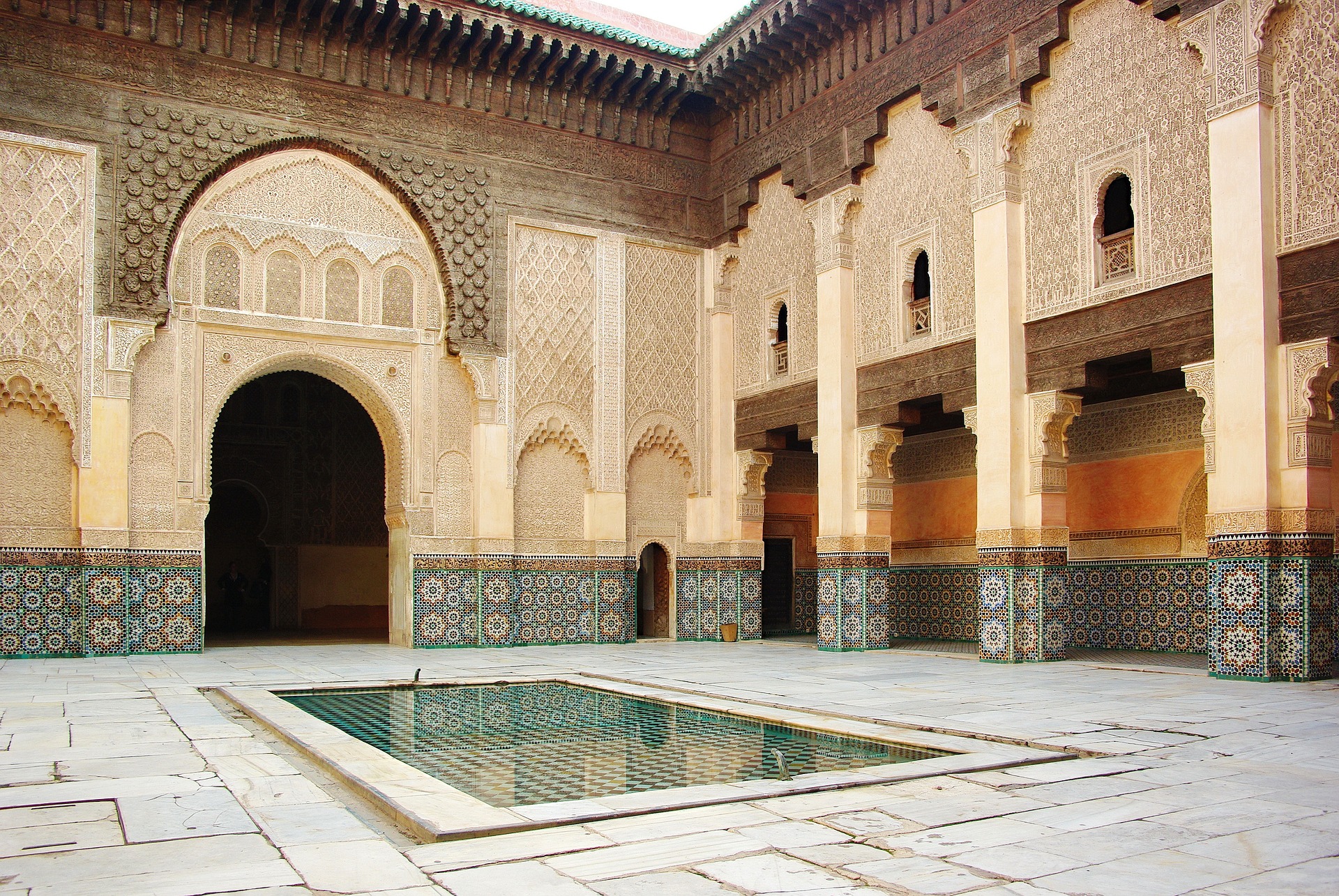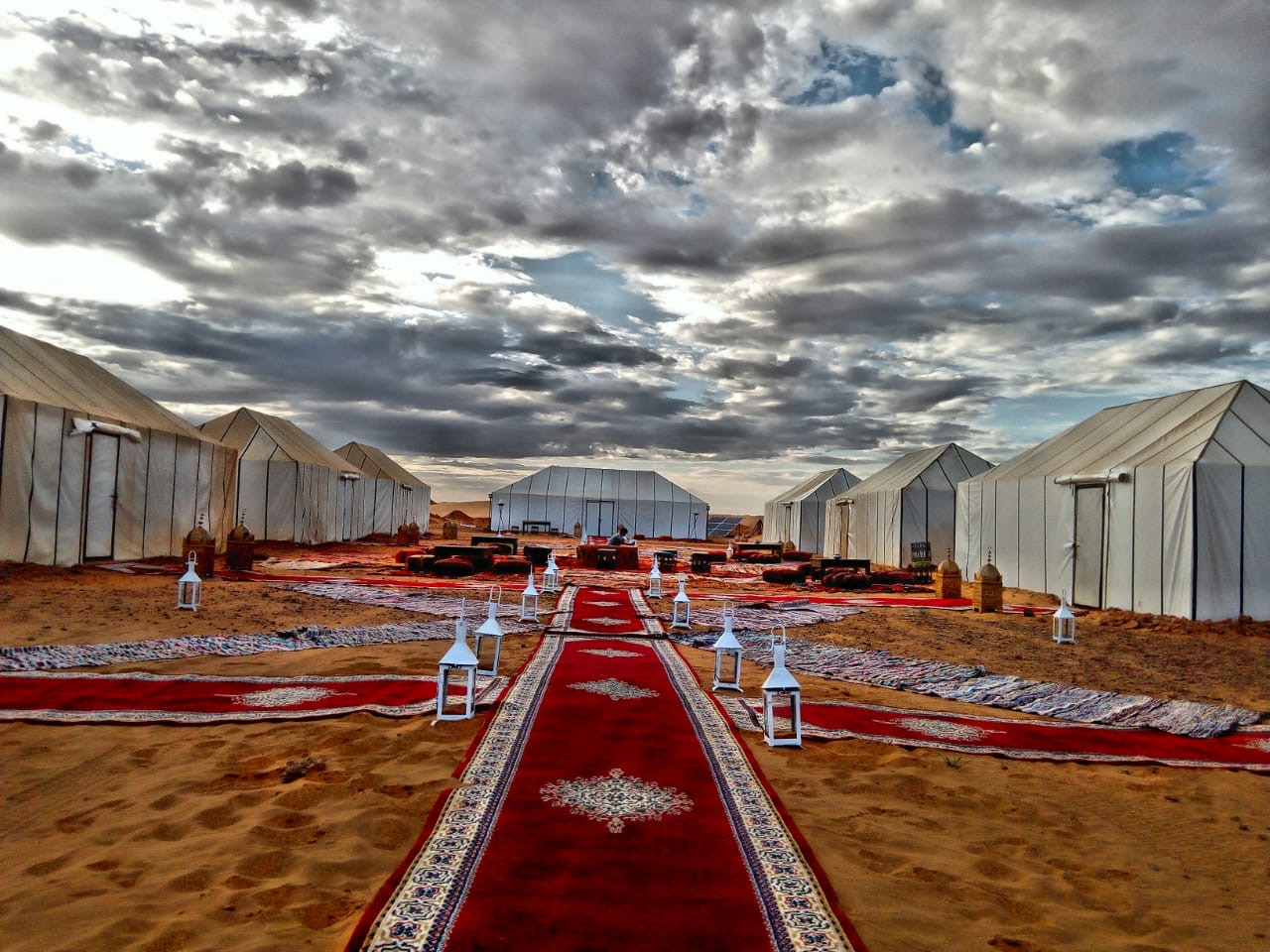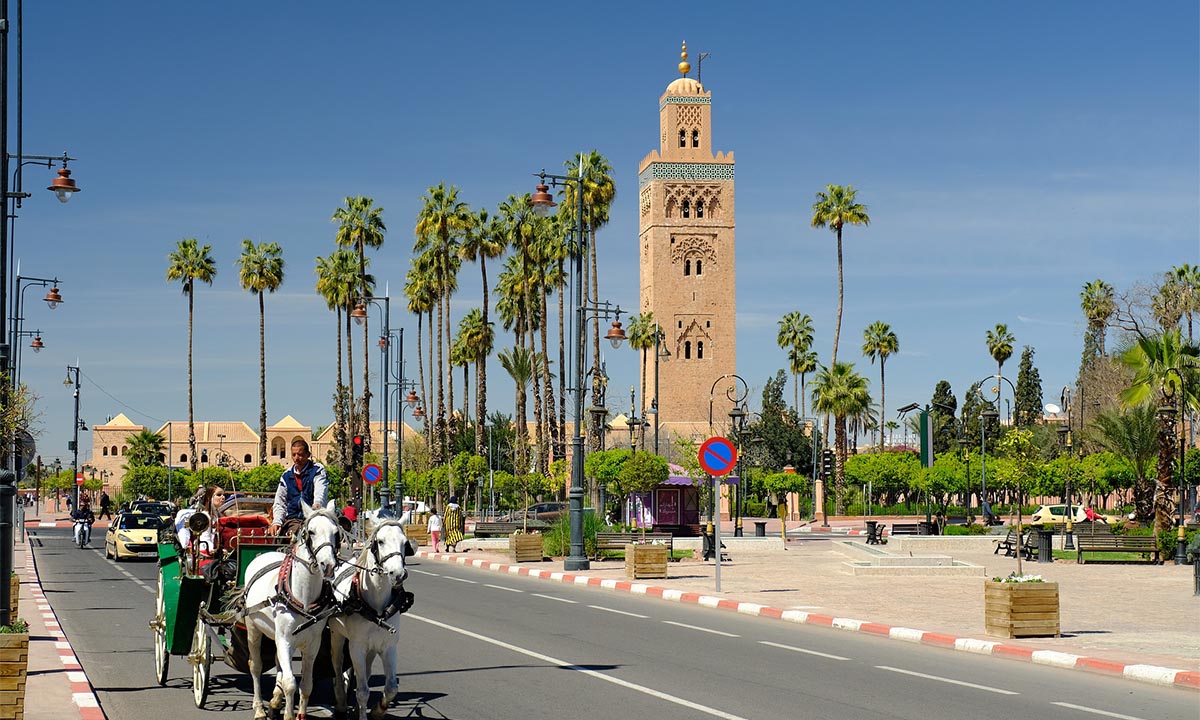 INTRODUCTION
This travelling tour includes many grand scenic and cultural highlights of Central and Southern Morocco; amazement is guaranteed on this week long tour and every day opens up new vistas, wide horizons and contrasting cultures.

Starting and ending in Marrakech, the tour is broadly circular. First crossing the High Atlas at the Tizi-n-Tichka Pass, the travel route continues along The Valley of a Thousand Kasbahs, enters the stunning Todra Gorge and then heads to the Sahara at Merzouga.

In the Merzouga area, the sand sea of Erg Chebbi certainly brings a crisp and sharp reality to any mental image that you have of the Sahara. With its extensive rolling sand dunes, clusters of palm trees and many camels, you know you are somewhere very special.

Experiencing city life in Marrakech, with the Berbers of the High Atlas and amongst the Bedouin of the Sahara are contrasting cultures to be enjoyed. Each culture is fascinating in its own way; all are definitely most exotic.

Before returning to Marrakech, Aït Benhaddou Kasbah, a World heritage Site, is an excellent visit. This ancient fortified settlement is well preserved. Aït Benhaddou was once lay on the camel train route between the Sahara and Marrakech.

If you wish to see a lot and to experience great contrasts in many aspects of Morocco, then this tour should certainly satisfy.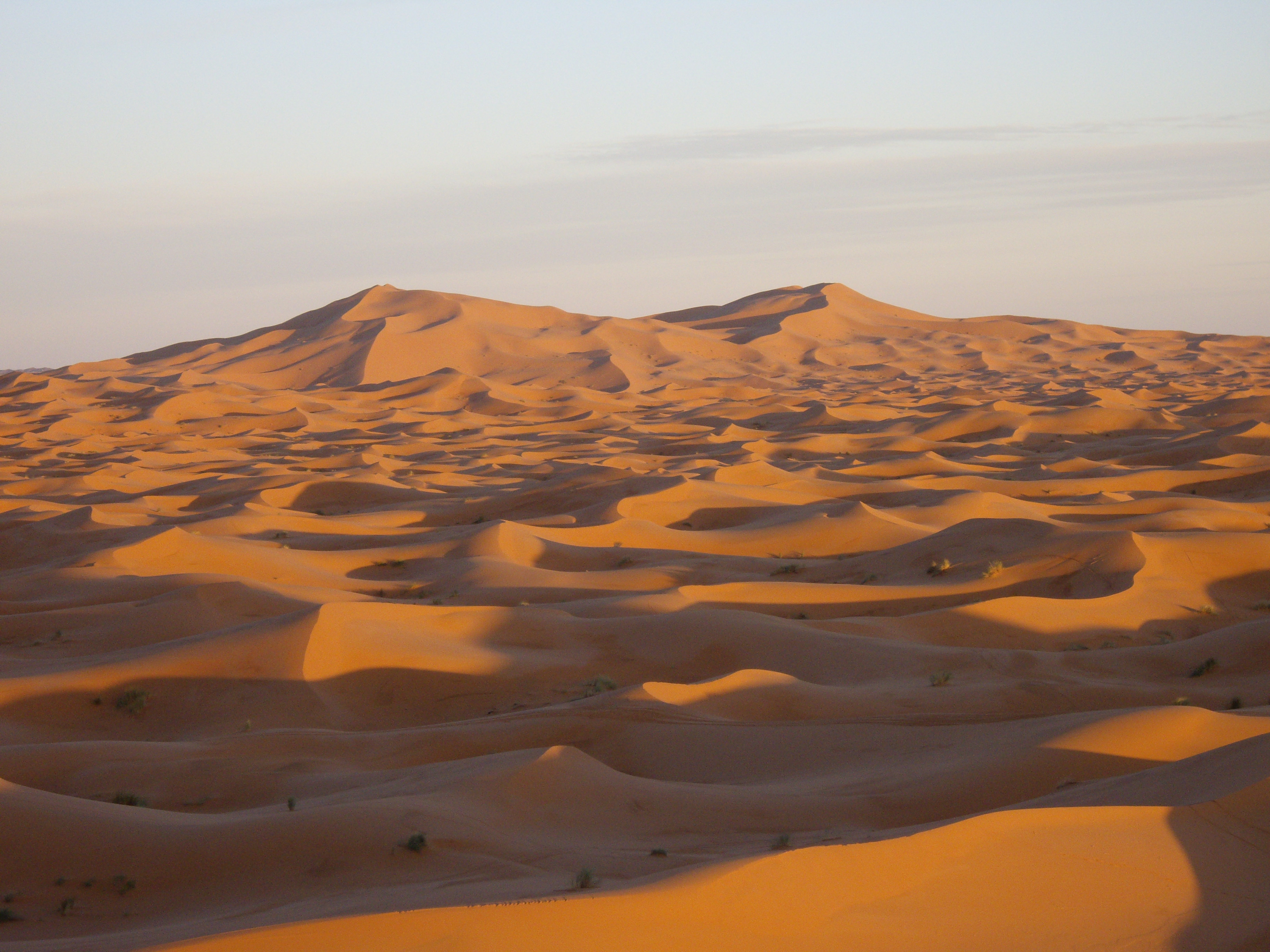 DAY 1
Arrival into Marrakesh
Your private driver will collect you from Marrakech Menara Airport to transfer you to your accommodation. He will have a sign with your name; look out for it once you enter the airport's arrivals area.

Depending on your flight arrival time, you may have some informal free time to spend in the city before/after nightfall.

Marrakesh is an exciting, exotic city, full of colour and with non-stop activity. To spend some time in the centre of Marrakesh, in and around the medina and the old city walls, provides interest at every turn.

Options include Jemaa el Fna Square (a lively entertainment square), the Medina and its Souks, the Koutoubia Mosque (outside only), Medersa Ben Youssef (Koranic School), Saadian Tombs, Bahia Palace. All are easily reached on foot.

Overnight in Marrakech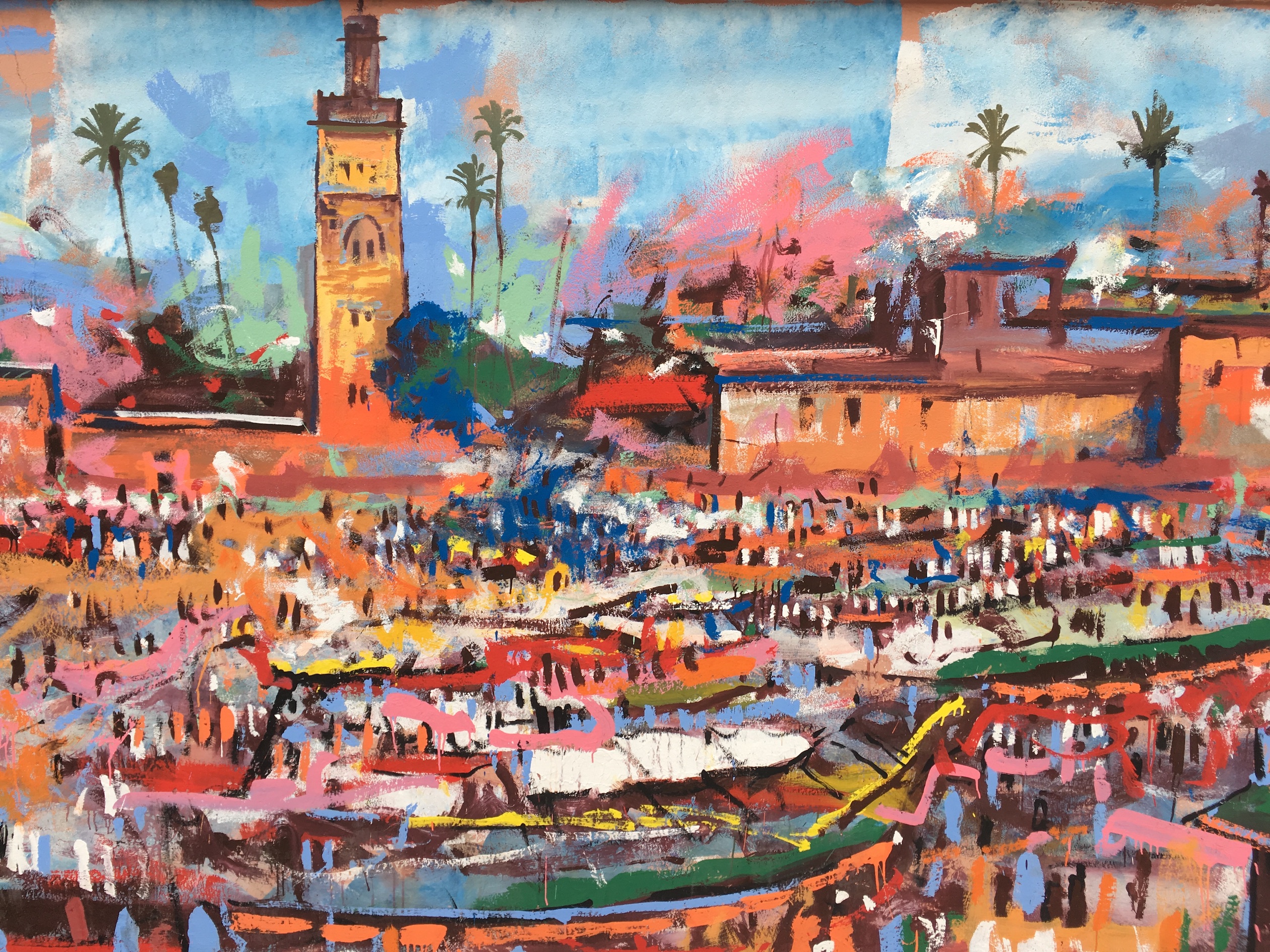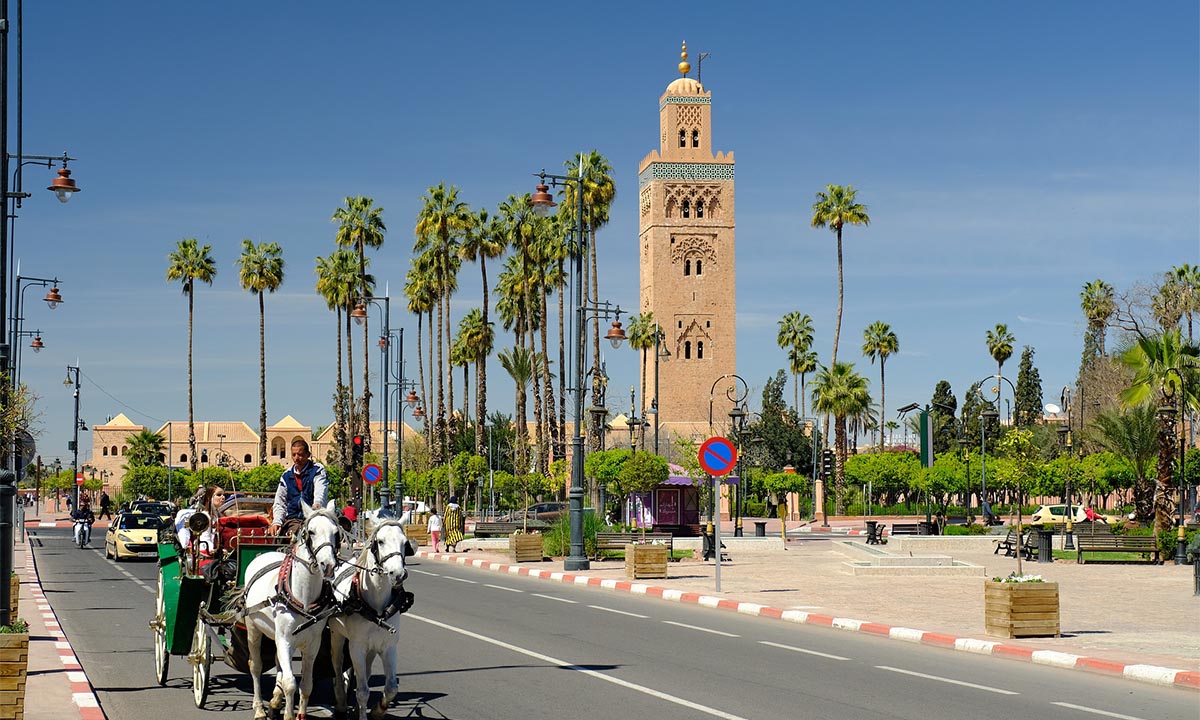 DAY 2
Explore the 'Red City' of Marrakech
A Marrakech City Guide will be with you for ½ a day (included). Discussion will take place as to what places you particularly wish to see.

Marrakesh is sensational, in every sense of the word! Often called "the red city", it is named for the natural red ochre pigment in the walls. Marrakesh is Morocco's second largest city. No building in the city must exceed the height of the tallest palm tree nor the tallest mosque minaret tower.

There are many options for you to explore today including Jemaa el Fna Square, a lively entertainment square, the Medina and its Souks, an Apothecary visit, the Koutoubia Mosque, Ben Youssef Madrasa, a Koranic School, Saadian Tombs, and Bahia Palace. All of which are easily reached on foot.

Koutoubia Mosque is a place of Islamic worship, where you'll hear the calls to prayer that come from the minaret. Koutoubia Mosque is the largest mosque in Marrakesh. It has a large plaza with gardens and is floodlit at night. The minaret is particularly magnificent, its facade is undoubtedly one of the most photographed views taken in the city. There are gardens around it to stroll, but entry to the mosque itself is only possible for Muslims.

You can also visit the Ben Youssef Madrasa. Built in the 16th century, the Madrasa (also known as the Koranic School) was the home of Islamic students of the nearby mosque of Ben Youssef. The carved cedar, stucco plaster and tiling of the central courtyard are good to see as well as the old dorms and the prayer hall.

To spend some time in the centre of Marrakesh, in and around the Old Medina, a World Heritage Site, and inside the old city walls, provides something interesting at every turn. It is here that cultural contrasts are most evident, each one providing a great visual and mental feast. By day and by evening, this is an exciting place to be.

The Jemaa el-Fna square is a lively, colourful and bustling public area with music, snake charmers, henna painters, hawkers and sellers. The souks offer a glamorous and colourful maze of narrow alleyways. It is a place to try to seek out bargains and to haggle for best prices - it is quite a skill!

The Majorelle Gardens are an oasis of calm and tranquillity amongst lush plants in a garden developed by Yves St Laurent. Originally established in the 1920s, Jardin Majorelle was created by French painter Jacques Majorelle and is fantastically coloured, just like a painting. It is filled with marble pools, raised pathways, banana trees, groves of bamboo, coconut palms and bougainvillaeas. It is a fine place to relax amongst the greenery and visit yellow and blue pots and water features.

Alternatively/additionally, you may wish to visit the Secret Garden, a recently renovated walled garden that is rather special and has been referred to as a "Paradise Garden".

You may also want to watch the sun go down behind Koutoubia Mosque from the vantage of a roof terrace cafe, above Jemaa el Fna, perhaps sipping a mint tea.

After such a lively day, perhaps a massage and spa experience to relax and soothe might be tried (not included); this can readily be arranged for you.

Overnight Marrakech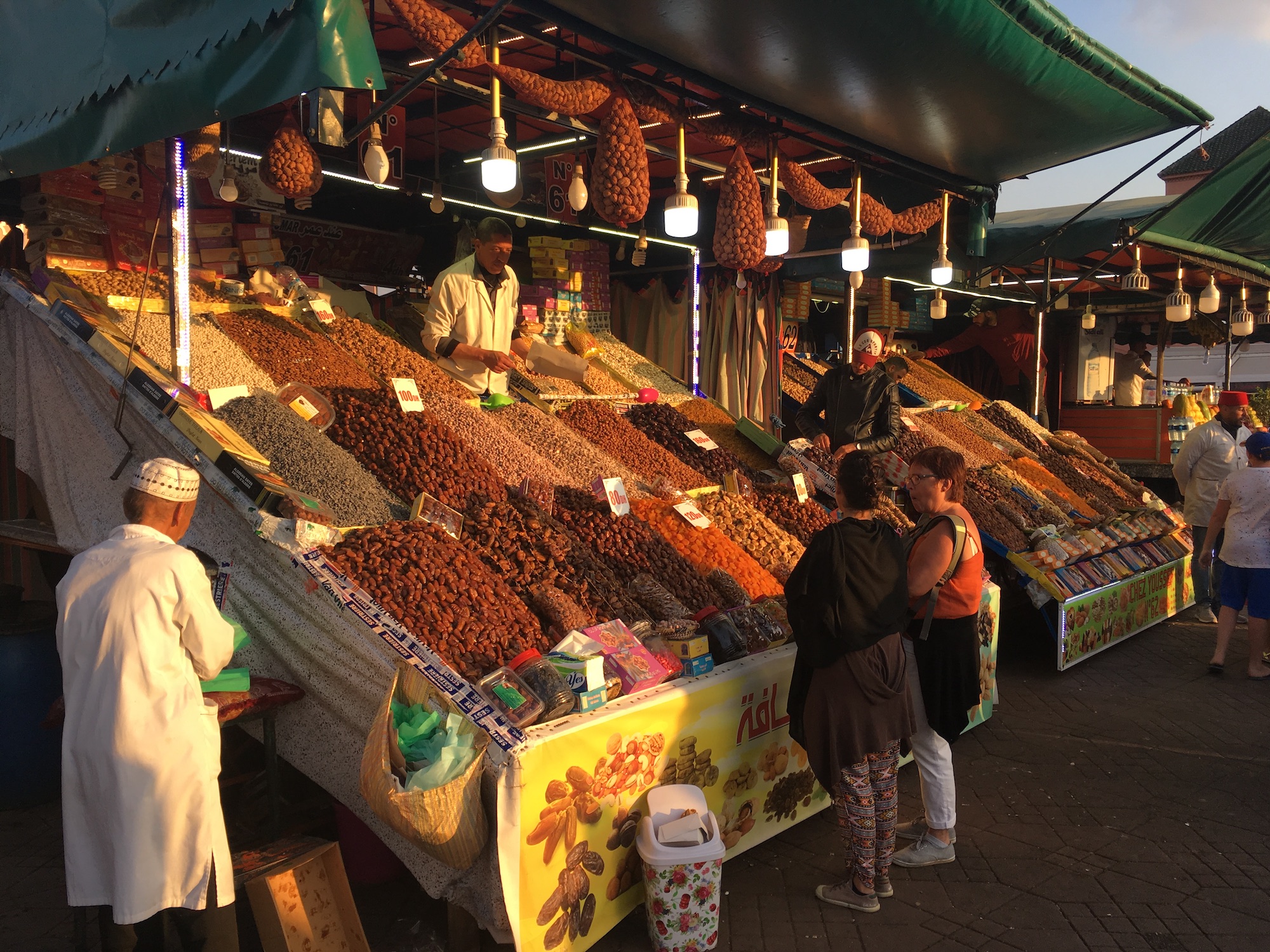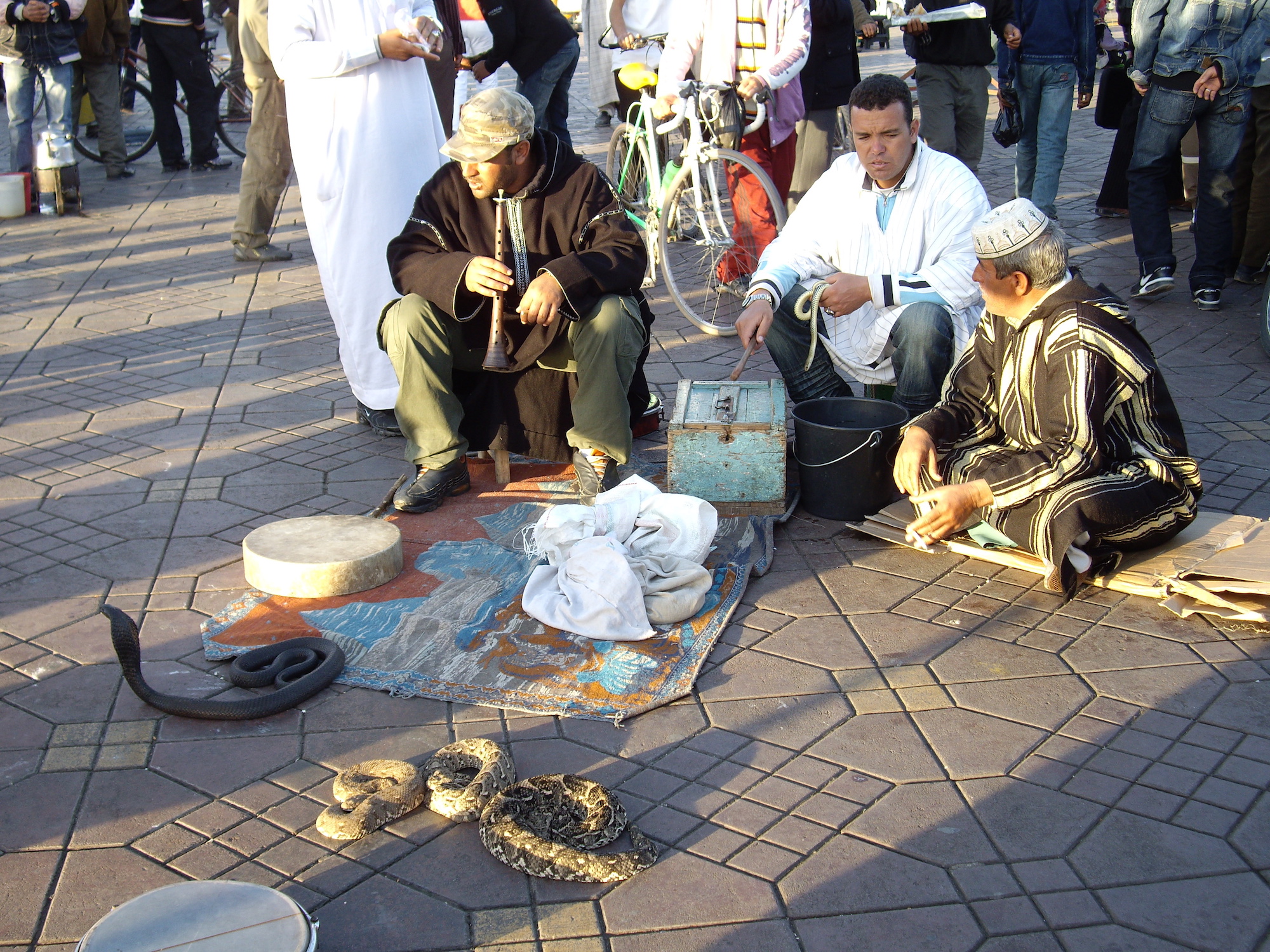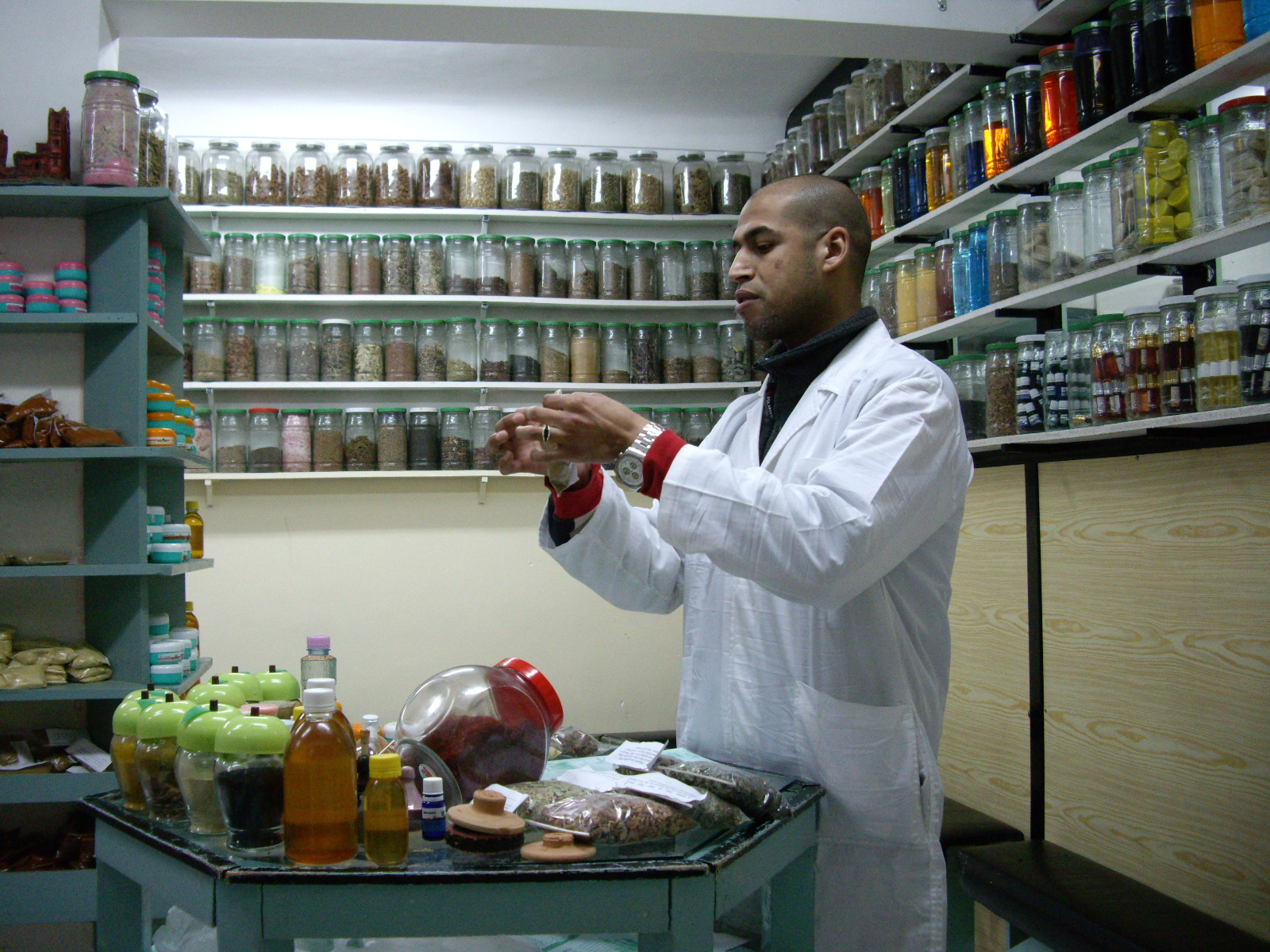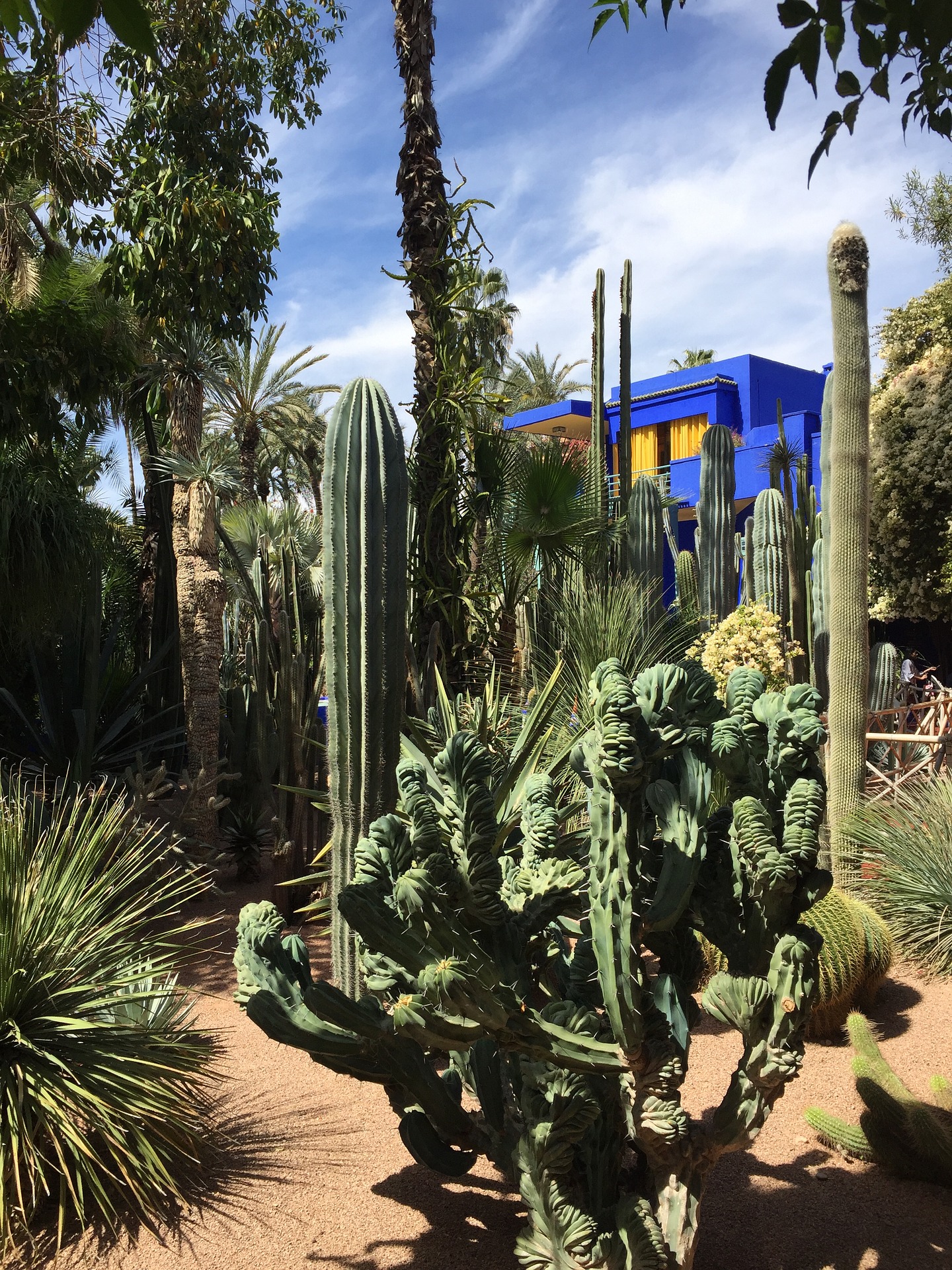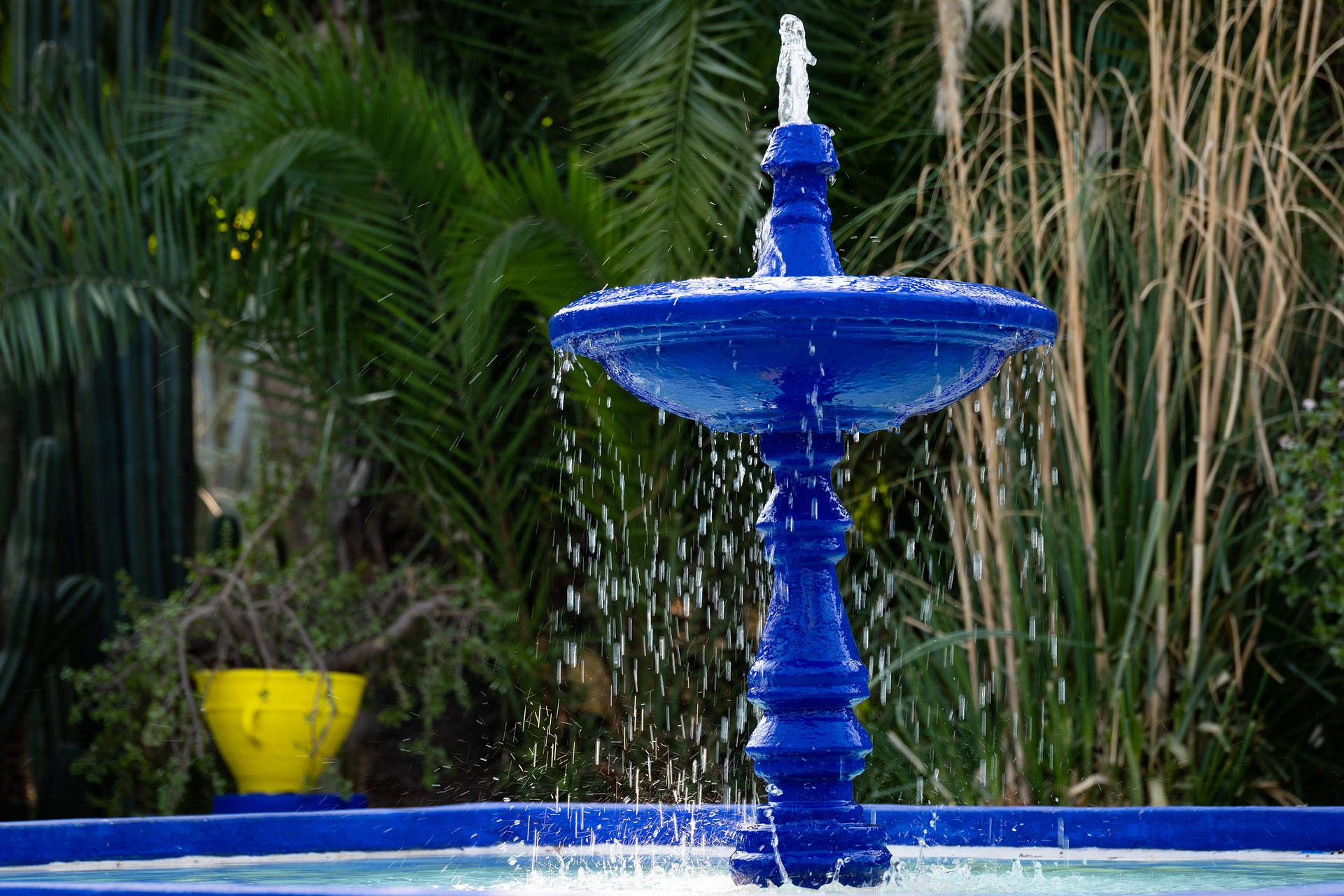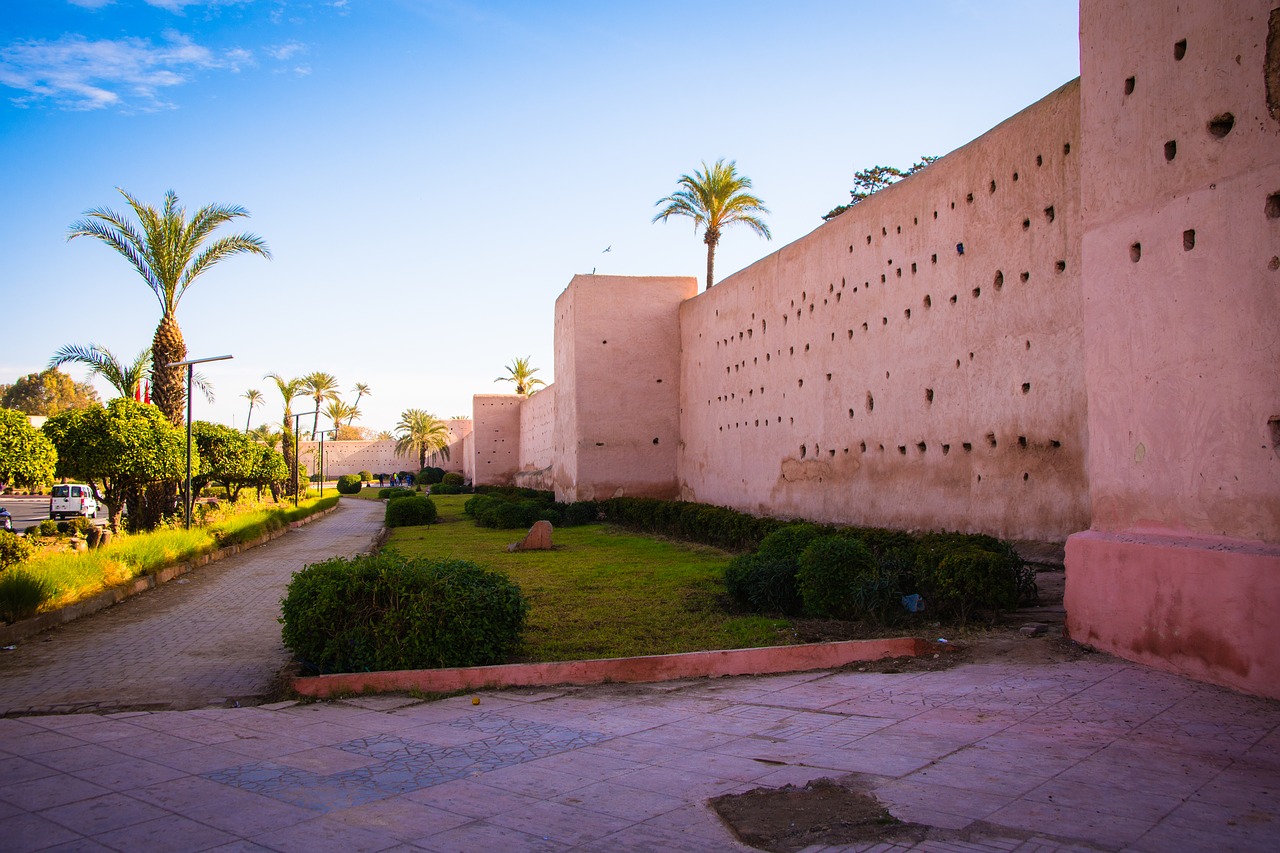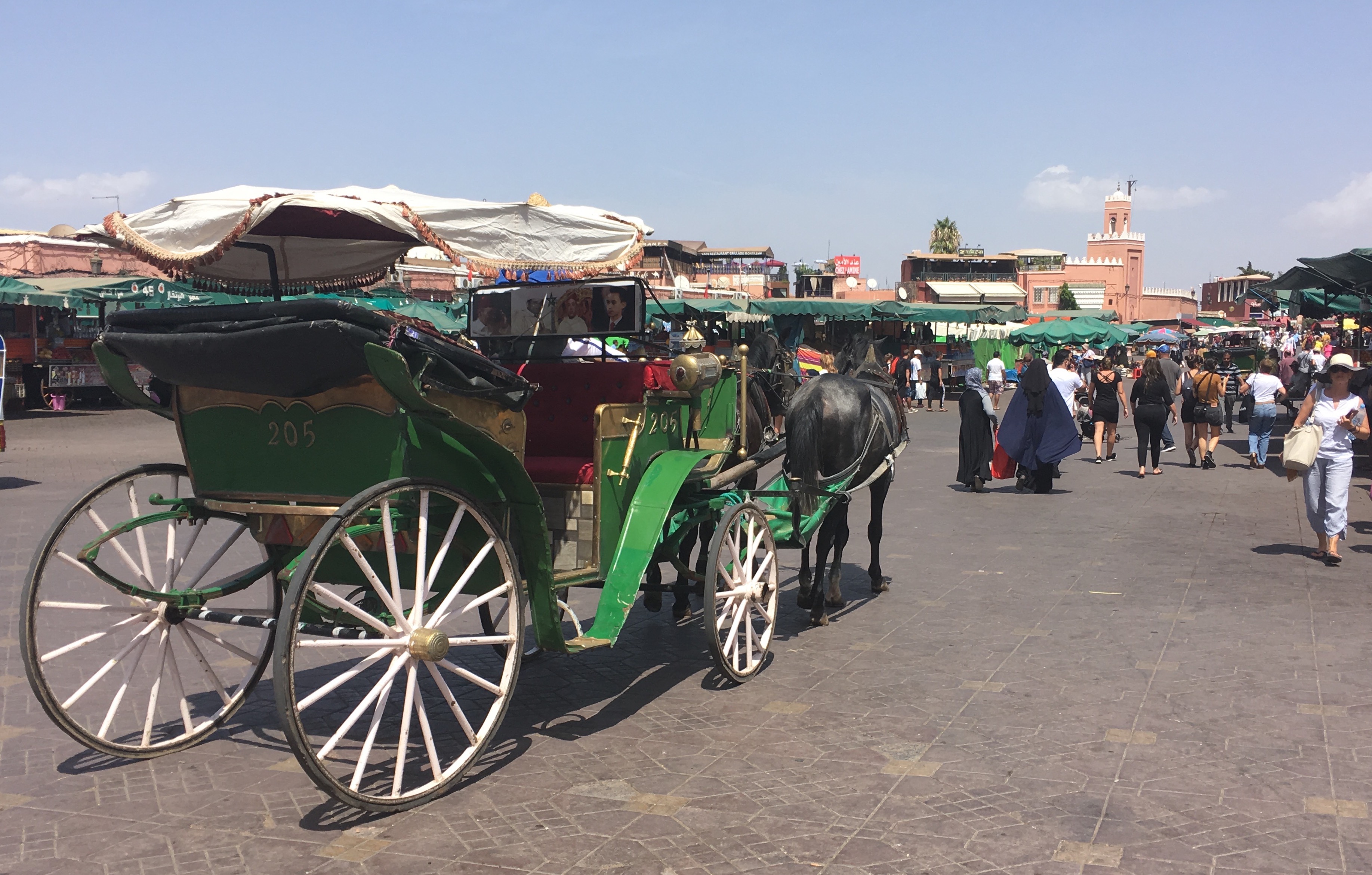 DAY 3
Marrakech > High Atlas > Ouarzazate > Boumalne Dades
The High Atlas contains dramatic scenery on a grand scale. Only an hour's drive south from Marrakech, you enter their foothills. High peaks and deep, water cut valleys abound. Look out for Toubkal, the highest peak (4,167m). The mountains are home to the Berbers, who live in this beautiful but challenging land. Their villages cling on to steep mountain slopes.

Berber life is fascinating; on the upper slopes sheep and goats graze whilst, near the valley floors, the terraced fields show lush green as the river water irrigates the grains, vegetables, fruits and nuts.

Taddert is en route, an ideal stop for refreshment. An Argan Oil Co-operative can be visited here (an example of rural development to help ladies gain income). Here you can really begin to appreciate how a life is wrested from a harsh environment.

Near the top of the Tizi-n-Tichka Pass (2,260m), the watershed of the High Atlas, there are great panoramic views over the mountains, their peaks and valleys, as well as the snaking N9 road road recently travelled.

Descending the south facing slopes of the High Atlas there is much to still fascinate in the local activities seen. The climate becomes noticeably drier as you approach Ouarzazate.

On arrival in to Ouarzazate, the "Peaceful City" there is the option to visit Taourirt Kasbah.

Departing Ouarzazate, heading eastwards, there is the very important reservoir of El Mansour. It provides water for domestic use, for farming and to generate hydro-electricity. In the very near vicinity is a major solar power plant development.

Your journey then travels along the Valley of a Thousand Kasbahs, a Kasbah being a fortified "fort" where chiefs and landowners once lived. Many kasbahs are now in disrepair (having been made of pisé mud).

Between the small towns of this area you can see various farming activities, many still using traditional methods. Nomads to are often encountered, herding their sheep, goats and camels; you may see some tents too, the herders' homes when they are away from their village.

At El Kelaa Mcgouna, the intensely cultivated plots of farmland are bordered by rose bushes. The rose petals are used in the cosmetic industry. In May a Rose Festival takes place, celebrating the year's production.

Boumalne Dades is a major town, bridging the Dades River and at the entrance to the upper Dades Valley.

Overnight in Boumalne Dades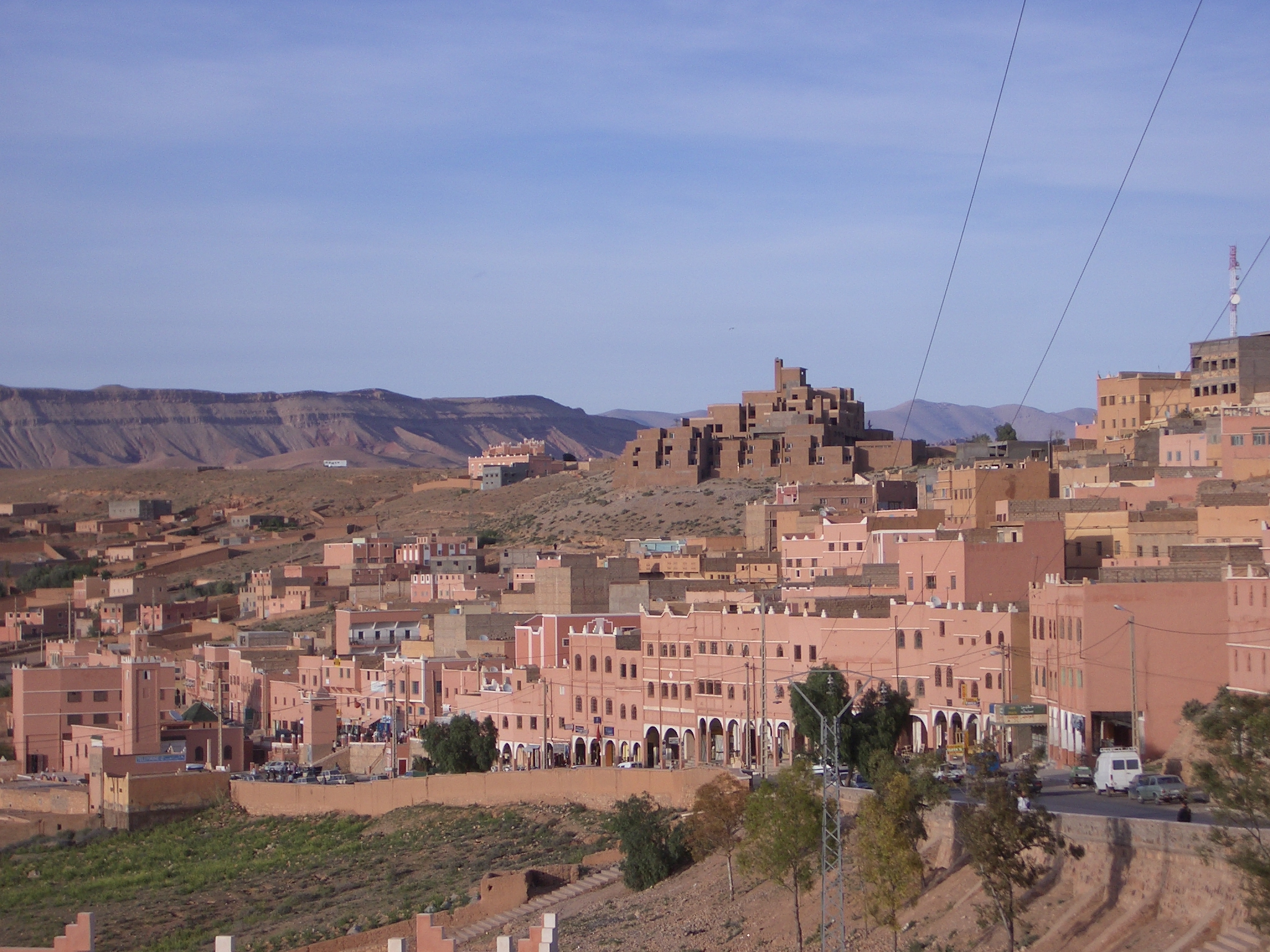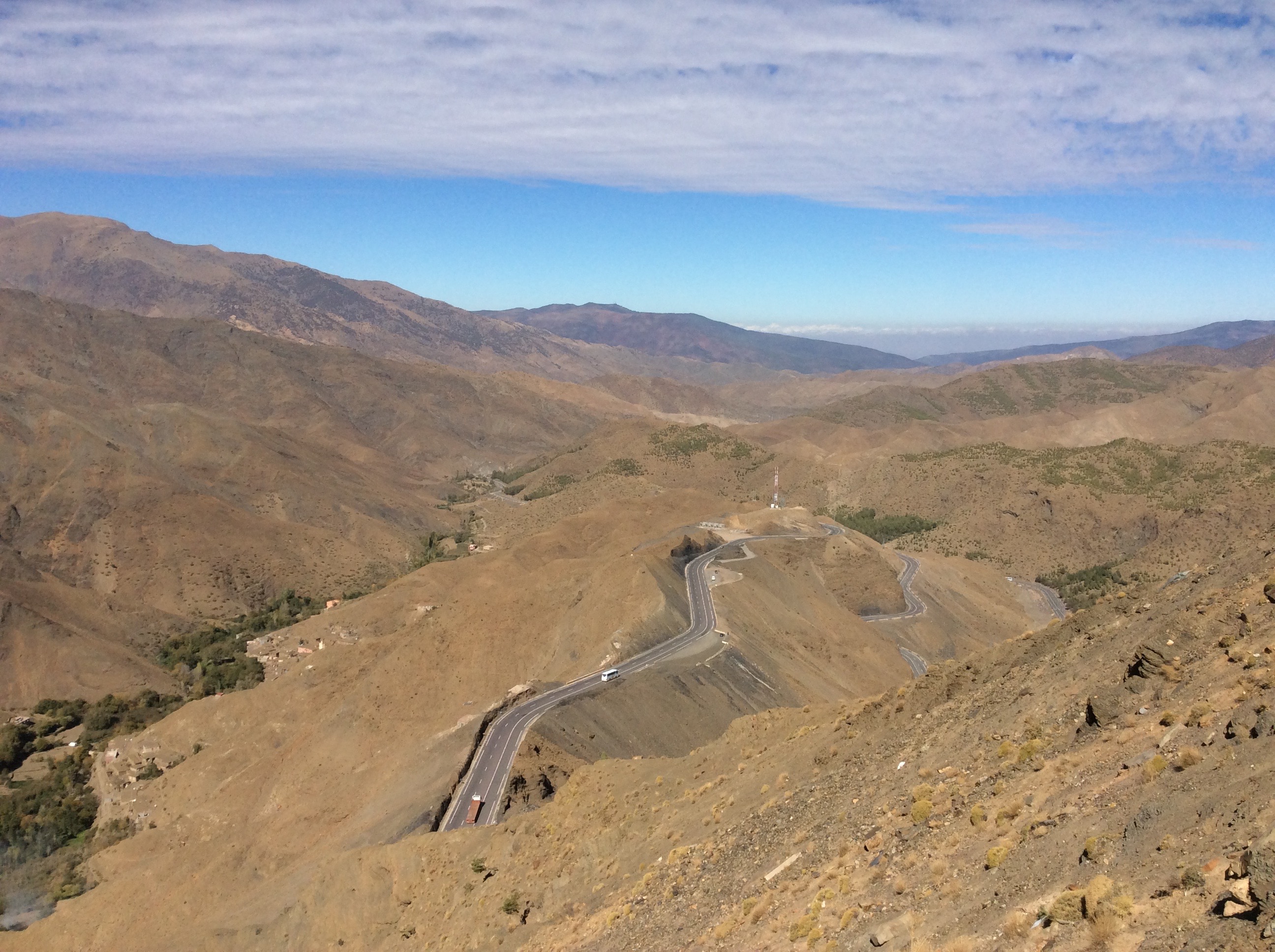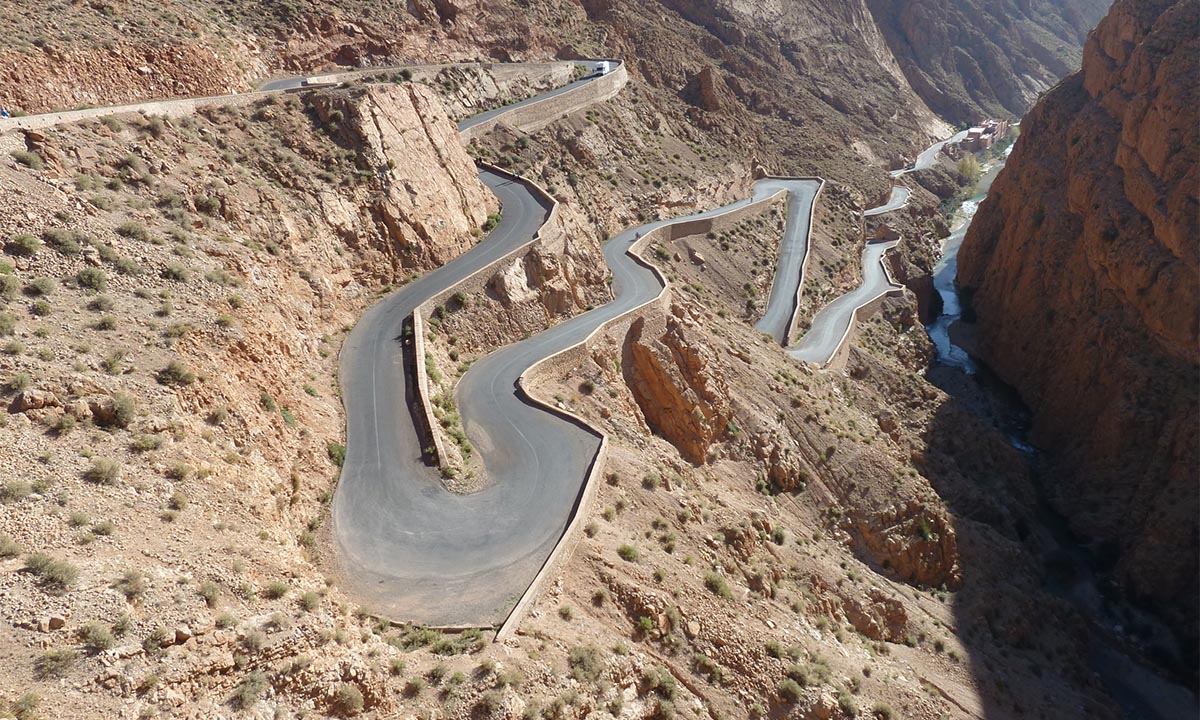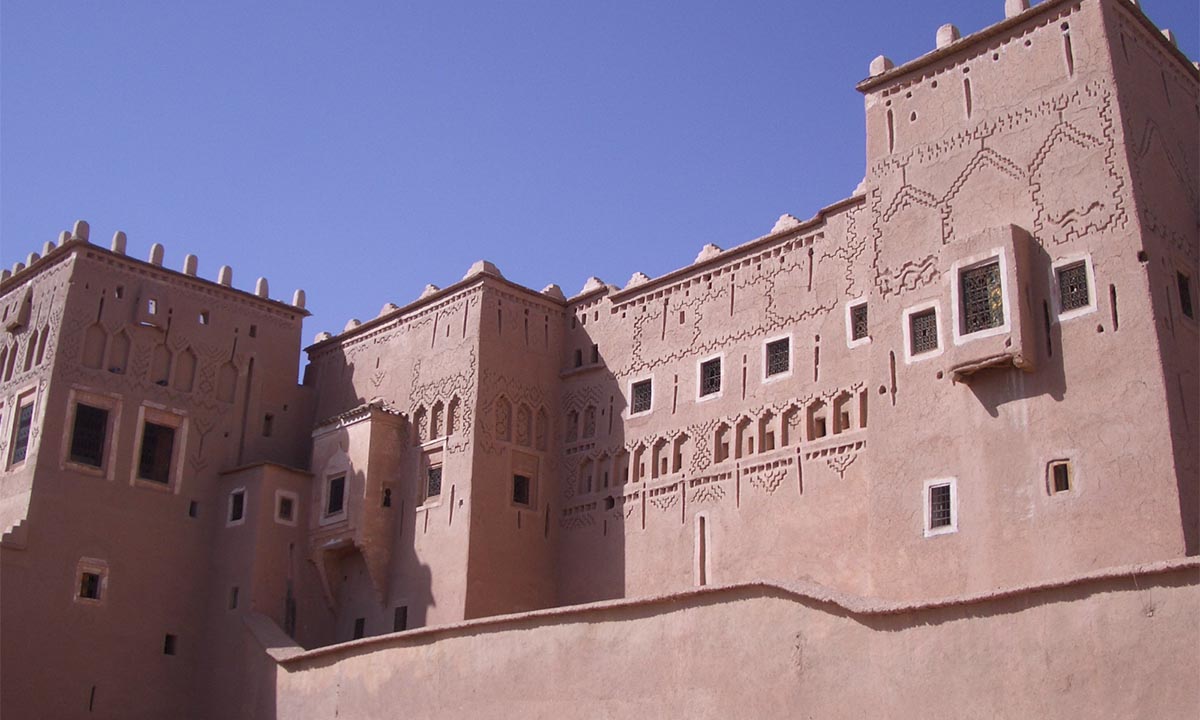 DAY 4
Dades > Todra > Sahara (at Merzouga & Erg Chebbi)
Leaving Boumalne Dades and just after Tinerhir, the journey continues towards the Todra Gorge. The semi-desert landscape here reveals impressive buttes, mesa and plateaux. Many dry river beds are seen, river beds that come alive with thunderous power during flash floods from the occasional storms that occur here.

From a great vantage point, overlooking the lower Todra valley, you can view traditional settlements that cling to slopes's sides, high above the valley floor. The valley floor is covered in densely packed palmeries. Dates are a very high value crop but their continued success depends upon the water from the Todra River.

Taking a side road from close to Tinerhir, the Todra Gorge area is simply wonderful. The road twists and turns with fantastic views throughout the journey, the gorge's sides narrowing as you travel inwards.

The Todra Gorge is 300m high and was made by the Todra river, cutting down through red stained limestones. A walk through the gorge is a most enjoyable (and easy) experience. Imagining the mighty flash floods that can sometimes pass through it is very thought provoking.

The ever-increasing aridity and parched landscapes are entered as you travel towards the Sahara. Passing through many small towns (e.g. Tinejad, Melaah) often a market day can be encountered; lively, bustling and colourful.

Erfoud is where your travels turn southwards. In Erfoud, "fossil capital" of this area, there is the opportunity to visit a craft workshop where the fossil rich rocks are carefully and skilfully changed into objects, some practical (e.g. tables) and some decorative (e.g. plates and bowls).

On then to Rissani and then to Merzouga. You are now in the Sahara! By now the massive sand sea of Erg Chebbi will be looming on the forward horizon. Here the sand dunes rise to over 200m and cover an area of 35 sq. km. The colour of this area of sand dunes changes depending on the time of day and are especially enriched and enchanting just before sunset.

Having settled in to your overnight accommodation in a Bedouin Camp, there is the option (included) to take a camel ride into the sand dunes. Having ridden some distance, you climb up the nearest sand dune on foot to watch the colourful display as the sun sets; a most magical moment.

After sunset, and as darkness quickly ensues, it is time to return to camp for dinner and a night by the campfire enjoying traditional Berber music from the locals. Before heading to bed, take a look at the night sky; the star show can be incredible in this area of minimal light pollution.

Sleeping in your Berber tent, amongst the sand dunes of the Erg Chebbi sand sea, has to be a highlight of your tour.

As well as the opportunity to view a magnificent sunset, if you are an early riser, then a Saharan sunrise can be just as thrilling as a Saharan sunset.

Overnight in Bedouin Camp, Erg Chebbi (in the Sahara)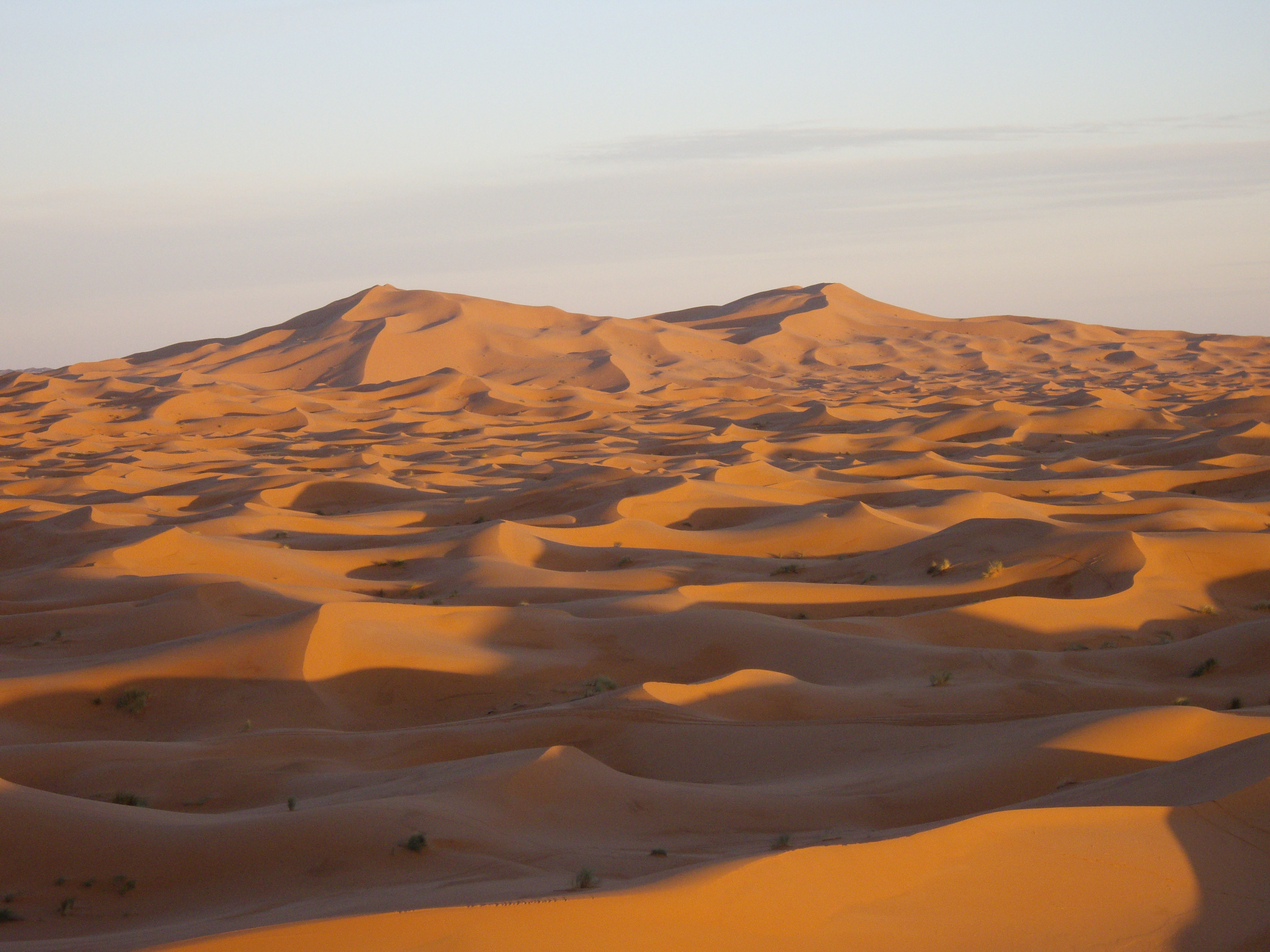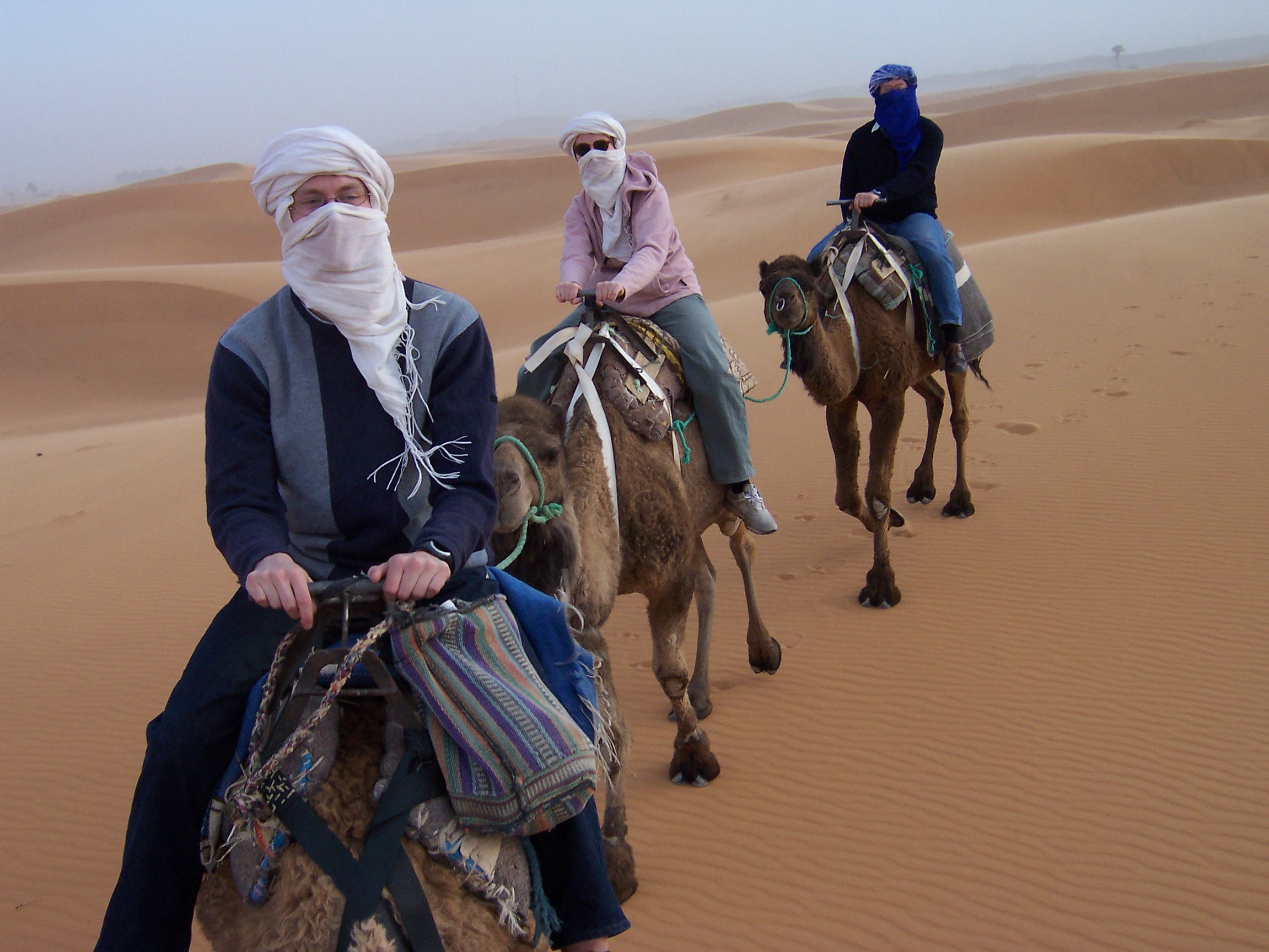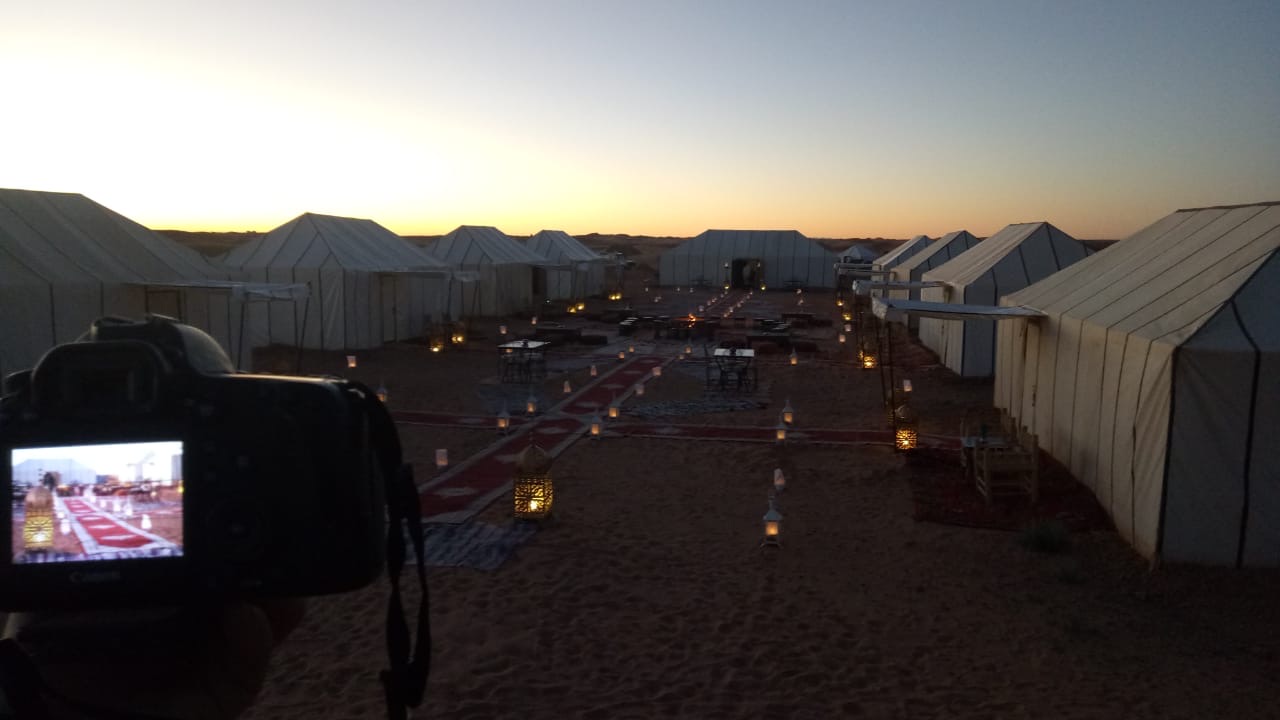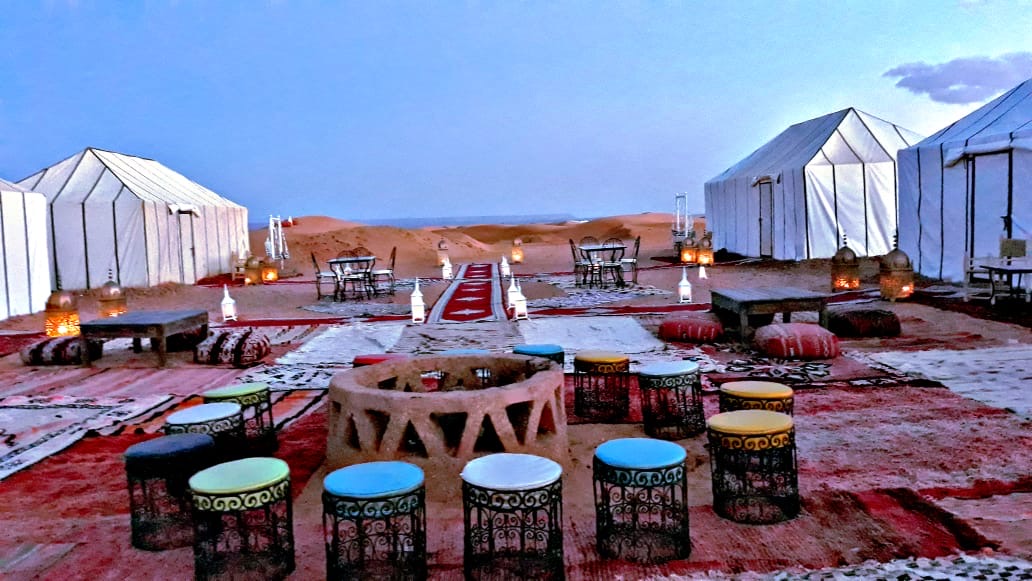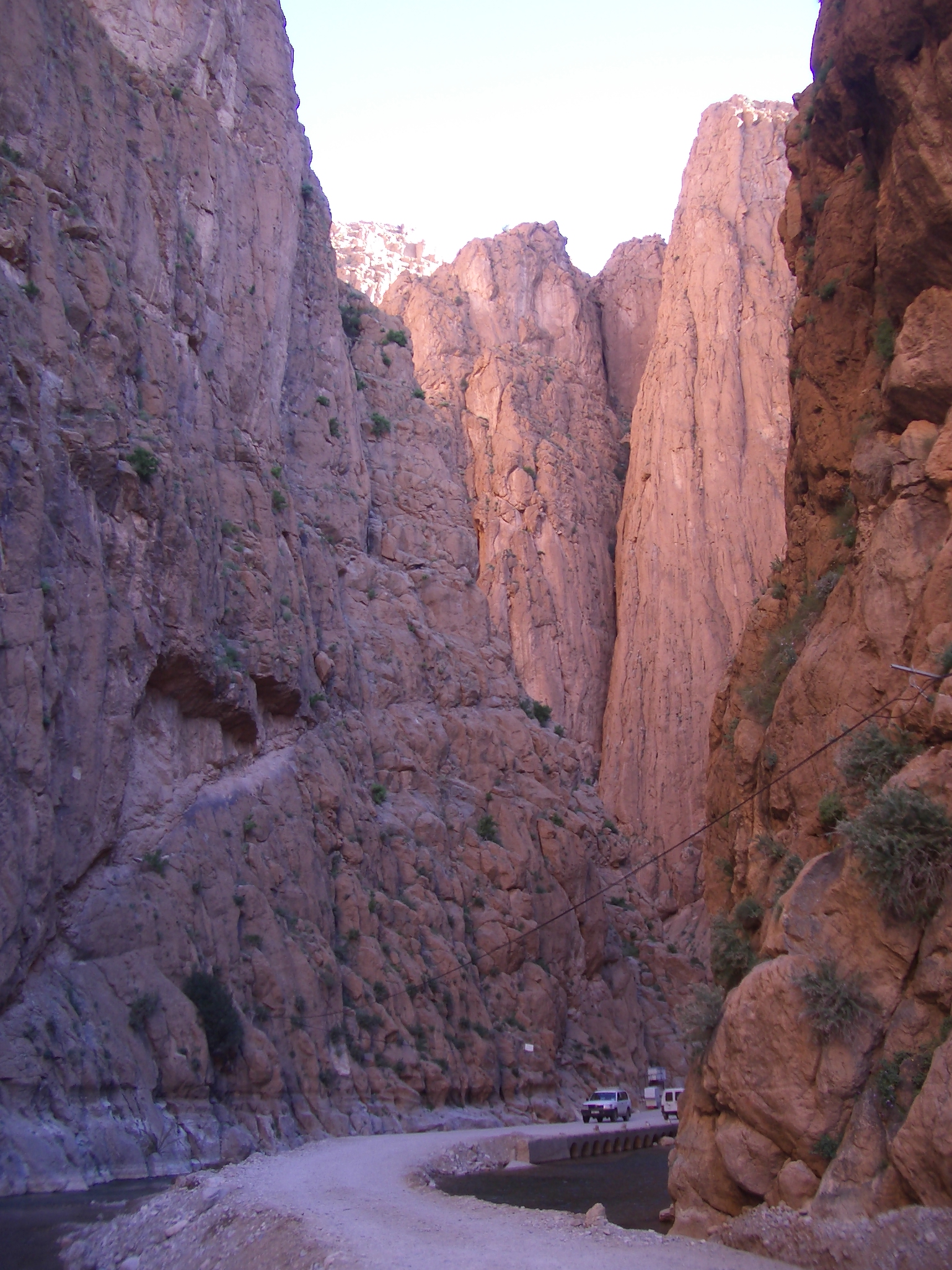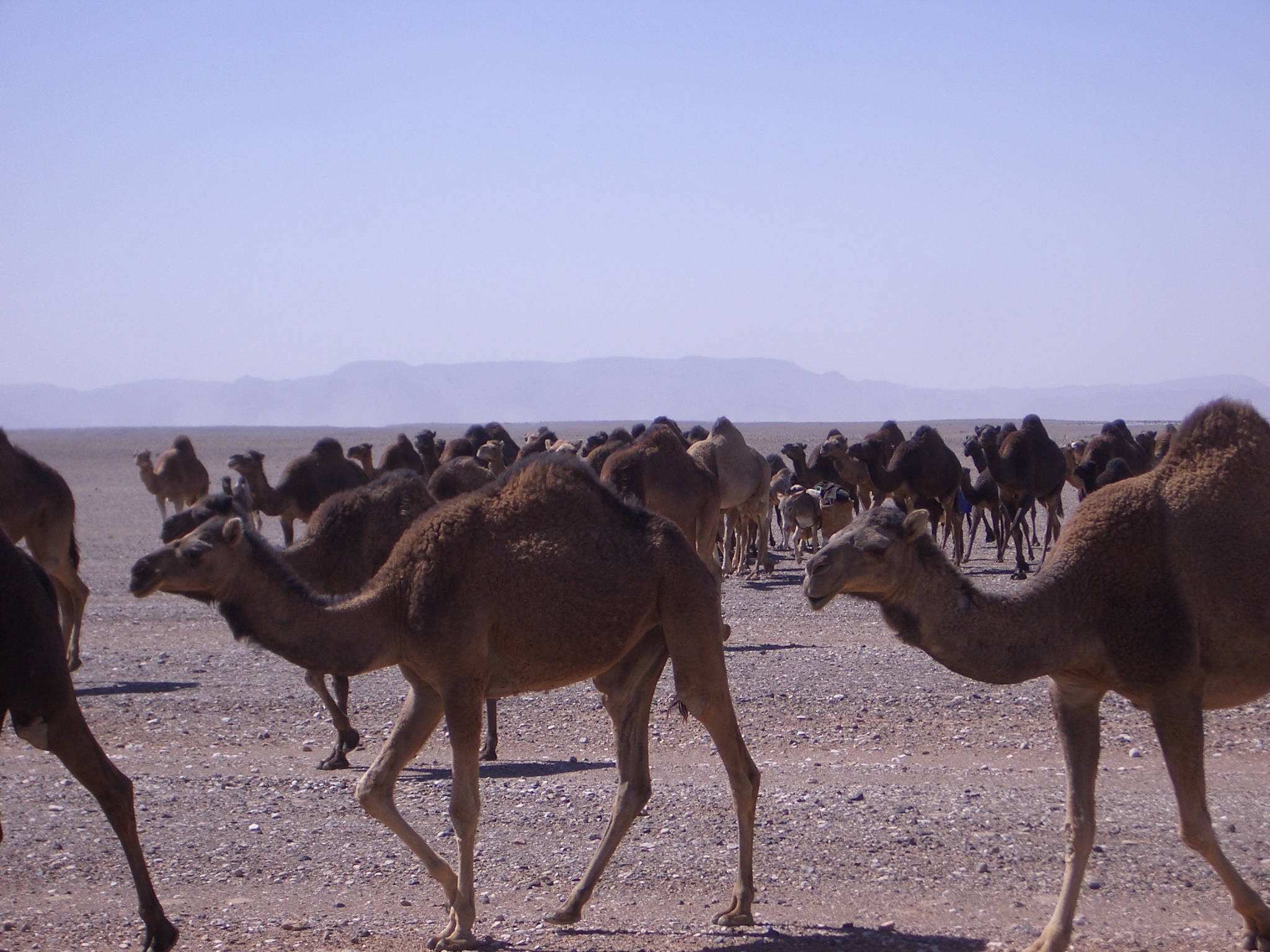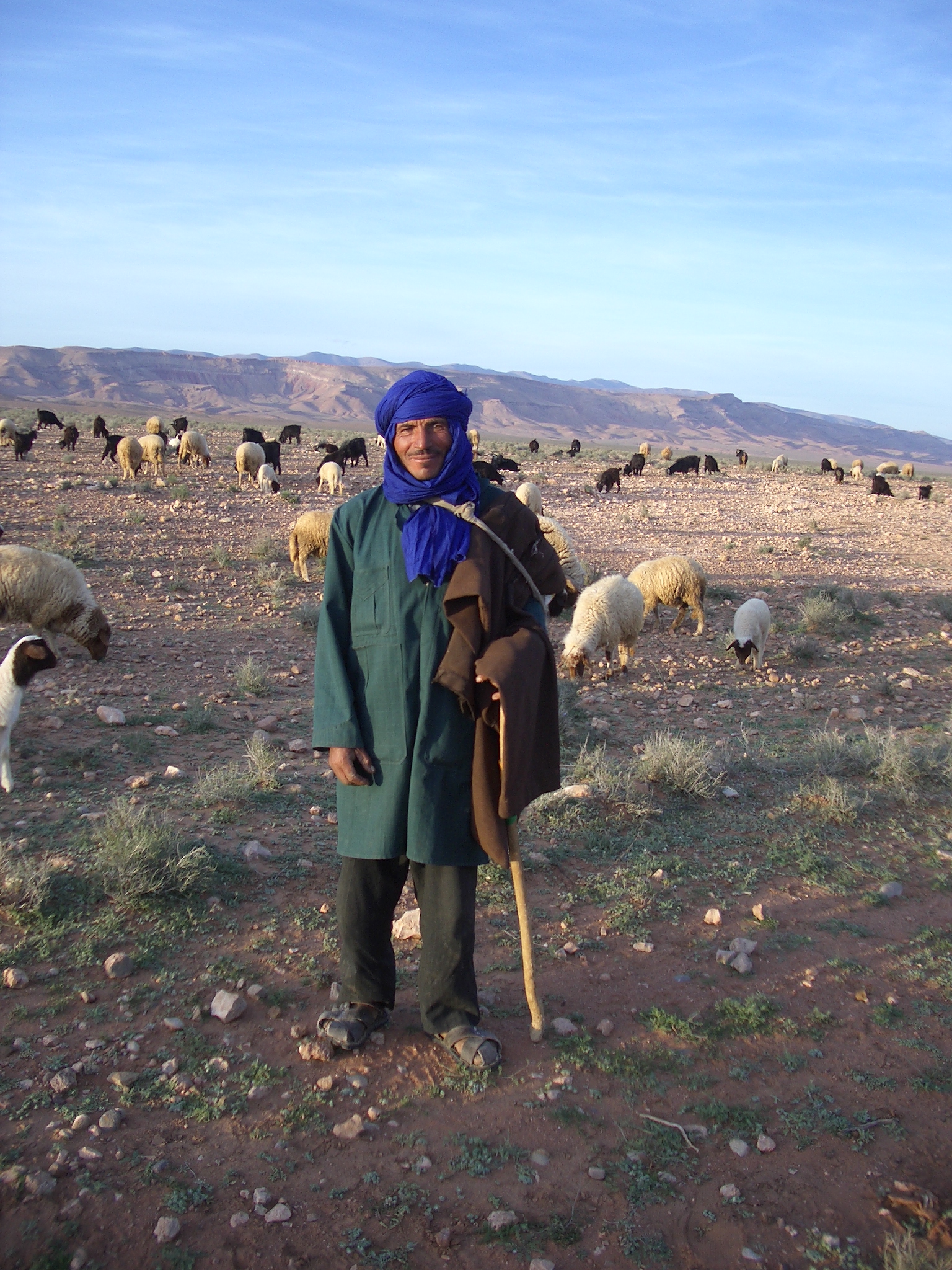 DAY 5
Merzouga > Jbel Sahro > Draâ Valley > Ouarzazate
This journey is truly spectacular, travelling through a remote, empty land that borders the Sahara. Views are vast and extensive, with desert plains and high mountains and plateaux all around. This journey gives a real feeling of wilderness; it is awesome in its grandeur.

After passing though Rissani the journey becomes truly wonderful. Stops can be made to "feel" this awesome wilderness, to the appreciate the wide skies and the lack of any human impact (other than the road!).

Acacia forests are seen too, "umbrella shaped" trees, specially adapted to the harsh environments. Protected gazelle reserves too are passed (although sightings not expected).

After Alnif, a possible lunch stop (and a place with fossil interest), it is on to the Draa Valley, a valley rich with date palmeries on the valley floor; very tasty too (many stall holders are seen, in the season, selling delicious dates).

Turning north in the direction of Ouarzazate, it is then up and over the Anti Atlas and the Tizi-n- Tififft Pass (1,693m); spectacular, of course. This area is almost bereft of any vegetation and no wonder; here "bare bones of rock" form the landscape with minimal soil. The multiple layers of rock that were once part of an ancient ocean floor have been uplifted to create a landscape that is almost like a contour map, so clear are the boundaries between each thin rock layer.

Ouarzazate for overnight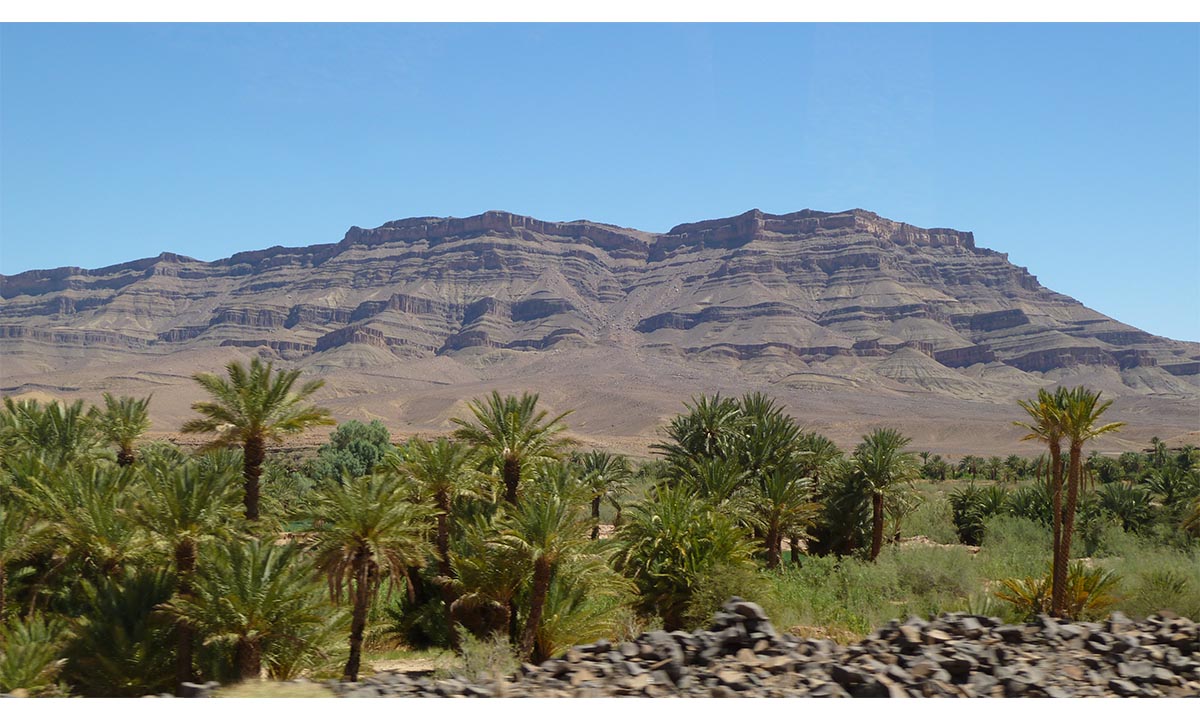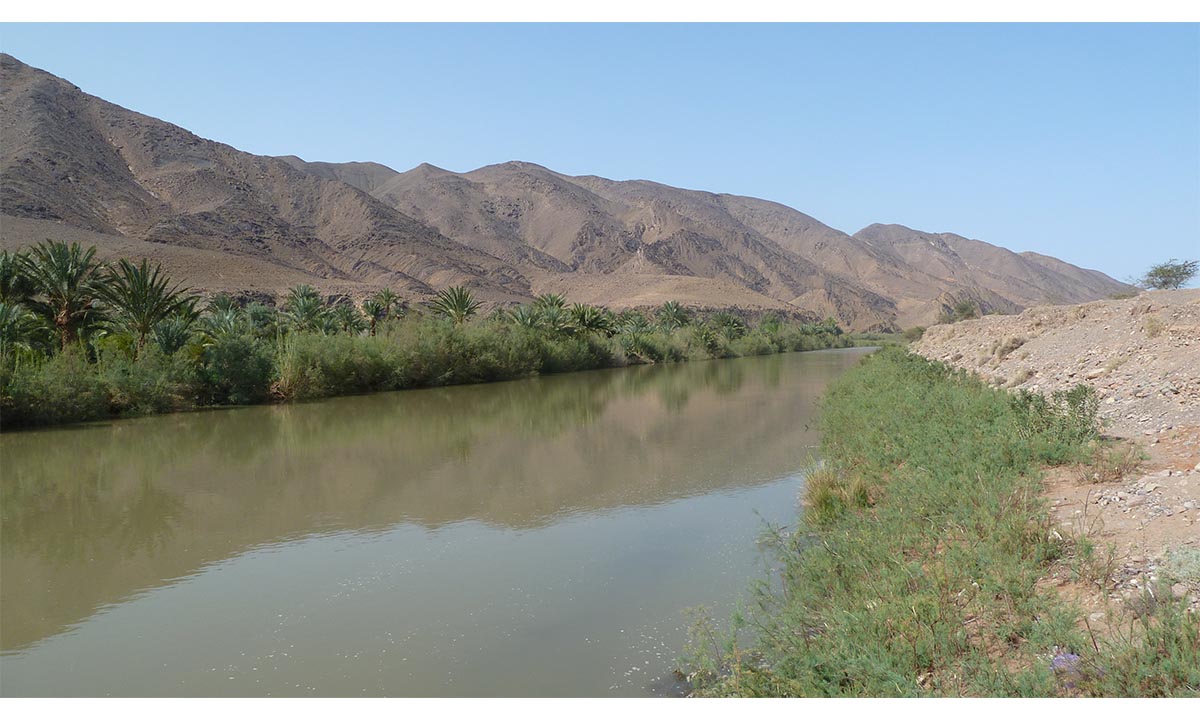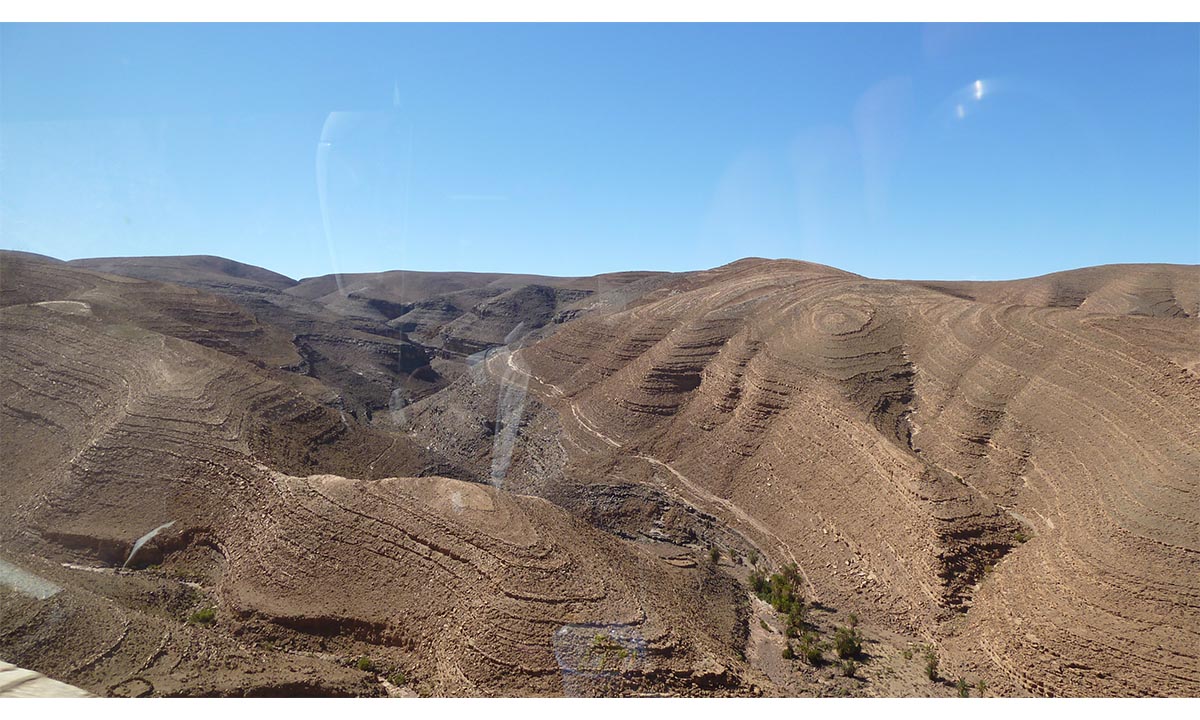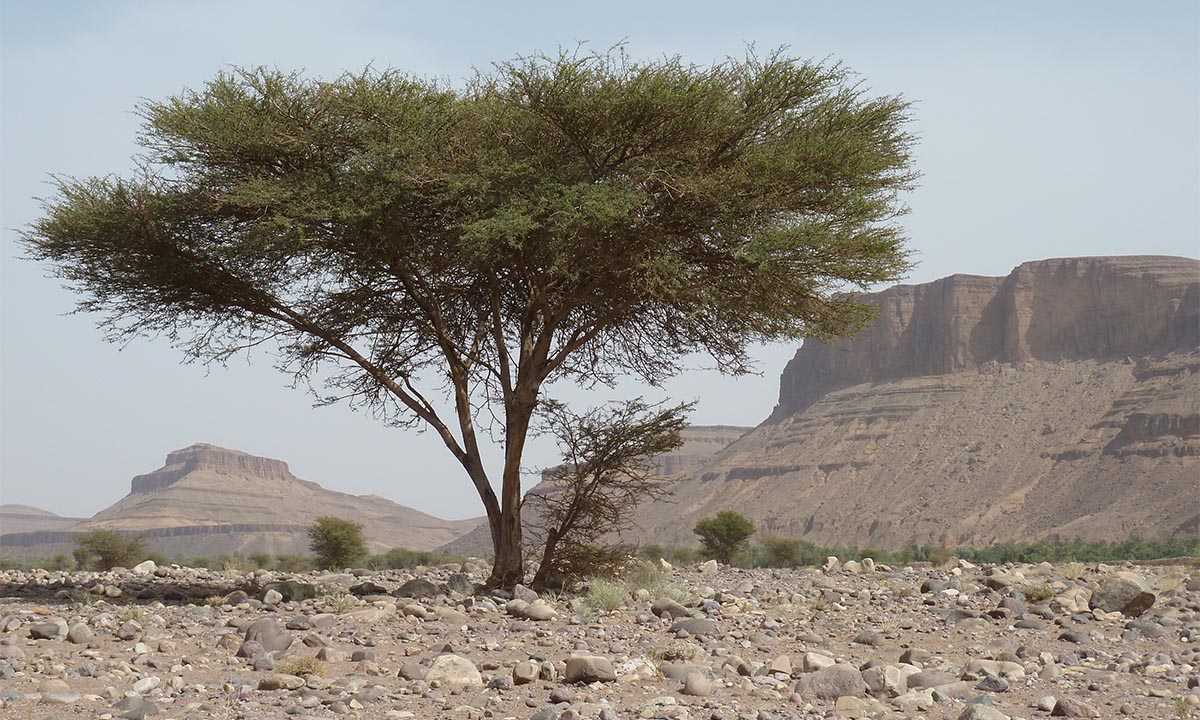 DAY 6
Ouarzazate > Aït Benhaddou > Marrakech
Before the highest part of your High Atlas journey, about 45 minutes north from Ouarzazate, is Aït Benhaddou is a grand fortified settlement, now a World heritage Site and well worth a stop and a stroll.

Aït Benhaddou is the most famous Kasbah in Morocco (dating from the 11th century) and is now a UNESCO World Heritage Site. Aït Benhaddou kasbah was once a chief's stronghold, a most impressive structure. It was an important part of the ancient trade route over the High Atlas between Marrakech, Ouarzazate, and the Sahara.

Then it is up and over the High Atlas once again (but seen from a very different perspective). The highest peak, Mount Toubkal 13,671 feet (4,167m) in this impressive mountain range should again be looked out for – perhaps it was cloudy on the outward journey.

The N9 road continues to wiggle its way upwards to the Tizi-n-Tichka Pass before starting its slow descent to the Marrakech Plain.

Descending the north facing slopes of the High Atlas there is much to still fascinate in the local activities seen. River valleys that have been deeply cut into the landscape can be seen. Many rock sellers are at the roadsides, all trying to boost their family's income.

You may wish to visit a small Berber village, Imozar. Here you can really begin to appreciate how a life is wrested from a harsh environment. If invited in for tea and a little snack, this will be a most memorable event of your tour.

After all the tranquillity and tradition of the mountains, however, soon you are in the midst of the hustle, bustle and clamour of vibrant Marrakech. It has been quite a trip!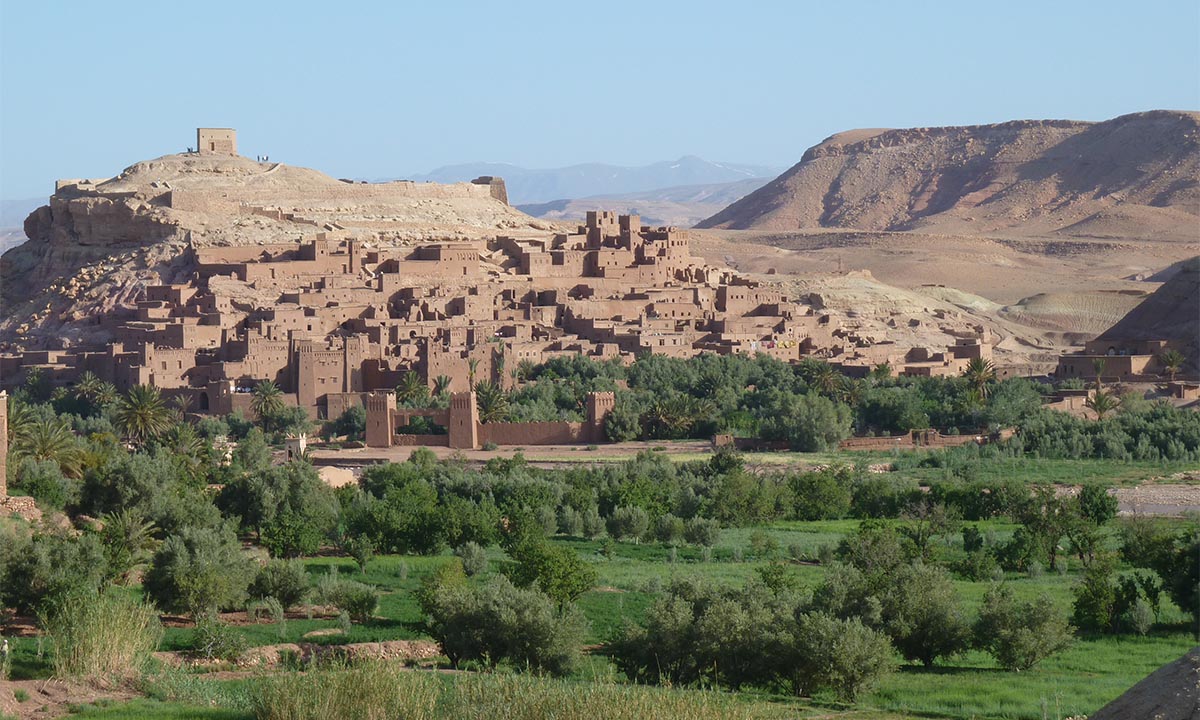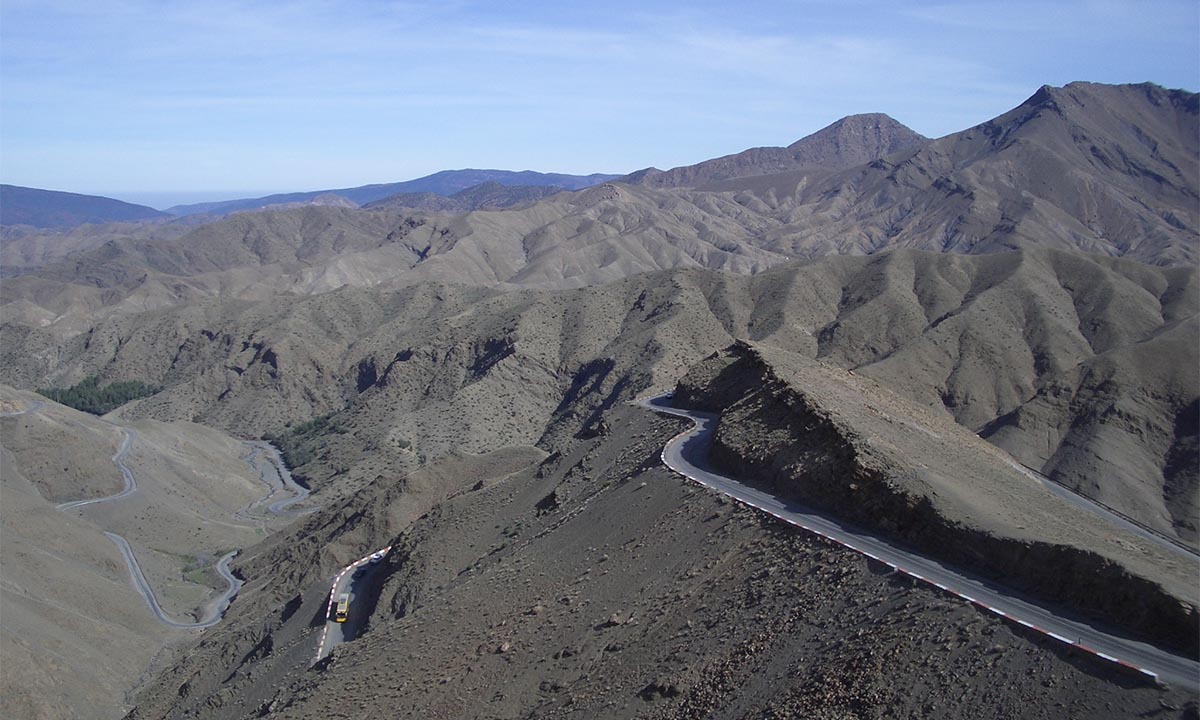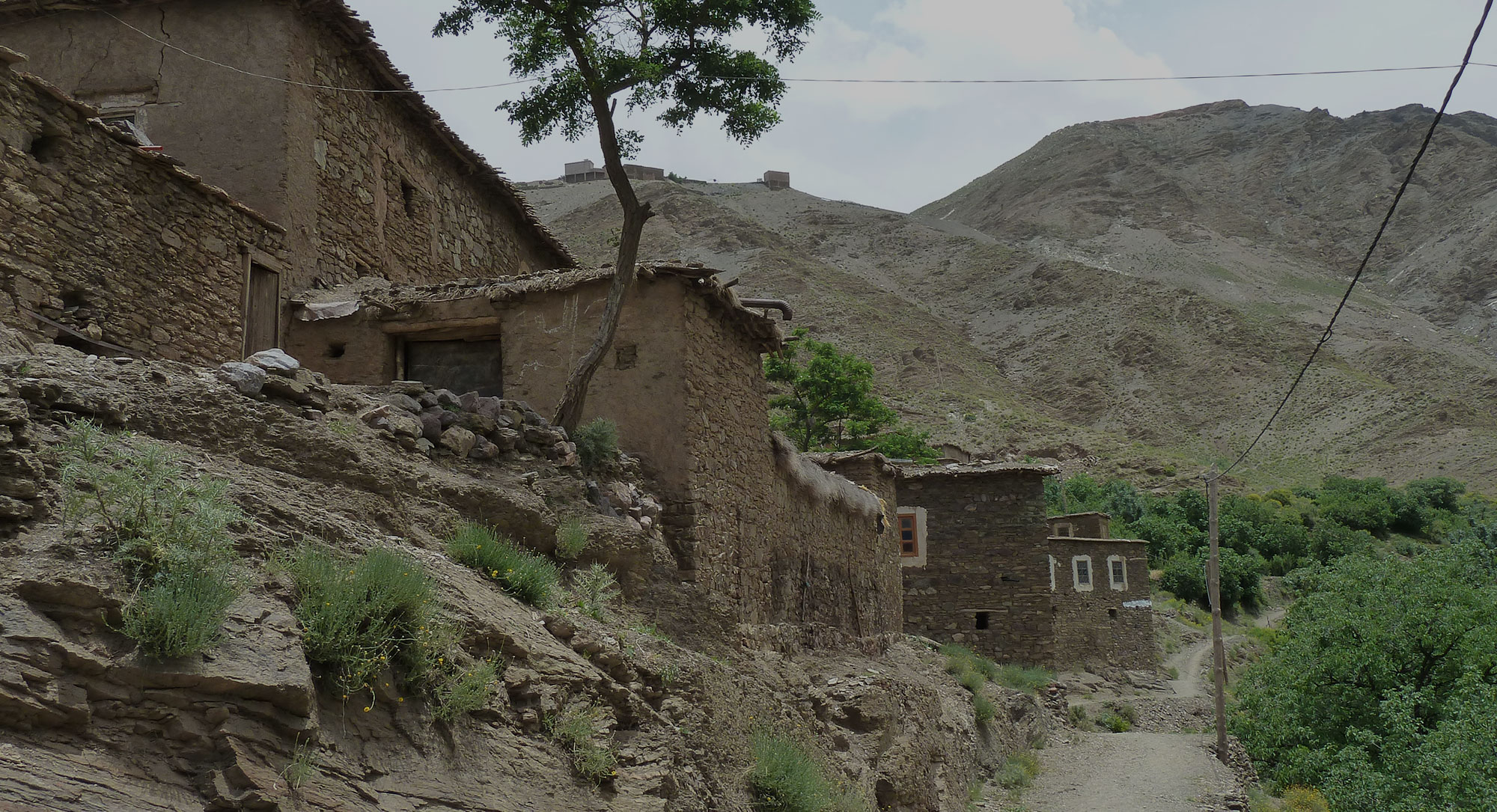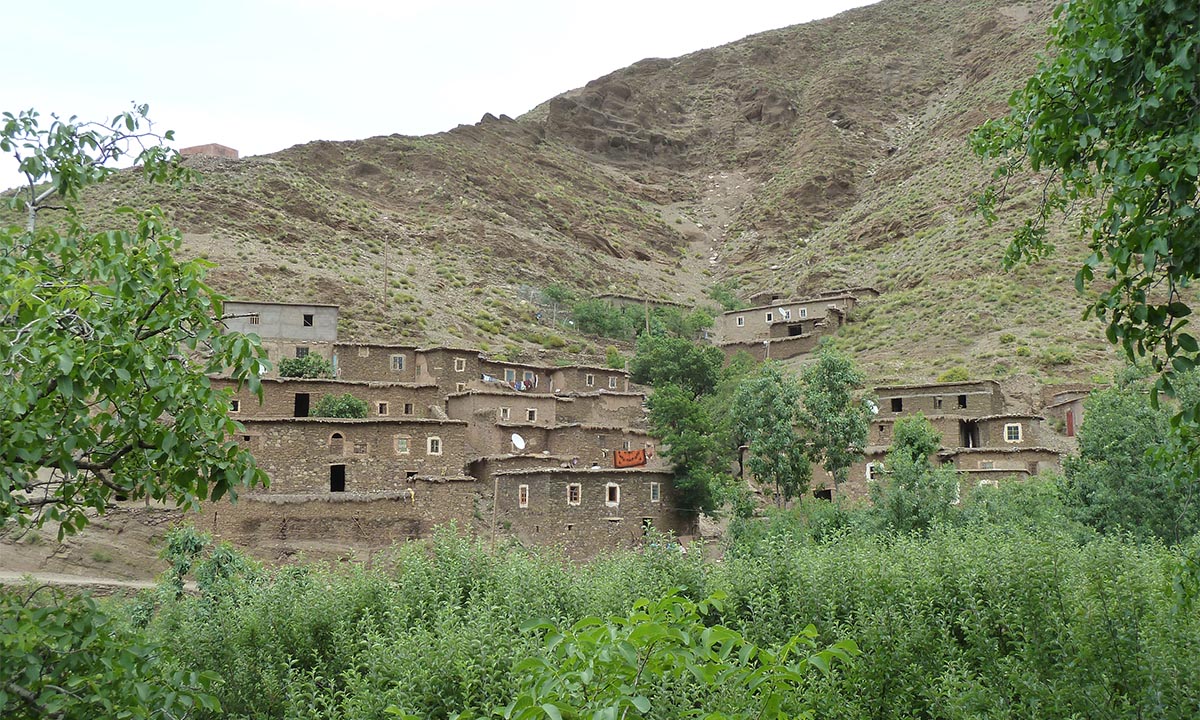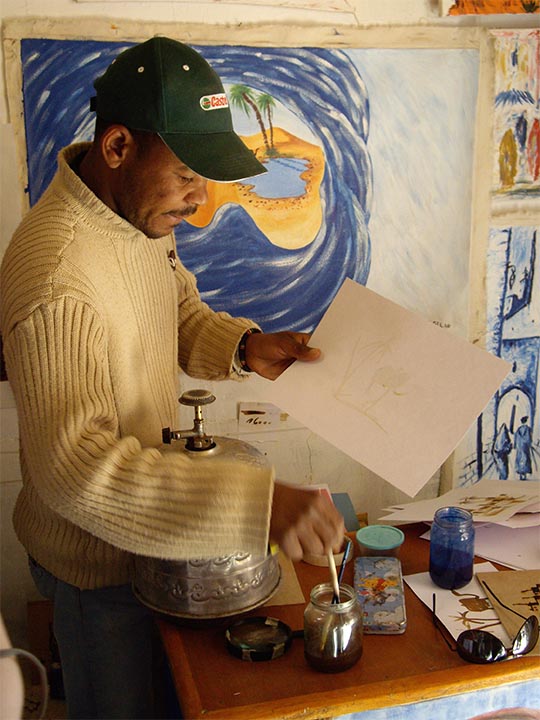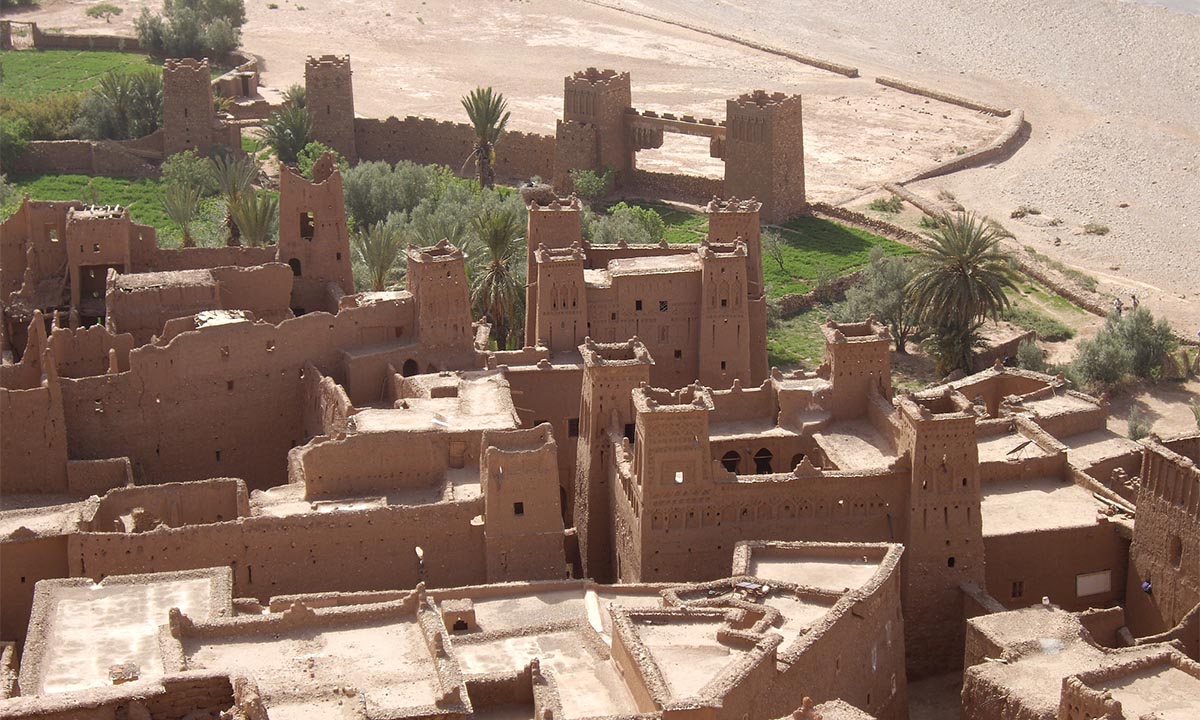 DAY 7
Departure Day from Marrakesh
In the morning, depending on your flight's schedule and after a fantastic kaleidoscope of scenery, culture and encounters, you'll perhaps have some final moments to explore Marrakesh Medina before heading out to the airport for departure.

Private transport and driver to Marrakech Menara Airport.
WHAT ATS OFFERS
what ats offers:
Airport transfers to/from your Marrakech accommodation on arrival and departure days;
All Moroccan ground transportation in private 4x4 vehicle with driver to cover the itinerary as described; your driver will be English speaking and as well as being you driver, he will assist with all practical and logistical aspects of your tour as well as bieng able to impart information as you travel;
6 x nights of a 4* accommodation on half board basis (dinner, bed and breakfast) i.e. 2 nights in Marrakech, 1 night in Boumalen Dades, 1 nights in Ouarzazate and 1 night in a Luxury Bedouin Camp in Sahara;
A sunset camel ride in Merzouga;
A Marrakech City Guide for a half day;
WHAT ATS DOES NOT INCLUDE
Exclusions
Flights/Ferries;
Personal Insurance;
Lunches;
All other items not mentioned in the INCLUDES list;
PRICE
7 DAYS: MARRAKECH, HIGH ATLAS & SAHARA (MERZOUGA)
Total for 2 persons: 18940 MAD (1894 EURO)
Total for 4 persons: 28880 MAD (2888 EURO)​
Total for 8 persons: 48800 MAD (4880 EURO)
For other group sizes please enquire