Epic journeys
Traditional Berber & Bedouin Lifestyles
Tour Overview
Highlights:
Marrakech City, its colour and clamour;
Travel the rolling Marrakech Plain & surrounding Jbilet Mountains;
View and Engage with Traditional Farming Life;
Visits to Traditional Farmers' Homes;
The Dramatic Landscapes of the High Atlas;
Be amongst Berber Culture;
Enter the Azgour Valley;
Experience the Wonderful and remote "Mouth of the Earth" Canyon;
Hospitality and Tea in a Berber Home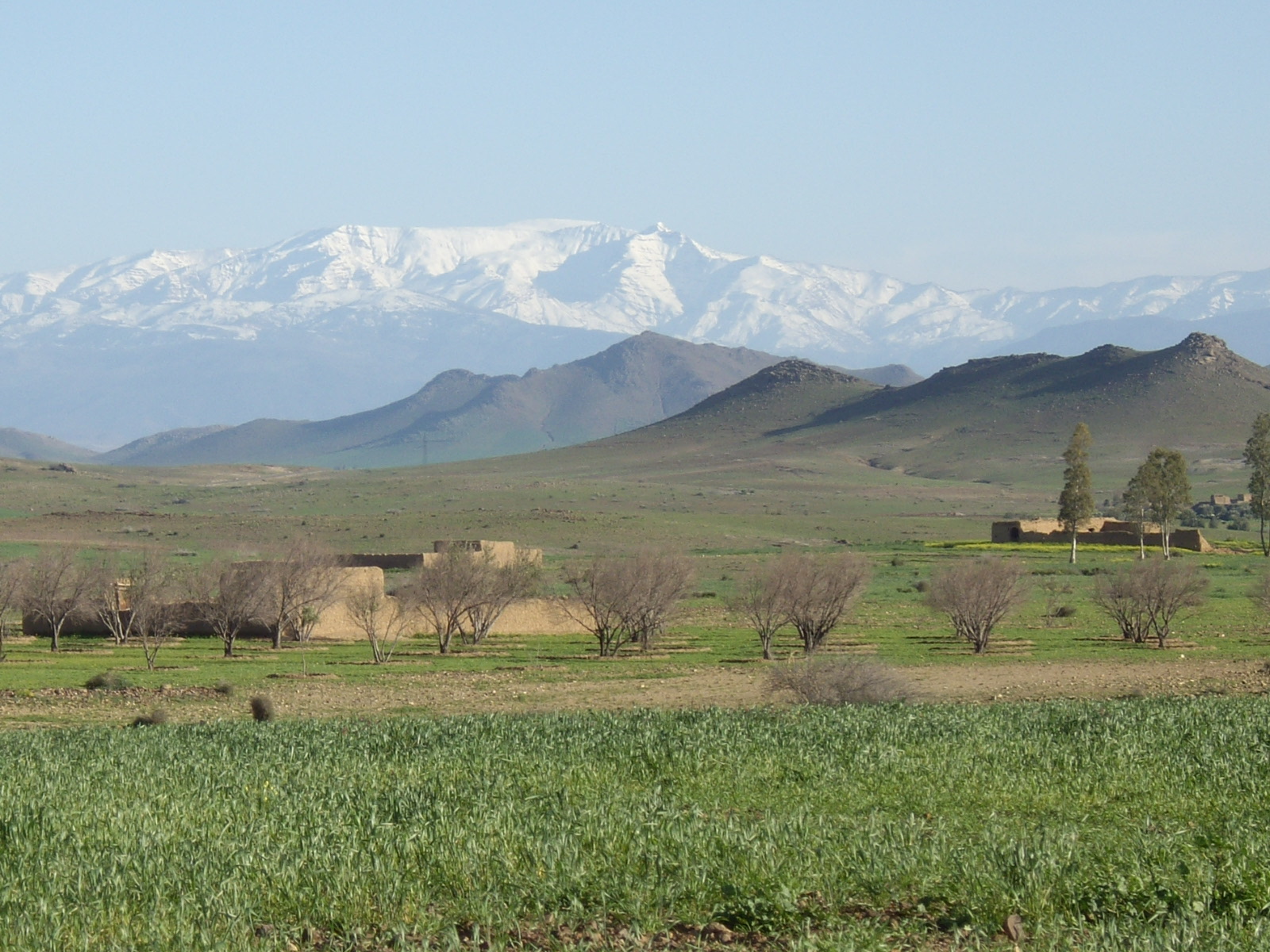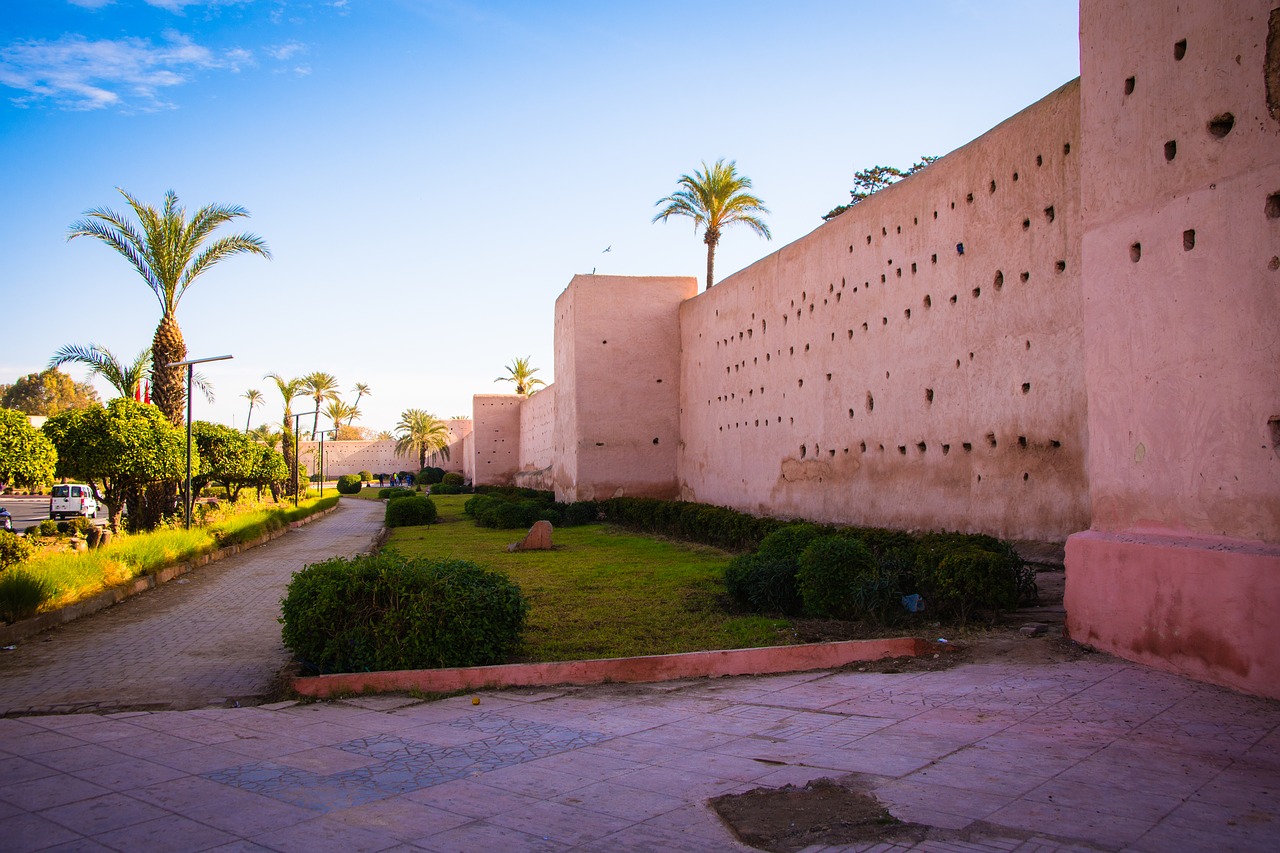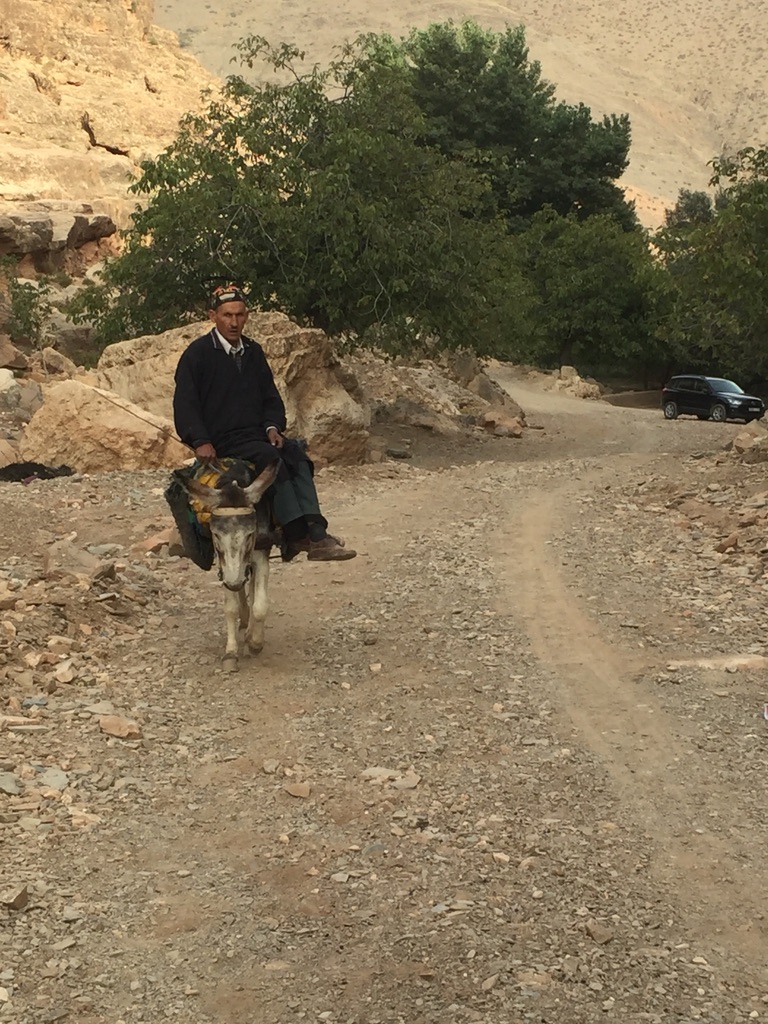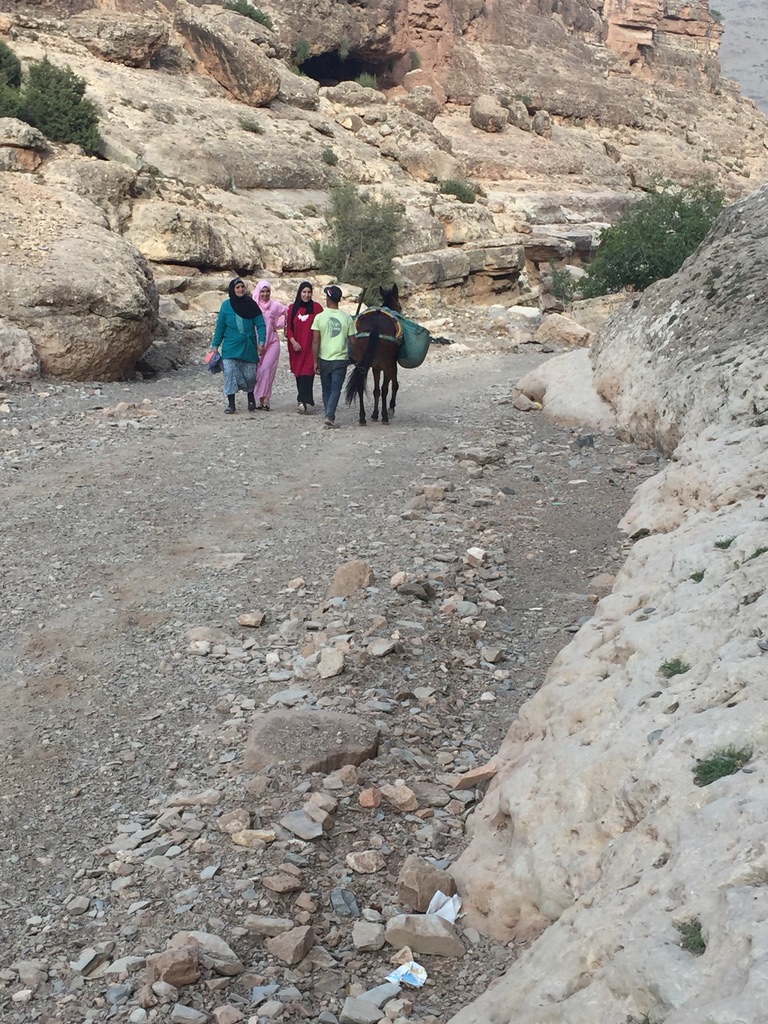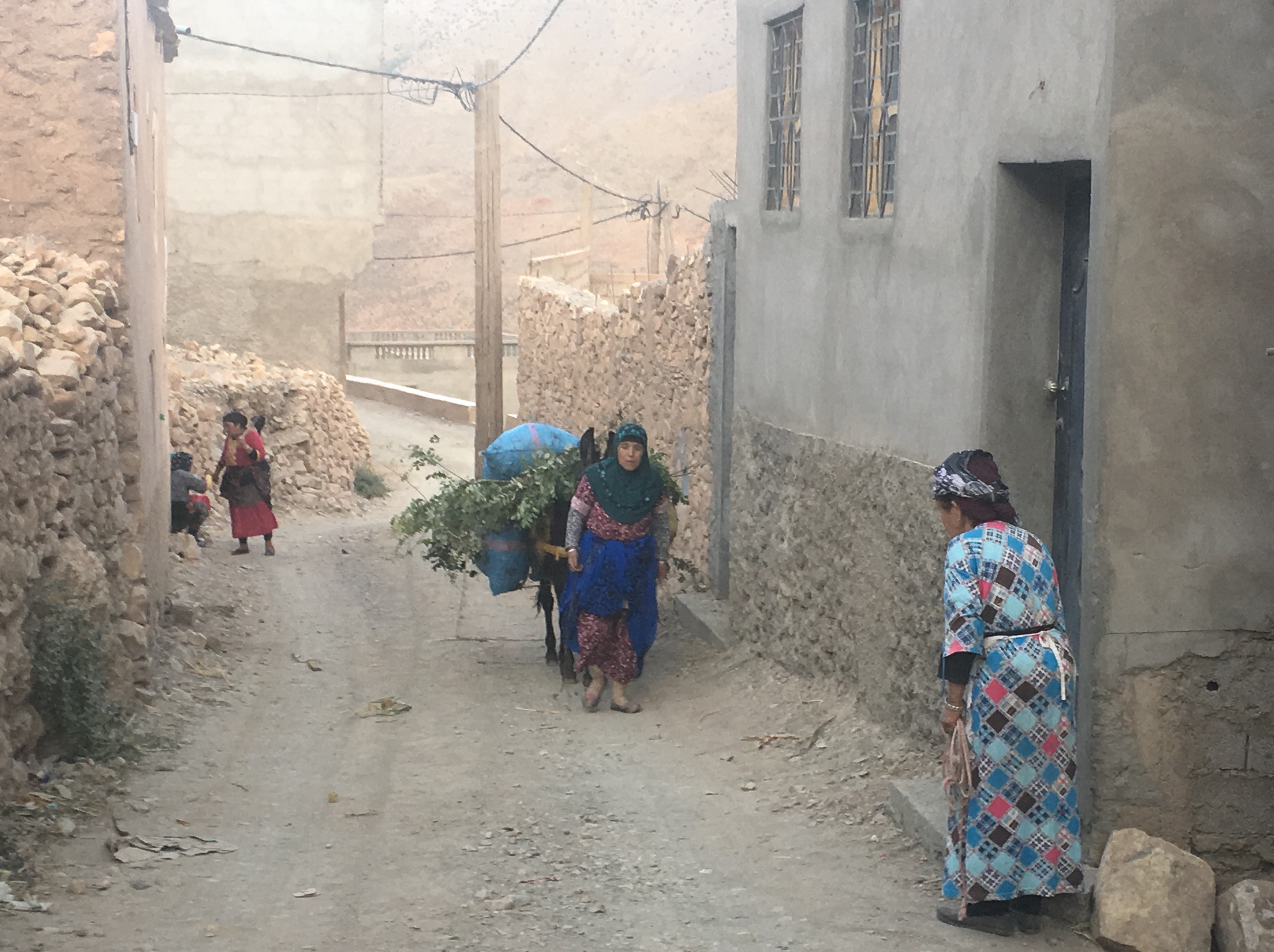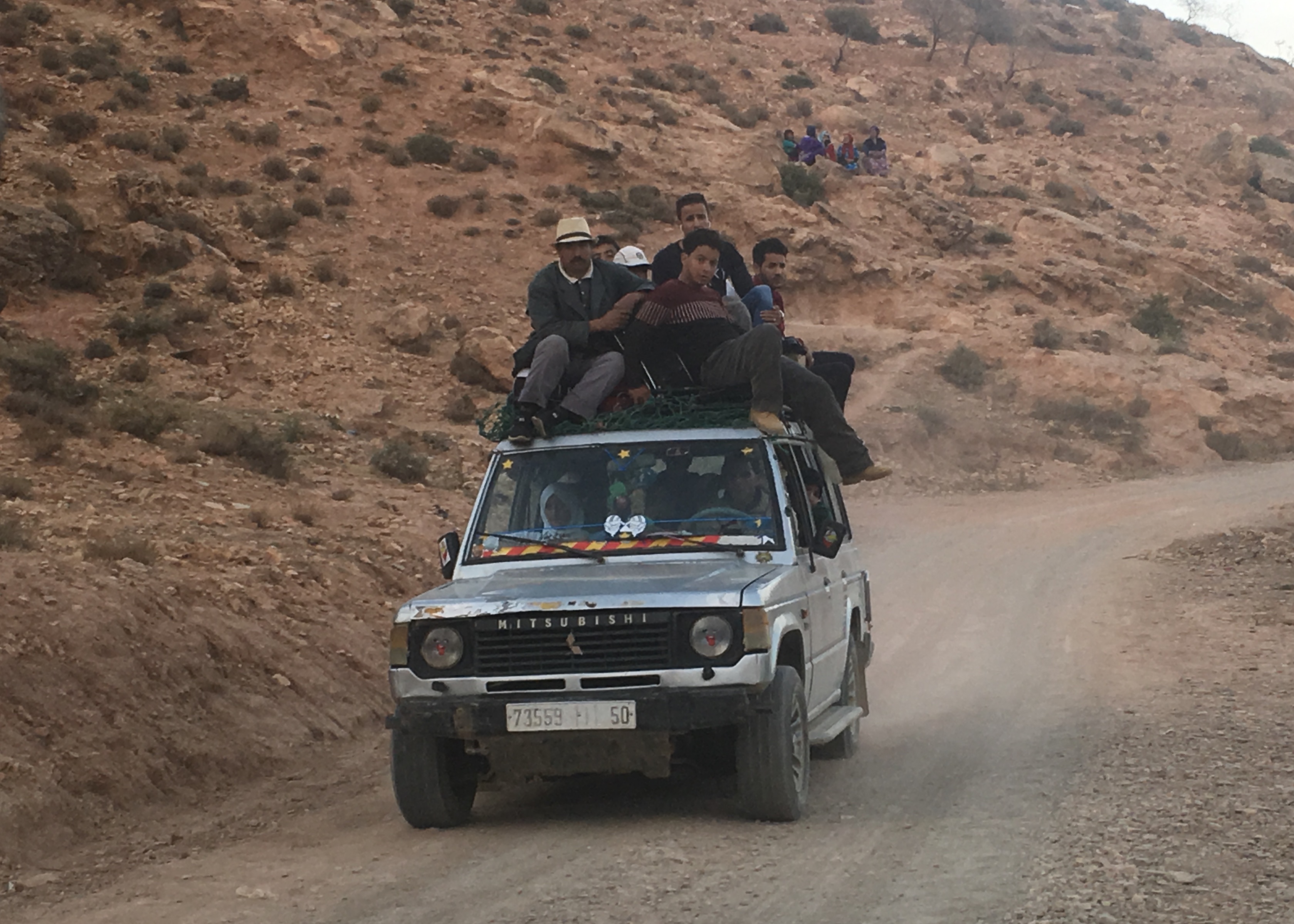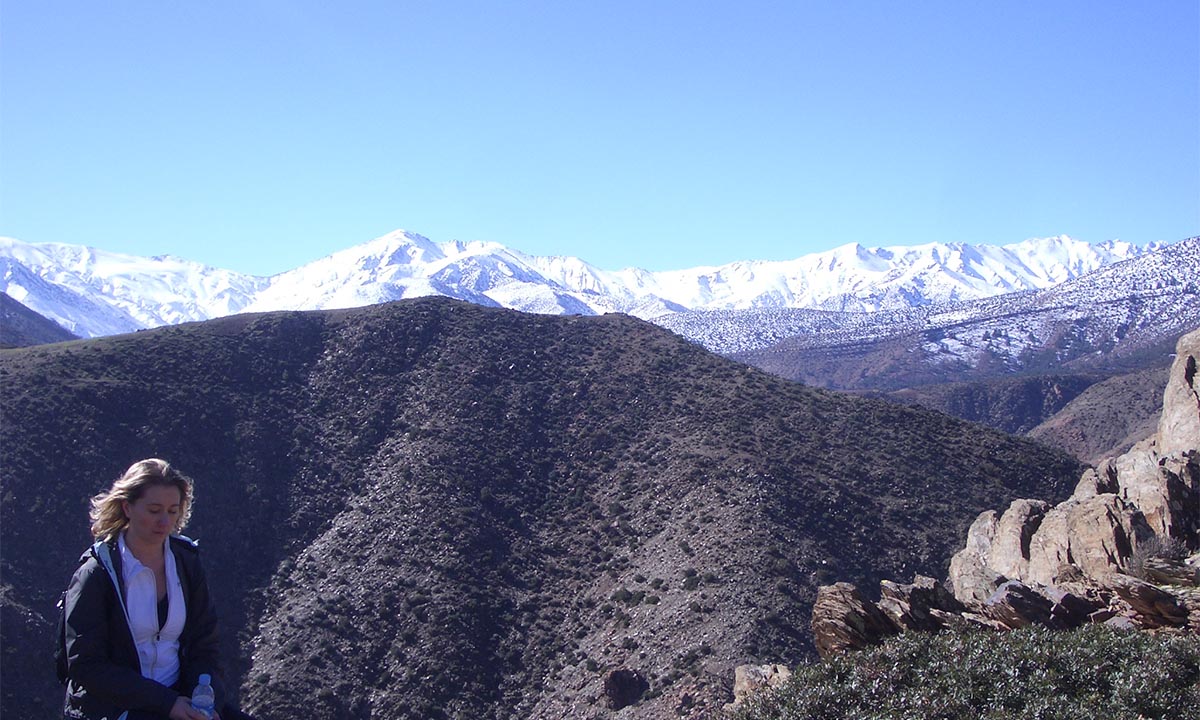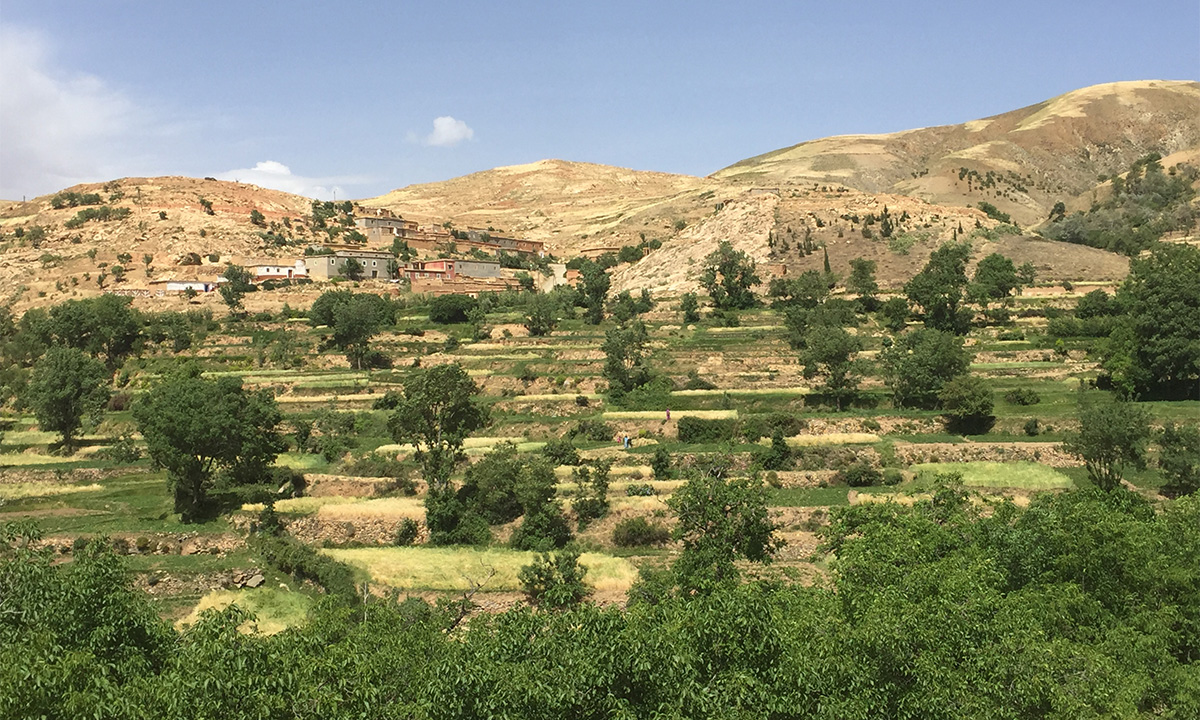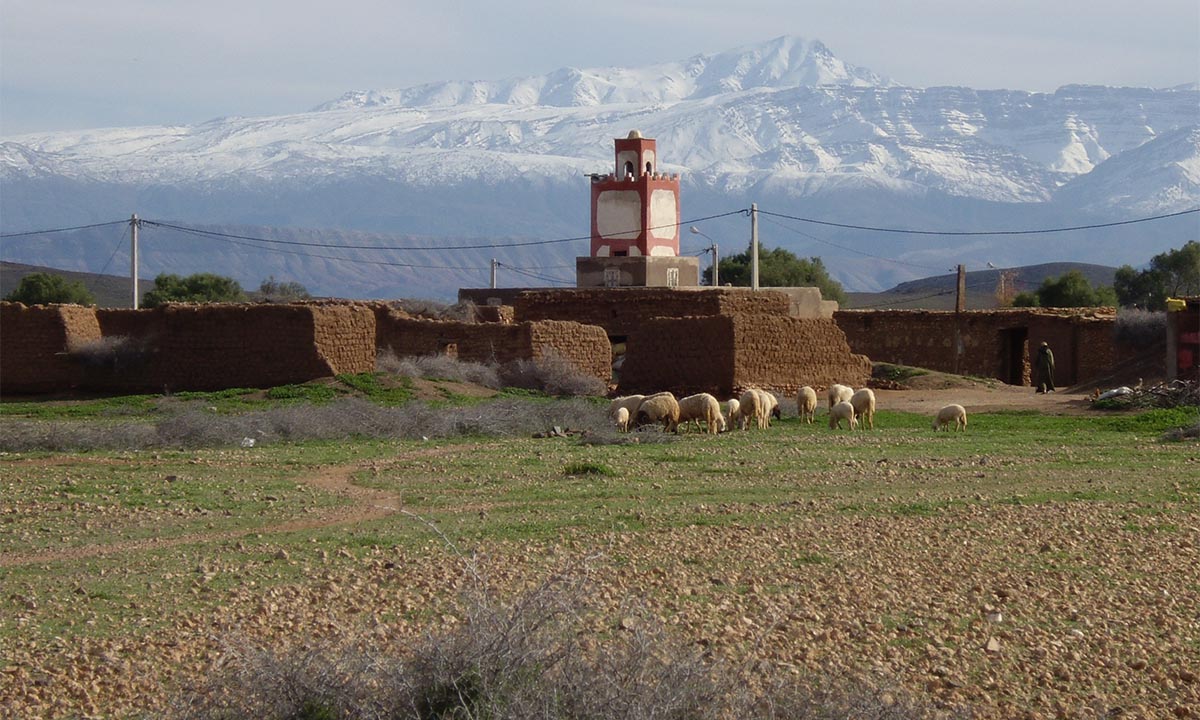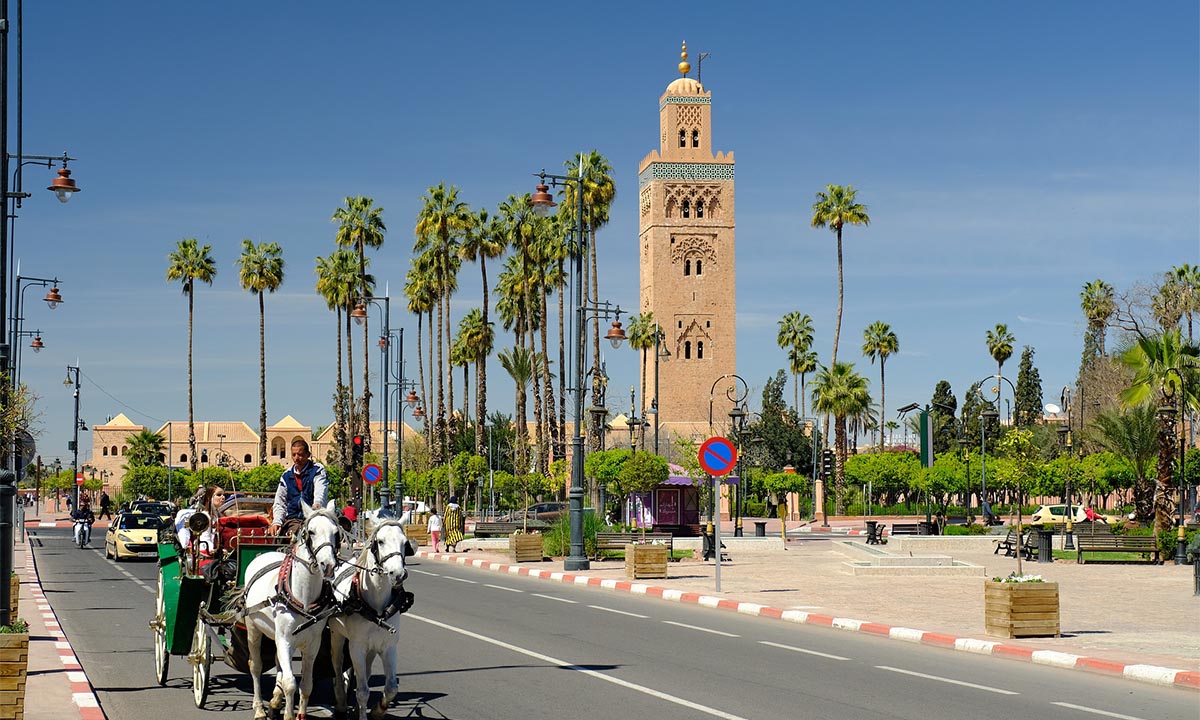 INTRODUCTION
Being based in Marrakech for the duration of your tour has several advantages. For example:-.

(a) there is no need to be repeatedly unpacking and repacking during your tour.
(b) travel distances each day are not excessive.
(c) there is the excitement of being able to enjoy Marrakech evenings as you wish.

This tour combines 3 of our popular Day Tours to offer you a very fine variety of places, sights and experiences.

A full day is included in Marrakech itself (plus each evening); this Imperial City has plenty of interest. Colour, bustle, activity, spectacle abound.

Two separate days are then spent out-with Marrakech, travelling in a very comfortable 4x4 vehicle.

One of these "out & roundabout" days takes you southwards from Marrakech, deep into the High Atlas, amongst the Berber people, on our very special Magical Day Tour that ultimately takes you into the Azgour Valley. The scenery is increasingly awesome especially at the furthest when you reach the "Mouth of the Earth", a glorious, steep sided, water cut gorge.

The other "out & roundabout" day takes you northwards from Marrakech on the The Marrakech Plain and Jbilet Mountains Tour. This day allows an exploration of both the nature of the area (landscape, flora and fauna) as well as the engaging with the area's traditional people, their culture and lifestyle. A highlight is eating a second breakfast and enjoying a lunch in a traditional home in a farming village (alternatively, a picnic lunch can be arranged, out in the nature).

Of course, if you wish to add a day or substitute another day from our many Day Tour Options then this can be readily attended to in order to create for you a totally tailor made, bespoke tour to fit your needs.


DAY 1
Arrival into Marrakesh
Your private driver will collect you from Marrakech Menara Airport to transfer you to your accommodation. He will have a sign with your name; look out for it once you enter the airport's arrivals area.

Depending on your flight arrival time, you may have some informal free time to spend in the city before/after nightfall

Marrakesh is an exciting, exotic city, full of colour and with non-stop activity. To spend some time in the centre of Marrakesh, in and around the medina and the old city walls, provides interest at every turn.

Options include Jemaa el Fna Square (a lively entertainment square), the Medina and its Souks, the Koutoubia Mosque (outside only), Medersa Ben Youssef (Koranic School), Saadian Tombs, Bahia Palace. All are easily reached on foot.

Overnight in Marrakech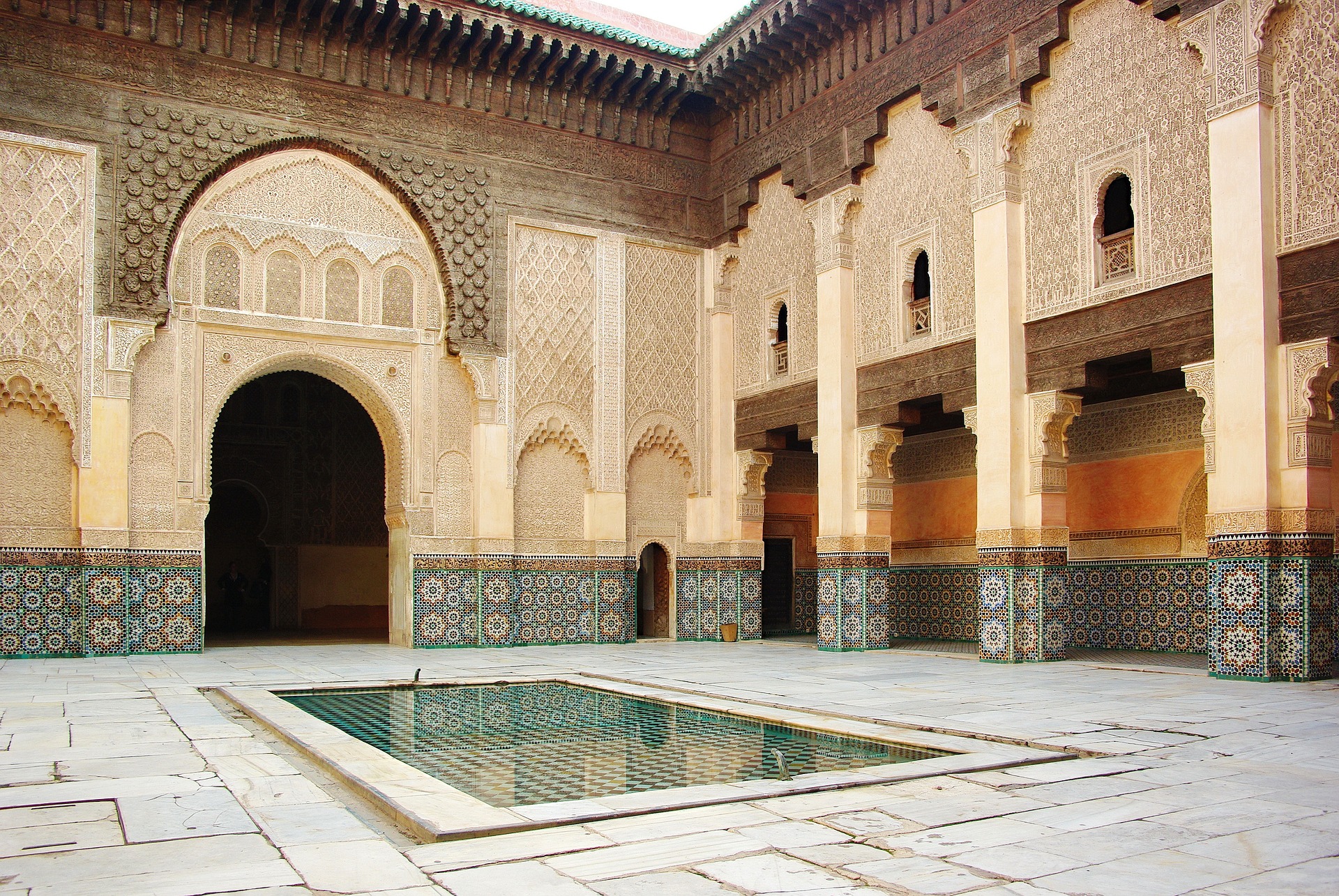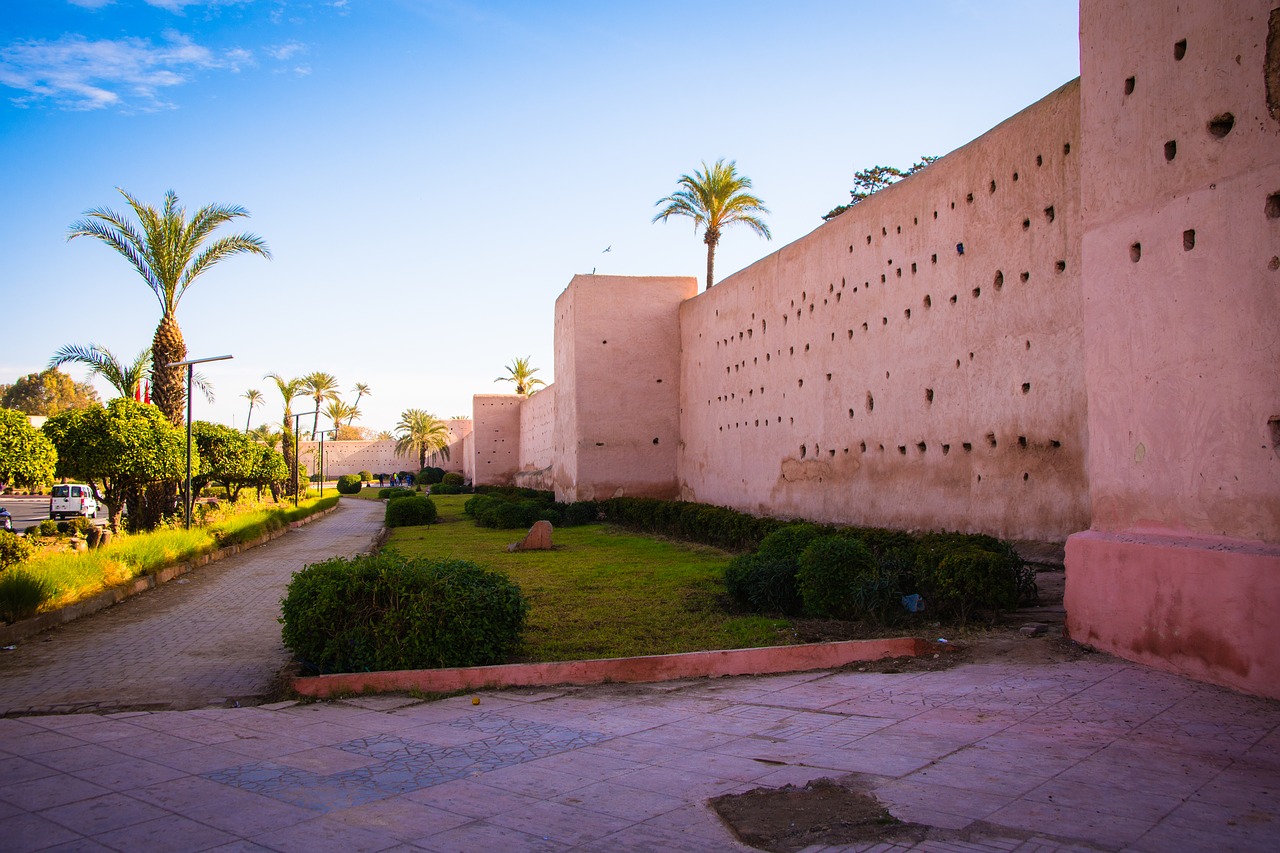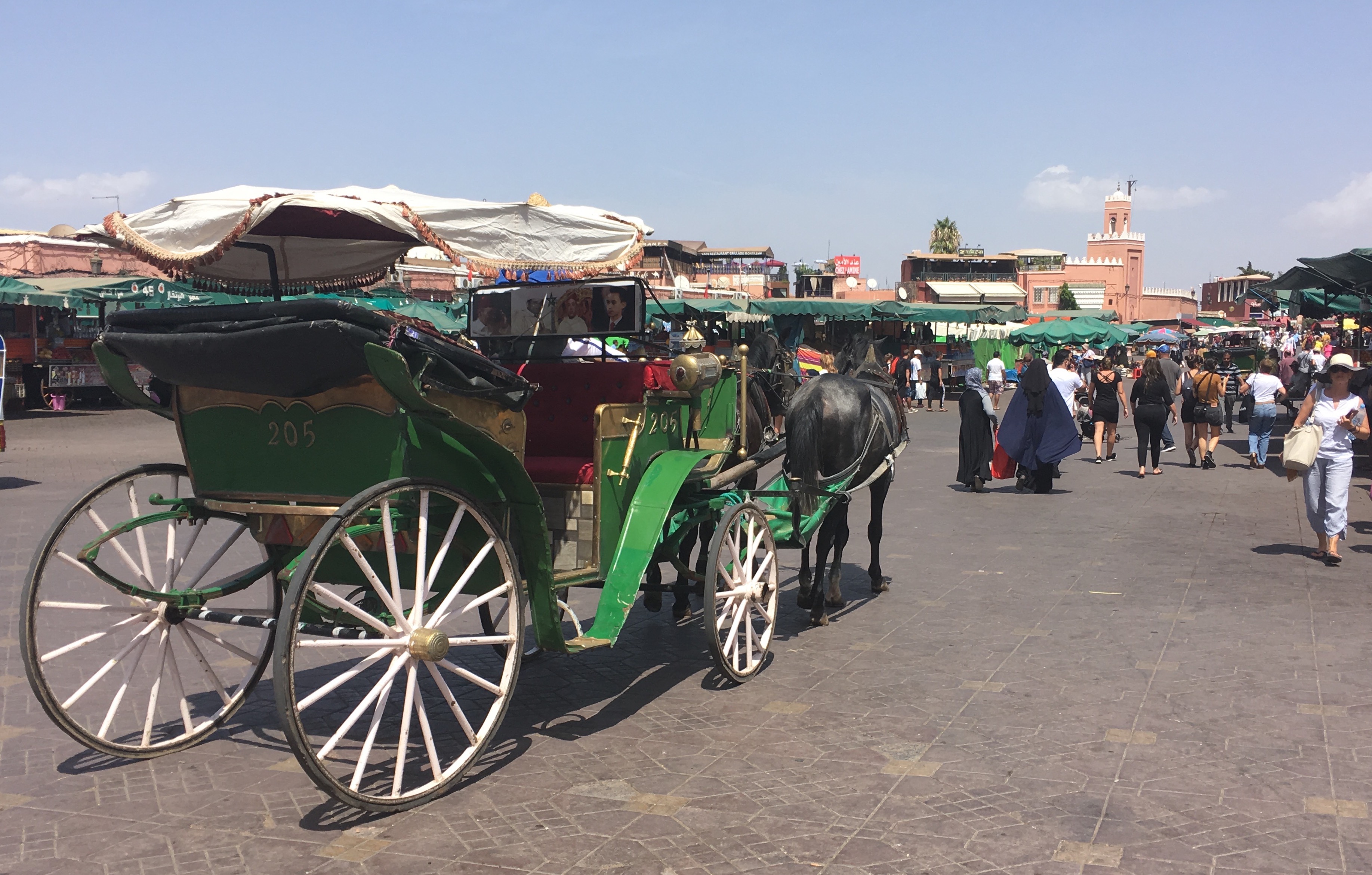 DAY 2
Explore the 'Red City' of Marrakech
A Marrakech City Guide will be with you for ½ a day (included). Discussion will take place as to what places you particularly wish to see.

Marrakesh is sensational, in every sense of the word! Often called "the red city", it is named for the natural red ochre pigment in the walls. Marrakesh is Morocco's second largest city. No building in the city must exceed the height of the tallest palm tree nor the tallest mosque minaret tower.

There are many options for you to explore today including Jemaa el Fna Square, a lively entertainment square, the Medina and its Souks, an Apothecary visit, the Koutoubia Mosque, Ben Youssef Madrasa, a Koranic School, Saadian Tombs, and Bahia Palace. All of which are easily reached on foot.

Koutoubia Mosque is a place of Islamic worship, where you'll hear the calls to prayer that come from the minaret. Koutoubia Mosque is the largest mosque in Marrakesh. It has a large plaza with gardens and is floodlit at night. The minaret is particularly magnificent, its facade is undoubtedly one of the most photographed views taken in the city. There are gardens around it to stroll, but entry to the mosque itself is only possible for Muslims.

You can also visit the Ben Youssef Madrasa. Built in the 16th century, the Madrasa (also known as the Koranic School) was the home of Islamic students of the nearby mosque of Ben Youssef. The carved cedar, stucco plaster and tiling of the central courtyard are good to see as well as the old dorms and the prayer hall.

To spend some time in the centre of Marrakesh, in and around the Old Medina, a World Heritage Site, and inside the old city walls, provides something interesting at every turn. It is here that cultural contrasts are most evident, each one providing a great visual and mental feast. By day and by evening, this is an exciting place to be.

The Jemaa el-Fna square is a lively, colourful and bustling public area with music, snake charmers, henna painters, hawkers and sellers. The souks offer a glamorous and colourful maze of narrow alleyways. It is a place to try to seek out bargains and to haggle for best prices - it is quite a skill!

The Majorelle Gardens are an oasis of calm and tranquillity amongst lush plants in a garden developed by Yves St Laurent. Originally established in the 1920s, Jardin Majorelle was created by French painter Jacques Majorelle and is fantastically coloured, just like a painting. It is filled with marble pools, raised pathways, banana trees, groves of bamboo, coconut palms and bougainvillaeas. It is a fine place to relax amongst the greenery and visit yellow and blue pots and water features. (Alternatively/additionally, you may wish to visit the Secret Garden, a recently renovated walled garden that is rather special and has been referred to as a "Paradise Garden").

You may also want to watch the sun go down behind Koutoubia Mosque from the vantage of a roof terrace cafe, above Jemaa el Fna, perhaps sipping a mint tea.

After such a lively day, perhaps a massage and spa experience to relax and soothe might be tried (not included); this can readily be arranged for you.

Overnight Marrakech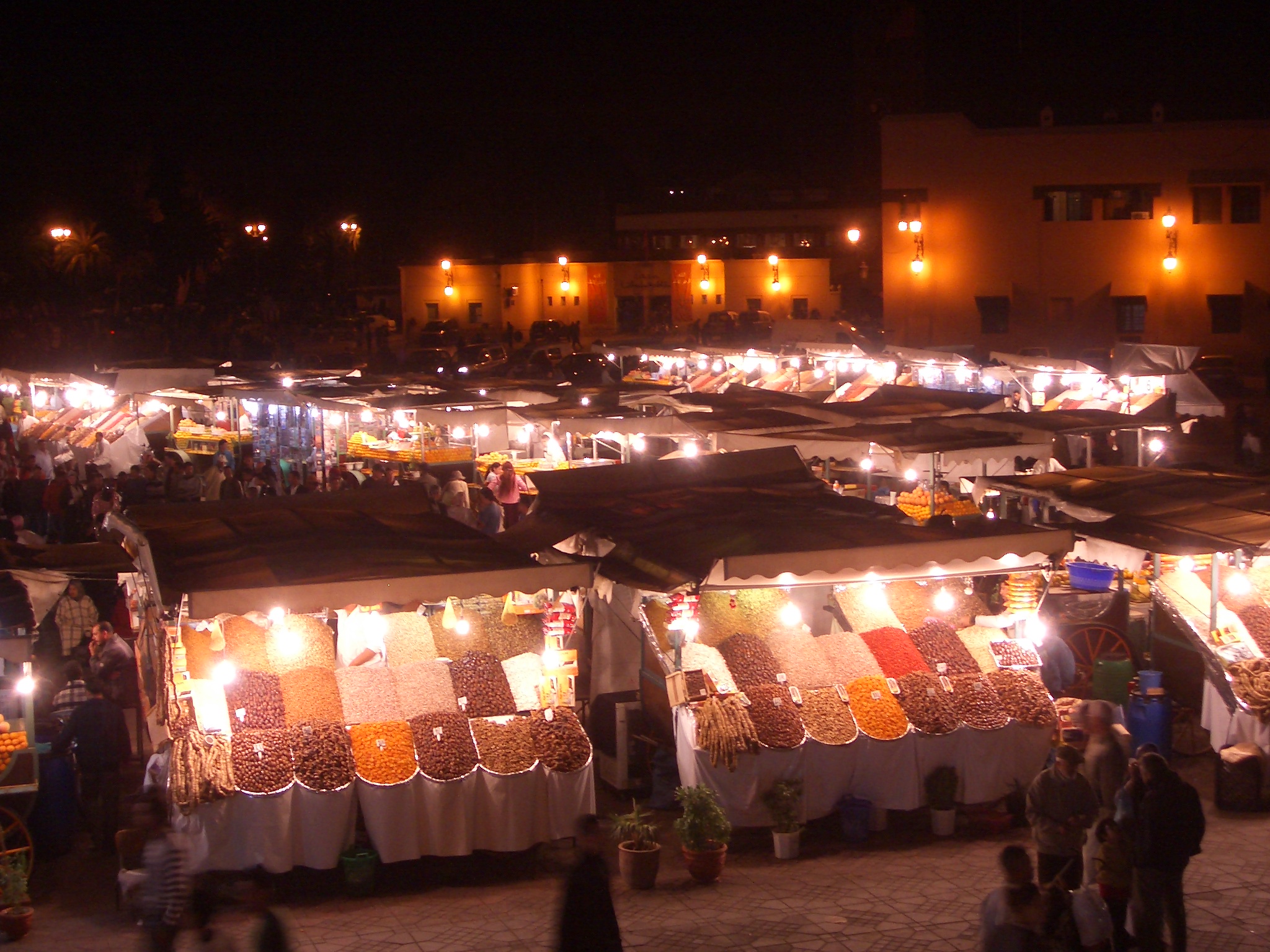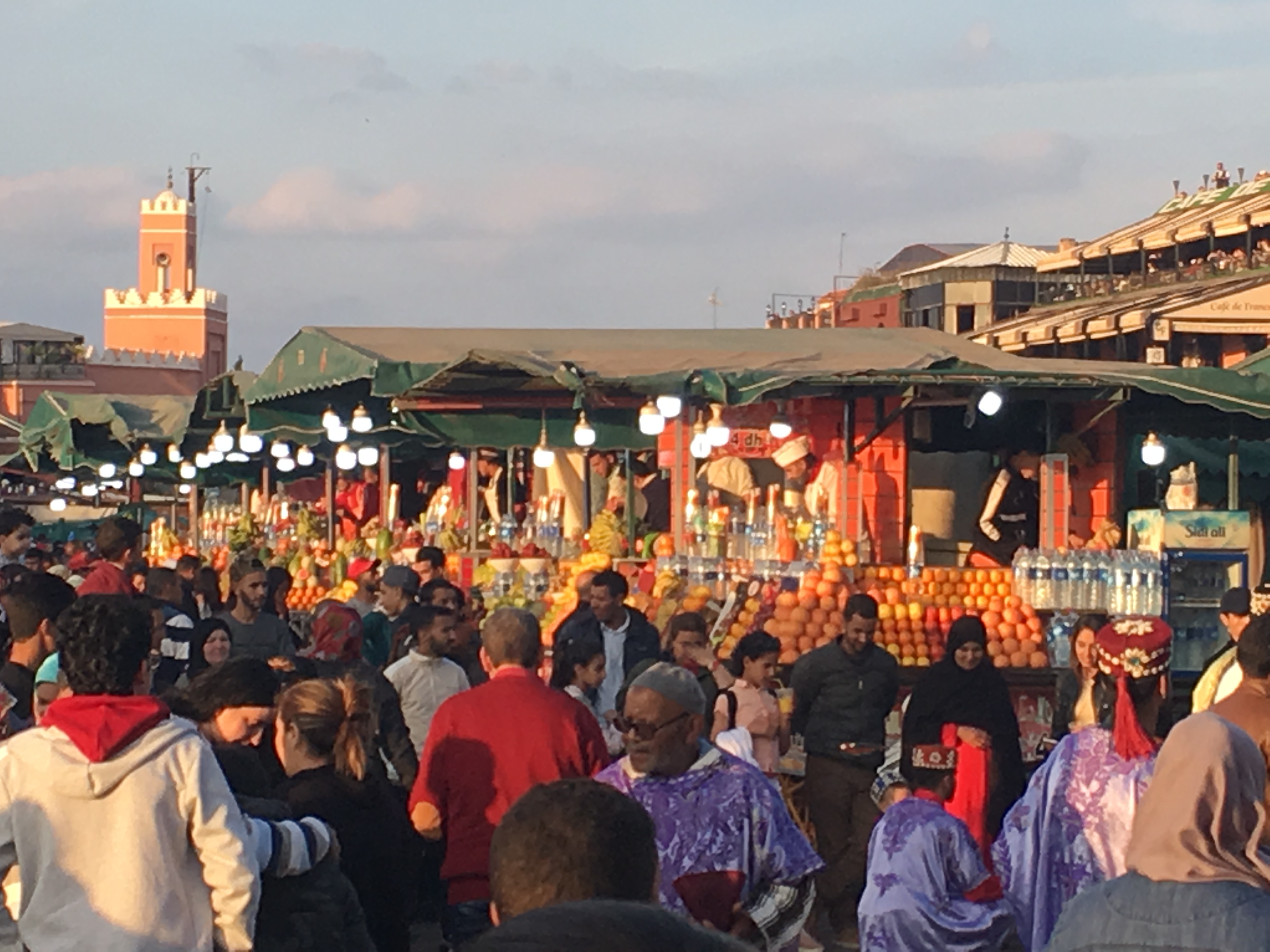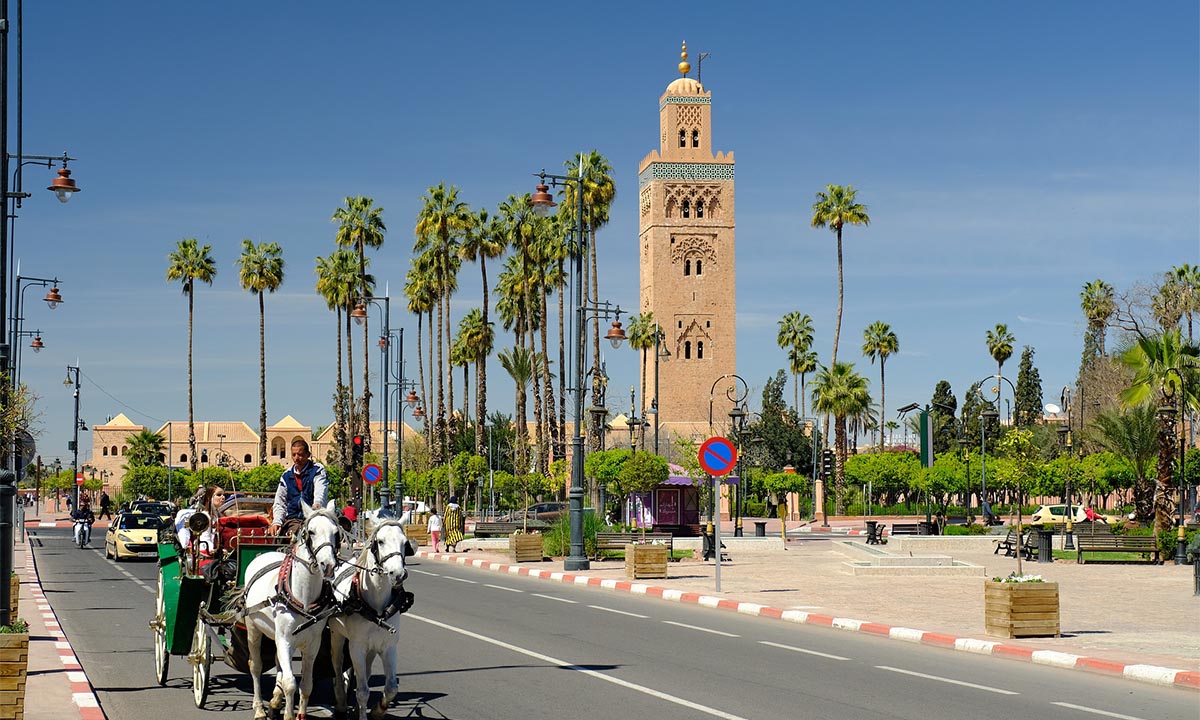 DAY 3
Out And About On The Marrakech Plain & Amongst The Jbilet Mountains
Your journey will take you across the very beautiful and carefully tended and cultivated rolling lowlands that lie to the north and east of Marrakech. Several villages will be visited and individual farms too.

As well as crop farming, livestock farming too will be seen. Everyone in the family takes a turn at tending the grazing needs of the family's sheep and goats. If visiting in the springtime you'll clearly appreciate just why the milk, butter and meat tastes so good - the meadow grasses and flowers are so abundant (e.g. red poppies).

Depending on the season, many interesting activities of rural life as it unfolds daily will be seen - sowing, harvesting, tending the plants and processing the produce. much is still done by hand with the aid of donkeys. Visits to "les artisanal", the skillful craftspeople (e.g. traditional metalworking) can also be incorporated.

Many stops will be made, to view, to photograph and, of course, to experience the wonderful hospitality of the people. Traditional refreshments and foods will be enjoyed (a feast for the eyes as well as the stomach!).

Eating a "second breakfast" (a traditional meal that fits the daily rural schedule of chores) is a delight; olives, butter, bread, eggs, mint tea, all ingredients most likely to have been grown within a few hundred metres of your table.

Lunch this can be either in a traditional farmer's home or as a picnic in a glorious location; again, the food will be traditional, tasty and very healthy.

For those who wish to stretch their legs a little bit more, then there are many gentle rambles to be enjoyed. Rising above the Marrakech Plain are outcrops of granite that from low hills and boulder fields. their shapes and landforms are very varied, offering intriguing little sorties to explore their hidden gems.

Overnight in Marrakech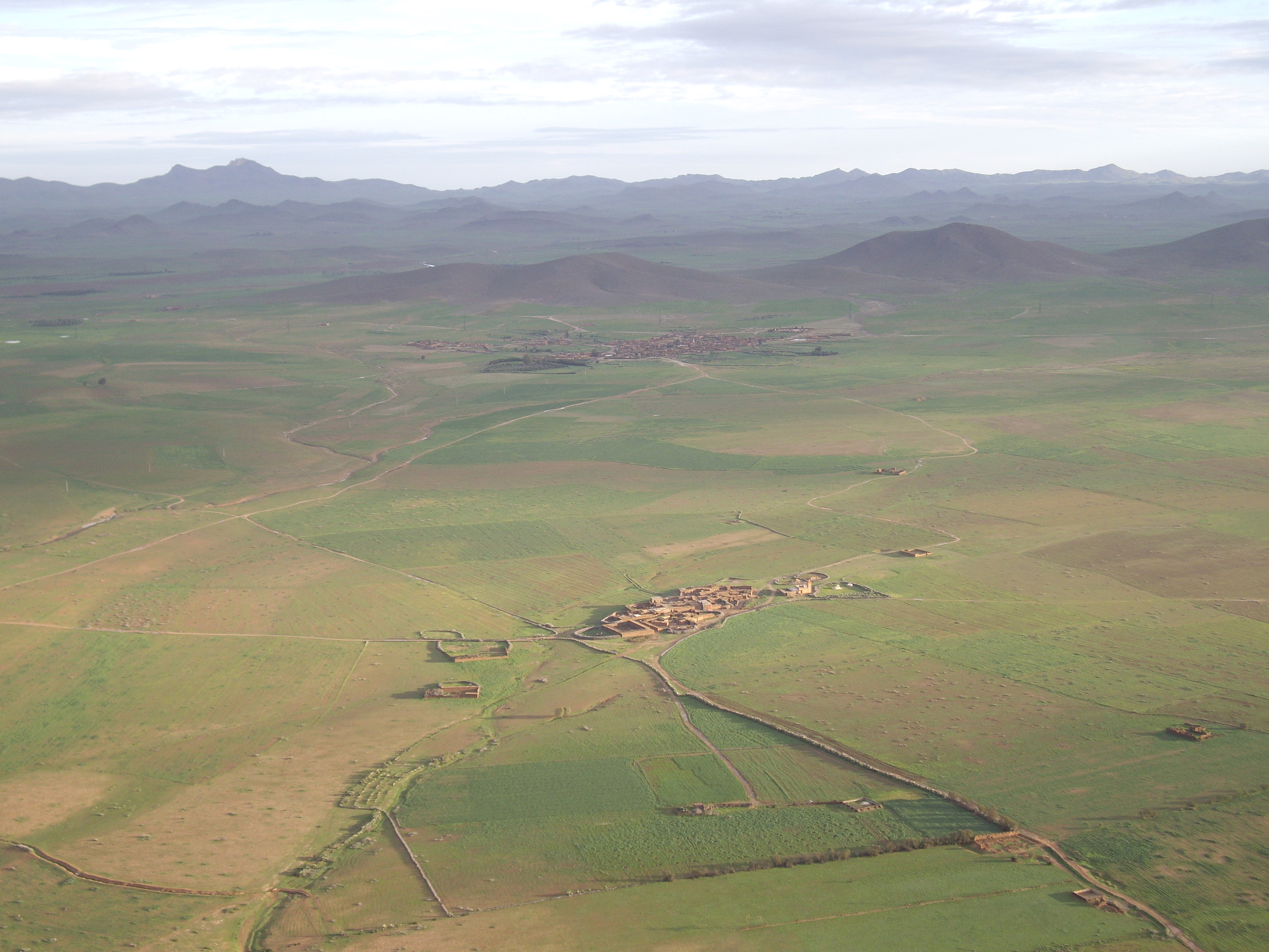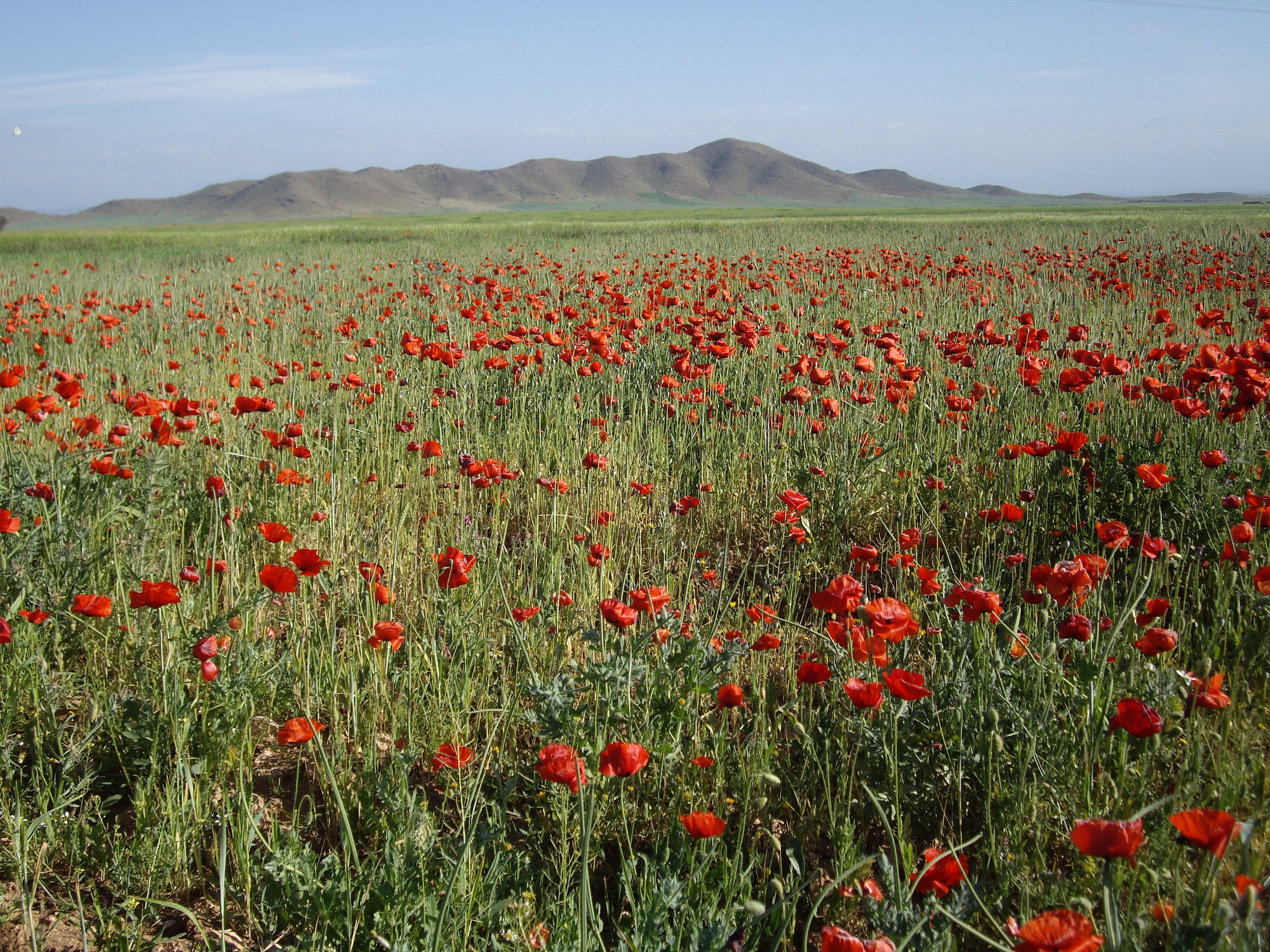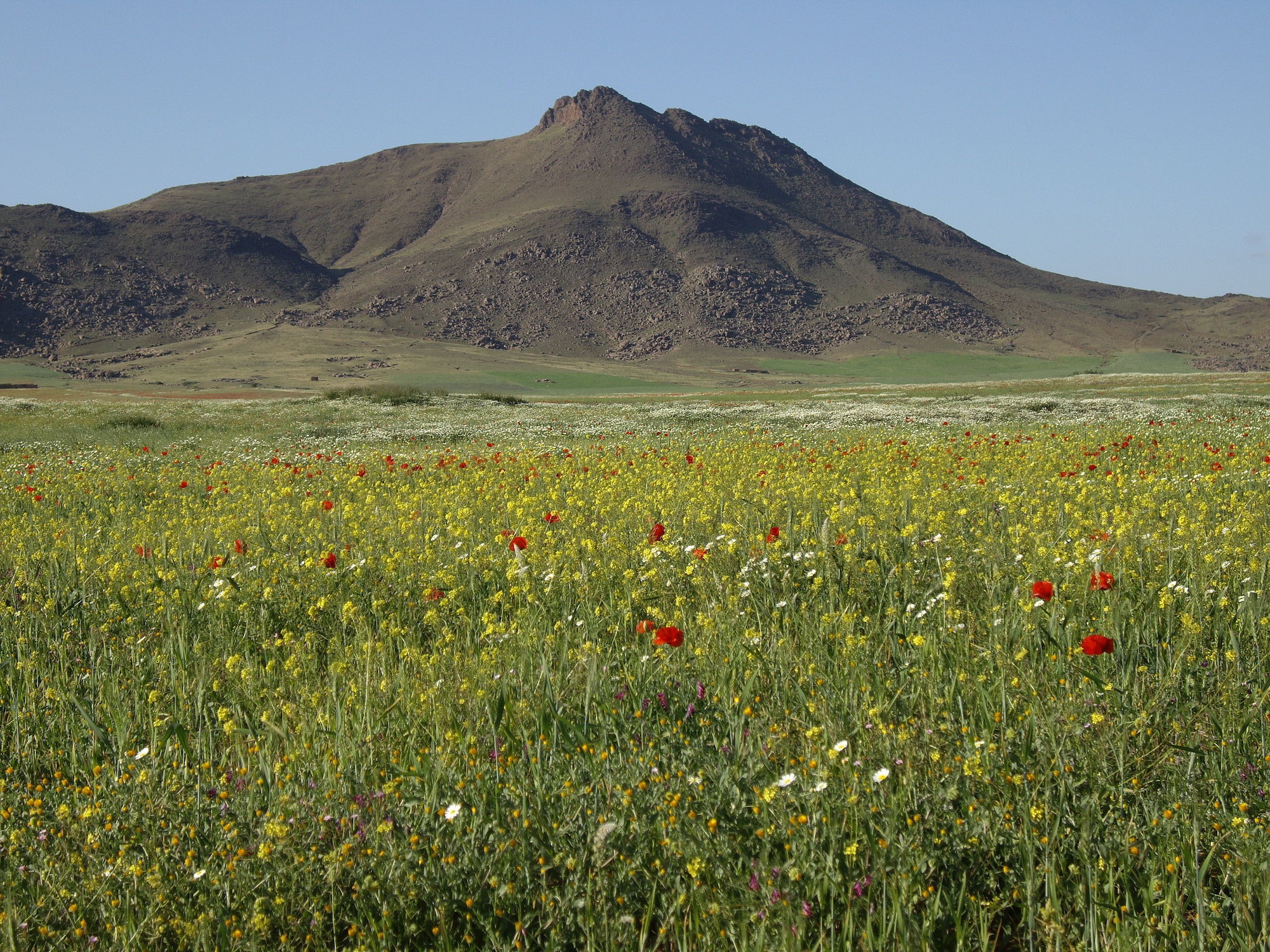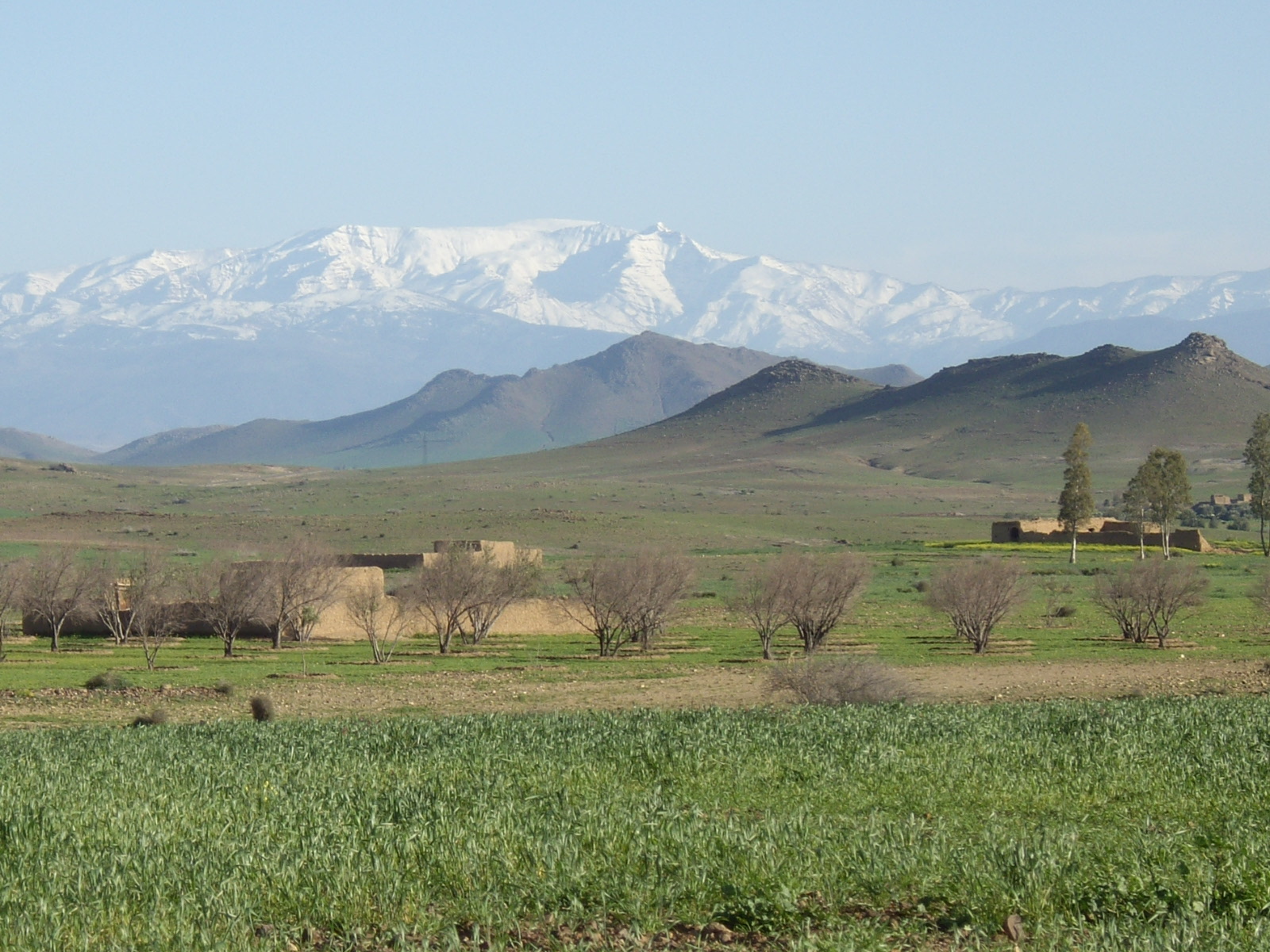 DAY 4
Magical Tour: The High Atlas and Azgour Valley
This tour will take you to the most wonderful off-the-beaten-track places and surround you in scenes that will make you feel that you have entered another world (mainly because you actually have!).

The Magical Tour takes you deep in to the High Atlas mountains, amongst remote Berber communities and landscapes.

Few outsiders travel here, adding to the mystery and the magic. Let's keep it our secret too; it is a very special journey !

You will partly travel on piste (unsurfaced) roads that lead to the remotest of places, the most magical of the magical places. We use comfortable 4x4 vehicles - but you may feel as if you are travelling on a magic carpet, such is the wonder and delight of it all.

The journey begins by first driving south across the Marrakech Plain. Soon the foothills of the High Atlas are entered and the first planned stop of the day is in Amizmiz.

Amizmiz is a small, lively, rural market town and service centre. Amizmiz serves the many surrounding farms where almonds, walnuts and olives are grown. Water is usually sufficient here and the intricate small-scale irrigation systems are seen.

The town itself has interesting shops and stalls and on market day (Tuesdays) it can be very busy as goods and gossip are exchanged.

On leaving Amizmiz, the tour heads ever higher and deeper in to the High Atlas. We head towards Azgour and travel long the Anogal Valley. Here there are walnut almond trees amongst the terraced fields of vegetables, barley and wheat.

Here the water cut river valleys are still wide and grand and expansive views are gained as we climb. Distant bare rock mountian tops, forested middle slopes and cultivated valley floors are great contrasts.

It is remarkable to see how the Berber people can live off this land, rocky land, steep land, high land. Many Berber villages are seen, some located in dramatic hilltop situations. Seasonal activities are captivating e.g. the barley harvest in late May/early June. Families, communities, are all pout-and-about, hand harvesting, often with our even the use of sickles.

Patient donkeys stand around, waiting, knowing that their contribution to the village's survival will soon come, taking the harvest back home to the farmstead.

Ascending higher and higher, the "bare bones" of the High Atlas geology are all around and so plain to see. Uplifted sedimentary rocks, in their varied tones, textures and types, are fascinating - how were they formed, how did they arrive here, how will they change further with time?

But it is the weathering of these rocks that have given the area its skeletal soils, soils that are just enough on which to survive (if you have Berber know-how).

As the High Atlas valleys tighten and steepen, many Berber villages are seen, naturally nestled into the landscape. In sheltered locations - these can be wild, windy, snowy places in the winter months - Berber villages are located to maximise on the positives of their geographical location.

Running on the narrow valley floors are life giving streams, their waters essential for both the irrigation of small plots of land used to grow vegetables, fruits and nuts as well as for domestic use and for animals.

Traditional Berber buildings are made from sun baked clay bricks along with stone. Often built close together, this offers valuable shade in the hot summer months.

On the rocky, bare uplands there is grazing for sheep and goats. Coming lower down a little are the golden fields of cereal crops, so essential for the baking of Berber bread (not only totally delicious but baked in a very special way in an area where firewood is either scare or difficult to gather).

Berber villages are located to be sheltered, avoiding the valley floor and its flood risk. The valley floor is also where the best land is to be found so this cannot be lost beneath buildings.

On the most fertile land, the area that has access to stream water to irrigate the small plots of vegetables, fruits and nuts. It is startling just how productive this land is, considering the location and level of technology available here.

The tour continues to the Berber village of Adaghas (2,000 m). There we have lunch in a cosy, traditional auberge. The view is outstanding from here with many high Atlas peaks to be seen, including Toubkal, the highest peak of the High Atlas (4,167m).

After lunch this magical, sinuous tour continues! We head towards Imi-n-dounit village, passing many villages on the way and eventually arriving in Imi-n-dounit in mid afternoon. Depending on the season, many activities will be seen. Perhaps it will be the land being prepared and cultivated in October or the barley harvest taking place in May when busy Berber families (and patient donkeys) cut the brittle stalks by hand, gathering another's year's essential crop, a scene many centuries old.

Imi-n-dounit really is the end of the road! From here an easy, short little walk takes us down to a river's edge and there we see it, the "Mouth of the Earth", a steep sided, water cut gorge. Magical? It most certainly is. Using steppingstones and simple "bridges" we can pass though this gorge and enter an area of awesome tranquillity. Where is Marrakech now, its clamour and noise? This is a place to sit and to take in the beauty of nature.

Overnight in Marrakech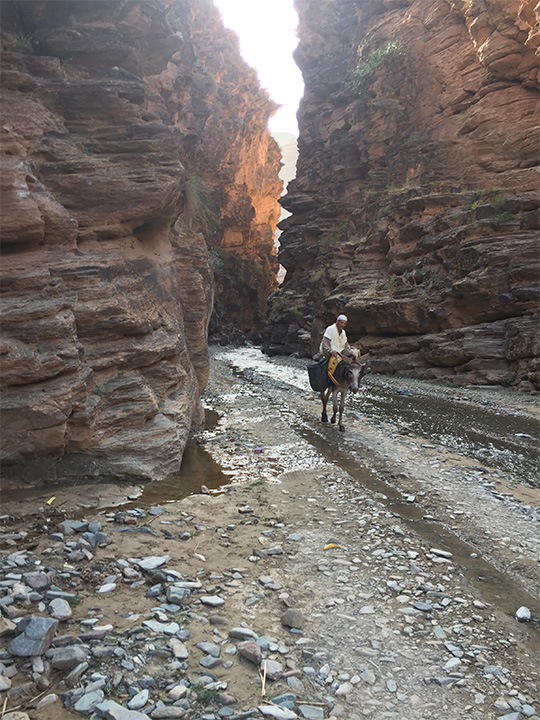 DAY 5
Departure from Marrakech
Depending on your flight time, there may be the opportunity to enjoy more of Marrakech before your transfer to Marrakech Menara Airport. When ready, your driver will transfer you to the airport.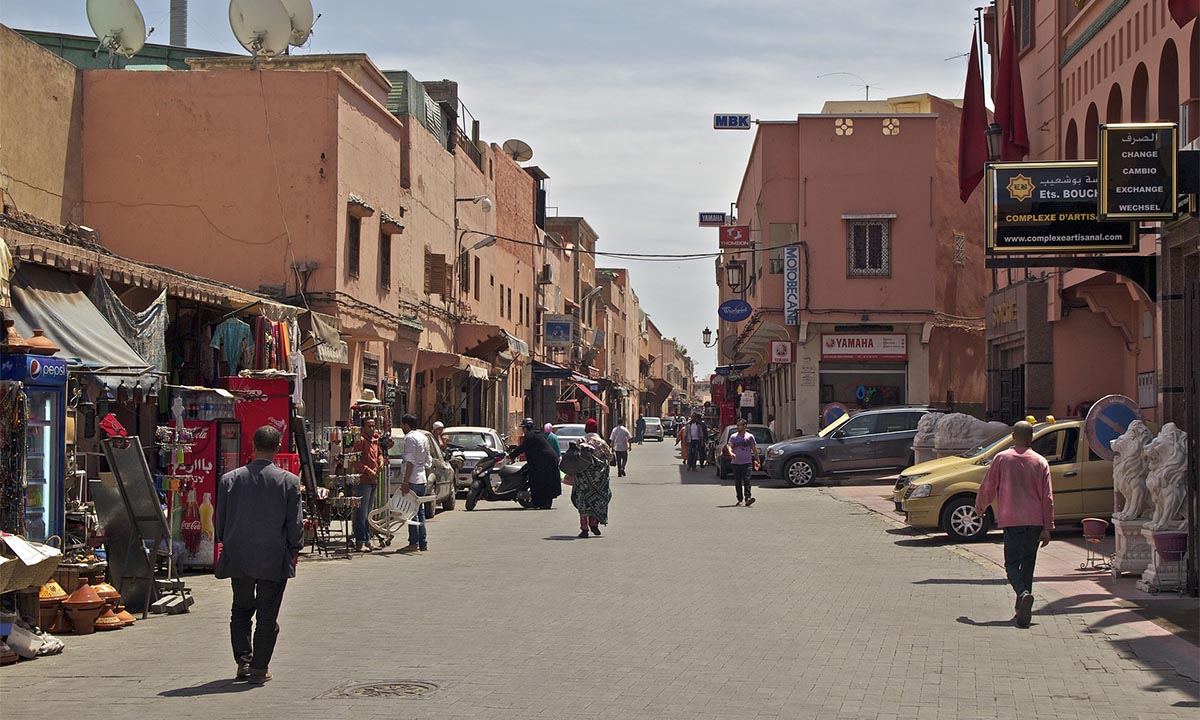 WHAT ATS OFFERS
what ats offers:
Airport transfers to/from your Marrakech accommodation on arrival and departure days;
All Moroccan ground transportation in private 4x4 vehicle with driver to cover the itinerary as described; your driver will be English speaking and as well as being you driver, he will assist with all practical and logistical aspects of your tour as well as bieng able to impart information as you travel;
4 x nights of a 4* accommodation on half board basis (dinner, bed and breakfast) in Marrakech;
2 x Lunches per person (Days 3 and 4 inclusive);
A Marrakech City Guide for a half day;
WHAT ATS DOES NOT INCLUDE
Exclusions
Flights/Ferries;
Personal Insurance;
Personal spending;
Lunches on Days 1, 2 & 5;
All other items not mentioned in the INCLUDES list;
PRICE
5 DAY TOUR: MARRAKECH … IN, OUT & ROUNDABOUT! (all taxes incl)
Total for 2 persons: 12120 MAD (1212 EURO)
Total for 4 persons: 18840 MAD (1884 EURO)​
Total for 8 persons: 35880 MAD (3588 EURO)
For other group sizes please enquire