Tour Overview
Highlights:
The Bracing Atlantic Coast;
Casablanca's Hassan II Mosque, Old Medina and Habous;
The Rif Mountains, their Peaks, Valleys and Forests;
The calm ambience of Chefchaouen, the Blue City;
Frantic Fes, its Architecture, History, Medina and Tanneries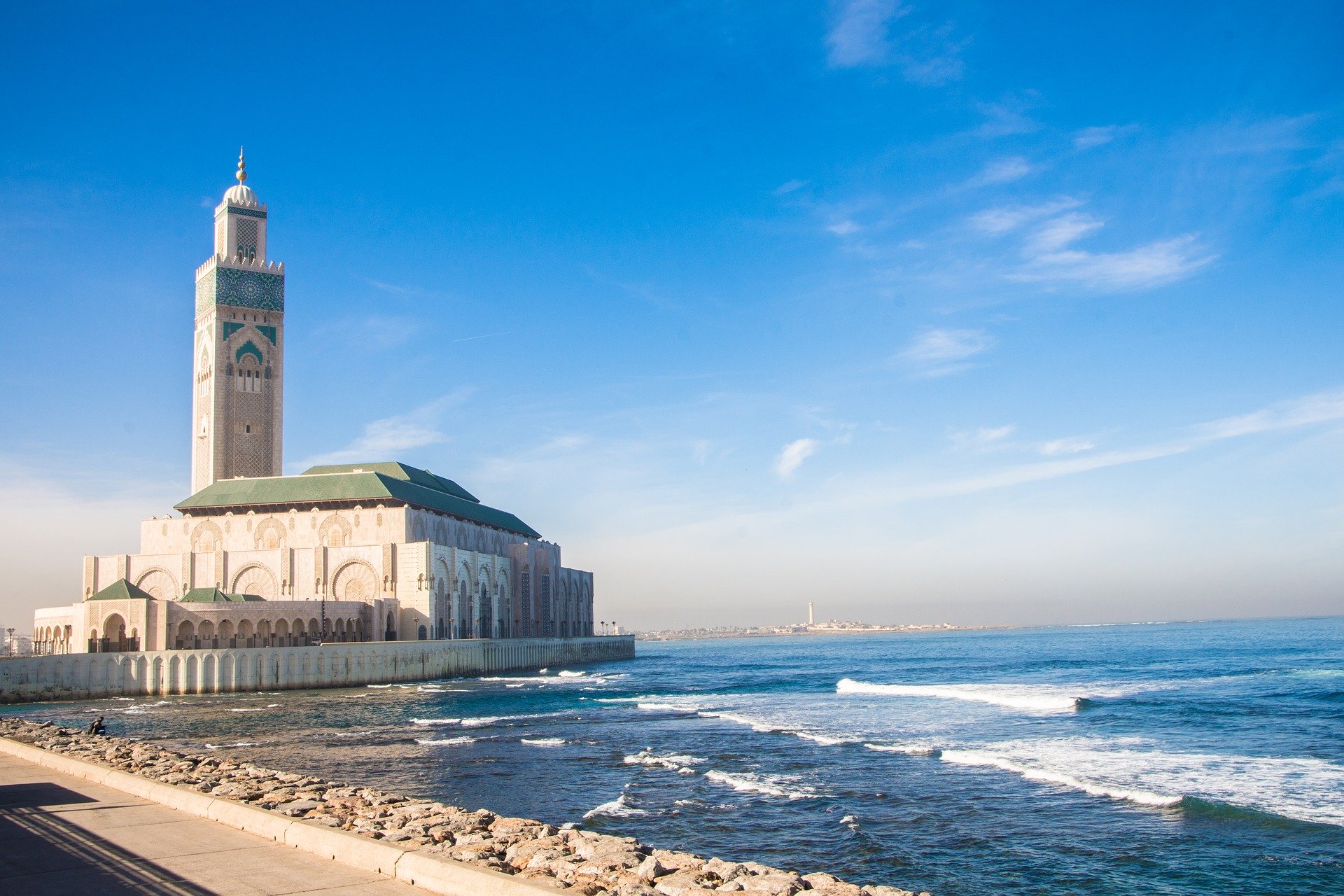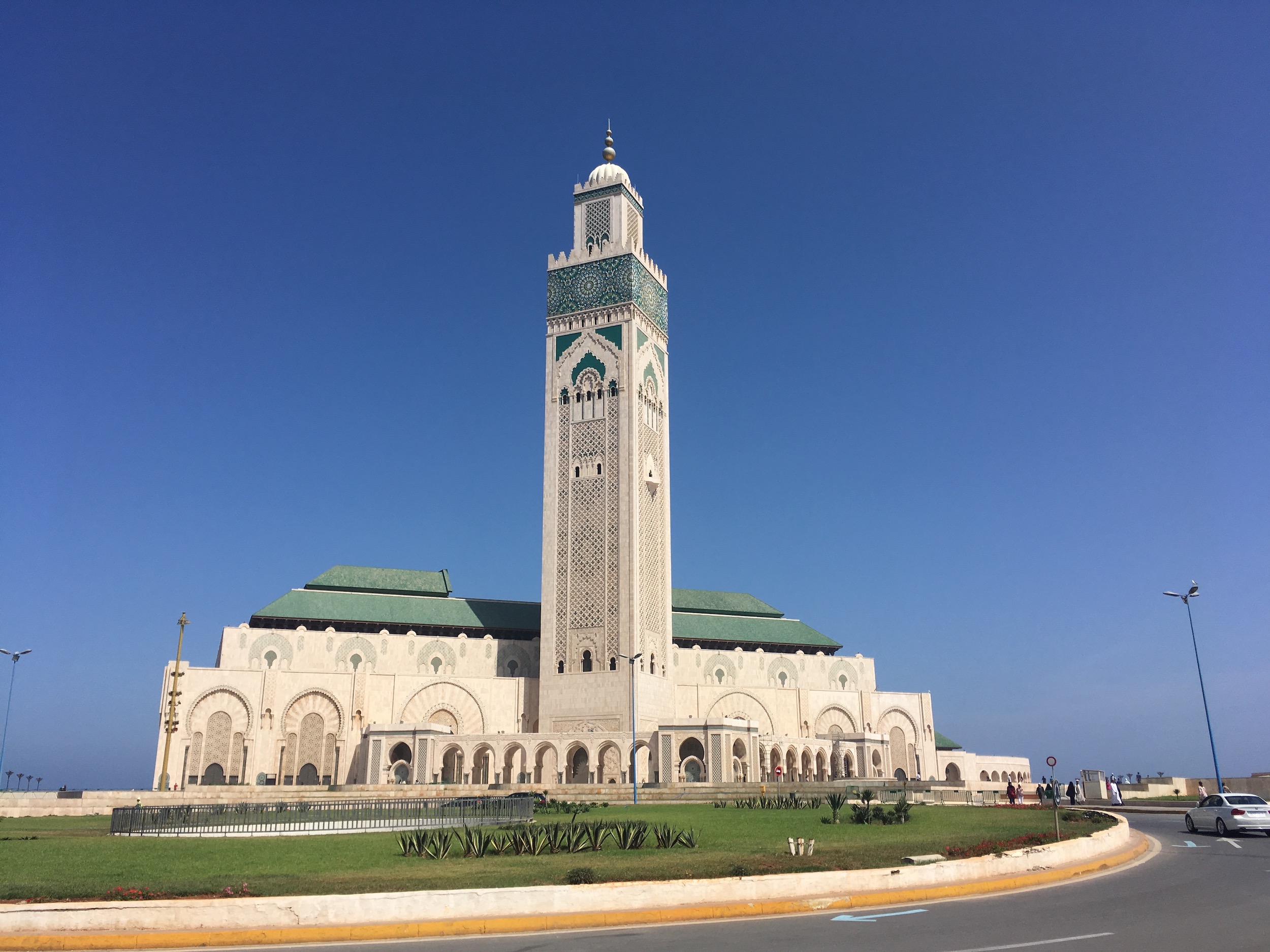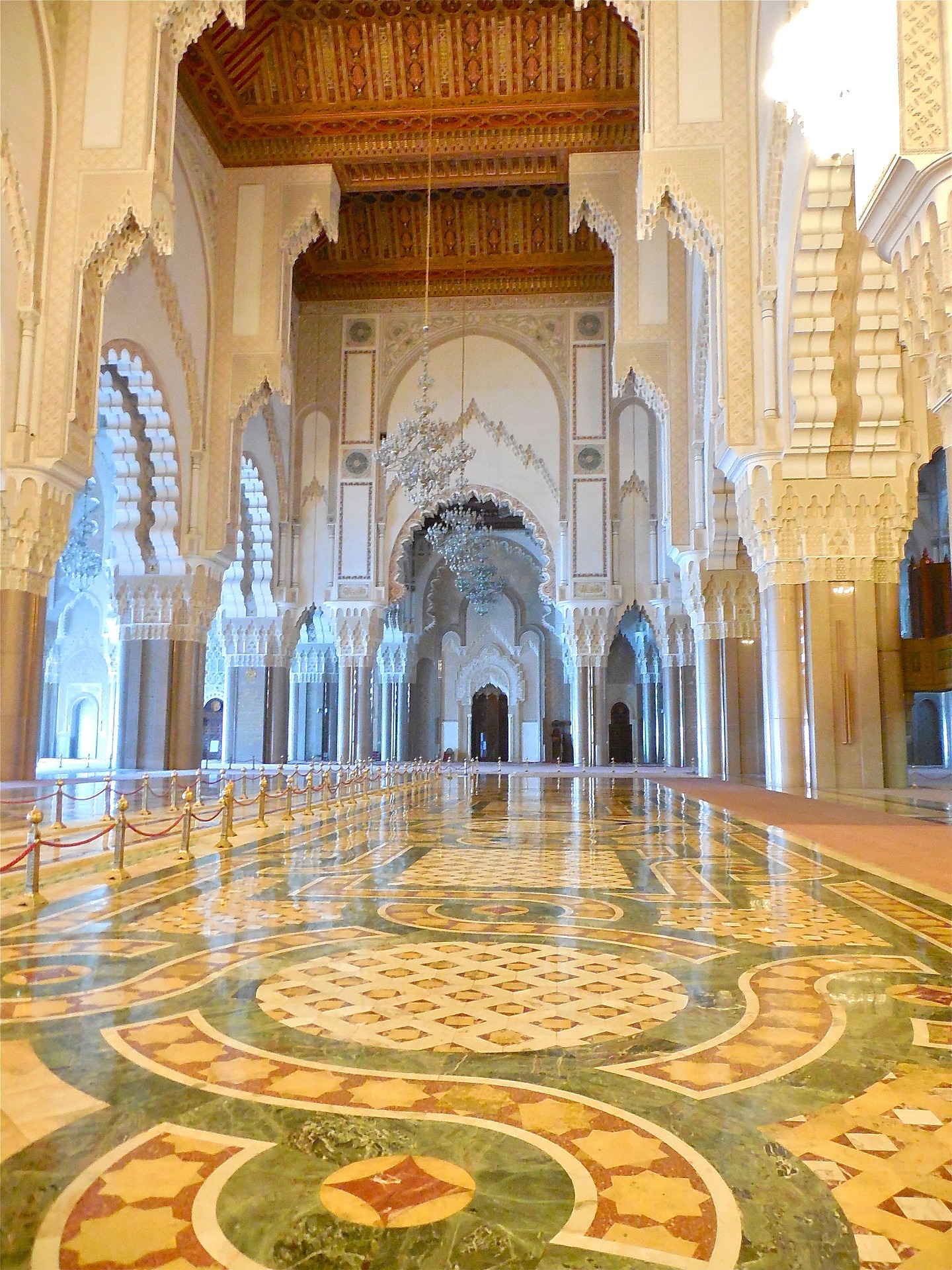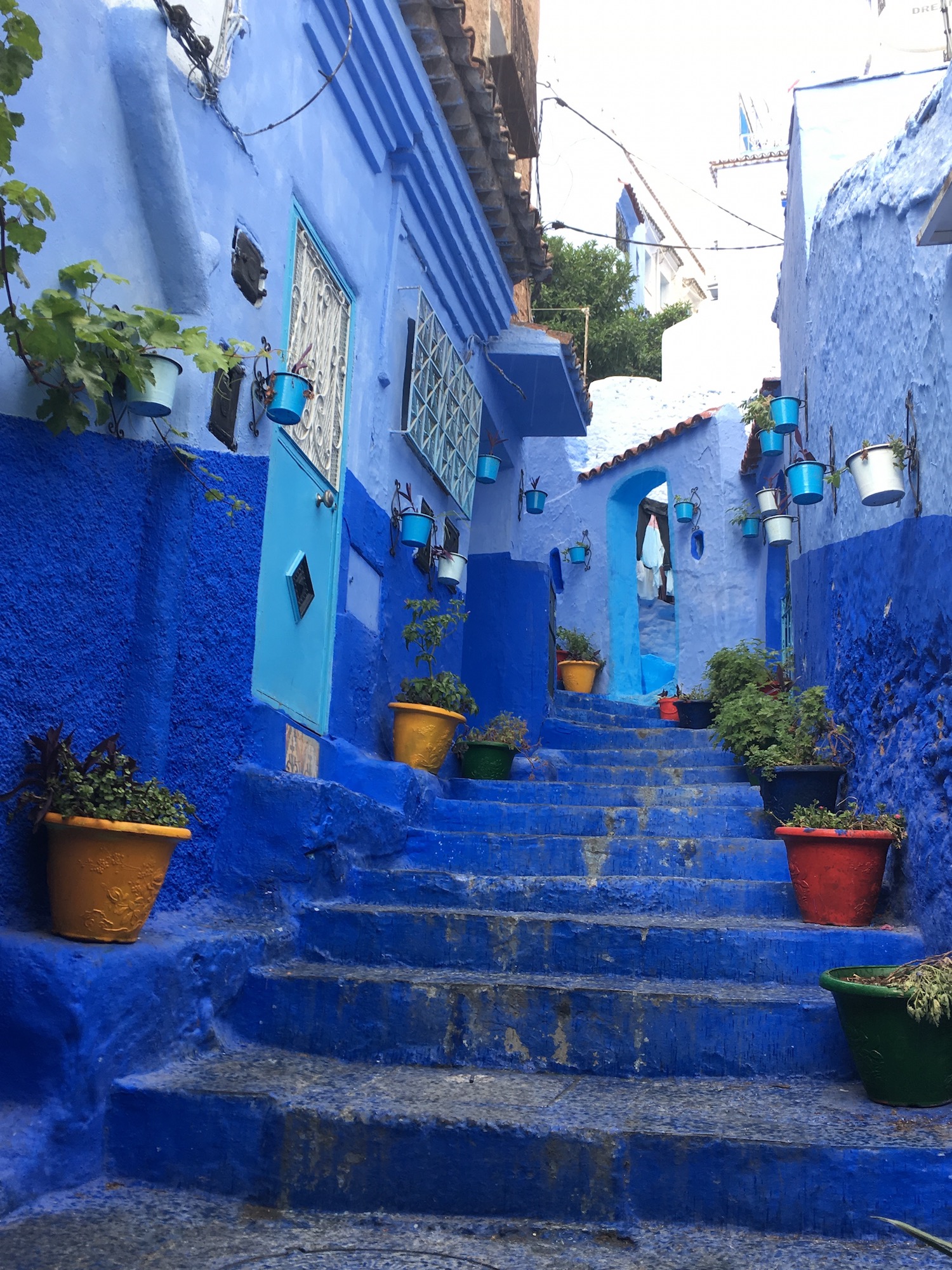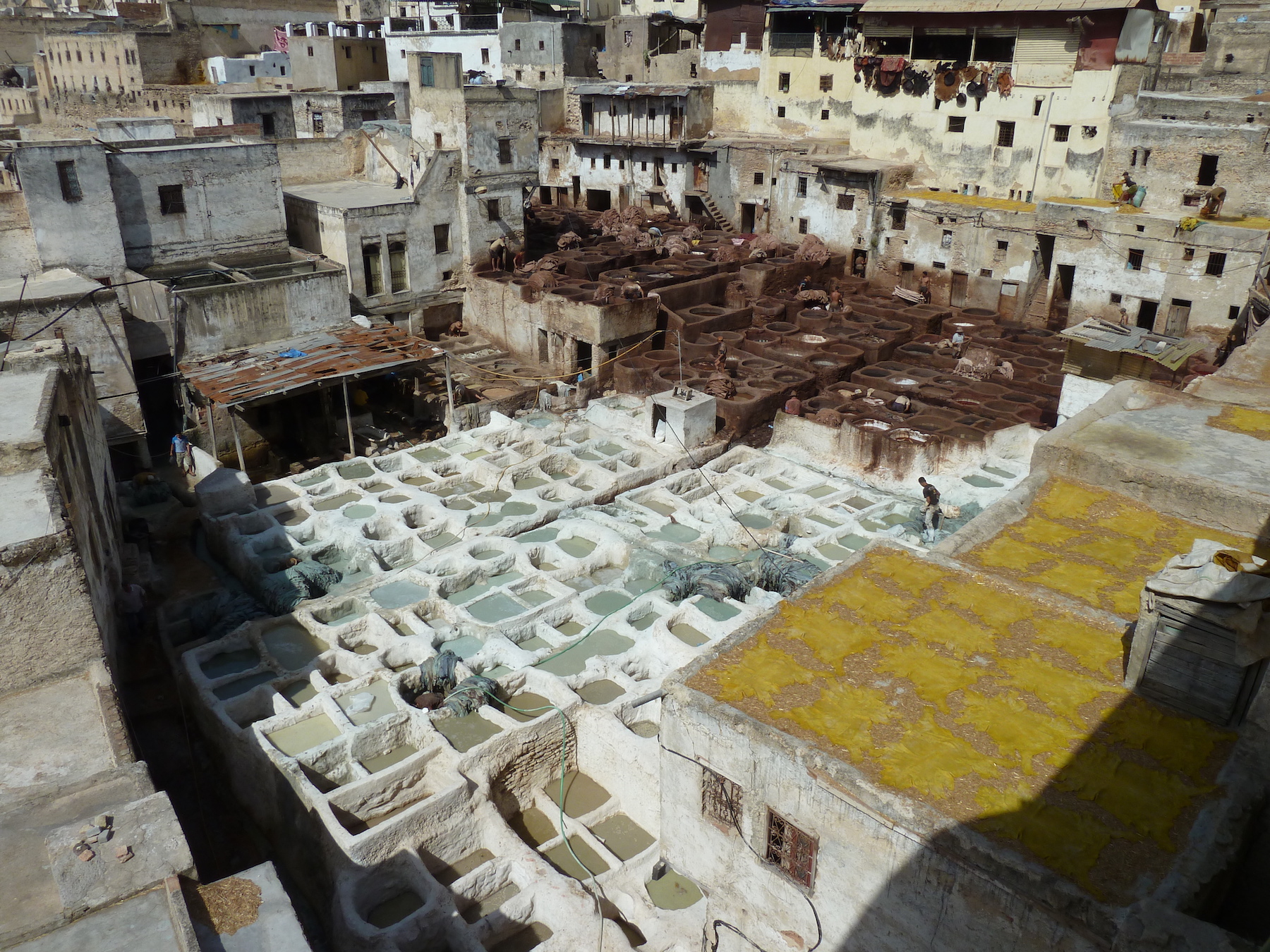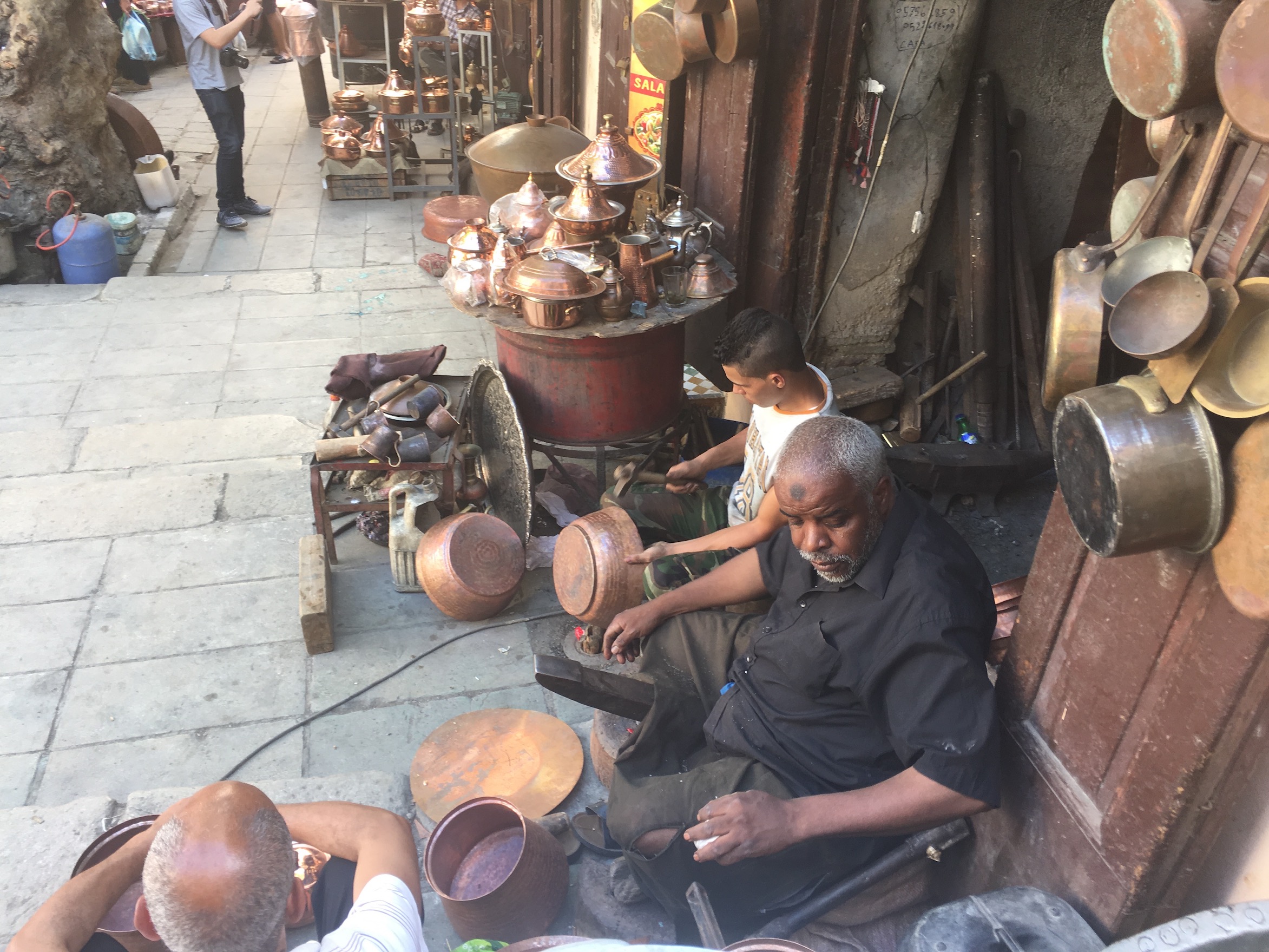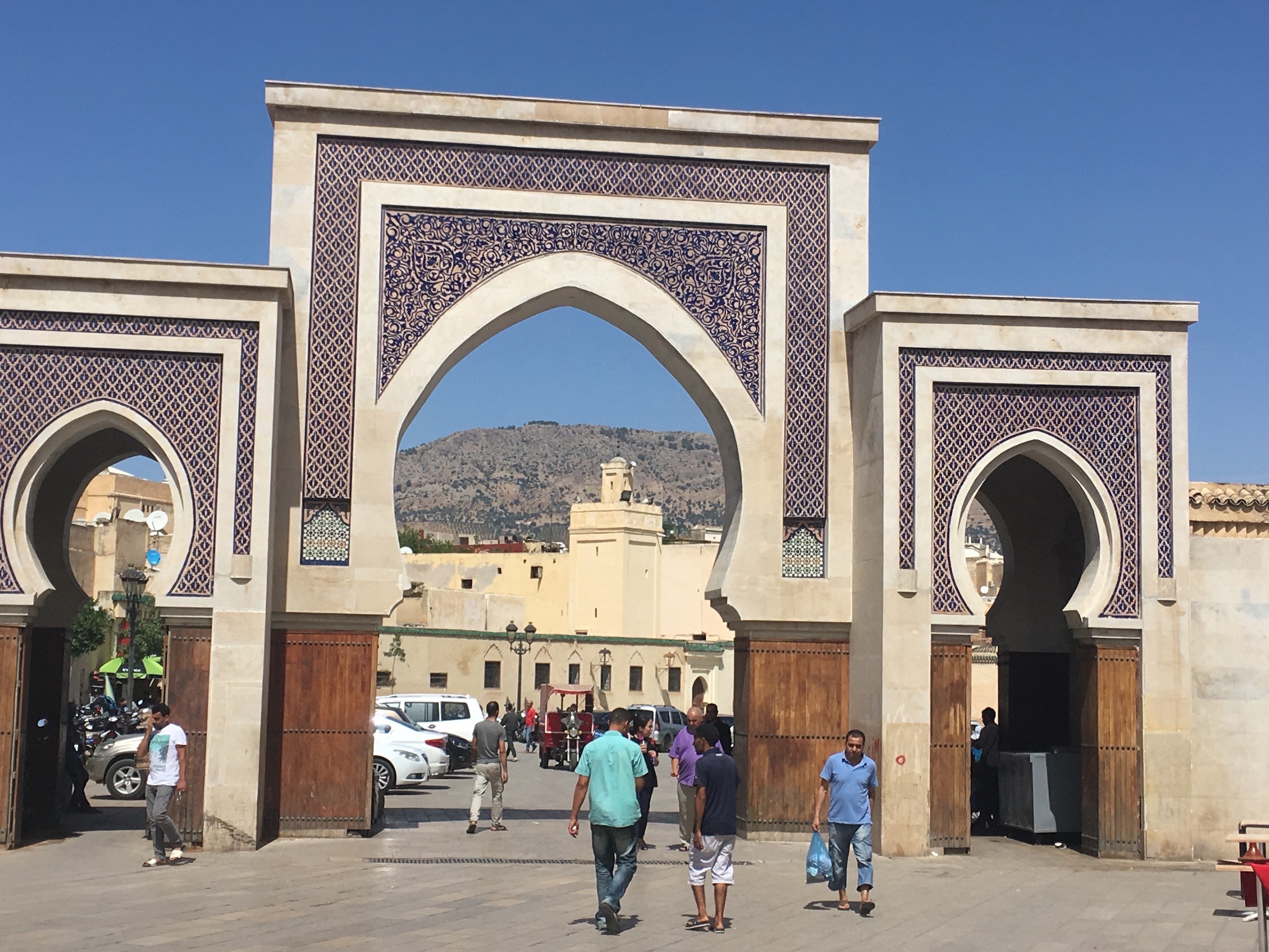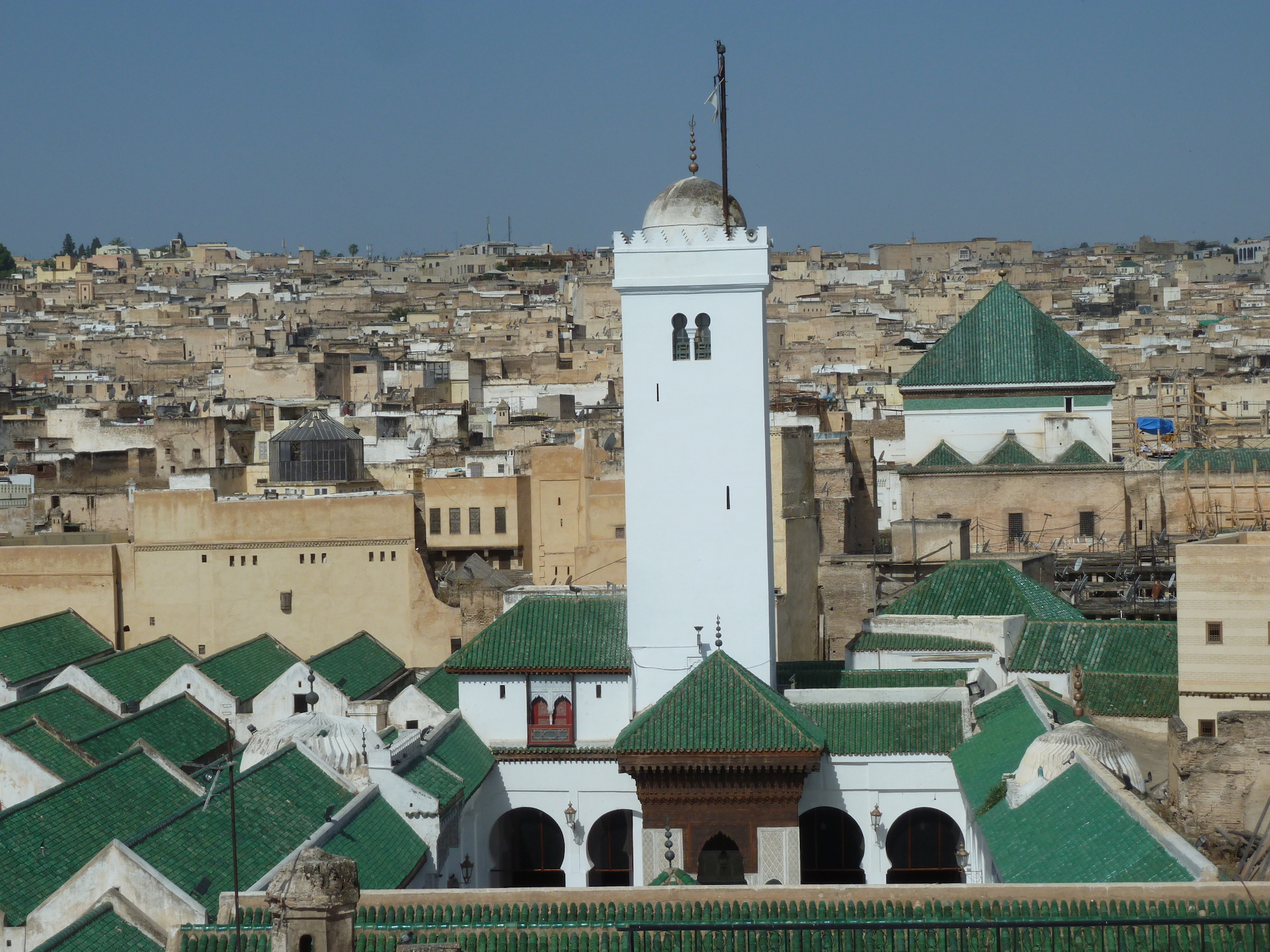 INTRODUCTION
This "compact" 5 day tour is ideal for those travelers who are wishing to "tip their toes" in to Northern Morocco for a varied taste of some highlights that this area.

The tour offers a super combination of Atlantic Coast, high mountains, rich forests, the Blue City of Chefchaouen and the Imperial Cities of Casablanca and Fes.

On arrival into Casablanca, your driver and private transport will transfer you to your Casablanca accommodation for night one.

Then, taking a thrilling countryside journey, through the mighty Rif Mountains, passing close to the city of Tetouan you travel on to the "Blue City" of Chefchaouen.

Chefchaouen is a delightful, small, hillside settlement where much can be easily explored on foot. Narrow streets and alleyways, often cobbled, hide hidden gems of experience, all very colourful and most photogenic. You are based in Chefchaouen for 1 night.

Your tour's climax is the Imperial City of Fes. It is a quite remarkable old capital city with much to savour and enjoy. Fes has a captivating intensity of activity in and around the old medina in great contrast to that of Chefchaouen's easy ambience. You are based in Fes for 2 nights.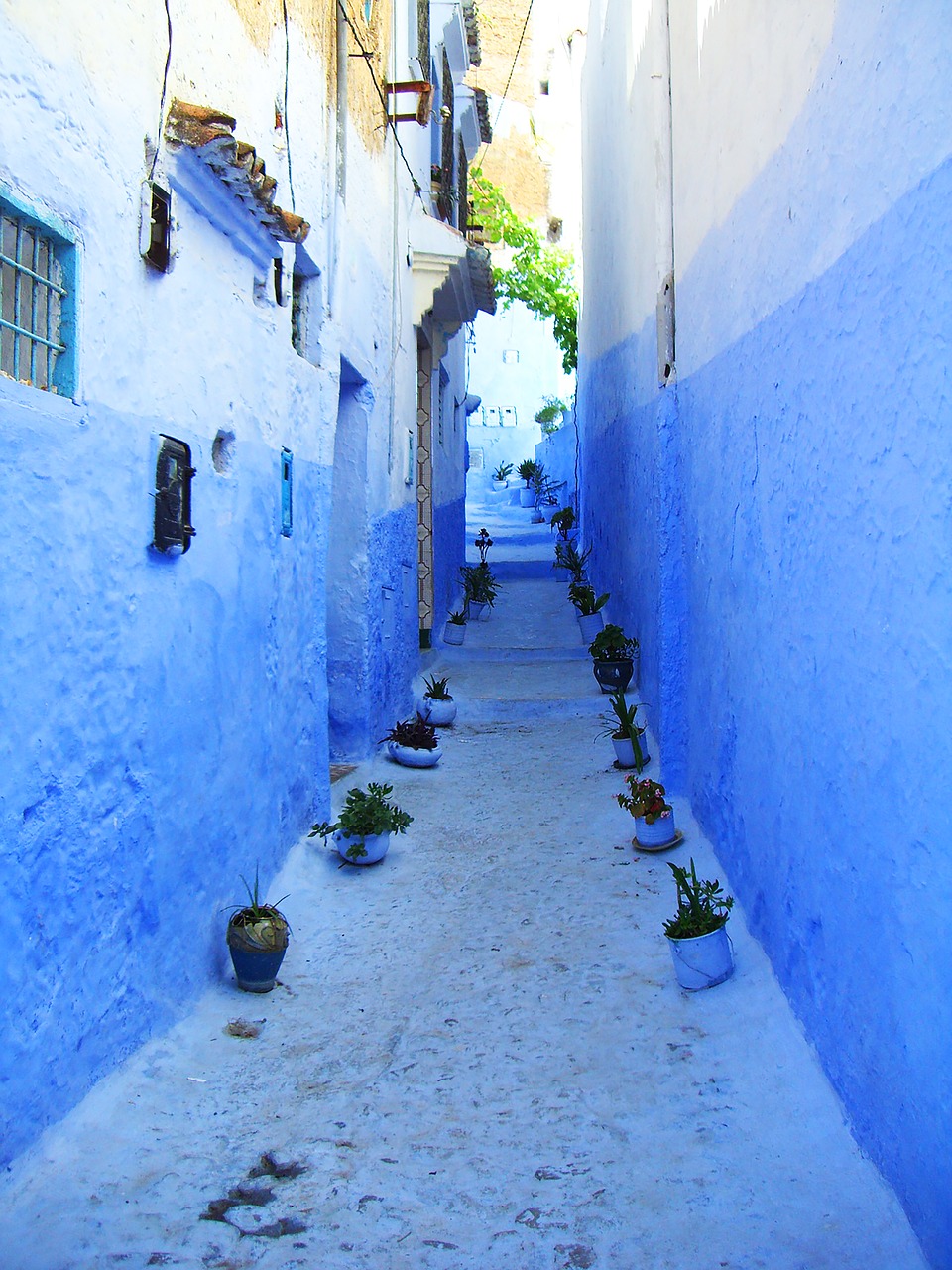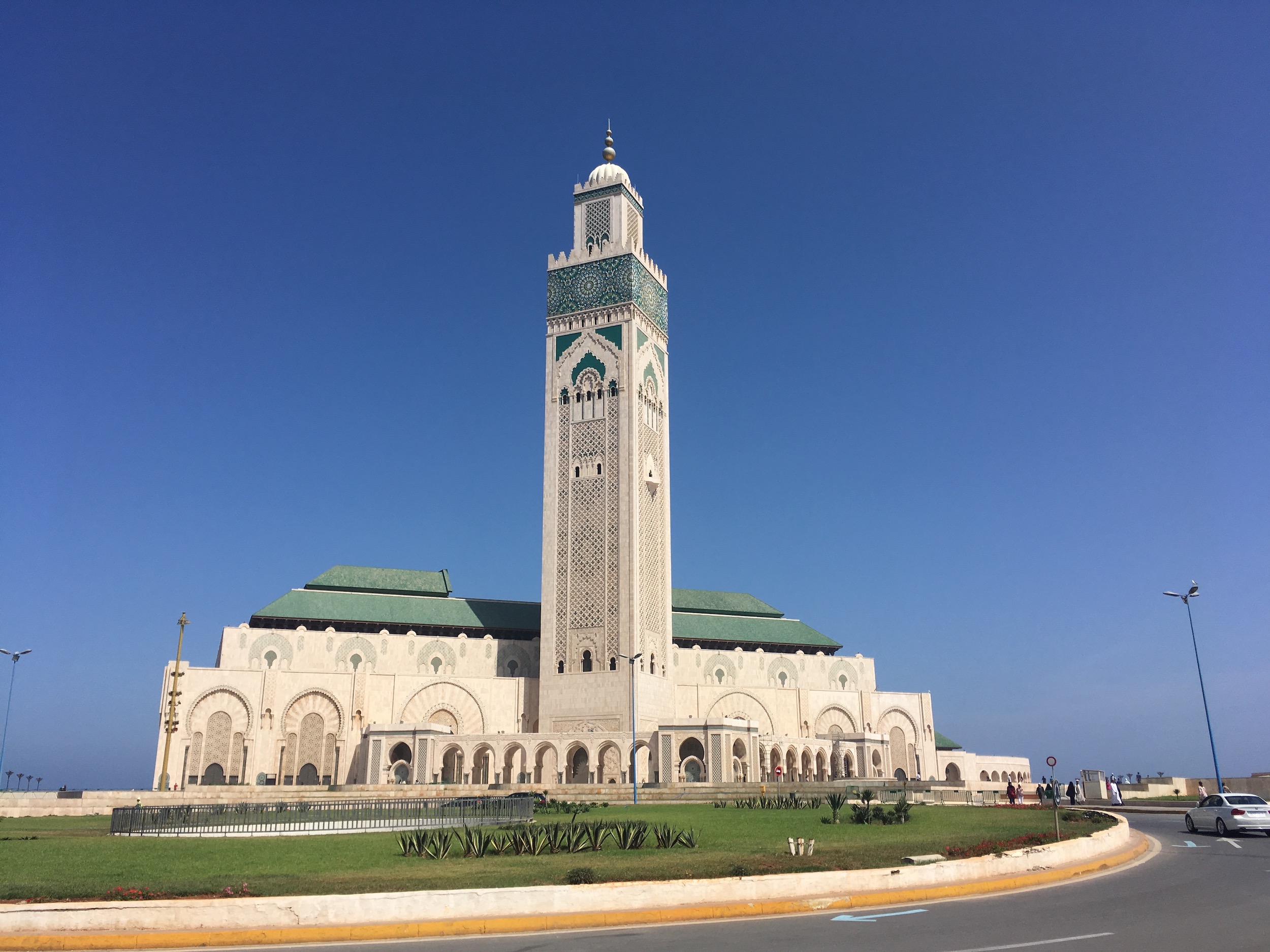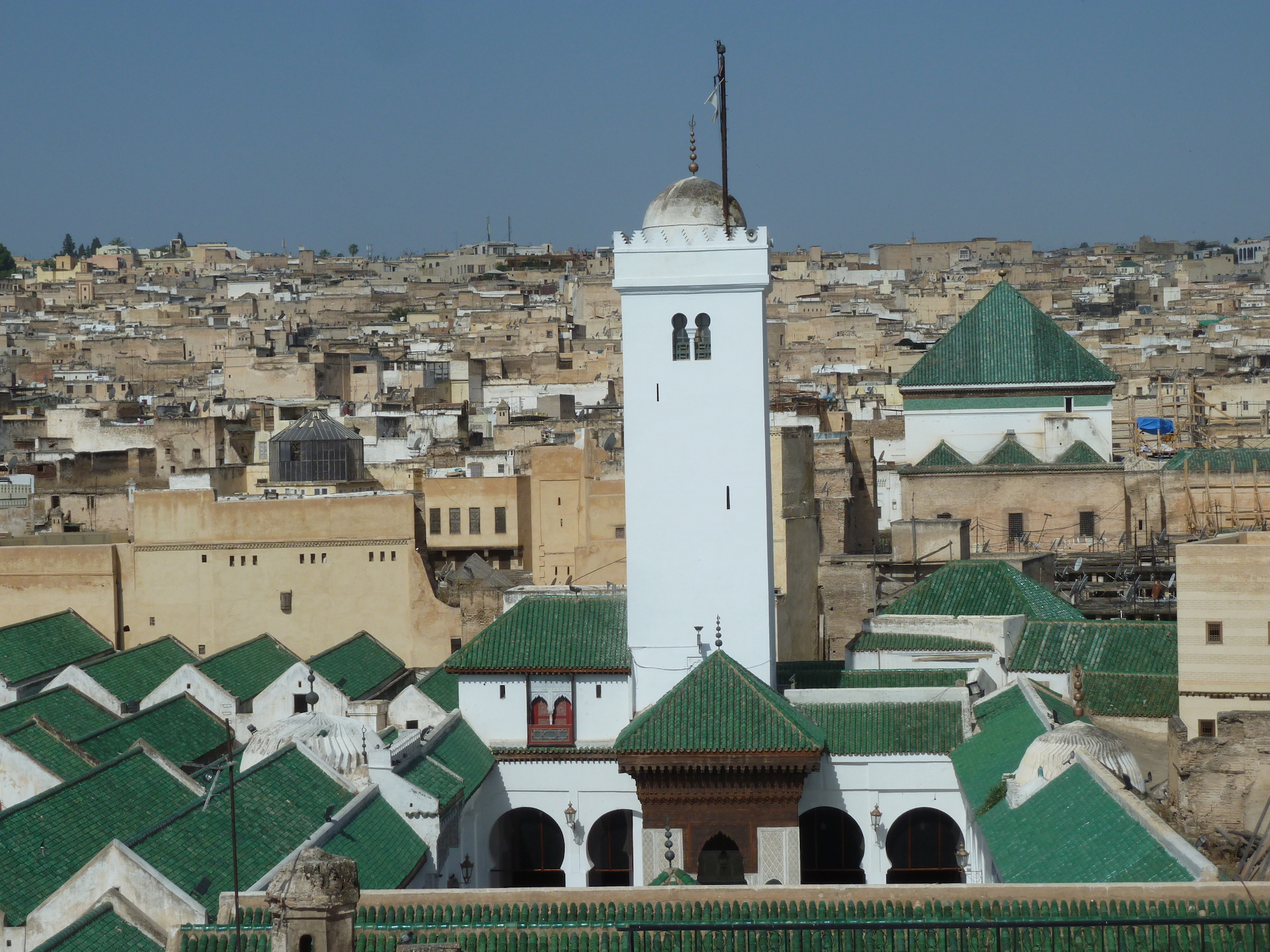 DAY 1
Arrival to Casablanca
Your private driver will collect you at the airport to transfer you to your accommodation. He will have a sign with your name; look out for it once you enter the airport's arrivals area.

Depending on your flight arrival time, you may have some informal free time to spend in the city, perhaps choosing to explore La Corniche boulevard that runs the length of the Casablanca coastline. The promenade offers a great view of the Hassan II Mosque.

As well as the beach, there are many cafés in which to relax and from which to watch the world go by and enjoy the refreshing, ozone laden sea breeze.

Overnight in Casablanca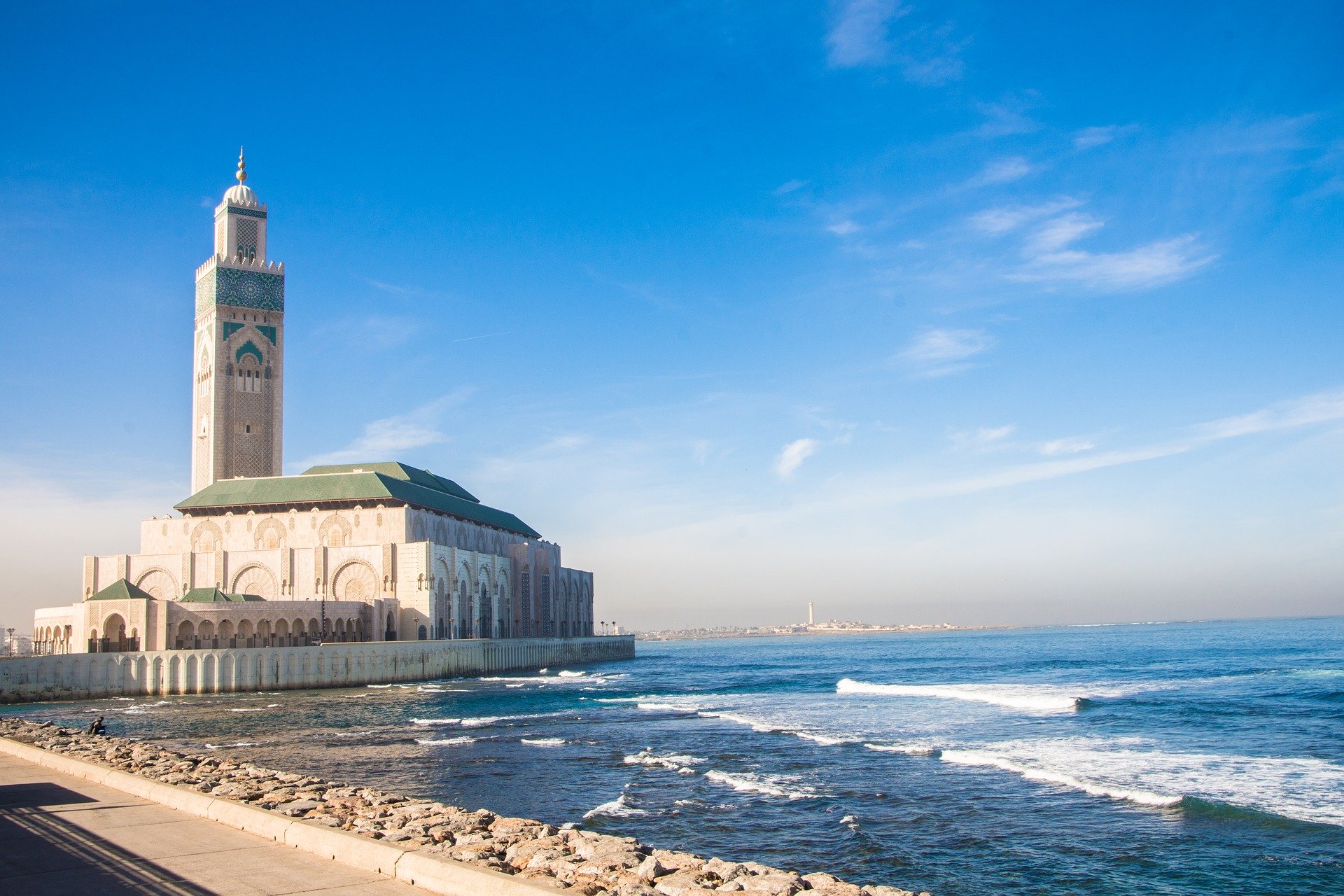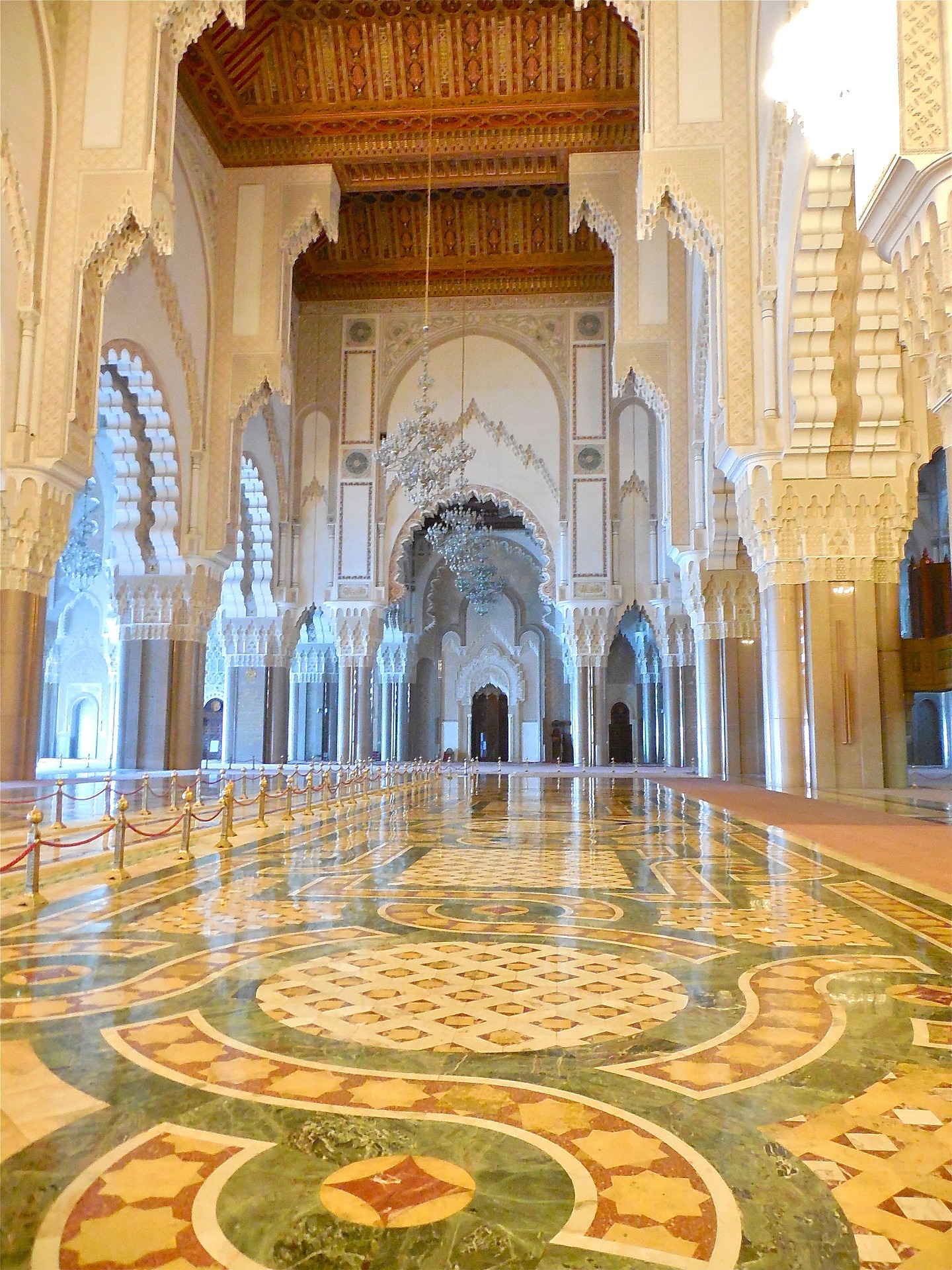 DAY 2
Casablanca to Chefchaouen
In the morning some time is spent in Casablanca.

Hassan II Mosque is most impressive with its 200-metre high minaret tower and its lavish interior with wood, marble, carved stone and gilded ceilings. Its minaret is topped with a laser, which points to Mecca, the birthplace of the prophet Muhammed; t is the tallest minaret in the world. So large is this mosque that over 100,000 people can worship at one time.

You can also visit the Old City Medina as well as the more modern Habous, built by the French in the 1930's and a good place to find fine crafts. The Habous is most pleasing blend of French and Moroccan architecture with its winding streets.

You may wish to take lunch in the famous Rick's Café (optional; not included in the price). Rick's creates the legendary film "Casablanca" and has a cool interior ambience.

Either in late morning or in early afternoon, you will travel away from the coast and head inland. Your travels take you into the dramatic Rif Mountains. High in the mountains with their many deep, water cut valleys, the journey is exciting, heading ever more into "real" Morocco. Viewing stops can be made as and when requested.

In late afternoon/early evening you arrive into the Blue City of Chefchaouen, so called because of the extensive use of blue paint on walls, doors and windows. This is a most attractive hillside settlement and is a very relaxed and peaceful place to enjoy.

Overnight in Chefchaouen.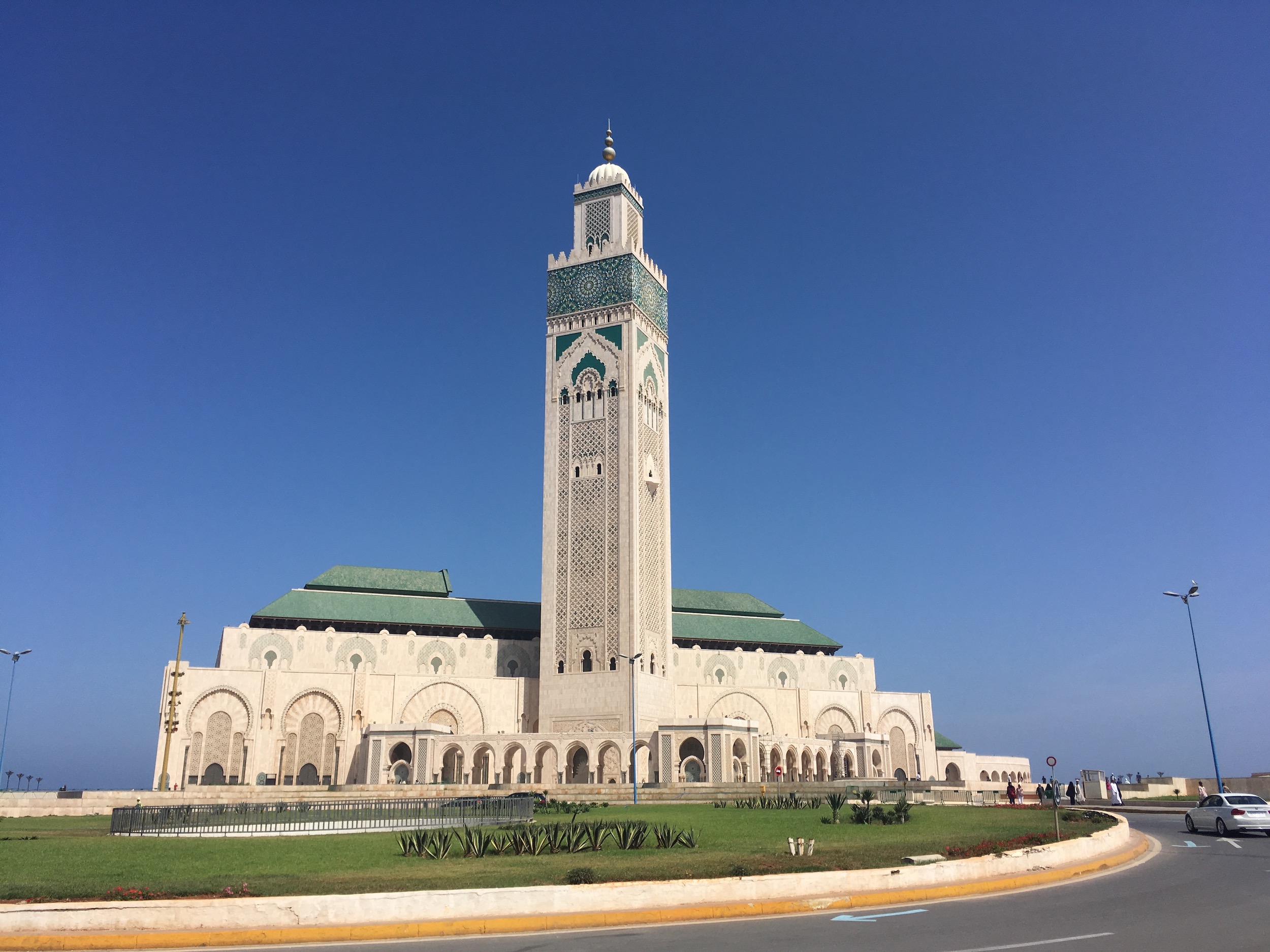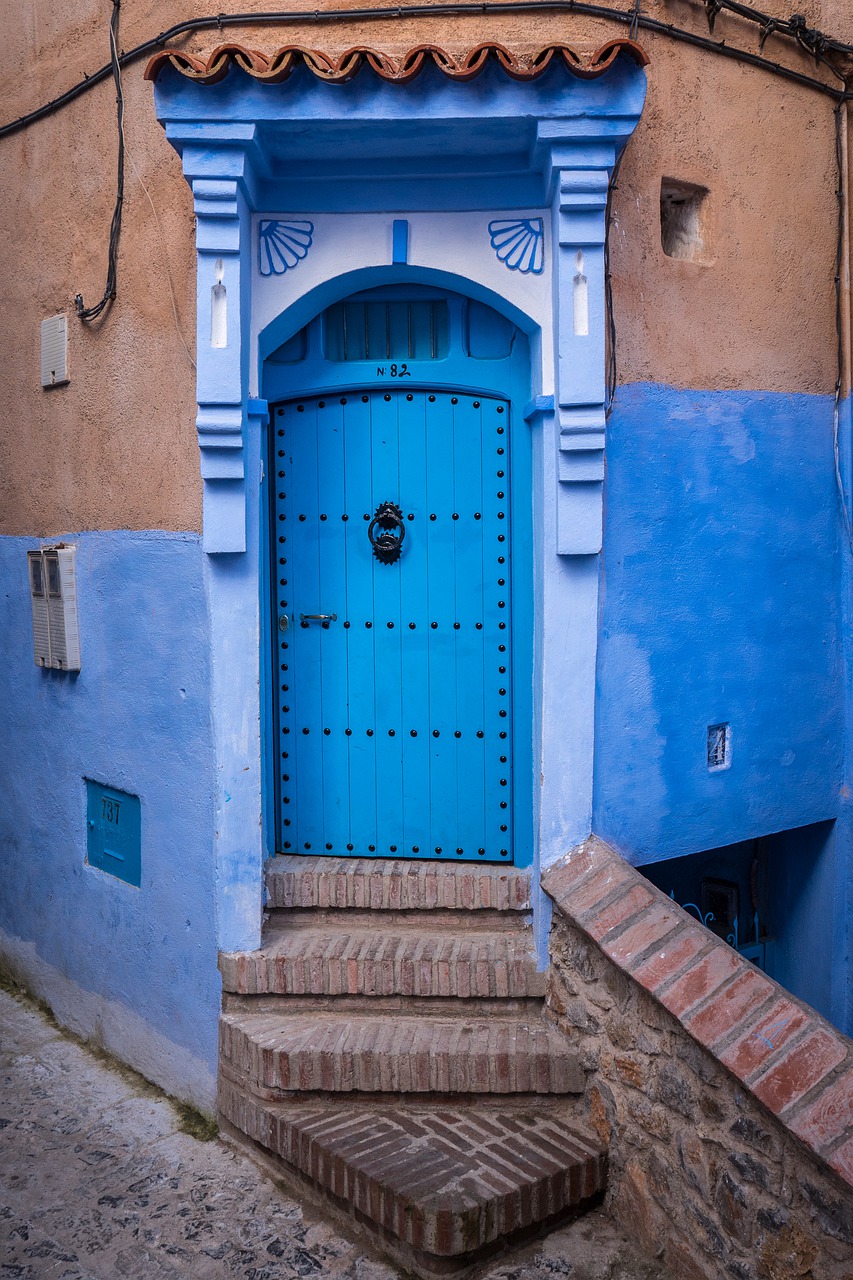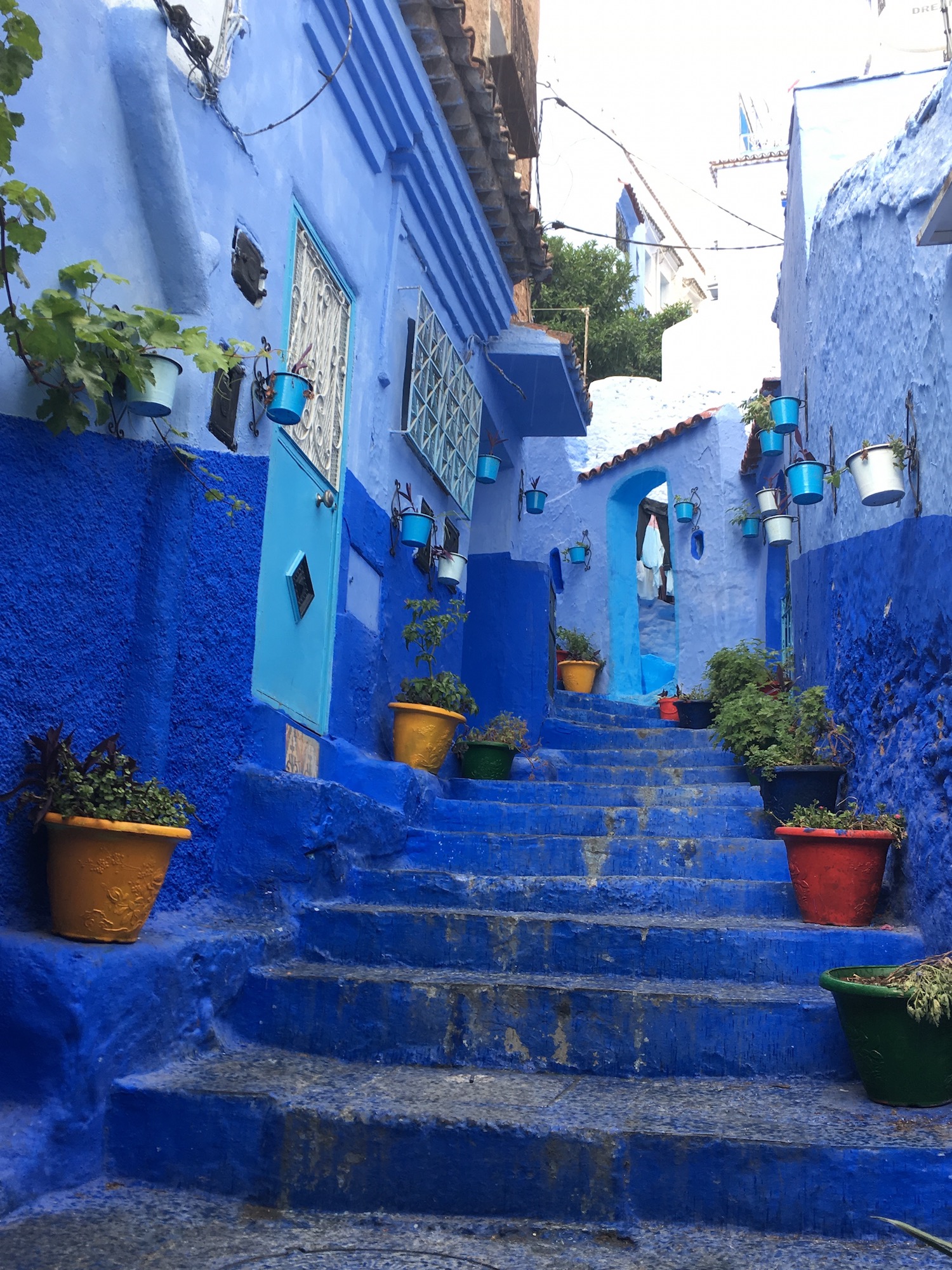 DAY 3
Chefchaouen to Fes
Chefchaouen is ideal for relaxing and "just wandering" wandering, taking in its wonderful laid-back ambience.

This small city is totally charming. Nestling as it does in the Rif mountains, its name is apt, meaning, "peaks"; they are all around this hillside settlement.

Blue paint absolutely dominates this city; almost every doorway, wall, path and house is painted blue! House doors are often metal studded and many houses have red-tiled roofs and ornate metalwork.

Place Uta el Hammam is the old centre of the town with a grand fountain. Here the old, bustling medina has many charming, winding alleyways. Local crafts to seek out are leather, woodwork and cloth. It is an exotic place in which to happily lose some time (and perhaps lose yourself, temporarily!).

There is no need for a Guide on this day. Exploring and encountering on your own is an ideal way to pass many very pleasant hours here.

In late morning/early afternoon, it is time to move on. Having been in the Rif Mountains, the journey to Fes now takes you towards the Moyen Atlas Mountains. Landscapes are wonderful and captivating; all around is interest.

Be sure to ask your driver many questions en-route about what you are seeing or what you want to know about Morocco; he will be a fountain of knowledge.

Overnight in Fes.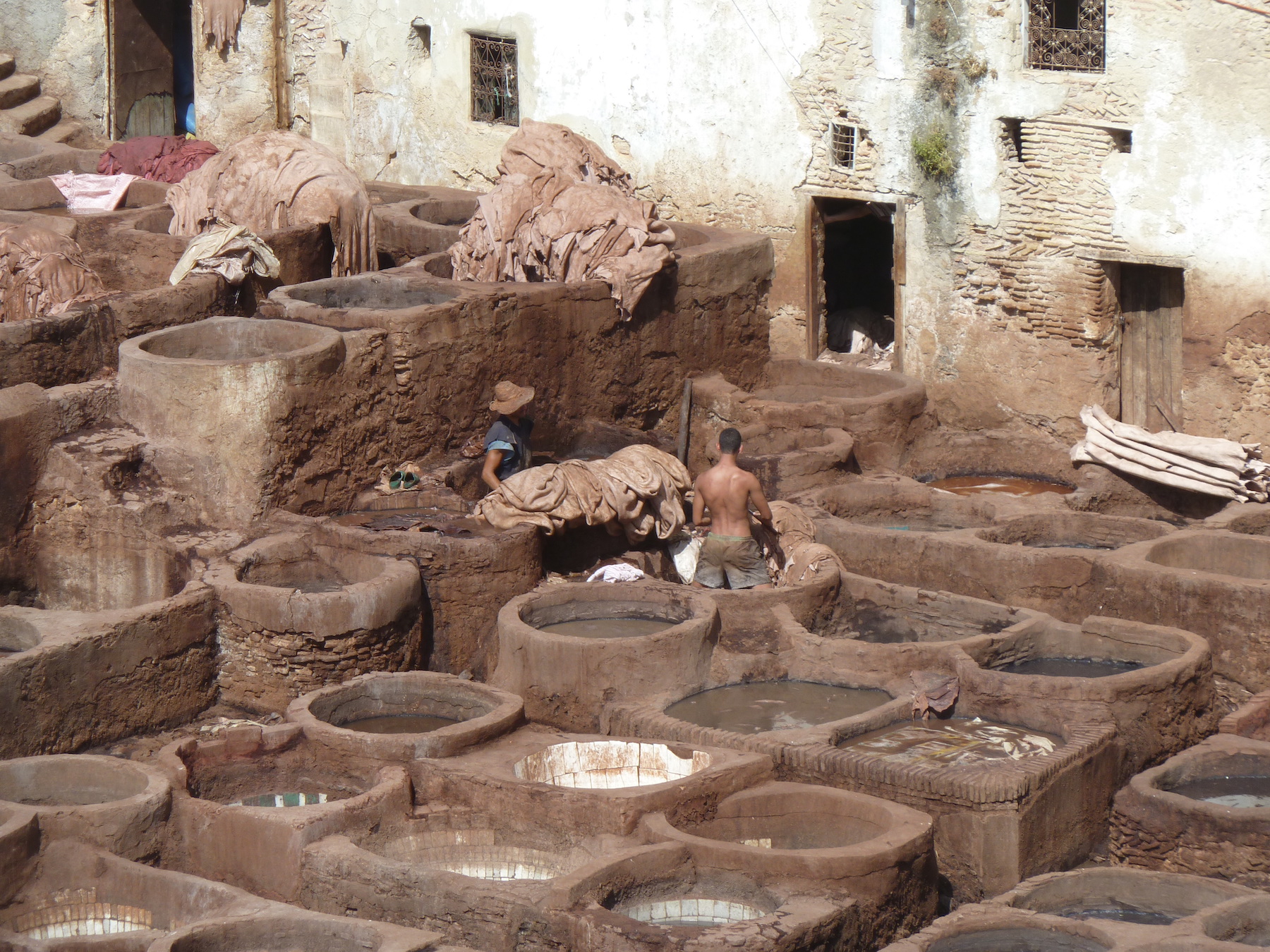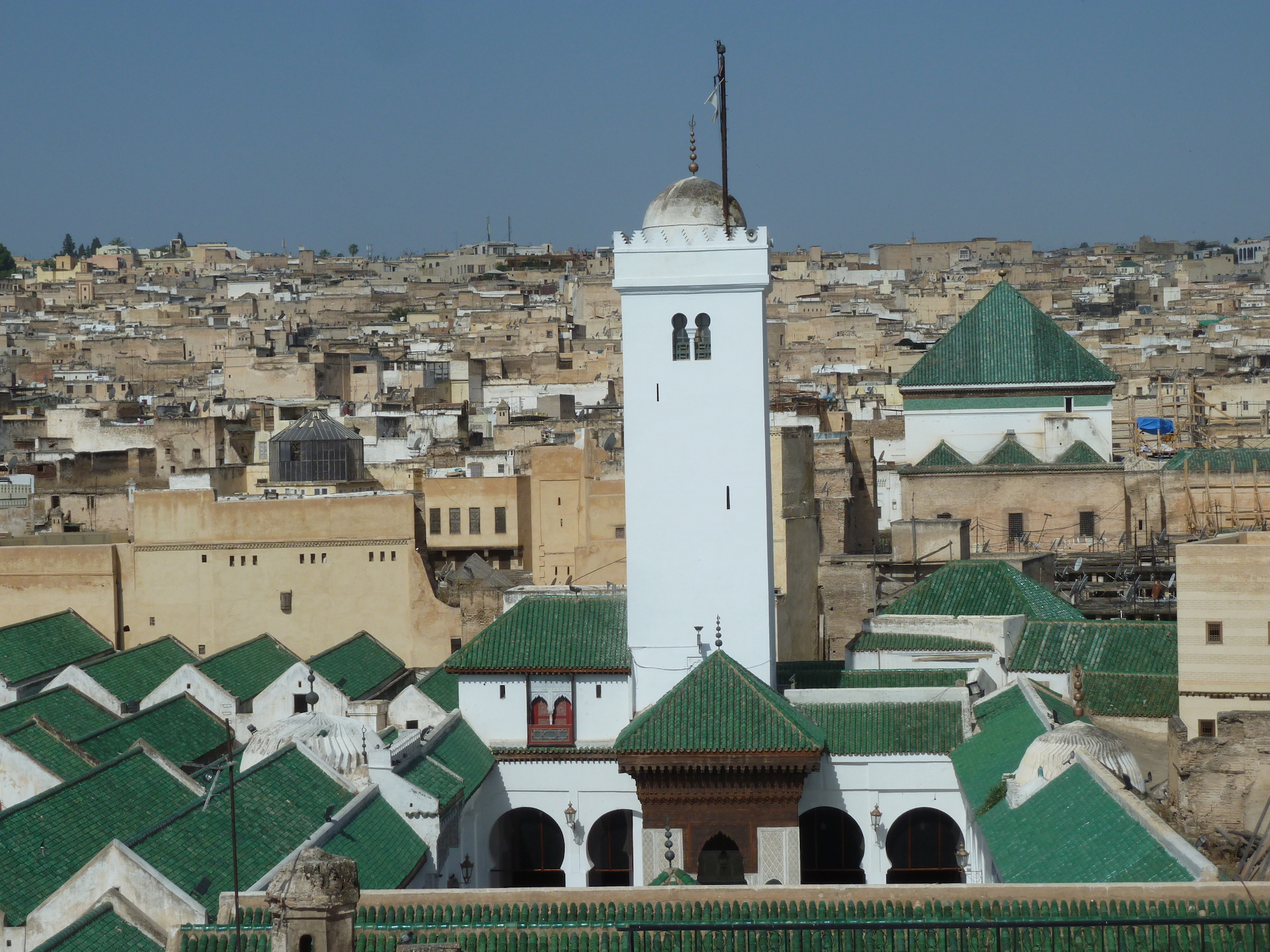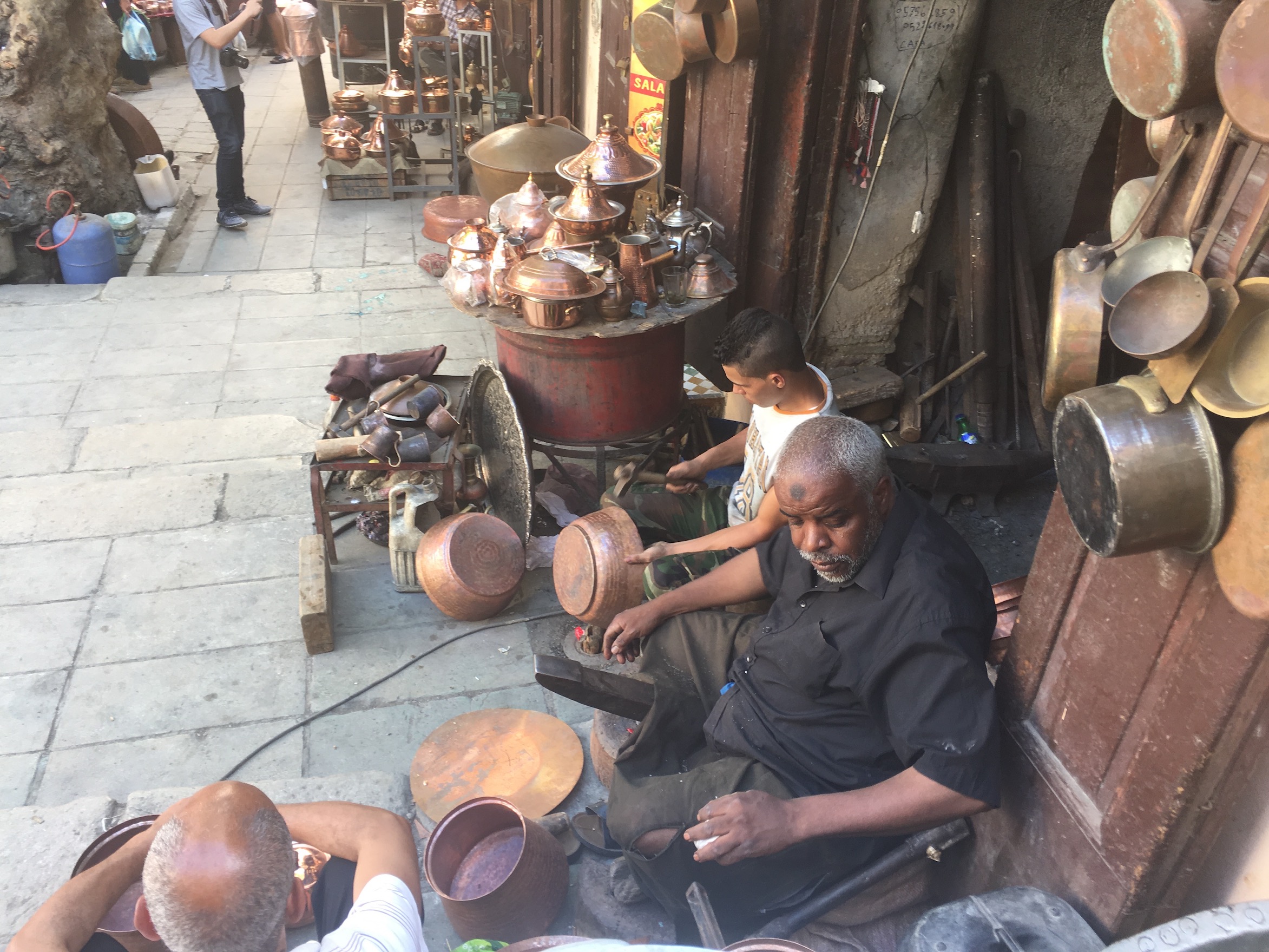 DAY 4
Exploring Fes
A Fes City Guide will be with you for ½ a day (included). Discussion will take place as to what places you particularly wish to see.

Fez's Islamic University (Al-Qarawiyyin) is regarded as the scientific capital of Morocco. The University is the oldest existing continually operating university in the world, founded in 859. It is now a World Heritage Site. The university specialises in studies of historical Islamic religious texts, sciences, Arabic linguistics and ancient Sunni law. Being the central point for religious activity in Fes, tradition has it that the mosques of Fes must first hear the call to prayer from Al-Qarawiyyin before sounding their own calls.

The Mausoleum of Moulay Ismail is a palace-tomb and the only mosque in Morocco, other the Hassan II Mosque in Casablanca, that non-Muslims are allowed to enter. The tomb is of the Sultan who made Meknès his capital in the 17th century. It was the sultan that developed Meknes into a city of grand architecture and the Mausoleum itself is no exception.

The Moulay Ismail Royal Stables (El Heri es-Souani) are close by the Mausoleum of Moulay Ismail. This massive stable was built to hold no less than 12,000 royal horses. Ismail had a great respect and admiration for horses. The stables were designed extremely well to ensure the temperatures were kept cool and that the air was constantly renewed; no expense was spared to ensure that Ismail's horses were given the best possible living conditions.

The markets of Fes El Jdid are a great place to explore, wandering hither and thither, coming across what you come across! It is a bit of a labyrinth and your senses will be heightened as you pass spice and perfume stalls, etc. Tailors offer vibrant colours of fabrics and have great sacks of dyes. Simply "people watching" is a fascinating pastime here.

The colour, clamour and activity of the famous Fez leather tanneries can be enjoyed (but have some mint to hold beneath your nose!). The Fez pottery district is similarly very interesting and the quality products are highly regarded and, be warned, very tempting!

The afternoon will be informal leisure time for you to explore Fes further or to simply relax.

Overnight in Fes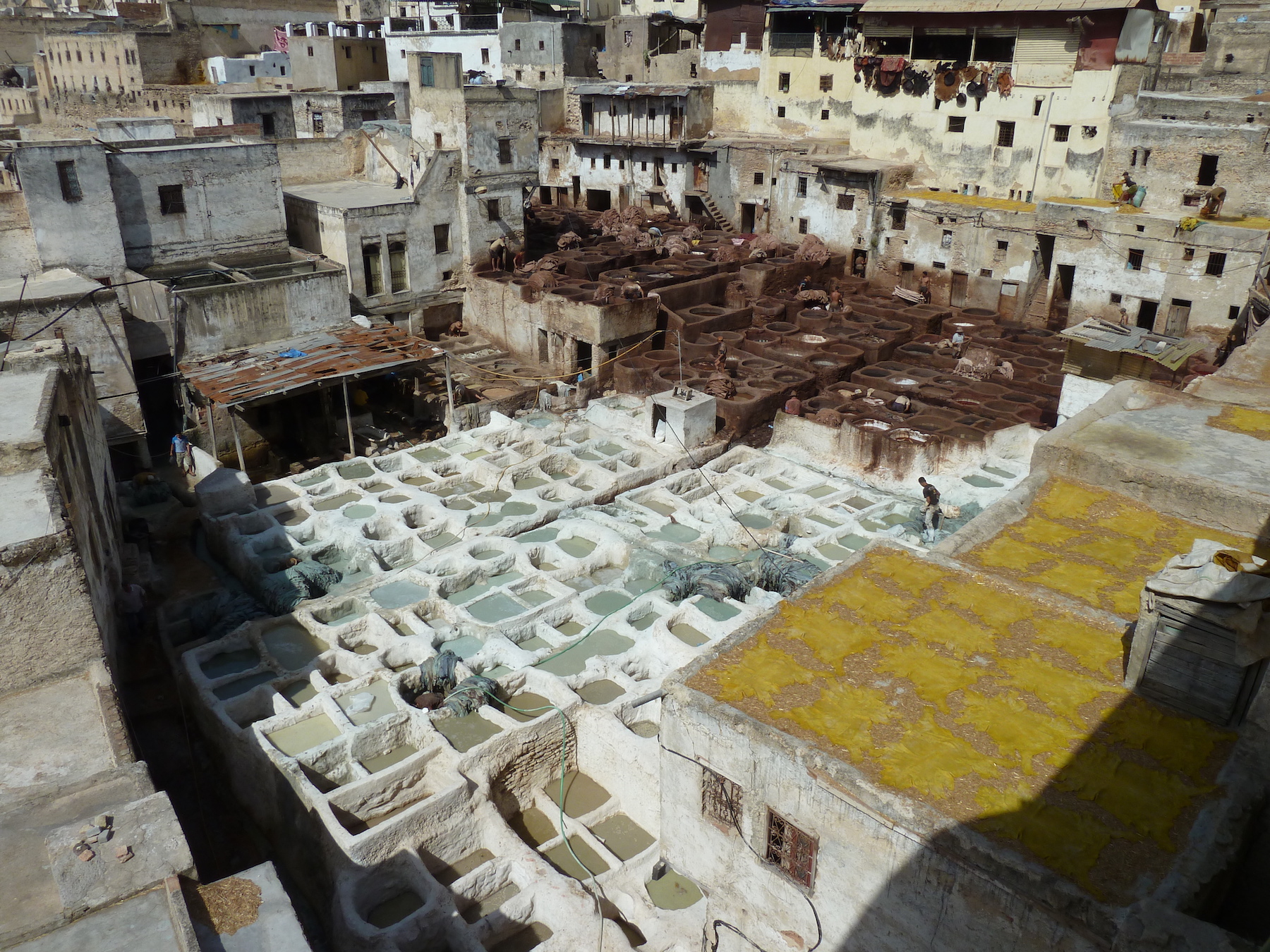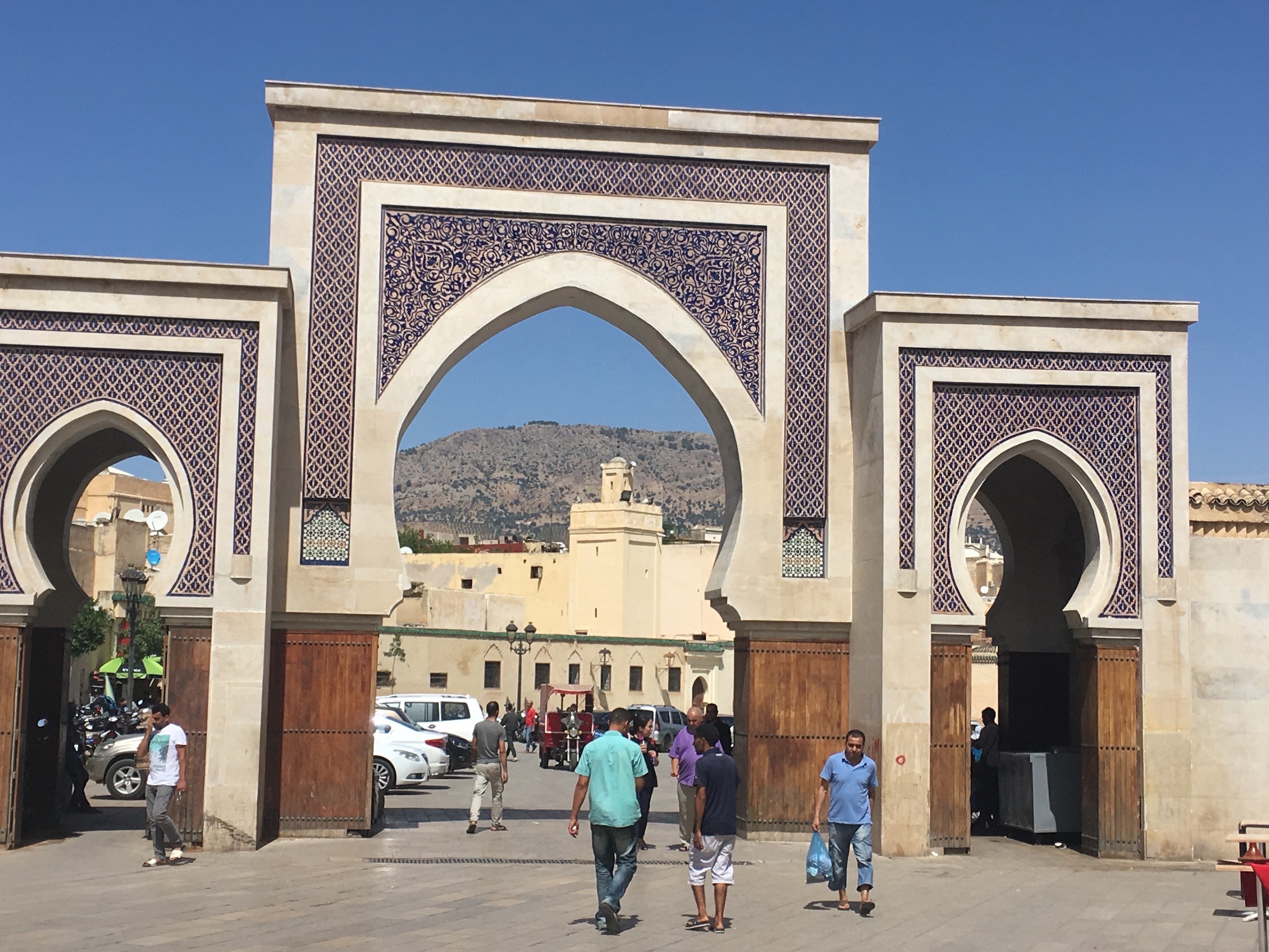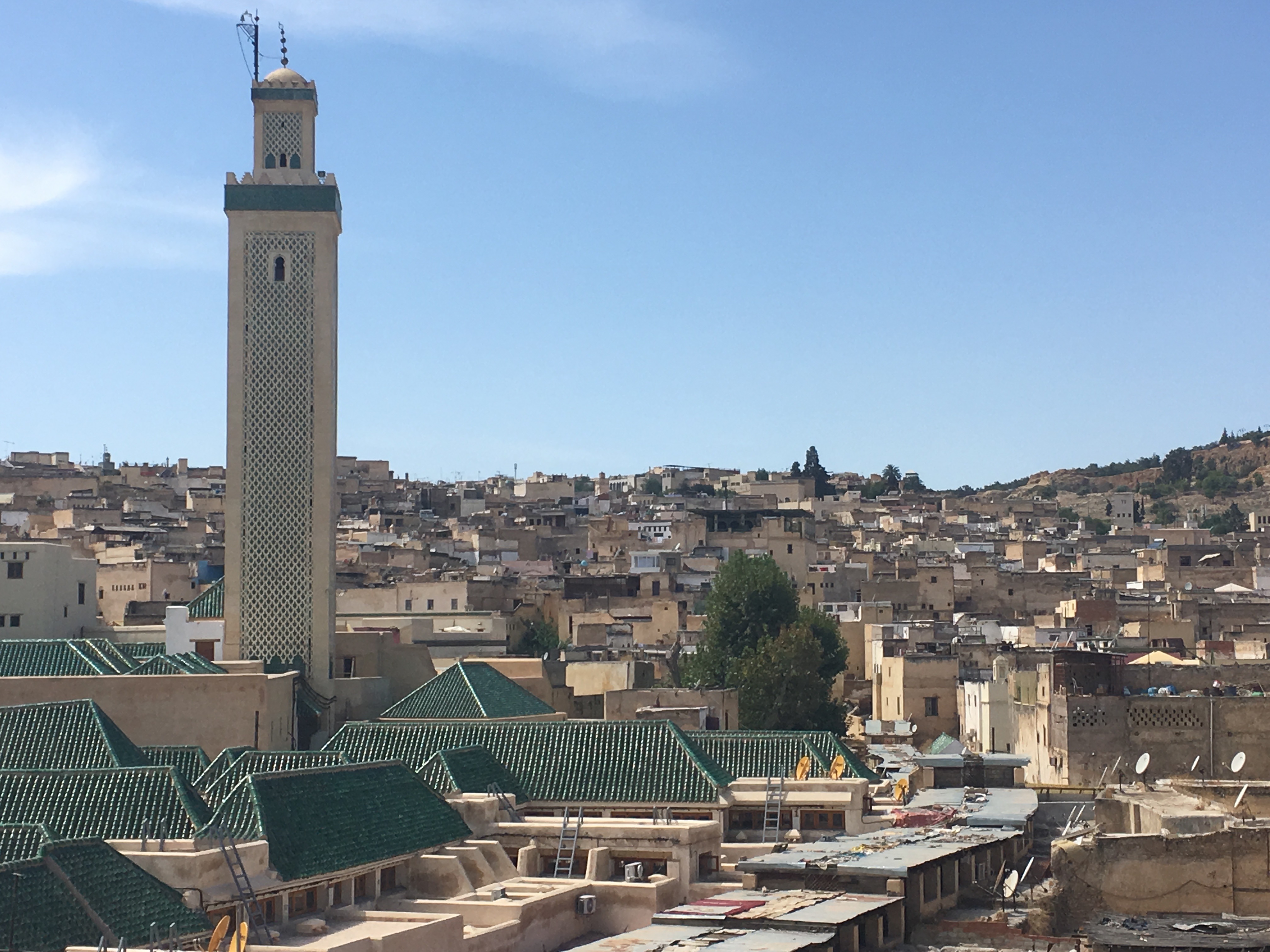 DAY 5
Departure day from Casablanca
Private transport and driver for your transfer to Casablanca Airport. Depending on your flight's departure time there may be the opportunity to take a bit more leisure time in Fes.
what ats offers
what ats offers:
Airport transfers to/from your Marrakech accommodation on arrival and departure days;
All Moroccan ground transportation in private 4x4 vehicle with driver to cover the itinerary as described; your driver will be English speaking and as well as being you driver, he will assist with all practical and logistical aspects of your tour as well as bieng able to impart information as you travel;
4 x nights of accommodation on half board basis (dinner, bed and breakfast) i.e. 1 night in Casablanca, 2 nights in Fes, 1night in Chefchaouen;
A Fes City Guide for a half day;
WHAT ATS DOES NOT INCLUDE
Exclusions
Flights/Ferries;
Personal Insurance;
Personal spending;
Lunches;
All other items not mentioned in the INCLUDES list;
PRICE
5 DAY TOUR NORTH MOROCCO CASABLANCA, RIF MOUNTAINS, CHEFCHAOUEN & FES (all taxes incl)
Total for 2 persons: 15120 MAD (1512 EURO)
Total for 4 persons: 20400 MAD (2040 EURO)​
Total for 8 persons: 30960 MAD (3096 EURO)
For other group sizes please enquire